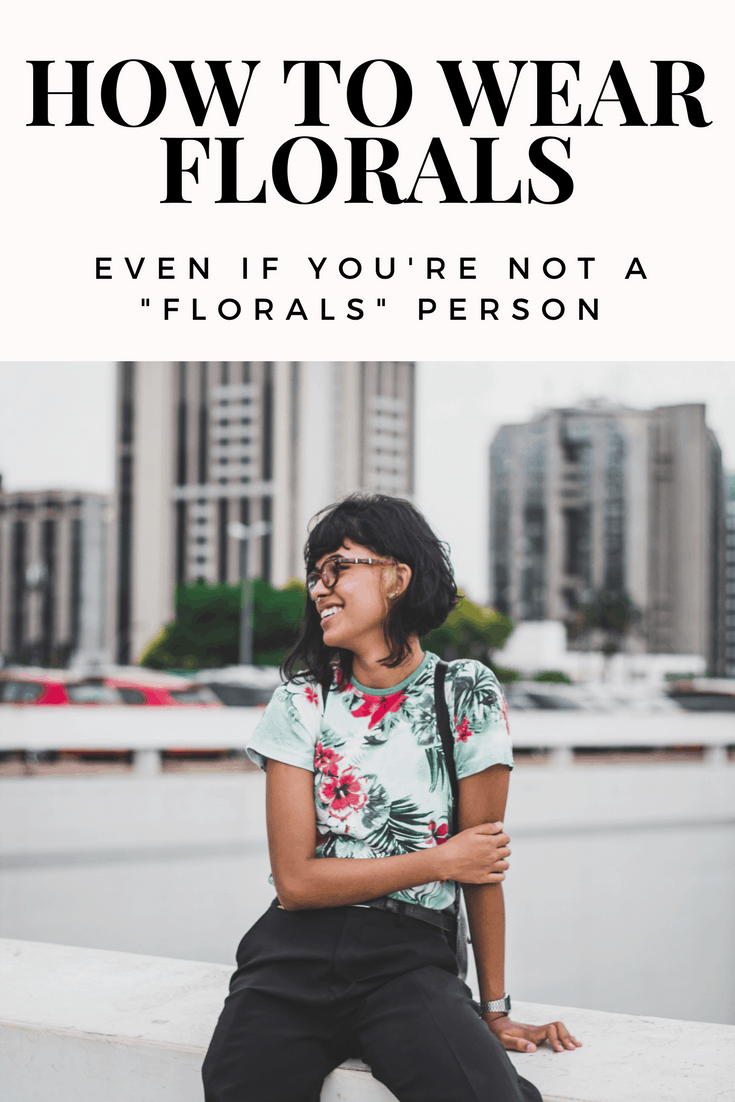 About a year ago I wrote an article about how I love to wear all black, all the time, every day, always.
Today I write this article from a very different place: I'm here to convince you to incorporate more florals into your wardrobe.
It's important you know that I was the all-black-all-the-time woman just a year ago so you'll believe me when I say that florals are not as intimidating as they may seem. And believe it or not, as with wearing pink, wearing florals doesn't automatically make you a girly girl.
Florals are everywhere right now (#spring) so getting a little inspo on how to incorporate them into your look can't hurt.
What follows are four floral outfit ideas that anyone can pull off. They all vary on the scale of "Floral Commitment," but most are somewhere in the middle – just enough floral to feel feminine and spring-y, without feeling like you're drowning in flower prints.
Here's exactly how to wear florals if you aren't girly, with outfits to get you started.
1. To start, at the bottom of our Floral Commitment scale, I've got a little something for women who believe that nothing goes better with black than black.
I love this look because it's a little edgy while also showing just a little tiny bit of a softer, more feminine side. It's cool and cute, which is basically the perfect combination.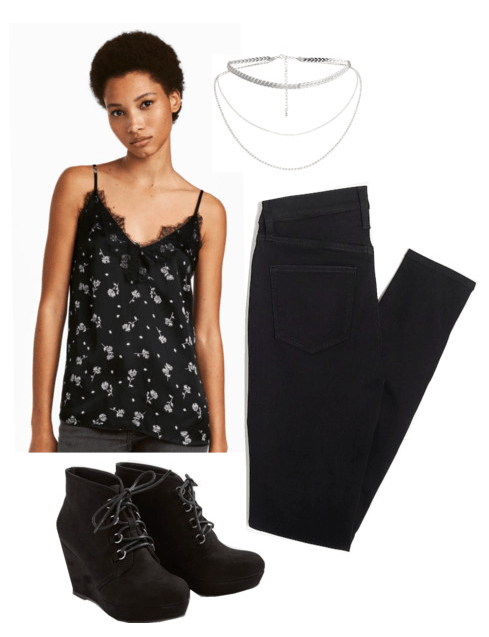 Products: Top – H&M; Jeans – J.Crew Factory; Booties – JustFab; Necklace – H&M
This edgy floral outfit is a great look for date night, a concert, a night out with friends, or anywhere you want to look and feel fierce. If you prefer, you can also throw on a biker or bomber jacket over the top. (H&M has a great biker jacket here.)
2. The next outfit comes with a personal recommendation, because I actually own this shirt, and it's the best.
I love this shirt because it's got the flowy and feminine aspect on the bottom of the shirt, but the grey tee on top makes it more casual and laid-back.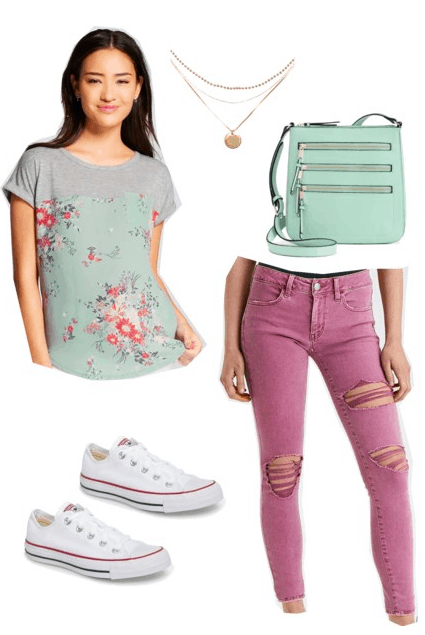 Products: Top – Target; Jeans – American Eagle; Converse – Nordstrom; Bag – Kohl's; Necklace – H&M
I think the shirt is best paired with colored jeans (though I've found from experience that white jeans and a more bold shoe also work with this tee) and limited jewelry, so the shirt stands front and center.
You could use sneakers, like I did here, to emphasize the casual part of the shirt, or wear something fancier to emphasize the classier side of the shirt — it works both ways!
The next floral outfit switches things up a bit. If you're tired of wearing pants all winter, or prefer to keep your tops a little simpler, then the next look is perfect for you.
3. This is one of my favorites because I'm a sucker for a good mini skirt.
This floral mini has stolen my heart with its checkered pattern interspersed with colorful flowers.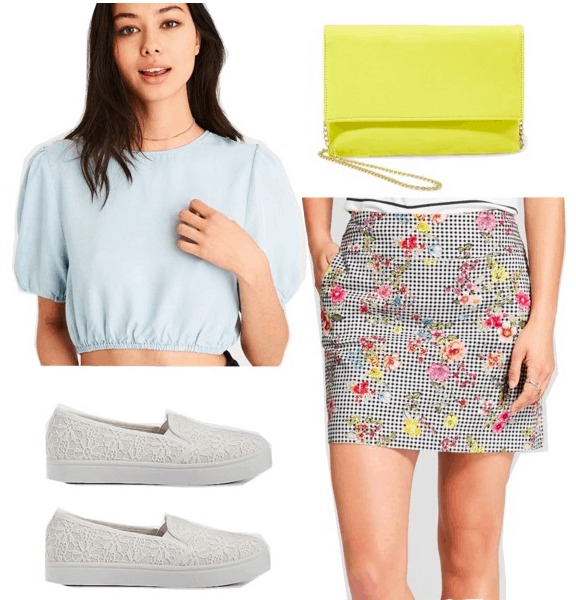 Products: Top – American Eagle; Skirt – Target; Shoes – Maurice's; Bag – Steve Madden
This floral mini skirt is best paired with a simpler top, like the blue crop top I chose, though if you hate crop tops, a solid-colored or striped tee would also work really well.
The key with styling this outfit is to make sure the skirt stands as the focus. Don't overwhelm what is already a statement piece with a lot of jewelry or a top that is also a statement piece.
One of my favorite things about spring and summer style is the emphasis on simplicity. Fall and winter may be about layers, but spring and summer are about doing more with less.
4. Our final look goes back to basics with just a floral top and some denim, but I am completely obsessed with this top.
This floral cami is loose, easy, and totally fabulous. Perfect for spring and summer.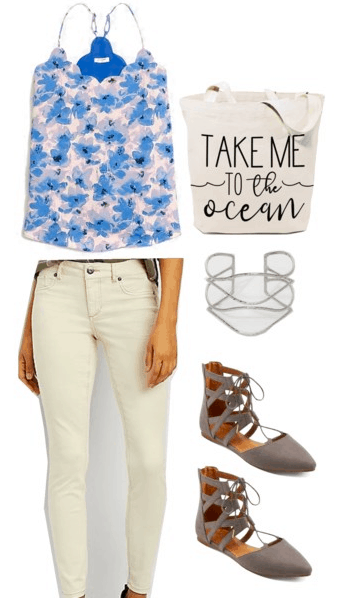 Products: Top – J.Crew Factory; Jeans – Maurice's; Shoes – Target; Tote – Amazon; Bracelet – Target
This outfit feels made for white jeans to me, but the shoes and accessories can be totally customized to your heart's content. For example, the shirt would be really cute with a jean jacket! (J.Crew factory has a great one right now.)
Wherever you're at on the Floral-Commitment scale, hopefully the above has given you some ideas about how to incorporate florals into your look.
What about you?
What are your floral staples? Are you pro-floral or floral-skeptical? What's your favorite thing about spring style?