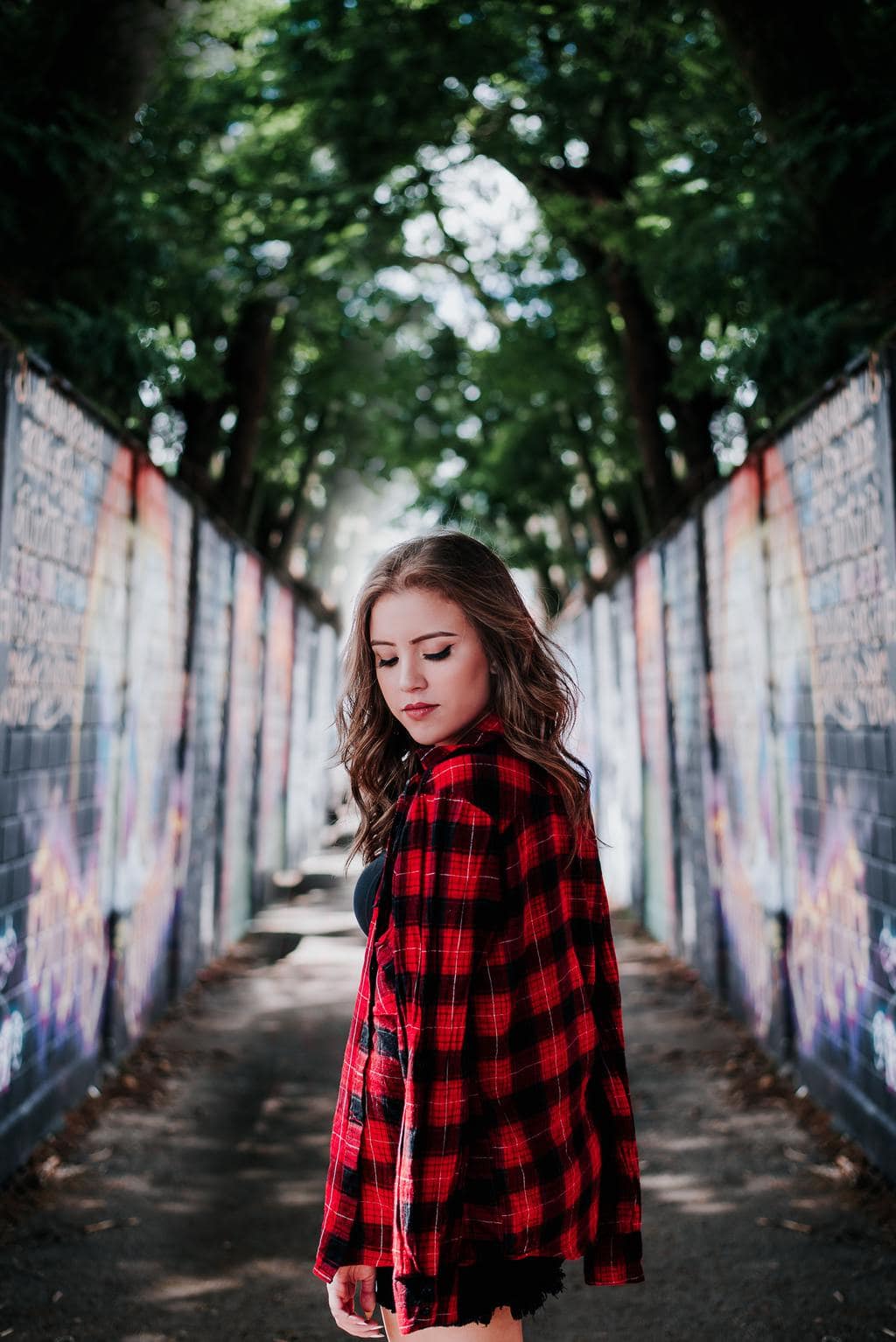 Editor's note: While we stand by this advice, we have an updated guide to wearing plaid in 2020 – check it out for updated looks!
Flannel plaid is a totally hot (and cozy!) look for fall and winter. There's nothing comfier than an oversized baggy plaid shirt and boots on a cold day, but flannel plaid has a lot more to offer than just comfort!
Curious about how to integrate this statement pattern into your wardrobe? Read on! I'll tell you how it's done.
General Tips on Plaid
Consider the color. Since plaid shirts have been such a hit, they're available at tons of stores in many different colors! If you want to go a super trendy route, try neons and black! If you want a more traditional look, go for more muted colors like navy, reds, and greys with white.
Try different materials. While plaid flannels are a great cool-weather staple, the print comes in many other fabrics! From light-weight, sheer cotton to thick flannel, there are many options at every price point.
Find tailored fits. Plaid shirts are notorious for looking boyish, grungy, and worst of all lumberjack-y! When choosing a plaid shirt, it's important to pick a top that's not too baggy so you'll keep your girly silhouette intact! Don't go too small though–longer and slightly oversized plaid tops are adorable, too.
Wear with neutrals. Since plaid is a pattern, it's best to pair it with neutral solids. Plaid tops look great with jeans and leggings alike! Feel free to go crazy with your footwear, but avoid wearing cowboy boots unless you're trying to look like a country princess!
Think about pattern and print size. Since plaid is so popular, there are lots of patterns and varied print sizes on the market. "Woven" styles that interlock a mix of colors tend to have a larger print while "western" styles generally feature smaller squares of a single color against a black background. Wovens are great if you're feeling traditional, while westerns look hot in bright colors.
Outfit Inspiration
Outfit 1: Just a Taste
This outfit is great if you're wary about wearing plaid. The tank top is super simple, comfortable, and laid-back-trendy way to wear the style without being over the top. Keeping the rest of your outfit uncomplicated lets this pattern really shine through without totally dominating your look. If you're ever feeling daring, this top would be adorable with a boyfriend blazer!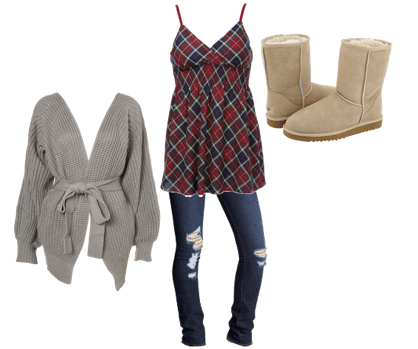 Product Information: Cotton Cardi by Boutique, Topshop. Plaid Tank Top, Charlotte Russe. J Brand  12″ Pencil – Torn Dark Vintage Jeans, Piperlime. Ugg Classic Short boots in Sand, Zappos.
Outfit 2: Going for It
Longer sleeves on this plaid tunic and understated leggings highlight the use of plaid in this outfit. This is a perfect outfit for a brisk fall day with the flat boots! For added warmth, throw on a tank top underneath your tunic and add a motorcycle or denim jacket and you're good to go.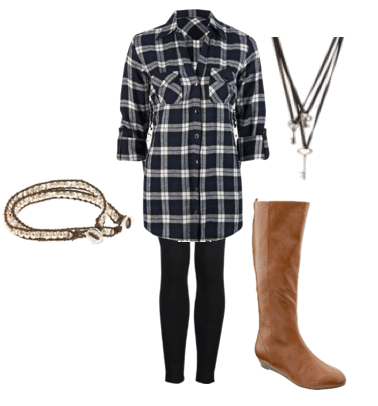 Product Information: Full Tilt Plaid Flannel Top, Tillys. Silver-Wedge Boots in Camel, Piperlime. Billabong Nice Legs Leggings, Tillys. Pearl Bead and Leather Bracelet, American Eagle. Three Keys Necklace, Fossil.
Outfit 3: All About It
If you already know that you love plaid, consider investing in a sexy, easygoing shirt dress. If you saw last spring's Confessions of a Shopaholic movie, you might remember Isla Fisher's adorable plaid shirt dress made chic with thigh high socks and a wide belt. Such a cute outfit, no? For a more-wearable but equally alluring look, try this plaid shirt dress with a simple leather belt and flats. Chilly? Add opaque tights!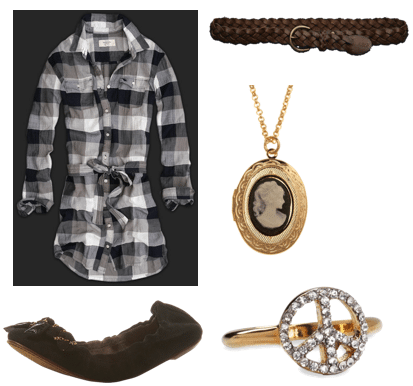 Product Information: Becky Dress in Navy, Abercrombie and Fitch. Leather braided belt, J.Crew. Rhinestone peace sign ring, Juicy Couture. Cameo locket, Modcloth. Ciao Bella Pause flats, Piperlime.
How do you feel?
Do you like the look of flannel plaid? Do you wear it? If you do, share your tips about how to wear it with everyone in the comments!