Boyfriend blazers are a hot trend right now, but they are more than just one-trick-pony jackets! Boyfriend blazers are super versatile: they can easily be worn casually for a day of classes, but they can also be dressed up for any event without much effort at all.
These blazers can come in a wide variety of styles, cuts, colors, and patterns. First, we'll look at more classic cuts and colors, but then we'll move on to something a little more adventurous!
Outfit #1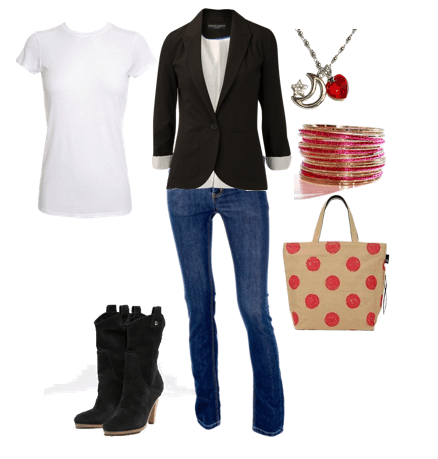 Product Information: Black Boyfriend Blazer and Skinny Jeans – Dorothy Perkins. White tee shirt – Browns Fashion. Black cowboy boots – American Eagle Outfitters. Necklace – Yes Style. Bangles – Torrid. Tote bag – Yes Style.
This would be a great chic, classic, and comfortable outfit to wear to class! It includes all the basics: a great black boyfriend blazer, a plain white tee shirt, chic skinny jeans, and black boots. With that as a foundation, there is plenty of room to play with accessories! You could trade out the white tee for a fancier blouse and switch up the color scheme for a wide variety of looks that could be worn just about anywhere.
Outfit #2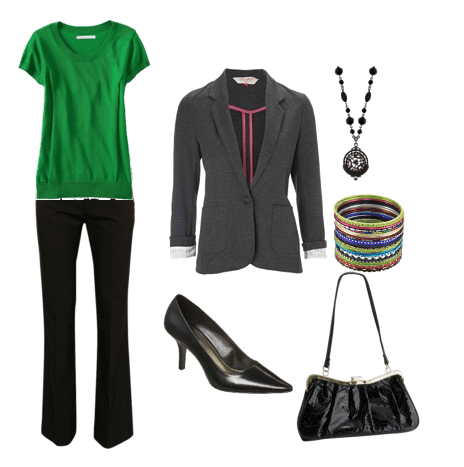 Product Information: Gray Boyfriend Blazer – New Look. Green Cap Sleeve Sweater – Old Navy. Black Bootcut Trousers – Topshop. Black Pumps – Target. Black Bag – Peacocks. Black Onyx Necklace – 1928.com. Bangles – Buckle.
This outfit is similar to the first outfit, but with a few key changes that make it perfect for any kind of professional setting. I love the heather gray color of the blazer and I especially love it paired with the bright kelly green of the sweater! The trousers, pumps, and bag are all classic styles in basic black – basic pieces that most people probably already own. This would be a great outfit for an interview – simple and classic, but still extremely chic.
Outfit #3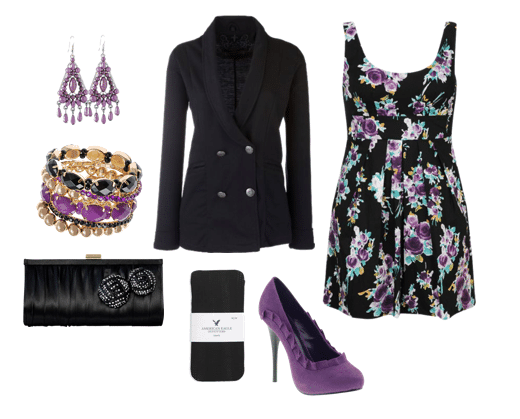 Product Information: Black Double-Breasted Boyfriend Blazer – Oli. Floral Woven Dress – Forever 21. Michael Antonio Pumps – Piperlime. Black Tights – American Eagle Outfitters. Earrings – Payless. Aldo Bracelet – Aldo. Diamante Clutch – Oli.
Looking for something a little different than the usual boyfriend blazer? I think this might be what you're looking for! The fit of this jacket is still like that of a boyfriend blazer, but the double-breasted cut makes it just a little more feminine and dressy. The cut is just a little detail that makes this boyfriend blazer truly special.
This could be a great date outfit for a chilly night – I paired the blazer with a pretty floral dress, black tights, and pretty purple pumps. Add your favorite jewelry to make this outfit as unique as you are!
Outfit #4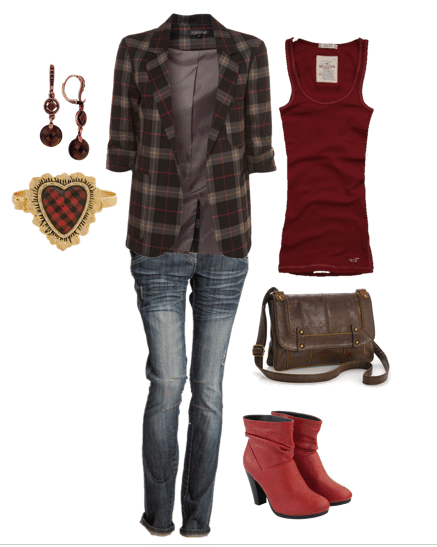 Product Information: Check Boyfriend Blazer – Topshop. Crafted Skinny Panel Jeans – Republic. Red boyfriend tank – Hollister. Brown Cross Body Bag – Monsoon. Red Slouch Ankle Boots – Peacocks. Betsey Johnson Plaid Heart Bracelet – Betsey Johnson. Copper Art Deco Earrings – 1928.com.
Maybe you want something a little bolder than just a plain black, blue, or gray blazer. If so, this is the one for you! It's plaid without being too plaid (if that makes sense) its colors are perfect for fall. I paired this blazer with pieces in similar colors – a red tank top, red ankle boots, and a brown bag to bring the right amount of color to the outfit. The bracelet and earrings will add brightness and interest, without making the look too busy.
What Do You Think?
How would you wear these boyfriend blazers? And how do you wear your boyfriend blazer? Let your voice be heard in the comments!