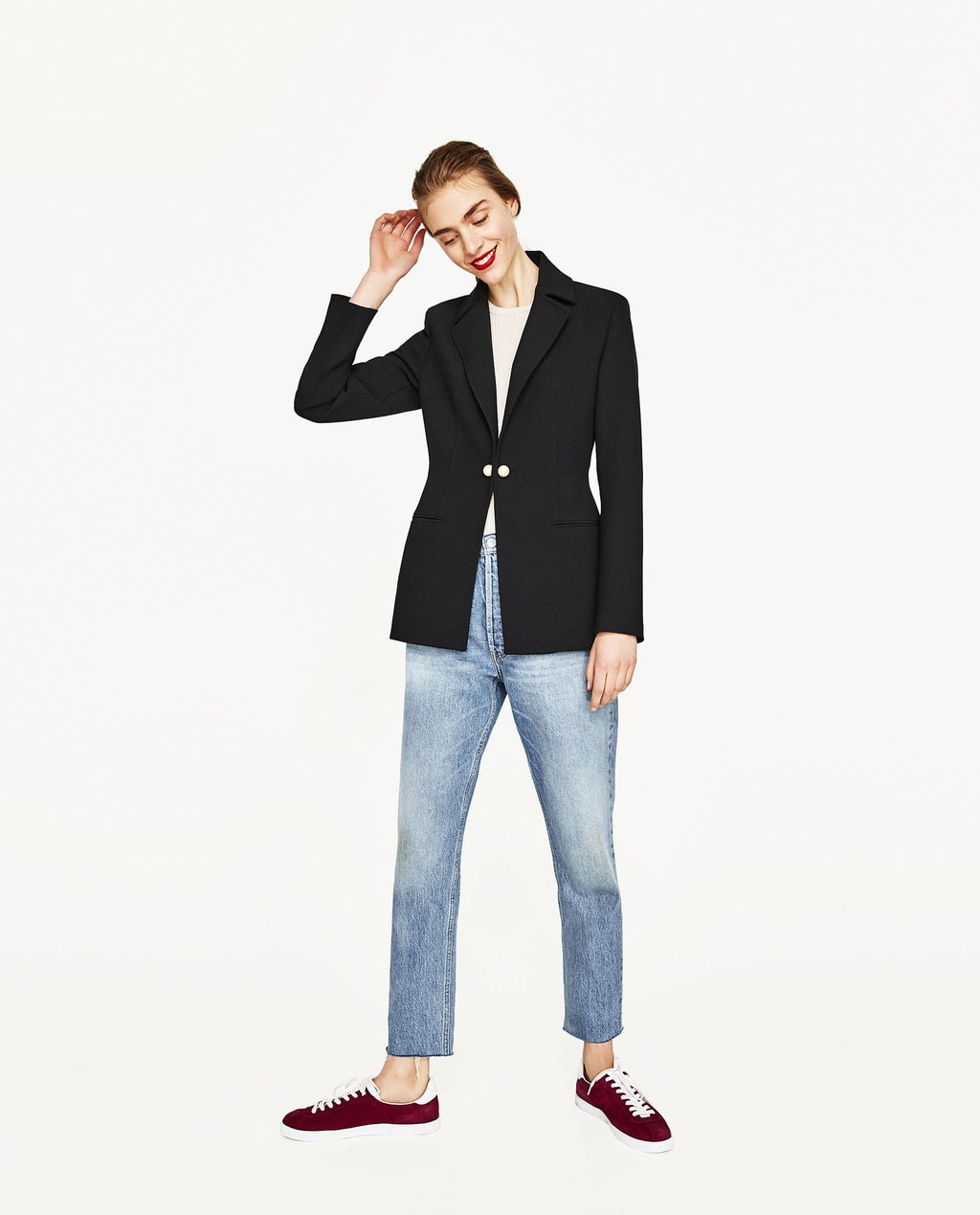 Welcome to the latest edition of Ask CF! Every two weeks, we select a reader fashion question and answer it here on the site. Do you have a specific fashion question for us? Scroll to the bottom of this post to learn how to send it our way!
Ask CF Question
I've tried using a blazer as an added layer, but I have such a hard time making it look casual. I've seen images all over the place on blogs and websites, but I can never seem to get it to look right when I do it.
Is it more to do with the proper accessories, or is it just finding the right blazer?
I have a basic black blazer, but no matter what I pair it with – jeans, skater skirts, I've even tried leggings – it always looks like I'm walking to an interview. So how do I style a blazer in a casual outfit?
Thanks,
Joanne
Our Response
Dear Joanne,
To answer your first question, getting the casual blazer look right has more to do with how you style it than the actual blazer itself. Almost any blazer can be made casual with the right outfit and accessories; therefore, it's not so much about the blazer as it is how you wear it.
As for your second question, there are many ways to style a blazer for casual, everyday wear. All of my favorite pairings involve thinking of a blazer not as the main focus of an outfit, but rather as a chic accessory to the rest of your look.
Keep scrolling to see the looks that I have put together for you. (Note that I have used the same simple black blazer for all of the looks to show its versatility.)
Related reading: What to Wear with a Blazer: 10+ Outfit Ideas for Women
Outfit #1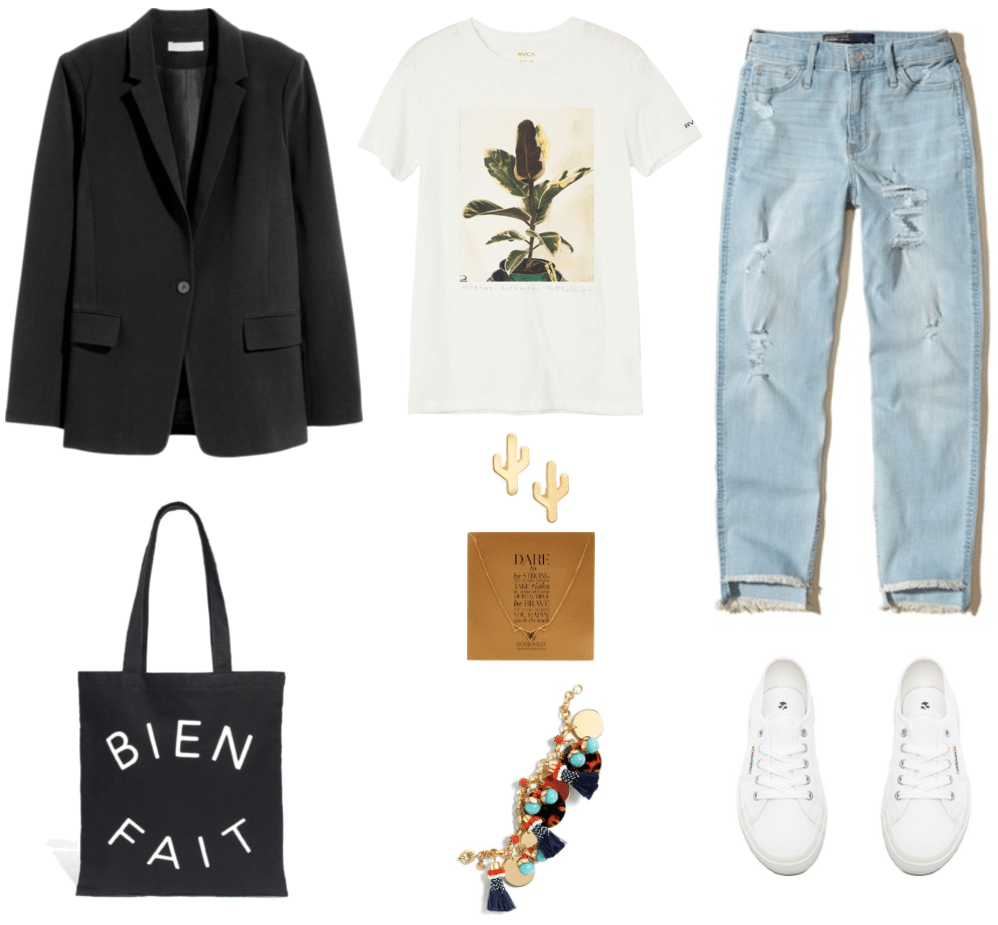 Products: Blazer – H&M, Tote – Madewell, T-Shirt – RVCA, Earrings – Nordstrom, Necklace – Century 21, Bracelet – Nordstrom, Jeans – Hollister, Sneakers – Revolve
If you're concerned about looking too business-y in a blazer, my advice is to wear it with an outfit that is very casual, so that there's no doubt about the look you're trying to achieve.
A graphic t-shirt and destroyed jeans fit the bill perfectly, while a pair of classic white sneakers and a cool canvas tote complement the casual vibe.
As for jewelry, stick with fun pieces, such as these cute cactus earrings, geometric necklace, and boho charm bracelet. These items will keep things from looking stuffy.
Outfit #2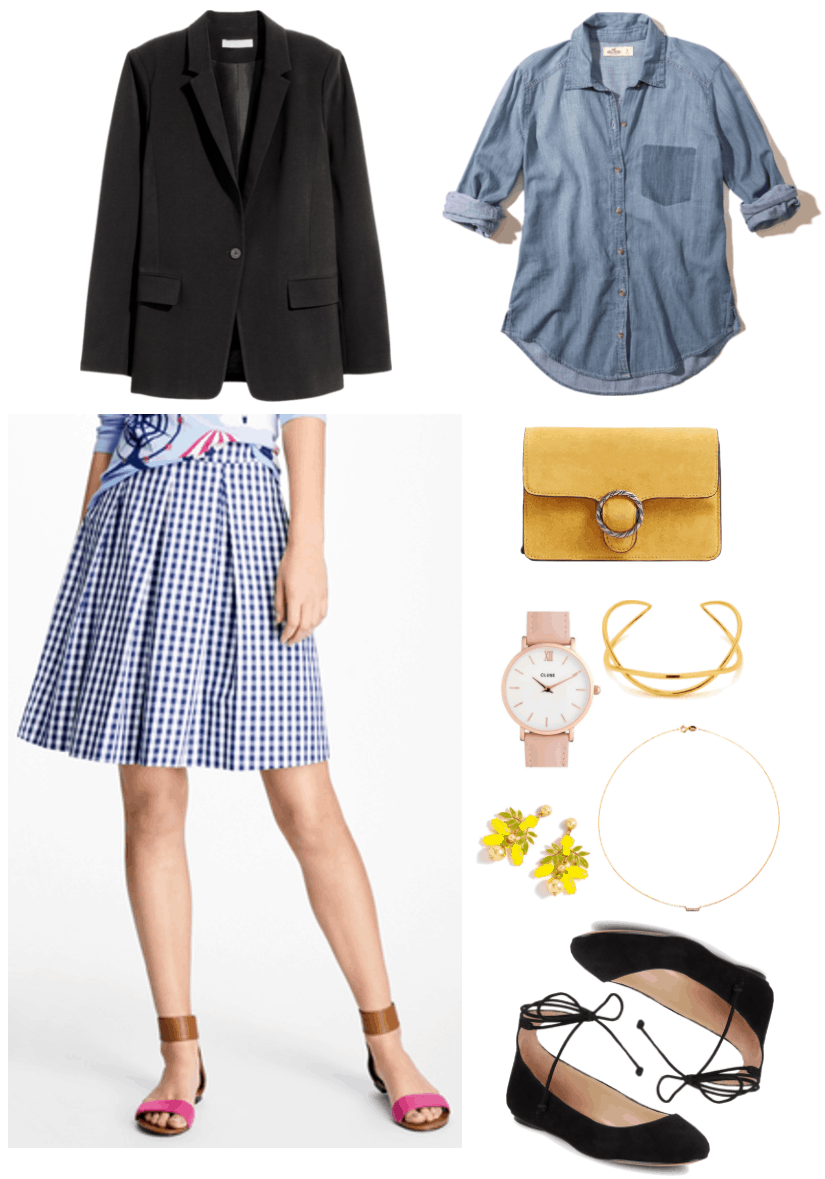 Products: Blazer – H&M, Skirt – Brooks Brothers, Shirt – Hollister, Bag – Mango, Watch – Nordstrom, Bracelet – Nordstrom, Necklace – Sole Society, Flats – Lord & Taylor
For a preppier, more put-together look, try pairing your black blazer with a trendy gingham skirt, which, when paired with a blazer, could read as formal. However, when worn with a casual chambray shirt, the outfit takes on a more relaxed feeling.
Accessories such as a brightly colored bag and unique earrings add a dose of whimsy to the look, while more classic pieces, such as a subtly sparkly necklace, elegant cuff bracelet, and feminine watch help balance things out.
Finish off the look with some black tie-up flats, and you're good to go!
Outfit #3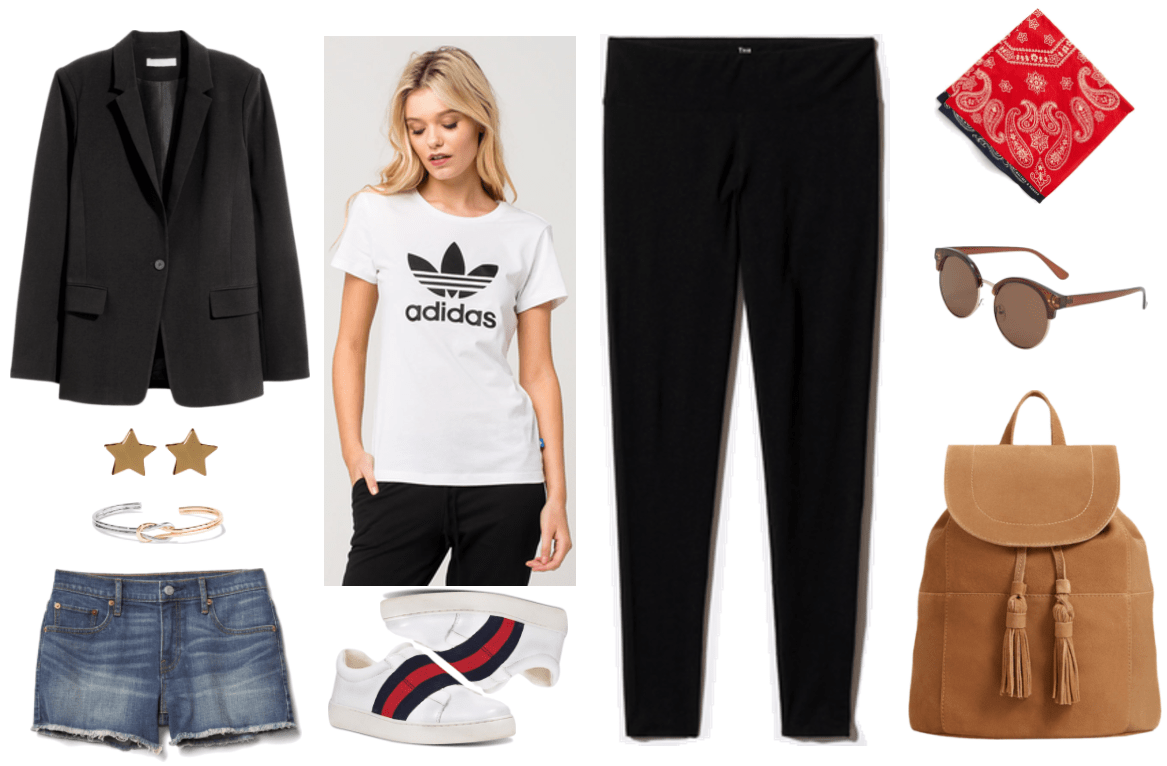 Products: Blazer – H&M, Earrings – Nordstrom Rack, Cuff – Net-a-Porter, Shorts – Gap, T-Shirt – Tilly's, Sneakers – Lord & Taylor, Leggings – Aritzia, Bandana – J.Crew, Sunglasses – Mango, Backpack – Mango
This look is perfect for you if your style is more tomboy-ish. Start by putting on a t-shirt and your favorite pair of denim cutoffs. If it's not quite shorts weather where you live, wear opaque black leggings instead of shorts.
Next, slip on a pair of sneakers — I love the stripes on these ones! Add some simple star earrings and an unexpected mixed-metal cuff bracelet for some visual interest, and tie a cute bandana around your neck to up the cool factor.
Finally, add a retro-inspired pair of sunglasses and a suede backpack with boho fringe detailing for a look that is as functional as it is fashionable!
Outfit #4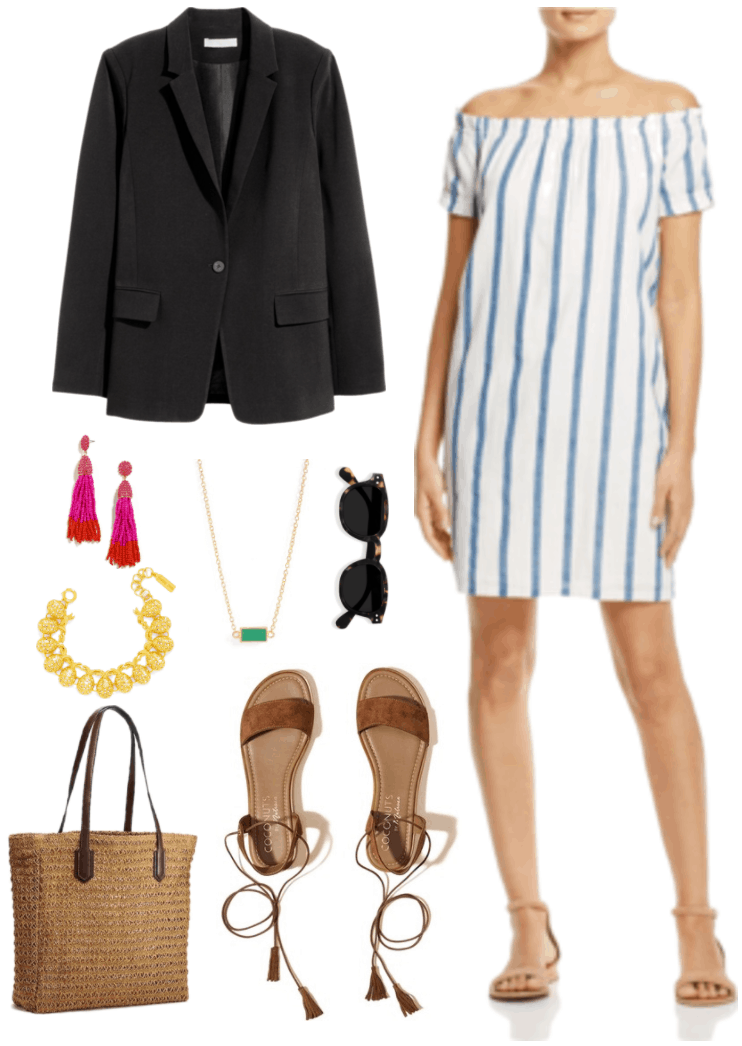 Products: Blazer – H&M, Earrings – BaubleBar, Bracelet – BaubleBar, Necklace – Nordstrom, Sunglasses – Popmap, Tote – Old Navy, Sandals – Hollister, Dress – Bloomingdales
Lend some structure to this season's breezy off-the-shoulder dresses by pairing them with your black blazer for a look that'll take you straight from Spring into Summer.
Add some beachy accessories, such as a straw tote and wayfarer sunglasses, to keep things light and airy.
Unique baubles, including a pineapple bracelet and tassel earrings, help you make the look your own, while a small green pendant necklace adds some low-key contrast.
Lastly, put on some tie-up sandals to complete this fun and summer-y look.  
I hope that these looks have provided you with some fresh inspiration for styling your blazer. Thank you for your question!
Do you have a fashion question? Send it to us!
Is there something in your closet that you want to wear but have no idea how to style? Do you need advice on what to wear to an upcoming event? Do you have a specific fashion conundrum?
If you have a fashion-related question that you would like to see answered in this column, simply email it to [email protected], and one day you might see your question answered right here on the site!
What do you think?
What are your favorite ways to style a blazer? Do you like to wear blazers as part of a more formal look, or do you prefer to style them in a more casual way? Which of these looks is your favorite? Let me know in the comments!