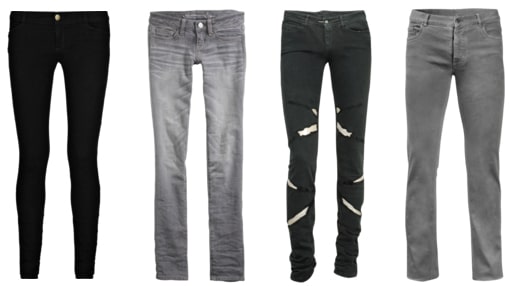 Confession time: I am, without a doubt, a denim addict. Skinny, flared, bootcut, straight, boyfriend, high-waist, destroyed…I've got them (and love them!) all. That being said, even I get sick of basic blue every once in a while! This is where universally chic black and trendy grey jeans come into the picture. Black and grey jeans are a chic, trendy alternative to your basic blues, as well as a must-have in every girl's closet.
But how do you wear them? If you're in style rut, want to try some new denim colors, or just want tips on different ways to wear the jeans you already have, this post is for you!
General Tips on Wearing Black & Grey Denim
Pick a color.
Grey jeans come in a wide variety of shades, from dark graphite to washed-out heather. Darker shades tend to be the most forgiving and flattering, mid-range shades can be easiest to match, and light shades are the most trendy and popular with the celebrity set. Grey jeans in acid wash, tie-dye, and even ombre are in stores now if you want 'em, so it's all about how daring you want to be and how comfortable you'll feel!
However, if you want some edge or a look that will never go out of style, invest in black jeans. They're more classic and are universally flattering.
Also Read: 3 Ways to Wear Multiple Neutrals Together – Mixing Grey and Brown Outfits
Have fun!
Grey & black jeans are neutrals, so they go with just about anything. If you're looking to have some fun with your outfit, try black jeans with neons or grey jeans with a printed top. Mix and match!
Play up your basics with bright scarves, lace-trimmed tanks, or a hot pair of shoes. If you want an extra girly touch, go with pastels and airy styles to add some femininity to your look.
Go sophisticated.
Skinny black jeans are chameleons–they look awesome with an oversized top and converse when you're hanging out on campus, and amazingly chic when pared with a dress blouse and tucked into boots. Arguably the utmost in sophistication is a monochromatic look–wear your black jeans with a black top, boots, and add posh statement accessories for a look that's totally chic. Grey jeans look especially sophisticated when paired with black, white, or matching grey.
Consider the cut.
Don't feel like you HAVE to wear skinny jeans if you hate them–both black and grey jeans come in all of your favorite traditional denim cuts.
If you want a more casual, easygoing look, try a relaxed or bootcut pair. If you want to wear your black or grey denim primarily as pants as an alternative to jeans, skinny styles could work for you. There are even some adorable grey and black denim skirts and capris out there for additional variety.
Outfit Inspiration
Casual:
Laid back and effortless, these pieces will look just as cute with your blue jeans as they will with black or grey.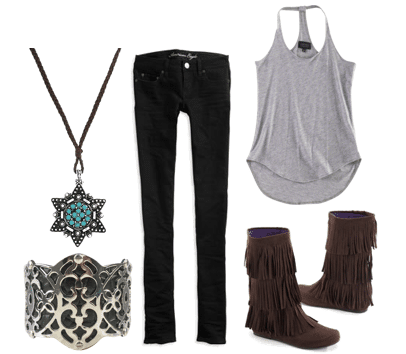 Black: Super Skinny Midnight Jeans, American Eagle. Lamixx Clothing Halter T-Back, moxsie.com. Miley Cyrus & Max Azria Sueded Fringe Boot, Walmart. Filgree Faux Leather Cuff, Forever 21. Lucky Brand Ez Rider Lone Star Necklace, Zappos.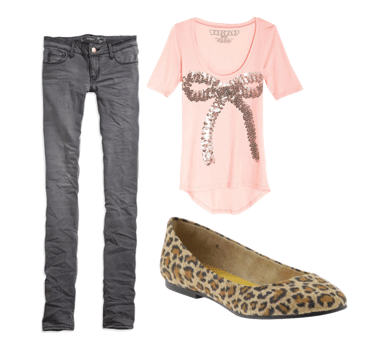 Grey: Faded Grey Skinny Jeans, American Eagle. Bow Tunic Tee, Delias. BC Footwear Limousine Flats, Piperlime.
Trendy:
If you're looking to make a statement or just have fun with a trend, these looks are for you.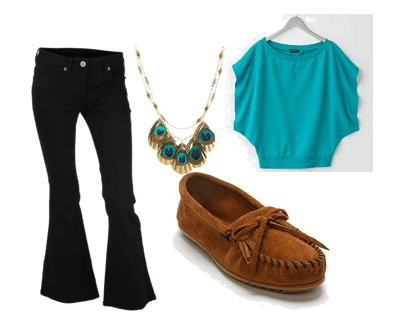 Black: Black Skinny Flare Jeans, Dorothy Perkins. Miss Chievous Top, Kohls. Minnetonka Kitty Moccasins, Urban Outfitters. Peacock Charm Necklace, Wet Seal.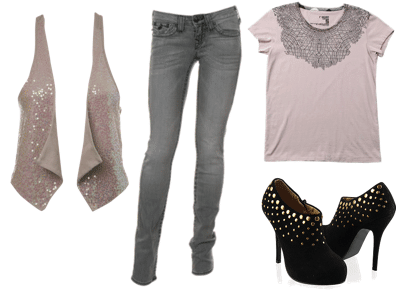 Grey: True Religion Brand Jeans Billy Grey Lovestruck Straight Leg, Metropark. Mocha Sequin Waistcoat, Miss Selfridge. Flourite Lace Tee, Rogan. Urban Studded Boots, Forever 21.
Chic:
Dress up those jeans of yours! Stylish tops and sophisticated shoes will make your jeans event-appropriate and oh-so chic.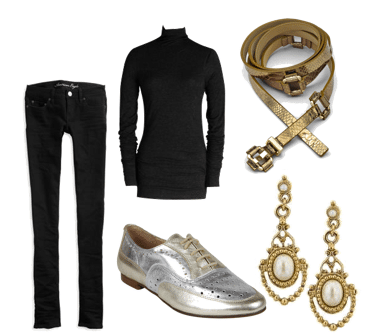 Black: Super Skinny Midnight Jeans, American Eagle. James Perse Stretch-Jersey Turtleneck, net-a-porter.com. Her Majesties Vintage Pearl Earrings, 1928. Tuxx Oxfords, Steve Madden. Snake Wrap Belt, Calvin Klein.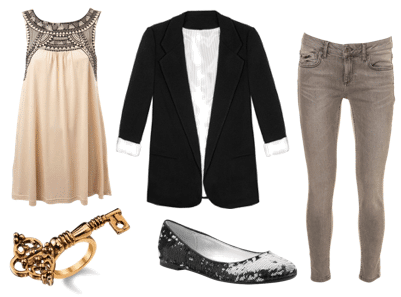 Grey: Nude Tribal Embellished Tunic, Miss Selfridge. The Boyfriend Blazer in Black, Fred Flare. Grey Spray On Jamie Jeans, Topshop. House of Harlow 1960 14KT Gold Key Cocktail RIng, shopthetrendboutique.com. Chinese Laundry Good Times Flats, Piperlime.
Your thoughts?
Do you guys own black or grey jeans? How do you wear them? Are you into any other denim colors at the moment? Let me know with your comments!