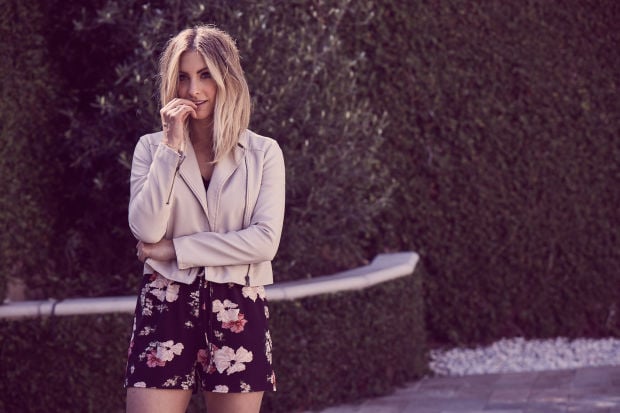 Rompers are not easy for me. I am what you would call a chestier woman, and I do not enjoy not wearing a bra. I also don't want to wear a bralette, because it doesn't offer the right amount of support for my comfort zone. Some women with my bra size might disagree, and that's great, but for me, the search for rompers, which are so often backless or have strangely places holes, is a tough one.
I was therefore thrilled when I found a cute romper this spring that met my needs. It's got a back, it's flattering, and the pattern makes me feel like I'm on a safari! It's a total win and I had a lot of fun with it this summer. Consider me a romper covert.
So, naturally, I'm very sad about romper season coming to an end. I'm coping fine because sweater weather is even better, but I don't want my cute one-piece to waste away in my closet for the 9 months that New Englanders can't wear shorts.
If you're in the same boat, then you might be wondering, as I am, "Can I make this romper work for fall and winter"? My answer to that is yes, because you are a strong, independent woman and you can make anything work for any season you want. Here's three ways to do it!
Lace Tights or Fishnets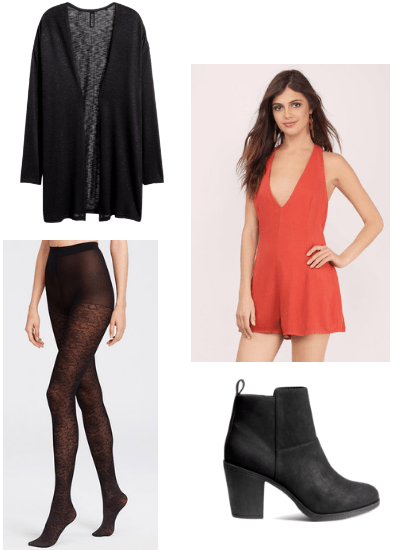 Product Info: Cardigan, Tights, Romper, Boots
This is a look for the now, when it's starting to cool down and you don't want bare legs and a tank, but you can still do a breezier outfit.
Take a sleek romper and pair it with sexy lace tights—they're semi-sheer but still offer some protection from the elements. Make the look fit the seasons with a cozy cardigan and ankle boots.
Leggings or Thick Tights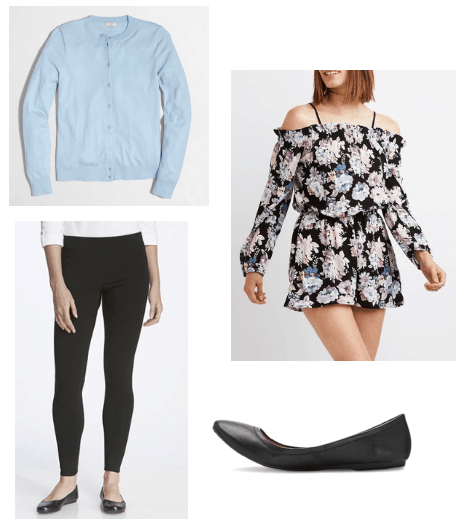 Product Info: Cardigan, Leggings, Romper, Shoes
As we head into the heart of fall and then winter, fishnets probably won't protect your legs enough, but luckily, you can easily upgrade to something with more coverage.
You can pair neutral bottoms with a fun romper and cardigan like I did here, or you can go wild with patterned leggings. Super Mario leggings, anyone?
Pants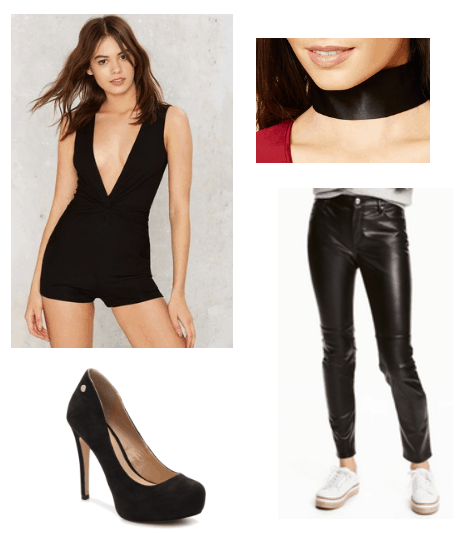 Product Info: Romper, Shoes, Necklace, Pants
Kill two birds with one stone by wearing your favorite tight romper like you would a leotard-style bodysuit. You'll still get to show off the top of your romper, you'll stay warm, and, like with a bodysuit, the top will stay tucked in and smooth.
Here I've turned a summer evening look into a evening winter look with a pair of cool faux leather pants and sky-high pumps.
Tell us your thoughts!
How would you style a romper in the fall? Will you try out any of these looks? Let us know in the comments.