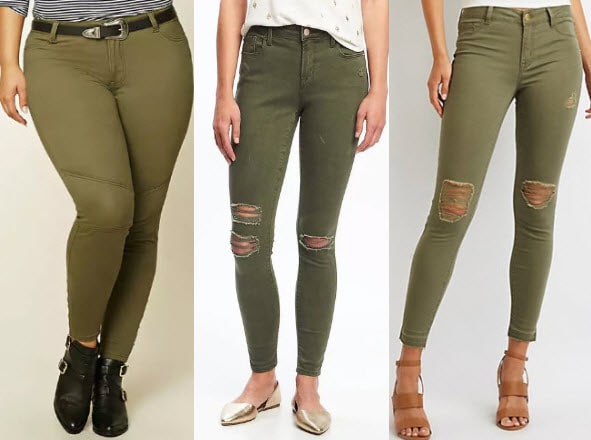 Products L-R: Forever 21, Old Navy, & Charlotte Russe.
Colored denim in 2018? That's right, it's a thing. Colored denim is back and better than ever! There are so many colors to choose from when it comes to this trend: A few faves include red, purple, and our current obsession, green. Specifically, we're going to show you how you can wear olive green jeans to class and for a night out.
How to Style Olive Jeans – Outfit for Class: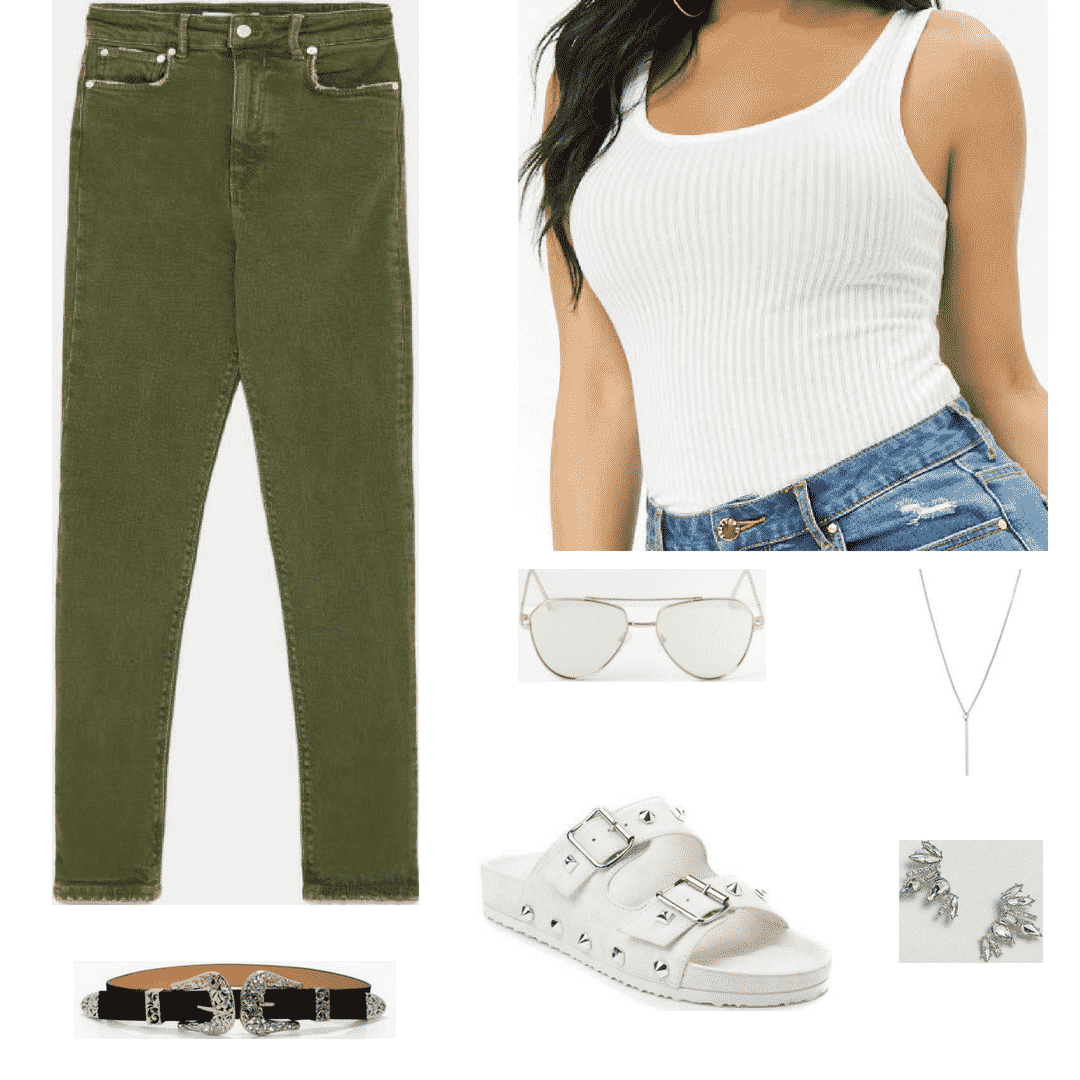 Products: Jeans – Zara, Tank top – Forever 21, Sunglasses – Missguided, Sandals – Amazon, Earrings – ASOS, Belt – Boohoo, Necklace – Forever 21.
We're loving these perfect olive skinny jeans from Zara (although you can find them anywhere). Zara's olive jeans look almost vintage thanks to their faded color, so they're perfect for that washed-out summer feel. For up top, Forever 21 has so many ribbed tank tops in various colors you can choose from. Olive looks great paired with neutrals, like white, but you can combine the pants with any color you want.
Now it's time for accessories. These cool white sandals look like Birkenstock's but have some glam silver detailing for extra interest. Boohoo's double buckle black and silver belt blends with the silver detailing of the sandals and looks great with simple jewelry from Forever 21.
How to Style Olive Jeans – Outfit for a Night Out: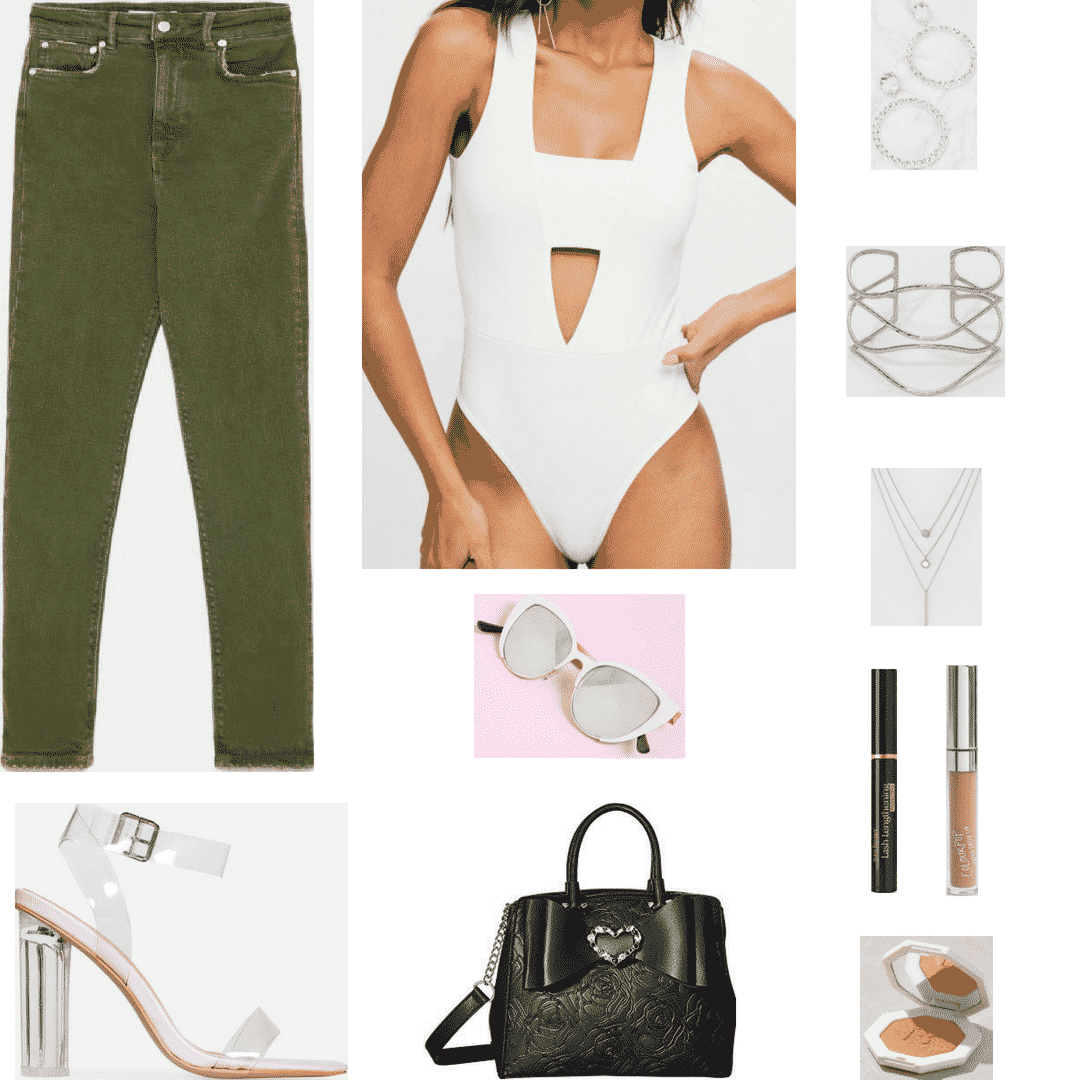 Products: Jeans – Zara, Bodysuit – Missguided, Heels – Ego Official, Purse – Betsey Johnson, Necklace – Target, Earrings – Pretty Little Thing, Cuff bracelet – Target, Sunglasses – Modcloth, Lipstick – Colourpop, Mascara – Black Radiance, Highlight – Fenty Beauty.
For your going out look, dress up your olive jeans with some ultra-trendy lucite heels from Ego Official and a white deep v-neck bodysuit from Missguided.
To get your eyes popping, add Black Radiance's length mascara. You can never go wrong with Fenty Beauty's Trophy Wife highlight to get that glow. Finally, Betsey Johnson has a unique bag that has cool silver detailing, if you're in need of something you won't see on the arm of every other girl.
Olive jeans, your thing or not?
Well that's how we would style olive colored jeans for a class session and a night out. How would you style yours? Will olive jeans be your thing? Will colored jeans be your thing? Comment and let us know!