A lot of us cringe when we think about our high-school style. There's definitely more of a herd mentality in high school than in college, so when we look back on our high school outfits, the first thing that comes to mind is, what was I thinking?
Abercrombie logo tees, PINK sweatpants, Ugg boots of every variety, none of these pieces are bad on their own. In high school, however, instead of putting together a cute outfit, it was really easy to just wear one (or all three) of these out of sheer laziness.
But before you toss your high school staples, you should consider re-wearing them. We're going to show you how to incorporate some high school favorites into trendy outfits that are the opposite of cringe-worthy. Let's get started!
Outfit #1: Your Old Moccasins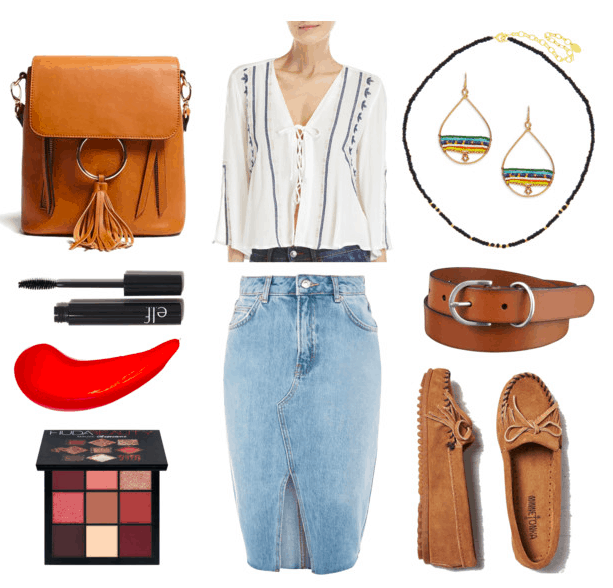 Products: Bag – Forever 21, Mascara – elf, Lip Gloss – Amazon, Palette – Sephora, Embroidered Blouse – Century 21, Denim Skirt – Topshop, Bead Necklace – Taolei, Bead Earrings – Lord & Taylor, Belt – Uniqlo, Moccasins – American Eagle
Remember those moccasins everyone wore with everything because they were just SO comfy? Though they led to (more than) a few questionable fashion choices, they were pretty much slippers for school.
For a more put-together look, pair them with a denim midi skirt and your favorite brown leather belt. On top, an embroidered blouse is trendy AND happens to go well with denim. Throw on a fringed leather backpack in the same color as your mocs as a cute accent piece.
For accessories, try beaded jewelry: the earrings especially add a pop of color to an otherwise neutral look. Finally, because this look is earthy and natural, keep your makeup simple with mascara, a swipe of gloss, and rosy shades on your lids.
Outfit #2: Your Athletic Shorts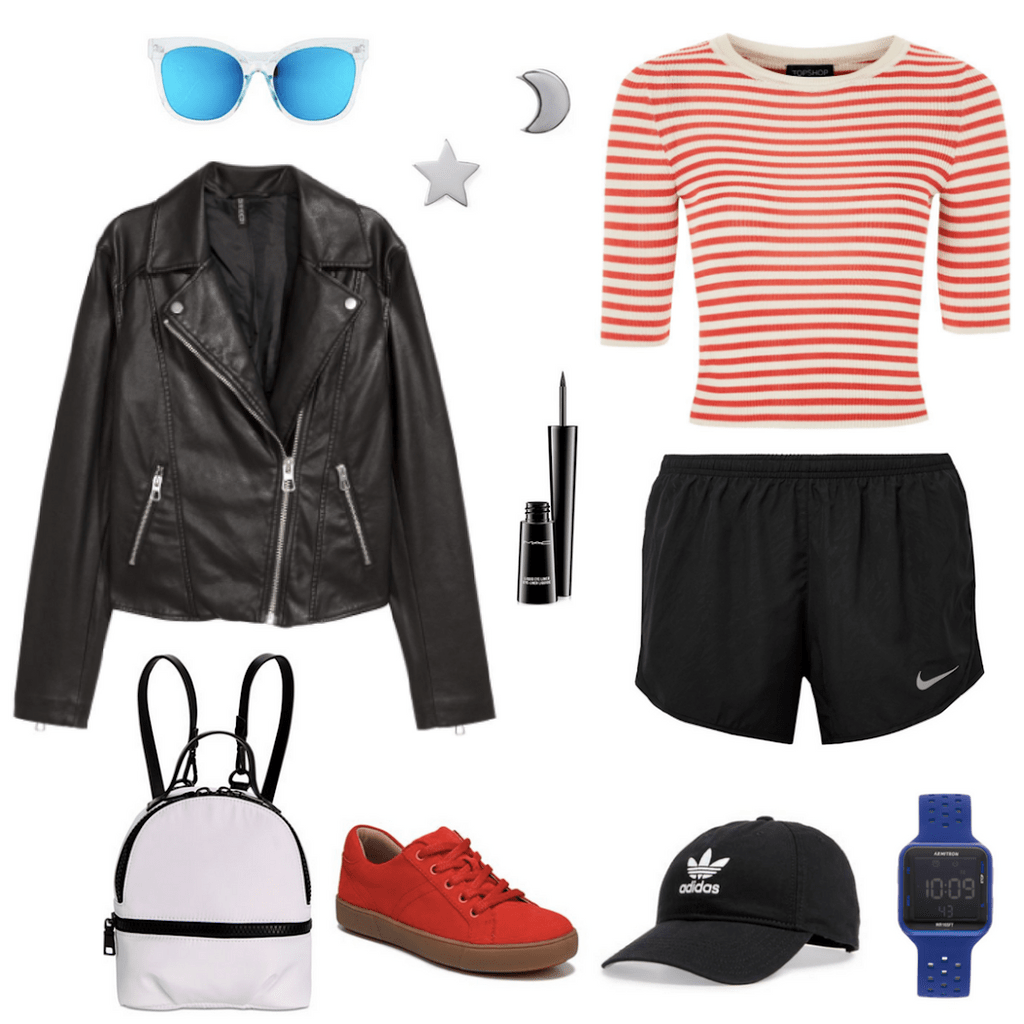 Products: Sunglasses – Nordstrom, Leather Jacket – H&M, Backpack – Steve Madden, Earrings – Nordstrom, Eyeliner – MAC, Hat – adidas, Watch – Kohl's, T-Shirt – Topshop, Shorts – Nike, Sneakers – Lord &Taylor
Nike shorts. Whether you were an athlete or not, you most likely owned a pair of these and wore them All. The. Time. You probably wore these with the first T-shirt in sight (hey, they're really versatile). We're going to give that tee an upgrade by adding a cropped boxy fit and sporty stripes. Make this look less "I-just-rolled-out-of-bed" and throw on a classic leather jacket for a bit of edge.
These shorts were technically meant for exercise, so add a sport watch, adidas cap, sporty backpack, and bright sneakers. Put up on your too-cool-for-school mirrored shades over your perfectly flicked cat-eye, and add mismatched earrings to make this unfussy look stand out.
Outfit #3: Your Logo Tee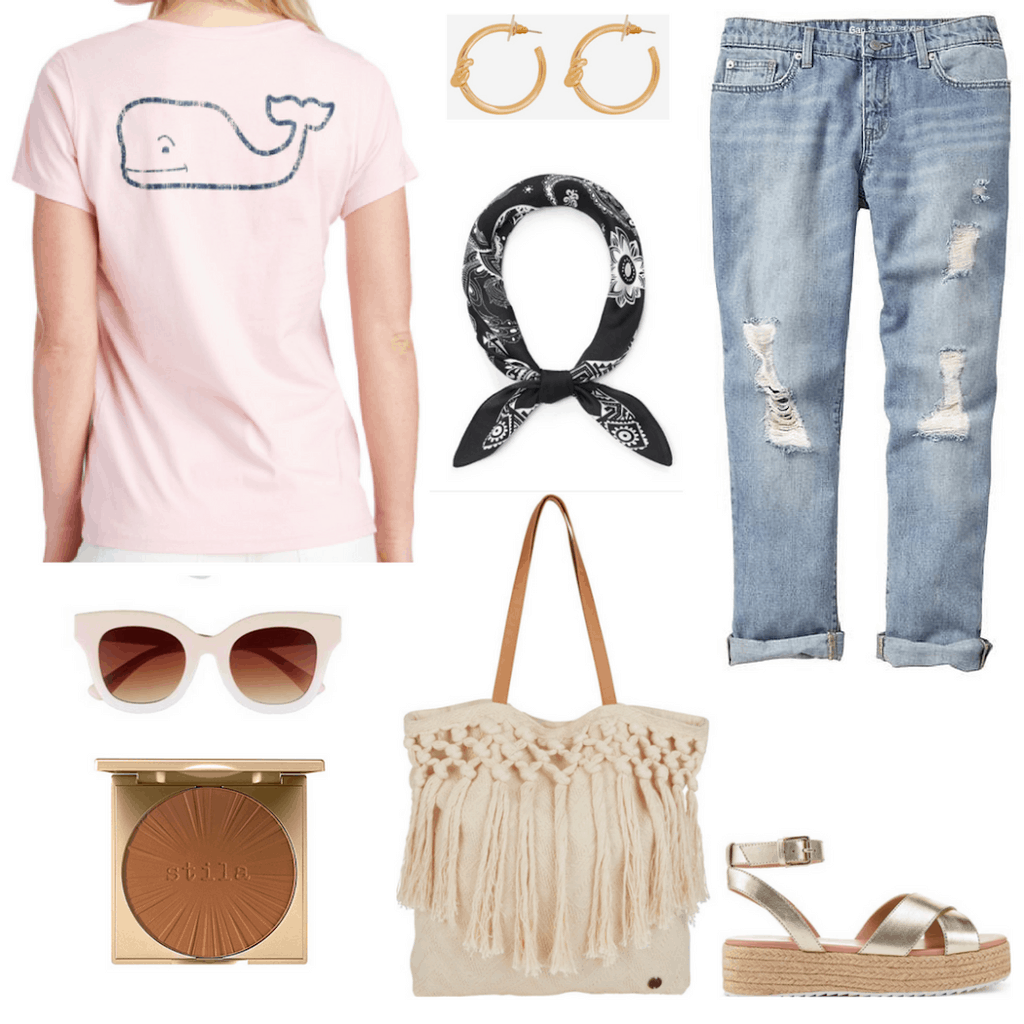 Products: Logo Tee – Vineyard Vines, Sunglasses – Nordstrom, Bronzer – Stila, Earrings – Seed Heritage, Bandana – Toni Lauren, Tote Bag – Billabong, Jeans – Gap Factory, Espadrilles – Misselfridge
Do you remember seeing one of these names on everyone's shirt: Abercrombie, Hollister, Aéropostale, or Vineyard Vines? If you went to high school in the last ten years, chances are, logo tees were a thing. Now that they're not as big of a deal, what do you do with all those shirts you bought? Pair them with boyfriend jeans for a casual summer look!
To keep it from looking too casual, add platform espadrille sandals, and small gold hoop earrings. But this is a summer look, after all, so don't forget your sunglasses, bandanna headband and beach tote bag! If summer hasn't reached you yet, dust some bronzer on those cheeks.
What Do You Think?
Would you re-wear your high school faves? Do you have any particularly cringe-worthy high school fashion moments? Would you try any of these outfits? Let us know in the comments!