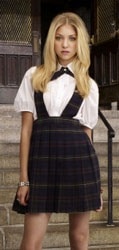 For the last and final part in College Fashion's Gossip Girl Fashion series, I'm going to break down Jenny Humphrey's style, and show you how you can easily dress like Jenny.
Jenny, played by actress Taylor Momsen, is the youngest main character on Gossip Girl. She's the younger sister of the character Dan Humphrey, who was dating Serena van der Woodsen for most of GG's first season.
Jenny lives in Brooklyn, and hates that she doesn't have lots of money like the other girls at Constance Billiard School for Girls. Fortunately, Jenny has an eye for fashion and skills with a sewing machine. She's the ultimate "look for less" girl, and that's what makes her style so fab to talk about here!
Jenny's Style
As a high school freshman trying to fit in with uber-rich and fashionable juniors, Jenny's style is very trend-conscious, yet still affordable. If Little J. can't buy a designer gown for one of the exclusive parties, you can bet that she'll show up in a gorgeous replica that she made herself. She's all about finding designer knockoffs or creating them herself. She'd never wear anything vintage or "last season."
If you want to dress like Jenny, take note of the latest fashion trends, and if you can't afford a designer piece, make it yourself, or look for a similar item in a discount store. You also may want to pick up some of Jenny's own wardrobe must-haves.
Jenny's Fashion Essentials
Bright Colors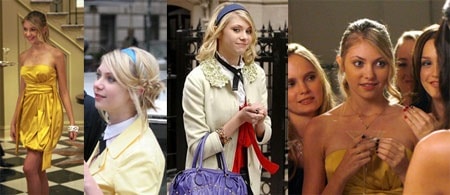 Like Serena and Blair, Jenny loves to mix bright pops of color into all of her outfits. Brights were a huge trend this season, and Jenny took notice. Yellow was Jenny's favorite color this season – from the yellow dress that she wore to __ party, to the yellow trench that she wore on a date with her new boyfriend Asher, she rocked it in nearly every episode. Purple was also big in Jenny's wardrobe, in the form of purple tights and a purple Valentino purse (middle photo above).
To buy some bright stuff of your own, shop at Bluefly (fabulous accessories & shoes), Asiajam (crazy bright clothing at cheap prices), and for bright basics, Urban Outfitters. Pick up technicolor bags, bright tights, and the most colorful trench coat you can find for maximum Jenny appeal.
Hats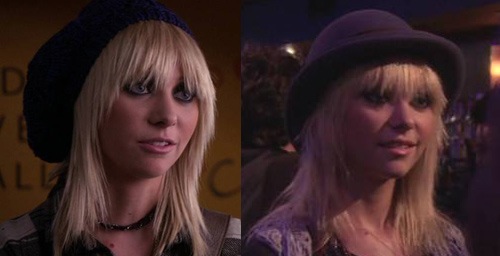 Jenny is the only Gossip Girl cast member known for her winter hat collection. Since she loves plaid, her winter caps are always printed and usually match the rest of her outfit perfectly. Cute hats like Jenny's are a great way to accessorize in the winter. If you want one of your own, try PacSun or Urban Outfitters during the winter.
Short Skirts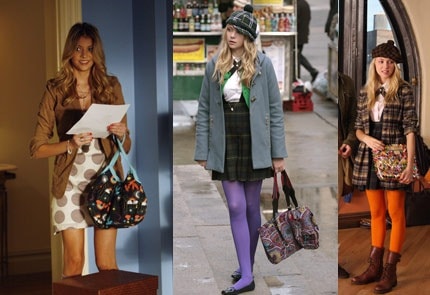 Because she's blessed with extremely long, skinny legs, Jenny loves to show them off with short skirts that hit above the knee. She pairs her minis with brightly colored tights in the winter, and bare legs when it gets warmer. For a casual look, Jenny accessorizes with a long jacket and flats or boots. If she's going for a dressy outfit, mini dresses and skirts go with heels and fitted jackets.
If you want to dress like Jenny, designer mini dresses and skirts are all available at ShopBop, the ultimate online designer store. If you're looking for something on the lower-end, I recommend both H&M and Forever 21.
Long Jackets & Coats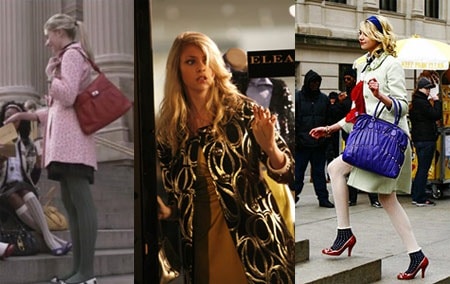 Jenny loves to wear a long pea coat or trench coat over her mini skirts and dresses. This is a really smart idea fashion-wise, because a structured, gorgeous jacket can make an otherwise boring outfit amazing. For example, in the middle photo above, Jenny wears a glittery gold patterned jacket over a solid-colored basic dress. Since most of the dress is covered up, the outfit becomes all about the coat.
A great long jacket is something you should spend a little extra money on, because it will last you many seasons and will work with so many outfits. For a classic jacket like one of Jenny's, I recommend shopping at J. Crew or Ann Taylor for a basic trench, and Nordstrom for a flashier coat.
Prints & Plaids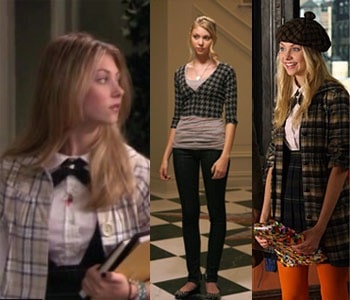 If you love to wear prints, then Jenny's style is perfect for you. This girl is all about the patterns, paired with simple solid basics in coordinating colors. If you want to get Jenny's look yourself,
For a similar cropped houndstooth hoodie (middle picture), try Karmaloop.
If you're looking to cop a plaid jacket of your own, you can buy Burberry jackets at Nordstrom, or cheaper versions at Banana Republic. For the best selection of jackets, shop during late summer and early fall.
Your Thoughts?
What do you think? Is Jenny your Gossip Girl fashion icon, or are you more of a Serena or Blair? Would you wear Jenny's style of clothing? Let me know what you think in the comments!
Also, if you missed any of the other Gossip Girl fashion articles, here they are in order: