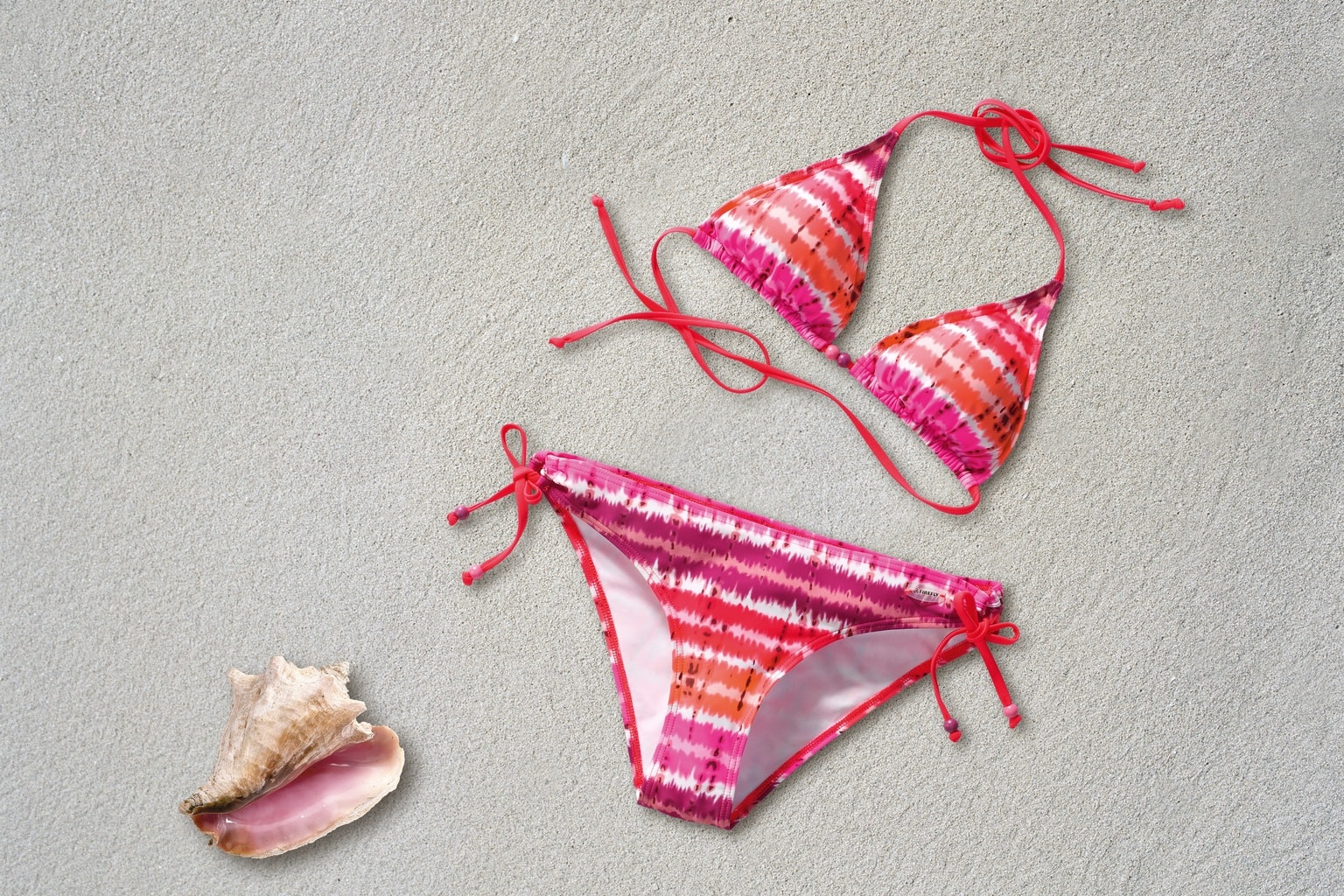 Swimsuit season is officially upon us, and I can hear the beach calling my name! However, as exciting as frolicking in the the waves and tanning poolside is, swimsuit season also means swimsuit shopping, which is kind of the worst. There's nothing more frustrating than cluelessly trying on countless suits searching for the perfect one.
In this post, I've put-together some advice for finding figure-flattering swimsuits that I truly believe will make every body type look incredible, along with swimwear that will have you dreaming of jumping into crystal blue waters.
Before we begin…
I do want to point out that there are countless body types out there and every kind is beautiful. My hope is that you can interpret my advice on swimsuit shopping for the basic body types below and mix and match it to fit your particular body type.
For example, I have a petite and athletic build with a larger bust, so I would try to find a suit that complements all of of those features. Best of luck!
(For even more swimwear advice and inspiration, be sure to check out our past posts on swimsuit shoppingfor body shapes, as well as last week's post on 2014 swimsuit trends.)
Petite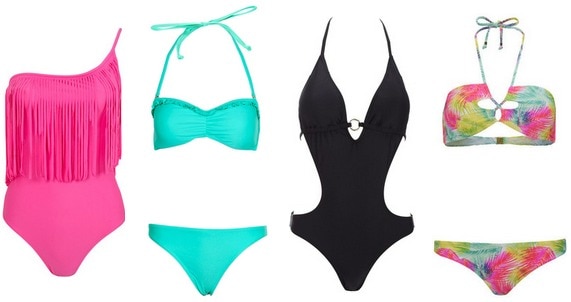 Product Info (left to right): Pink One Piece, Turquoise Bikini, Black One Piece, Neon Bikini
If you're short (like me!), the key to rocking a swimsuit is finding one that will emphasize and elongate your legs and torso. Higher cut bottoms make your legs look longer, and solid colors make your body appear taller.
Halter tops are also ideal because they won't cut off your line. Great things come in small (AKA petite) packages!
Athletic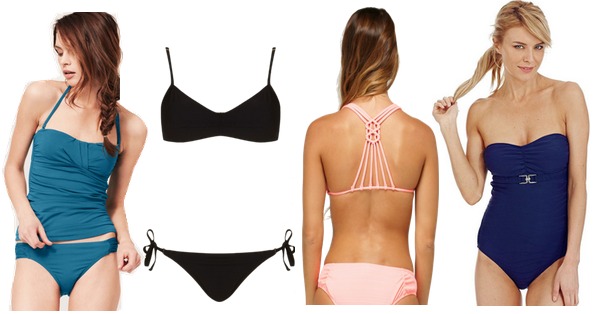 Product Info (left to right): Teal Tankini, Black Bikini, Pink Bikini, Navy One Piece
If you've put in the sweat to obtain lean muscles, then you need to show them off! Highlight your athletic build in a tankini, which will shorten the upper body and create an hourglass shape at your waist.
Thin straps or no straps draw attention to your toned arms, while an intricate back design will showcase your muscular back.
Curvy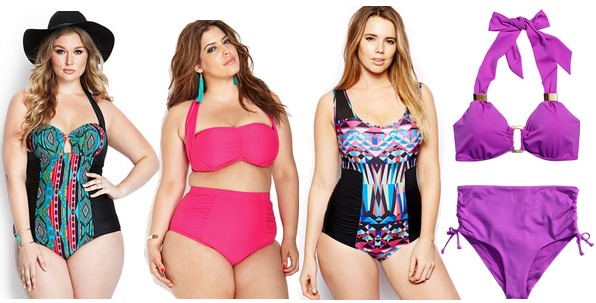 Product Info (left to right): Ikat One Piece, Pink Bikini, Graphic One Piece, Purple Bikini Top, Purple Bikini Bottom
If you've got curves, then you should absolutely be flaunting them! I recommend trying high-waisted bottoms that flatter and emphasize your waist.
One piece swimsuits are in this season, and are a great option if you're looking for a little more coverage. Plus, they create a seamless line from head to toe.
Tall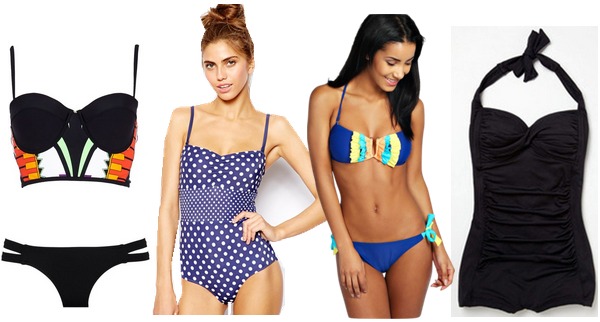 Product Info (left to right): Bustier Top, Black Bottoms, Polka Dot One Piece, Tri Color Bikini, Black Halter
If you're tall, then first of all, would you mine lending a little height to us short gals? Kidding. Mostly. Seriously though, if you're tall, then by all means work your long legs and torso.
You can be much more versatile with the cut of swimsuit bottoms since your legs are already miles long, and you can balance them out with a bustier-style swimsuit top.One pieces will also enhance your tall frame.
Large or Small Bust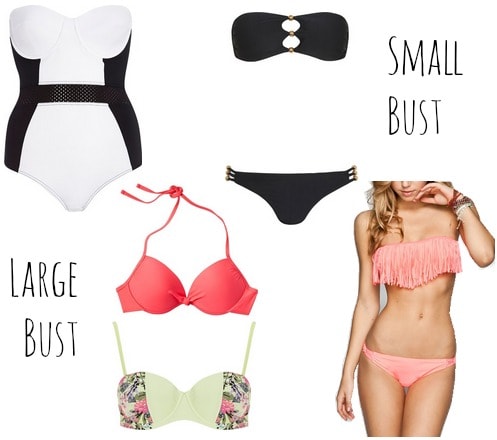 Product Info (left to right): Black-and-White One Piece, Coral Top, Floral Top, Black Bikini, Fringe Bikini Top
If you have a large bust, then the most important thing is to find a swimsuit that offers good support. Opt for a swimsuit that has molded cups or a balconette design that provides adequate coverage and lift, but still allows you to flaunt what your momma gave you.
If you have a smaller chest, enhance itwith a fringed bikini top or rock the cleavage you do have with a daring cut-out top.
Your thoughts?
Are you in the market for a new swimsuit this season? What's your body type and what kind of swimsuit will you be wearing? If you have any advice on swimsuit shopping please share!