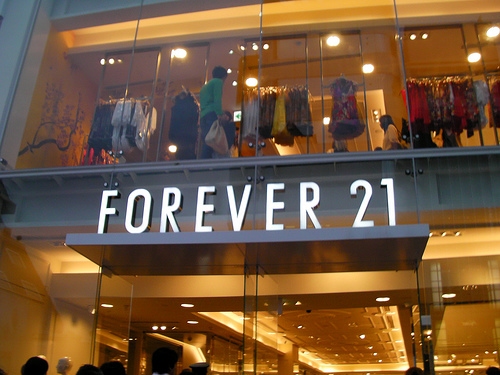 Let's be honest, it's tough to walk out of Forever 21 without something in hand. Since Forever 21 has appealing styles at even more appealing prices, we don't feel guilty snagging that top or buying that bracelet. However, the inner workings of Forever 21 can definitely be somewhat of a mystery.
Below, I'll tell you all about how Forever 21 works and give you some must-know tips and tricks for shopping at F21:
Related Reading: Best Forever 21 Finds: The Cutest Items to Scoop Up ASAP
How does Forever 21 work?
Forever 21 is a fast-fashion retailer, meaning it provides the most recent runway trends at a much cheaper price than the designer originals. So how does Forever 21 make its money?
One theory, as explained by Business Insider, is that fast-fashion retailers like Forever 21 make their money two ways: cheap labor and cheap designs. The base of this theory is that Forever 21 can sell its merchandise cheaply because it makes the manufacturing process inexpensive. Forever 21 is often the subject of criticism for its controversial labor conditions, as well as being frequently accused of copying designs.
For a more in-depth discussion of Forever 21's labor practices and why they may not be something you want to support, be sure to read our post on labor exploitation by fast-fashion retailers.
Another theory explained by NPR is that fast fashion chains like Forever 21 make money due to the large volume of merchandise they produce. Forever 21 has the resources to produce mass amounts of their products and then sell them all at an affordable cost. This results in Forever 21 selling the most current trends, constantly changing its inventory, and still maintaining dirt-cheap prices.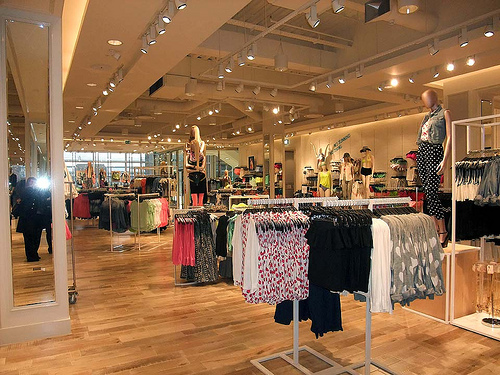 Unfortunately, the dirt-cheap prices and methods of obtaining them mean that the quality of clothing at Forever 21 often takes a hit… as most of us who shop there already know. However, if you still want a cheap piece of clothing regardless, there are ways to get the most for your money at Forever 21 if you're willing to do a little work! Here are six tips and tricks for shopping at this fast-fashion retailer:
6 Tips for Finding the Best Quality at Forever 21
1. Look at the seams.
This tip is important, because seams are very telling about the quality of an item. Take the two sides of the seam and gently pull them apart. If the two sides of the seam appear to come apart relatively easily, the thread starts to come undone, or you feel that with a little bit more energy you could rip the item in half, it's not made well and won't hold up for long.
2. Check if it's see-through in multiple ways.
Although see-through tops are a huge trend, we can all agree that there are some items we don't want to be transparent. First, check if your item is see-through by putting your hand inside and seeing if your hand is still visible. Next, examine the item in one of the big mirrors and hold it up so that light is hitting it.
After that, try it on and use the space in the middle of the dressing room area to walk up and down. Forever 21 clothing is often very thin and can be see-through even if it's not supposed to be. If you want to be sure you're not exposing any skin, play it safe and buy something with a lining or plan on wearing something underneath.
3. Check the labels to find diamonds in the rough.
The care label contains very useful information, and yet many people forget to look at it or don't know what they're looking for. The first thing to check on a label is the materials.Natural fibers like cotton and linen have better reputations than synthetic fibers like polyester when it comes to quality and durability.
Though you'll probably never find a cashmere sweater or real leather jacket at Forever 21, keep your eyes open for some great wool, linen, and silk blends. Most of the clothing at Forever 21 is made of artificial fibers and poly-cotton blends, so if you find a piece in another fabric, you've probably stumbled across a gem.
4. Learn how to care for your clothing.
Also on the label is the washing, cleaning, and care information for the article. It's important to read and understand this part of the label because a large factor in how long your item will last depends on how well you're taking care of it. You could also try washing all of your Forever 21 clothing together on a gentle cycle. (For more, see our laundry tips for fast-fashion clothes.)
5. Look for Love 21 items.
I have found that the better-quality items at Forever 21 are often the Love 21 items. Love 21 is their contemporary line that targets a slightly older shopper than the regular Forever 21 brand. Since Love 21 is geared towards a more mature audience, the clothing runs slightly larger, is more modest, and is often better quality.
6. Realize that you get what you pay for.
At the end of the day, you get what you pay for at Forever 21. It may not be the destination for high-quality, long-lasting clothing but that doesn't mean you shouldn't shop there if you love the clothes.
Thoughts?
For more on this subject, see our post on tips and tricks for shopping online at Forever 21, where we share our favorite ONLINE shopping tips to get the most for your money.
Now we want to hear from you. What do you think? Do you have your own tips for shopping at Forever 21? Leave us your thoughts in the comment section!