This post is sponsored by Basic Invite. The opinions, as always, are our own.
This post will show you the cutest graduation announcements 2021 grads are going to love sending out.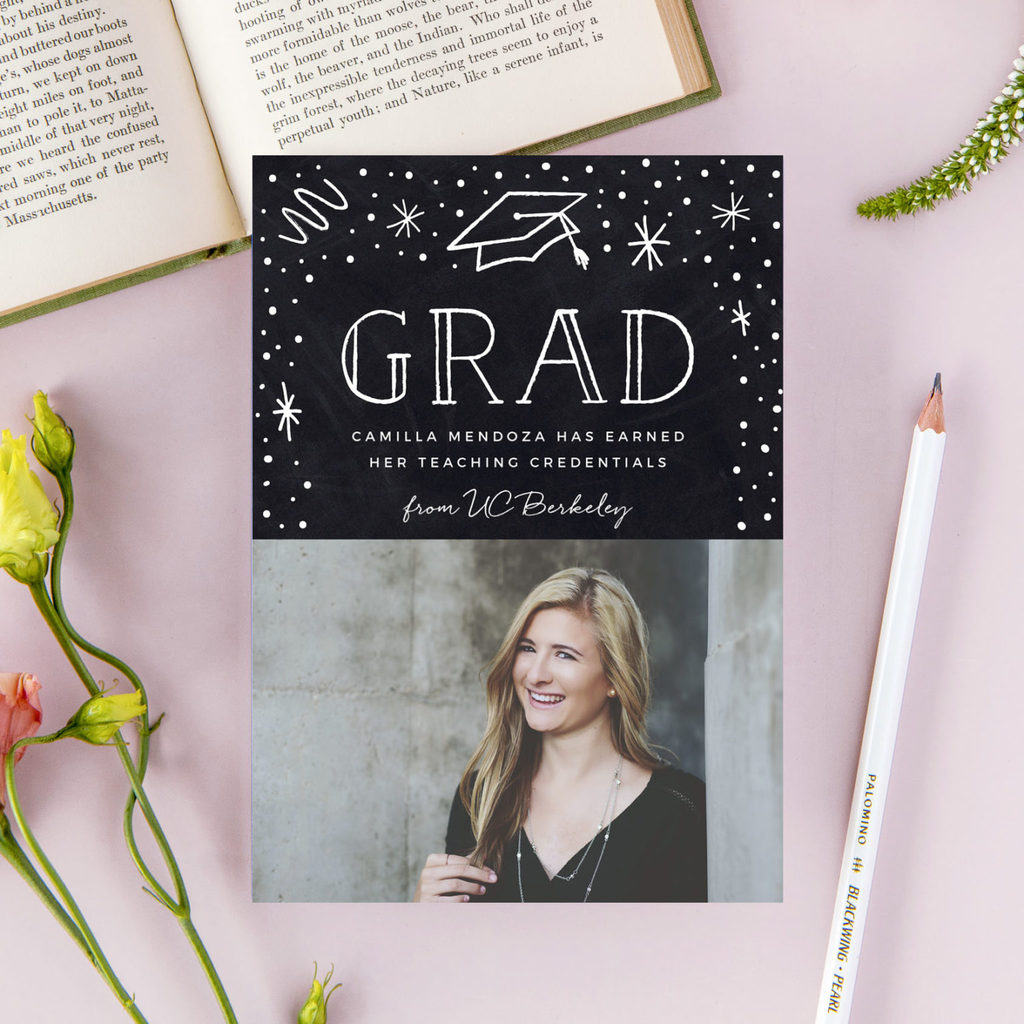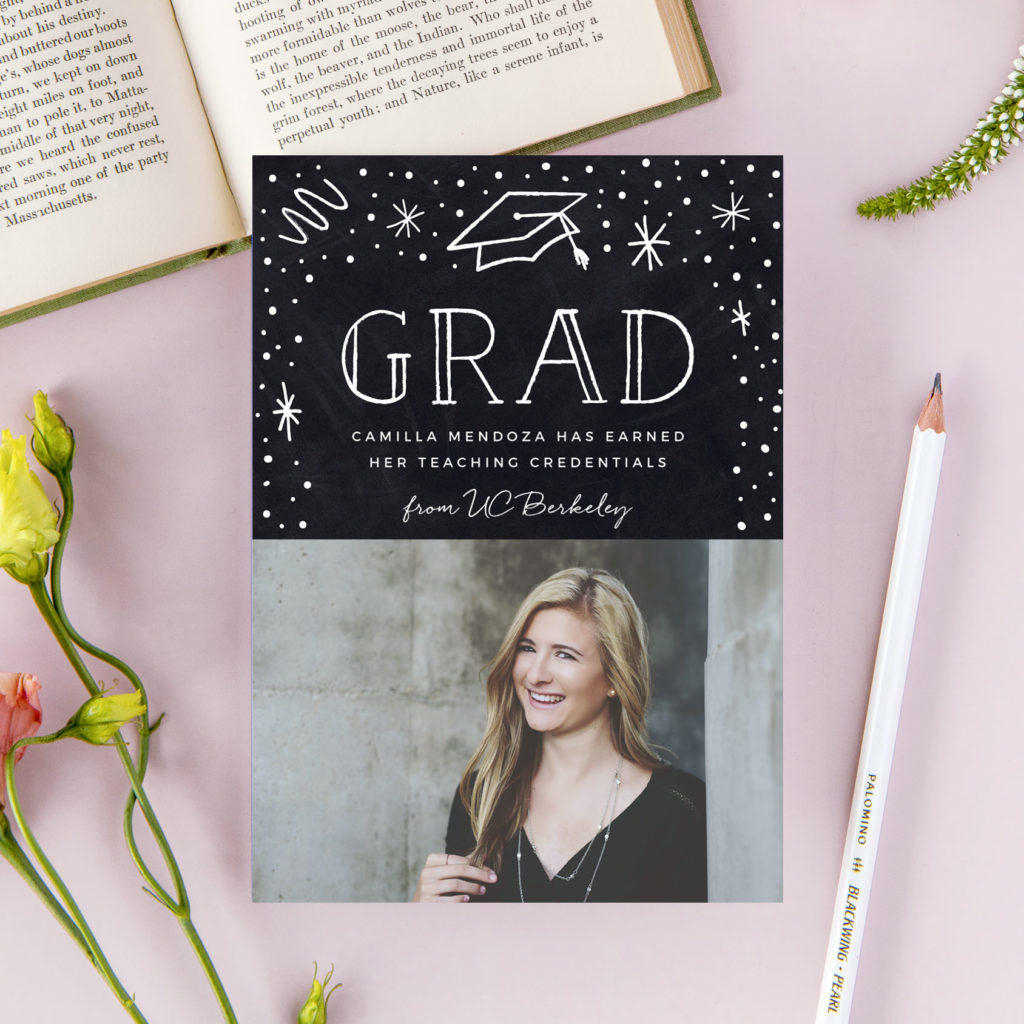 With graduation season coming up, every soon-to-be-grad needs to start thinking about graduation party invitation ideas and graduation announcements before the semester gets too busy.
You may be asking, why bother sending a graduation announcement?
Well, because your friends and loved ones should all know about your awesome achievements — don't hold back!
It's so much fun to make a statement with your announcement and celebrate how much you've accomplished. (Plus, you might get a gift or two in return, just saying.)
Below, we've rounded up our favorite graduation announcements of 2021 to help celebrate your big day in style.
Classy "Airy Script" Graduation Announcement
This one is so classic and classy, a beautiful way to mark your graduation in style. It's particularly great if you had senior pictures or a recent photo shoot done and want to show off a beautiful photo of yourself.
Then & Now Graduation Announcement
How cute is this "then and now" announcement? It's the ultimate throwback and such a cute idea. It's especially great in black and white for that sweet retro feel.
She Did It! Announcement
This invite is all about your achievements — graduation is momentous, and we should recognize it as such. Tell everyone you DID THAT with this cute card.
The best part is, this one can be completely customized depending on your color and font preferences. (This pink and gold is so pretty, though!)
2021 Graduation Announcement
Pay tribute to your year with this 2021 styled announcement from Minted.
I love that it allows you to use four different photos in such a creative way, if you have a bunch of photo options and can't choose.
GRAD Announcement Card
I love the slightly boho feel of this GRAD letters announcement for 2021. It's so classic with the black background — great if your style veers more toward edgy or bohemian.
Mastered It! Announcement
This is such a cute and funny announcement for anyone getting their Masters in 2021.
I love the landscape orientation too. I find most graduation announcements are printed vertically, so this one will stand out.
Painted Swash Announcement
I think this might be my favorite of all the announcements on this page.
I just love this announcement for its minimalist, slightly boho feel. It gives me all the California girl vibes.
Also, if you want to use this as an invitation for graduation, you can customize it on the back with all of the details your guests need to know.
! Announcement
This is such a cute option if you want something that's upbeat and funny to announce your graduation.
It says it all with a cute exclamation point graphic and can be customized in six different colors.
Gradient Announcement
I love the washed out sunset feel of this gradient announcement — definite Instagram filter vibes, in the best way.
This one is also perfect if you want to use a headshot instead of a full body shot for your announcement.
Glitter Confetti Announcement
Who doesn't love glitter? This glitter confetti announcement is so glam and is sure to stand out from the crowd.
This one features real glitter and is the perfect choice if your style is girly or glam.
Sparkle Multi-Photo Announcement
Another sparkly announcement that allows you to use more than one photo — perfect if you just can't choose!
I love the casual, scrapbook feel of this one. It's perfect if you don't want anything too formal and just want to celebrate in style.
Country Lights Announcement
This announcement gives me all the cozy Southern vibes but is still totally classic as well. The neutral color scheme will go well with any photo, too!
Simple & Classic Written Announcement
This one is so classic and sophisticated, perfect if you're graduating from a field like Business or Medicine.
It simply lists your name and year and is great for pairing with a full body photo as seen above.
Teacher's Chalkboard Announcement
This graduation announcement for 2021 features chalkboard sketches and a graduation cap in black and white. It's classic but also super cute.
This would be an amazing choice if you majored in Education or are going on to teach with an advanced degree.
Minimalist Announcement
Here's another minimal-styled graduation announcement for 2021 that has a girly California boho feel to it. It also has definite fashion girl vibes.
This would go great with a casual photo for a laid-back take on the graduation announcement.
"She Persisted" Announcement
Nevertheless, she persisted. Bring some girl power to your graduation announcement with this card that celebrates you for the strong woman you are.
(Surviving school in 2021 definitely requires extra persistence, let's be real.)
I also love that this card has a section at the bottom for your address, in case your loved ones won't be able to celebrate in person with you this year.
Photo Booth Strips Announcement
This announcement is a fun take on old school photo booth strips. It's so perfect if you have a bunch of different photos you want to use and can't decide between them.
This announcement looks so modern thanks to its neutral tones and large serif font, too. It's sure to stand out from the rest.
Glitter Pop-Out Announcement
Here's a great announcement to use if you want to update your friends and family on your progress, your degree, or your future plans. It allows for tons of detail because it opens up to reveal text inside.
You can even use this announcement to include graduation party info on the inside.
Graphic Design Announcement
Calling all art or graphic design majors! This announcement features multicolored flat graphics and a graduation hat sketch, so it's a perfect fit for anyone in an artistic field.
The best part is, you can completely customize all of the colors on the graphics, to fit your personal aesthetic.
Lettered Overlay Announcement
I love this lettered overlay announcement because it's so simple but makes a bold statement.
It's also available with foil for the gold lettering so it will shine as bright as you do.
"The Tassel Was Worth the Hassle" Announcement
Bring a bit of humor to your announcement with this cute card that reads, "the tassel was worth the hassle." Anyone who has attended school can relate!
Keep Calm and Graduate Announcement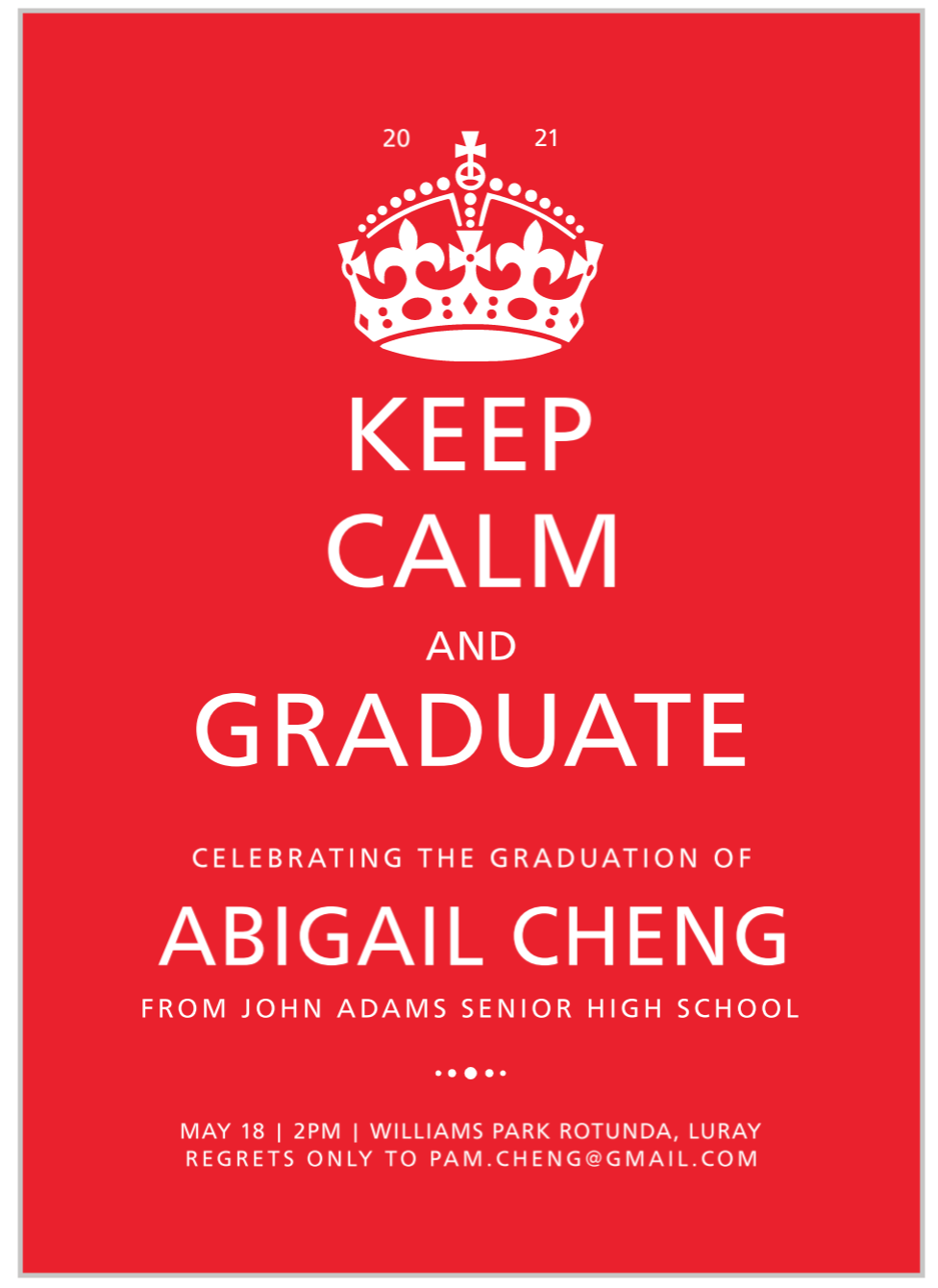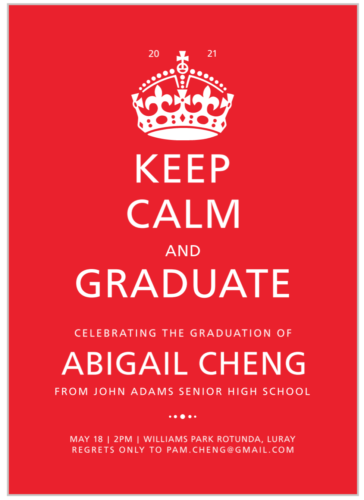 If you don't want to include a photo on your graduation announcement, here is a super cute option that's still festive and fun.
This "keep calm and graduate" announcement has space for your name and school, plus information on your ceremony if it's going to be in person this year.
"The Best is Yet to Come" Announcement
Especially true this year, the phrase "the best is yet to come" is a fitting one for graduating in 2021. While graduation can be bittersweet, this announcement looks ahead to all the good things that are still set to arrive.
Plus, it has space for a variety of photos, always a good thing.
Bold Letters Graduation Announcement
If you took graduation photos somewhere with a scenic backdrop, this is 100% your announcement! It pairs bold type over your photo, letting the picture shine.
I especially love it with the sunset beach scene above — such a cute idea that really stands out.
Staggered Snapshots Announcement
Here's another super cute graduation announcement for 2021 that features four spots for photos.
I love the idea of using a bunch of shots from the same photo shoot as above, or you could search your Instagram for some of your favorites from the year.
Flash Frames Announcement
This announcement is a little different from all the others in that it features only thin vertical photos. It's definitely a perfect choice if you want to show off a cute graduation dress in your announcement!
Or… Customize a Template to Fit Your Aesthetic
If these aren't your style, remember that you can always customize a graduation announcement to fit your aesthetic.
We definitely recommend playing around with some graduation announcement templates to find the exact one that fits your vibe. That way, you can have something completely custom for your big day.
What do you think of our graduation announcements 2021 roundup?
Which graduation announcement was your favorite? Are you going to be sending graduation announcements this year? Let us know by leaving a comment down below.
Disclosure: This post was sponsored by Basic Invite. The opinions, as always, are our own. For more information, please see our Disclosure page.