Every girl has to have a pair of boots in their closet, whether it's booties, knee high boots, or over-the-knee boots. Every girl should also have at least a couple of different colors of boots to choose from. This season, I recommend picking up a pair of gold boots. They're versatile (metallics are neutrals), glamorous, and statement-making. What's not to love?
Today, we're going to focus on faux leather gold boots. Here's how you can style gold boots when you're going to class and hanging out at night.
How to Wear Gold Boots This Winter: Outfit for Class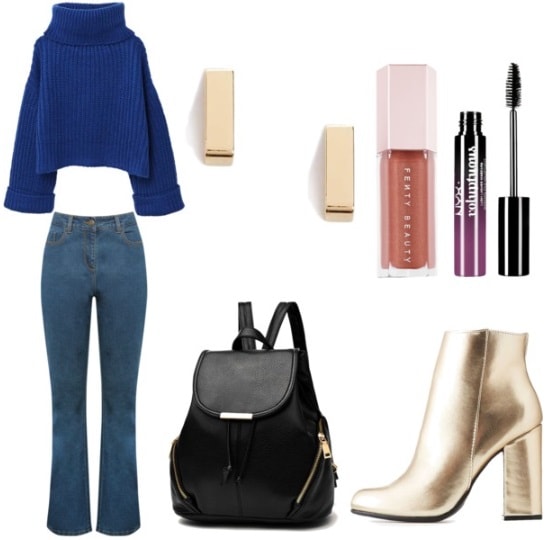 Products: Boots – Charlotte Russe, Turtleneck – Mango, Backpack – Amazon, Jeans – Mandco, Earrings – Forever 21, Lipgloss – Fenty Beauty, Mascara – NYX.
Styling these gold boots with a deep blue oversized turtleneck is the perfect idea for a comfortable, stylish daytime outfit. The deep blue sets off the outfit, giving it that pop of color. When going to class, the goal is to be as comfortable as possible but stylish as well. Due to the boots being a light gold color, pairing them with blues and blacks works perfectly.
Adding the medium wash flare jeans is the perfect way to keep your look casual and on-trend. Although there's no jacket above, make sure to pair your outfit with a light jacket (if you live somewhere warm) to avoid getting too hot in the chunky sweater.
How to Wear Gold Boots: Outfit for Going Out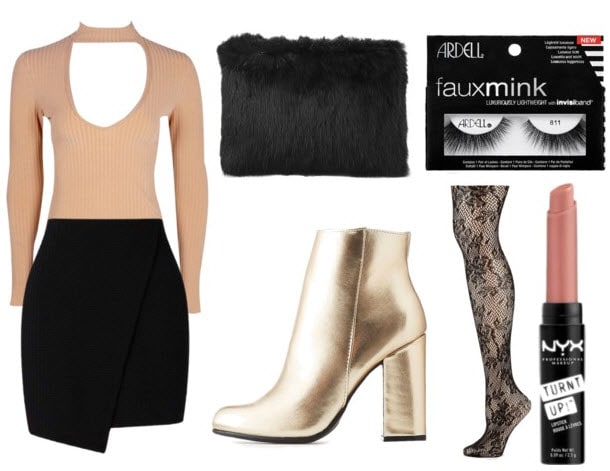 Products: Boots – Charlotte Russe, Bodysuit – Boohoo, Bag – Lord & Taylor, Skirt – Miss Selfridge, Tights – Lord & Taylor, Lipstick – NYX, False Lashes – Pretty Little Thing.
More than likely it'll be cold when going out in the winter time (depending on where you live) so adding tights to the outfit will help keep you somewhat warm. Tights with designs on them are also a style trend to look out for this winter.
Mini skirts aren't just for the summer! Wearing a mini skirt in the winter with some statement tights is a great look. It's an especially cute combo with this beige bodysuit added in. Finally, a faux fur bag is stylish accessory (fur bags are also in style this season). You're set for a fun night!
Are you going to kill it in gold boots this winter?
Will you be pulling off the gold boots look? What colors will you pair your gold boots with? We want to hear! Leave a comment and let us know!