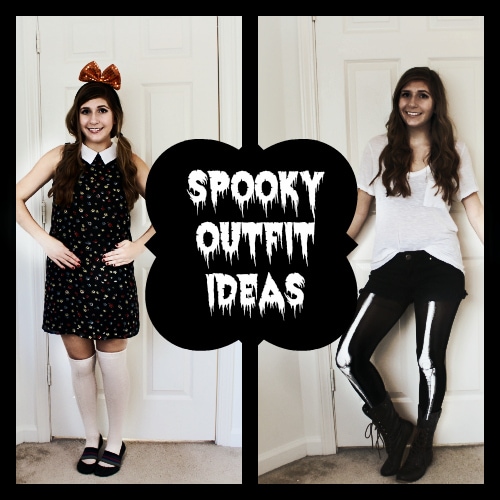 When the stores start selling evergreen-scented candles and snowmen decor, we all know what season it is: Halloween – because the stores are all run by time travelers who can't keep their calendars straight.
Many high schools and some college campuses do not allow Halloween costumes, but in my experience, festive outfits are usually acceptable. No matter if you're doling out peanut butter cups at home (who we are kidding? Those are all gone before Halloween), working at a fall festival, or don't want to wear a costume, here are some outfit ideas to add spook to your style.
1. A Real Girl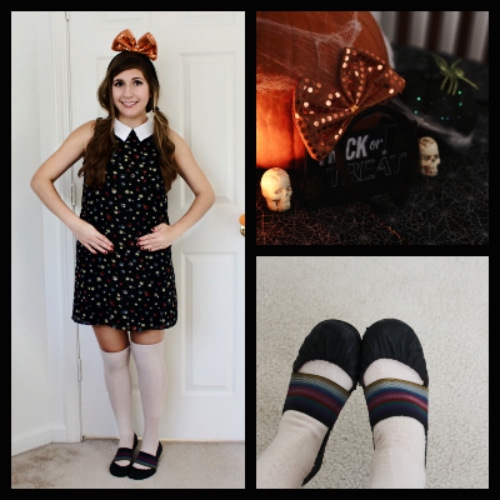 There's a fine line between creepy and adorable. Don't tear yourself into little bits, Nora, by worrying about what to wear.
For this easy outfit, pair your girliest frock with tights or high socks. Vamp up the doll-feel by going overboard on the accessories, like this shiny bow from Target.Complete the look with pigtails.
To turn this into a full-blown costume, I'd recommend thrifting a dress, then tearing up the seams and smearing it with fake blood. Happy destroying!
2. Lift Your Spirits, Bury Your Body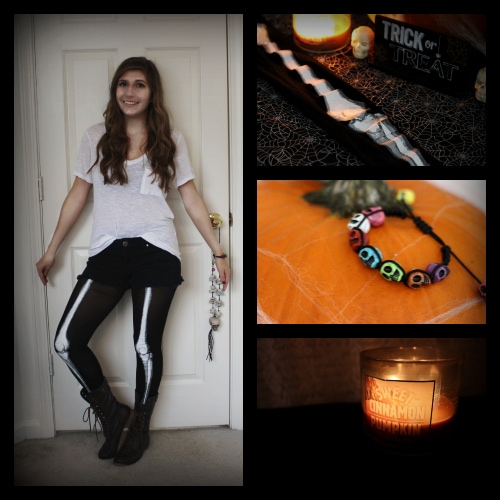 You can't be part of the skeleton war unless you're in disguise. And by disguise, I mean a pair of skeleton tights. These skeleton tights are often depicted as "skeleton leggings," but that's a lie we see right through.
Since this is war, soldier, you need your combat boots. If you want take this look from day to night, or partially dead to walking dead, transform your features with makeup. You've now got a killer costume of a killed person.
Stick and stones may break your bones, but accessories can accent or take away from an outfit. This colorful skull bracelet is from Party City and helps you stay ahead.
3. Halloween Decor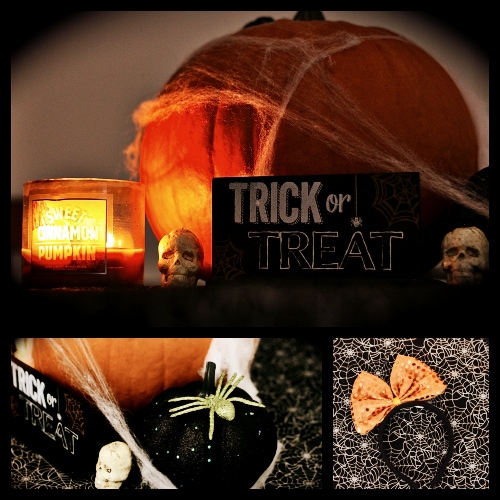 Decorating your house doesn't have to be expensive. This black pumpkin, Trick-or-Treat sign, and sequin bow are all from Target's clearance section. The cobwebs and tablecloth are from the magical world of Wally, better known as Wal-Mart. Don't forget about the essential pumpkin-scented candle. Not only will your house smell delicious, but it'll be ready to spook.
Happy Halloween!
What are you wearing for Halloween this year? Do you like to look festive for class? How do you decorate your place for Halloween? Let me know by leaving a comment!