A few weeks ago, I wrote an article about dressing like some of the girls from Fox's hit TV show Glee. In the comments section of that article, many of you said that you liked Mercedes', Tina's, and Kurt's styles, and wished that they had been included in the how-to post.
Though Mercedes, Tina, and Kurt haven't gotten the major screen time of Emma, Rachel, or Quinn, all three of the "gleeks" have unique senses of personal style that are definitely worth writing about.If you were one of the many readers who asked for an outline of Tina, Mercedes or Kurt's style–I heard you! By popular demand, here's a follow-up: Fashion from Glee Part 2!
Mercedes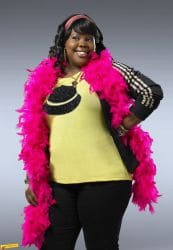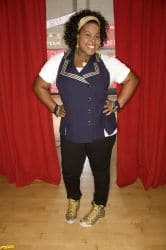 Mercedes Jones is the glee club's resident diva. The only singer with a voice powerful enough to rival Rachel's, Mercedes is competitive, passionate, and always stands up for herself. Because of these things, it only makes sense that Miss Jones' strong personality would be accompanied by a bold sense of style.
Style Basics
Wild child flavor with urban edge. Mercedes is a bold girl who favors a wild style. She wears lots of animal prints and patterns, and isn't afraid to layer brightly colored pieces. Mercedes has also been known to wear hoodies and jerseys, adding some urban edge to her style. A plus-sized girl, a large majority of Mercedes' unique wardrobe comes from Torrid if you're looking for further inspiration or want to imitate her look!
Love for denim. Mercedes' sense of style is one that I actually find realistic for a high school girl: she wears a lot of denim. Skinny jeans, flares, and the occasional jean skirt are staples in her wardrobe, usually in darker washes with strategic whiskering.
Accessorized to the max. Hoop earrings? Chain necklaces? Door-knockers? Bracelets galore? Mercedes is your girl. Her jewelry is often pop-culture inspired and is always flashy. Mercedes layers it on, and occasionally tops her outfit off with a great hat.
Queen of kicks. Mercedes is the queen of fancy footwear, almost exclusively styled in high-top kicks. She favors metallics, neons, glitter, and prints on her many pairs of Nike Dunks and Pastry high tops.
Inspired by Mercedes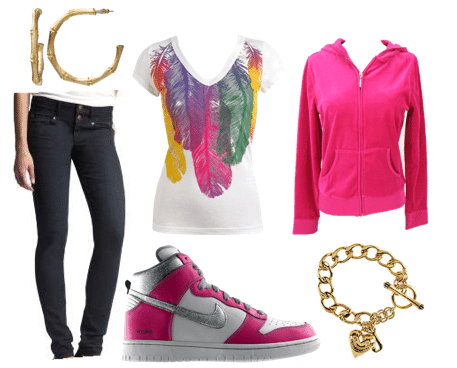 Product Information: Kenneth Jay Lane Bamboo Hoops, Piperlime. Mid-Rise Skinny Jeans, Gap. Foil Feathers Tee, Wet Seal. Nike Dunk High Premium iD Women's Shoe, Nike.com. Zenana Outfitters Velour Hoodie, Stylesforless.com. Juicy Couture Starter Charm Bracelet, Zappos.
Tina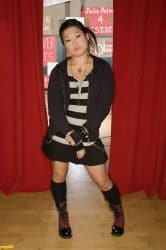 Looking at Tina Cohen-Chang's bold sartorial choices and blue highlights, you'd probably never expect that this girl is painfully shy and insecure! For example: that stutter of hers? Faking it just to keep people away. In Tina's case, however, fashion speaks louder (and clearer?) than words.
Style Basics
Avril Lavigne-inspired punk rock style. Tina is Glee's bad girl… or at least she dresses like one! Baggy clothes, punk-rock plaid and arm warmers are some of Tina's wardrobe essentials. She even showcases her rocker edge in her beauty routine with her blue highlights and love for eyeliner.
Tough accents. Tina's edgy look is made even tougher by the addition of rocker-chic accents and embellishments. She often wears shredded shirts, studded accessories, and exposed zippers in her ensembles. When Tina wears jewelry, it's usually a multi-strand necklace and embellished bracelets worn over her sleeves or arm warmers.
Prefers a dark color palette. Tina is not a fan of neons or pastels. Instead, she's usually styled in muted, darker hues. Army green, navy, grey, and black are typical of Tina's wardrobe. If brighter colors make an appearance, they're usually part of a print or used as an accent.
Not afraid to mix patterns and textures. Each of Tina's outfits is multi-dimensional and full of texture. Whether Tina mixes plaids and stripes or rocks fishnets and studs, she creates a look that's authentically edgy and never matchy-matchy.
Inspired by Tina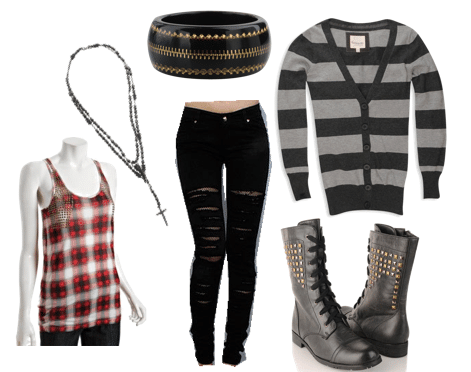 Ann Racerback Tank, Bluefly. Tusk Rosary Necklace, Asos. Zipper Trapped Bangle, Forever 21. The Fishnet Underlay Jean by Tripp NYC, Karmaloop. Wide Stripe Cardigan, Forever 21. Studded Military Boot, Forever 21.
Kurt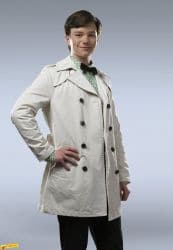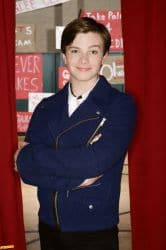 Even though Kurt Hummel is male, he is arguably the fiercest fashionista to have ever graced our TV screens on Wednesday nights. Kurt is a true showman, capable not only of choreographing amazing dances and singing soprano, but also of kicking for the football team… all of which he does in couture. Kurt's fashion sense is totally enviable, even with his Y chromosome!
Style Basics
Expensive tastes and high-fashion sophistication. Kurt is a die-hard designer devotee. Even though the show is set in small town Iowa, he casually wears over-the-top McQueen sweaters and Marc Jacobs tees to school. In fact, many of Kurt's sophisticated pieces are direct from RTW runway shows. While Kurt's look isn't especially believable, it's definitely enviable!
Expert tailoring. Kurt's clothing is always sharply tailored and never baggy. He favors a slim silhouette from top to bottom, even while layering. Well-tailored clothes, however, are not just for Kurt! They're universally flattering, and what celebrities swear by. A good tailor can fix a number of fashion faux pas – from jeans that need to be hemmed to a too-big blazer. A tailor can also totally restructure a good vintage find for a look that's 100% unique. Tailoring is definitely an expert fashion investment, no matter your gender!
An eye for trends. To accompany his love for labels, Kurt is also extremely trend savvy. Last season, he rocked blazers, chunky knits, skinny pants, and oxfords, all of which have become extremely popular in recent months. Kurt also has amazing styling prowess, giving Finn fashion advice before dinner with Quinn's parents, but sabotaging Rachel with an over-the-top "makeover."
Jackets serve as focal points for unique outfits. Kurt LOVES jackets. They are without a doubt his signature piece. Though he loves his basic blazers in a multitude of colors, he'll also wear cotton motorcycle jackets, cropped trench coats, and fancy sweaters. Steal Kurt's penchant for layers this winter and pick up a jacket or two!
Inspired by Kurt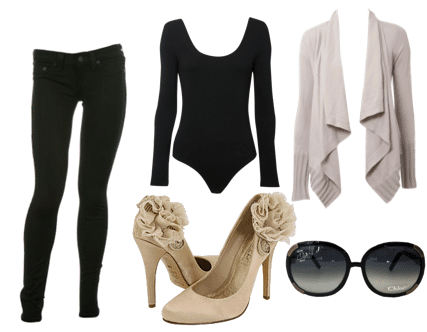 Product Information: Stella Ponte Skinny Pants, True Religion. Long Sleeve Bodysuit, American Apparel. RSVP Ivana Pumps, Zappos. Waterfall Cardigan, KarenMillen.com. Chloe Square Sunglasses, Zoë.
What do you think? Are you excited for Glee to return? Are these some of your favorite characters? Which character has your favorite style? Let us know with your comments!