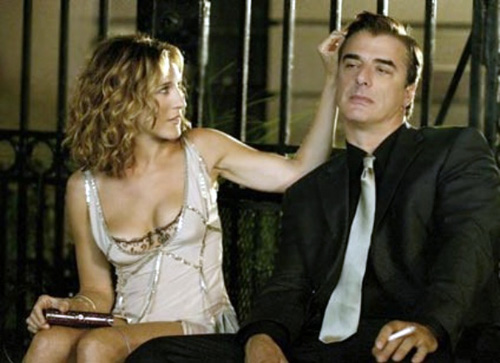 This week's Fashion Challenge is bound to be a bit controversial…
Many girls firmly believe that showing your bra in any way, shape, or form is a MAJOR fashion no-no. And they have a point: After all, nothing looks tackier than thick white bra straps blatantly exposed under a racerback tank top, or loose straps slipping down your arm. In most cases, the undergarments-shown-on-purpose look is just not a good idea–remember that horrible, trashy trend when girls pulled their thongs up over their pants? YUCK!
For the reasons above, I know many of you will be wary of trying this challenge–but please continue reading; I promise it's possible to make this trend look fierce, not frisky. Are you ready to take on the challenge?
Tips and Tricks
Wear with confidence. Let others know your look is intentional by really owning it, and not fidgeting with anything you're wearing–it'll make others feel uncomfortable. Try matching the bra with your purse or shoes to further emphasize that this was no fashion mistake.
Keep (semi) covered! This look is better when the rest of your outfit is on the conservative side. We're going for subtle sexy, not stripper sexy!
Try it out with sheer clothing. Do you have a sheer or lacy top that you're dying to wear but don't know how to pull off? Pair it with a bandeau bra, or one with plenty of coverage.
Consider the color and material. A lacy red bra under a slouchy white tank top sends out a much different vibe than a black bandeau, for example.
Use your best judgment. After all, you're a classy and stylish CF reader–you know what works and what doesn't. So you be the judge of whether an outfit is appropriate or not.
Outfits for Inspiration
With a Strapless Dress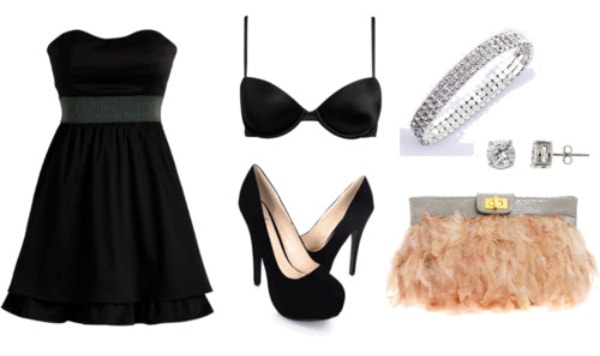 Dress, Bra, Shoes, Bracelet, Earrings, Clutch
Let's face it–strapless bras are NOT the most comfortable item in your closet. I've tried high end and low end ones, and let's just say I've yet to encounter one that I would wear unless it was absolutely necessary.
If you find a bra that matches perfectly, I personally think wearing a regular bra with a strapless dress is fine. Notice on the above outfit how the material of the black bra is very similar to the material on the black dress. This is subtle, more comfortable, and most people won't even realize the straps aren't connected to your dress! Again, use your best judgment, and ask a few friends for their opinions if you're unsure: Though this look is perfect for a night on the town, it's not the best choice for a wedding or church.
Under a Loose Tank Top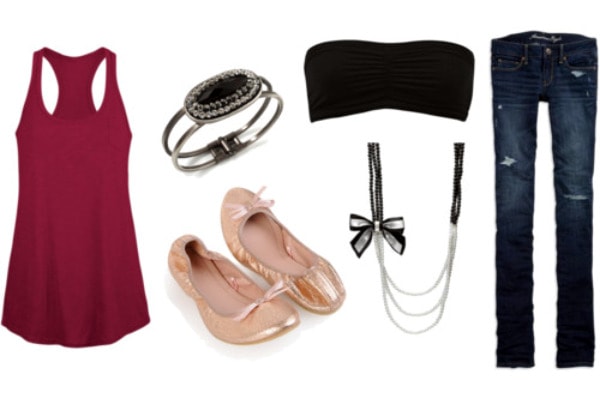 Tank, Shoes, Bandeau, Necklace, Bracelet, Jeans
Most of you probably own a large selection of slouchy tank tops: These tanks are huge on most college campuses, usually worn to parties but also during the day. When I first started wearing these, I layered them over fitted tank tops. Although it looked nice, to me it sort of took away the look and feel of the tank's intended breeziness, you know?
So if racerback bras aren't your thing, try wearing a bandeau bra underneath these low-cut, loose tanks. These bras come in many price ranges, and are stretchy, often with cups built right in! I bought my favorite bandeau at Wet Seal for $5 a few months ago, and it has survived several long days and trips through the washing machine. Try a bandeau in a neon color if you're feeling really adventurous.
Under a Sheer or Lacy Top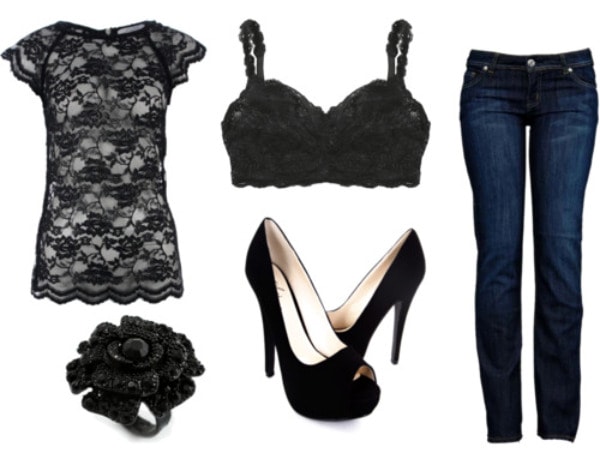 Own a sheer or lacy top, but unsure how to wear it? A full-coverage bra can create a more fashion-forward look than a simple tank top. Notice how the bra pictured is lined on the outside with lace similar to the lace on the shirt–this makes the look seem deliberate, and would be very chic for a night out.
Once again, use your head with this look! I know girls who read CF have the brains and taste to know what fabrics and cuts will make this look foxy and not freaky. In general, I recommend sticking to loose-cut sheer shirts (anything too skin-tight can look trashy), matching the bra to the top, and, when in doubt, always asking your bff for her opinion.
Ready to take the challenge? Be our model for the week!
Now that you've seen my tips for rocking this look, we want to see how YOU wear it! So send in a picture of you wearing an outfit that lets your bra peek out and we'll update the post and feature you here!
To get featured on CF, just send your picture, your name, school, and a description of the outfit to contact AT collegefashion DOT net. We'll post your outfit pictures here to give other readers some inspiration. 🙂
Can't wait to see your looks!
What do you think?
How do you feel about visible bras? Do you think it's a fashion faux pas? Do you ever wear a regular bra with strapless dresses? Do you rock bandeau bras? Let me know your thoughts on this look by leaving a comment!