This post may contain affiliate links, which means we may receive a commission if you purchase through our links. Please
read our full disclosure here
.
Photo Credits: 1– Louis Vuitton Spring 2010 rtw, 2 – Idee Geniale, 3 – via Glamour
The last time I wore bike shorts was back in kindergarten; I remember loving them because they were so comfortable. Now I can enjoy that comfort again because bike shorts are having a fashion moment. Considering they are a shortened version of leggings, I can see why the appeal is so strong; you can wear long tunics in the summer without the heat of long pants, and you can wear mini dresses and short shorts while still staying covered-up. Louis Vuitton showcased brocade cycling shorts in their spring collection, and there are lace versions available everywhere from Urban Outfitters to Bluefly.
Because cycling shorts are so versatile and are also great layering pieces, I think they are a perfect item to experiment with, no matter what your body size or style. They also give you an opportunity to add some texture to your spring/summer wardrobe. So, do you think you can handle this Fashion Challenge?
Tips and Tricks for Rocking Bike Shorts
Experiment. Try these slim shorts with everything: dresses, shorts, skirts, and long tunics. For tunics, wear the shorts just like you would leggings. Make sure your bottom half is adequately covered.
Go girly! When I see bike shorts, my mind automatically jumps to sportswear, so to balance out the athletic vibe of the shorts, try one of the lace versions (like in picture 3, above), or pair them with a super-fem outfit. (See Idee Geniale in picture 2 above.)
Dress it up? I'm still not sure how I feel about this one, but if you're feeling bold, you could try pairing your cycling shorts with a dressier outfit, like Elizabeth Hendrickson does below:
Elizabeth Hendrickson – Photo Credit
Get The Look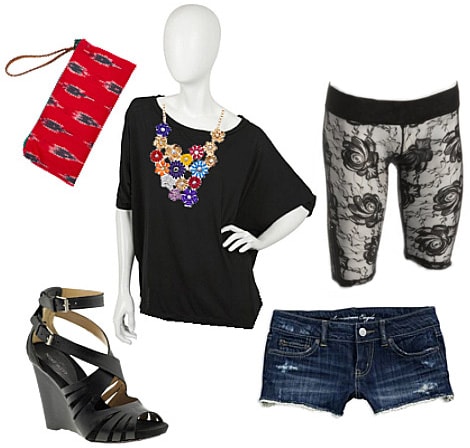 Product Information: Lace bike shorts – Bluefly, Jean shorts – American Eagle, Black wedges – Piperlime, Ikat clutch – Steven Alan, Black tee – singer22, Bib necklace – Aldo
I find it easiest to style cycling shorts with a more casual outfit, so I decided to layer them with something everyone already owns–a pair of denim cutoffs. Super-high black wedges and a drapey tee give the look edge, while a bib necklace (just call yourself Ms. Palermo) and a printed clutch add just the right pop of color. I think this look would be great for a matinee movie or even afternoon drinks.
So, will you take the Fashion Challenge?
How do you feel about cycling shorts? Should they stay on the bike trail, or have they earned their spot on the runway? How about Elizabeth Hendrickson's red carpet bike shorts: A dashing do or a definitely do not?
Already work this trend? Send us pictures of you in your bike shorts and we'll feature them here!* As always, we are open to suggestions for future fashion challenges and we'd love to hear from you!
* Send your outfit pictures to fashionchallenge AT collegefashion DOT net!