The "Fabulous Find of the Week" column gives you the heads up on all the hottest, most affordable items at your favorite stores!
Hey everybody! How are you all doing? I hope you had a great weekend and are enjoying your week. Can you believe Thanksgiving is only a little over a week away? I can't believe how fast the semester has gone by! This year, my birthday falls on Thanksgiving so the holiday is especially exciting.
For this week's Fabulous Find, I have found a top that works for all seasons. Whether you're walking around campus in fall, or at the beach during spring break, you can wear this beauty. Check it out below, you won't believe how stunning it is!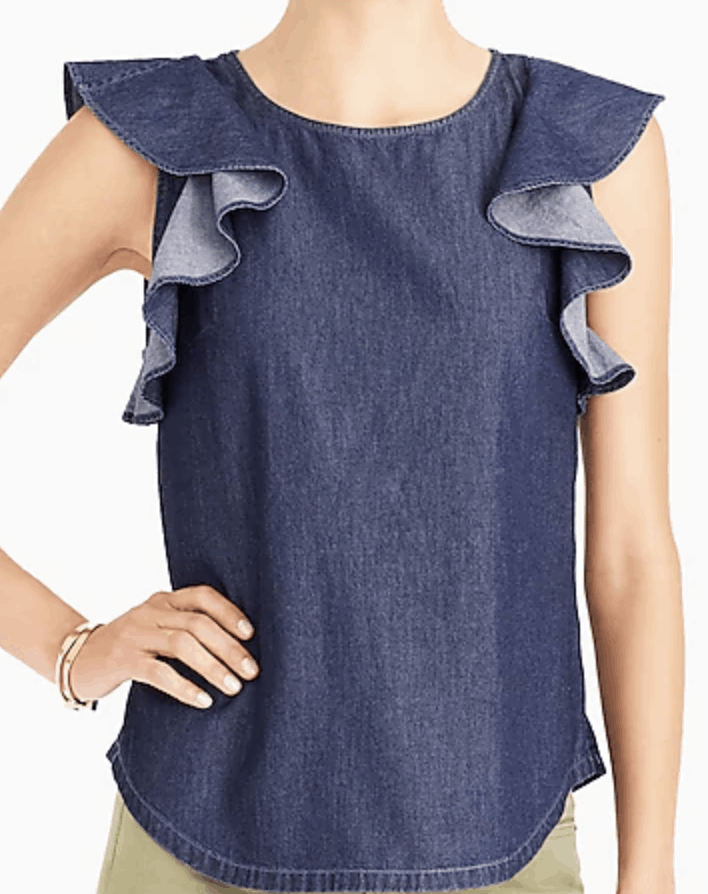 This amazing top is from J.Crew Factory, one of our favorite stores that always has the best deals. Originally priced at $39.50, this item is now available for only $19.99. In addition, if you include the promo code "fall" you can get up to an additional 40% off. That's such a great deal for a top you can wear 365 days a year! I love the ruffle sleeve detailing and the simple design. It's the perfect top!
Here's how I'd style it right now:
The New Variation of "Jegging"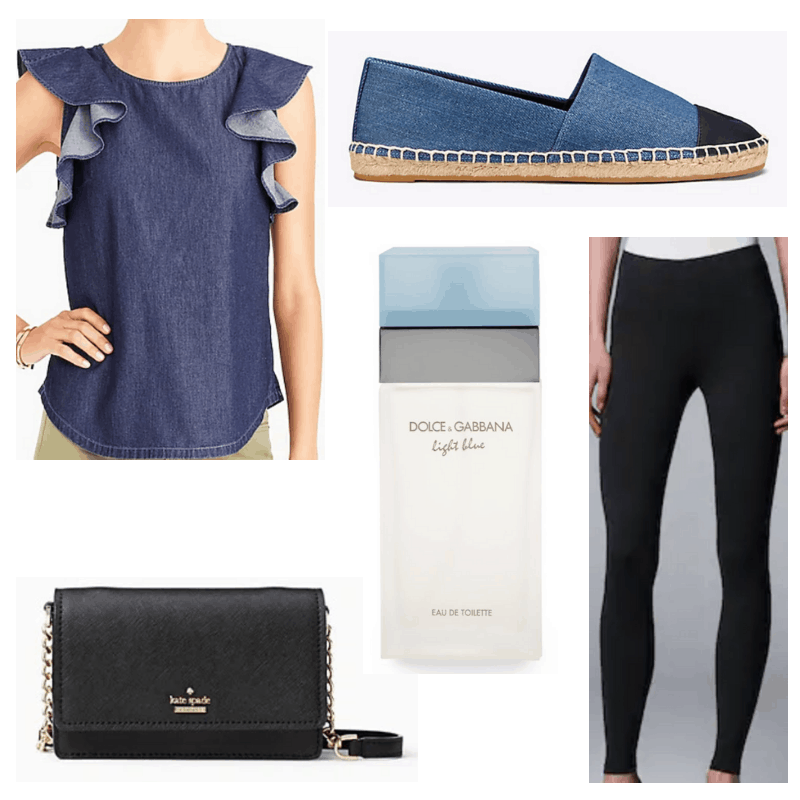 Products: Crossbody – Kate Spade, Leggings – Simply Vera (Kohl's), Perfume – Dolce & Gabbana (Saks Off 5th), Top – J.Crew Factory, Espadrilles – Tory Burch
This is the perfect outfit for going to class! The Simply Vera leggings are so comfortable and you will feel great after a long day in lecture. I also love that they're high waisted — so cute and versatile.
I'm also a huge fan of the espadrilles. In my opinion they're the perfect shoes. They are insanely comfortable, very stylish, and go well with everything. They work perfectly for spring, summer, and fall. These Tory Burch ones match perfectly with the black and jeans theme of the outfit!
Red Tights for Days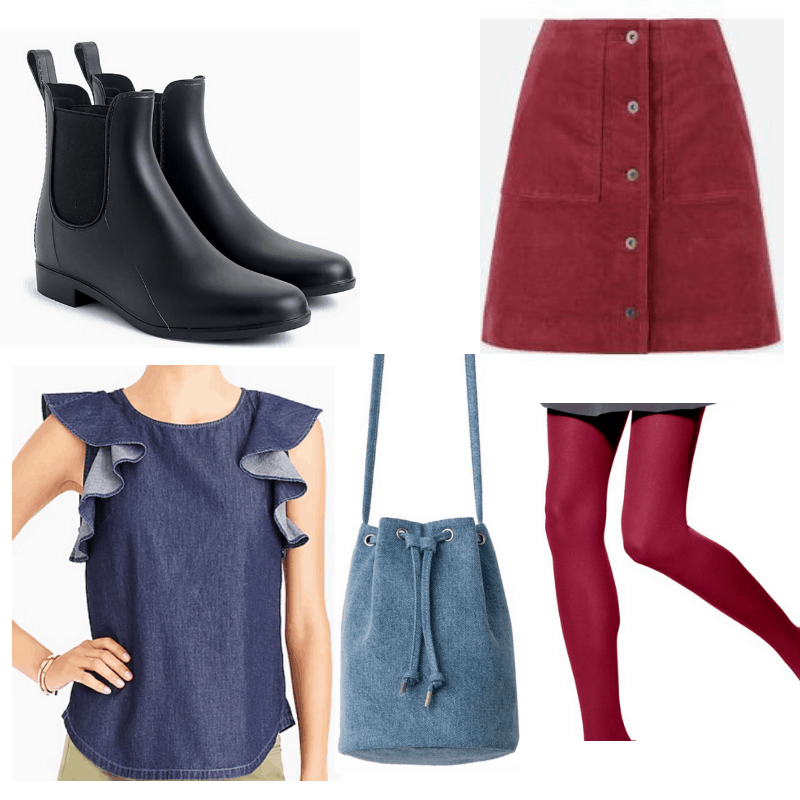 Products: Top – J.Crew Factory, Tights – Hue (Lord and Taylor), Boots- J.Crew, Bag – Baggu, Skirt – Uniqlo
This outfit is perfect for a fall brunch with friends. I love the burgundy color of the skirt and tights — it fits so well with the season. I'm a huge fan of the Uniqlo corduroy skirt because it's one of those go-to pieces you will wear time and time again. You can easily dress it up or down depending on the occasion.
I'm also obsessed with the boots. You can get them from J.Crew for under $40 which is such a steal for something that will last you years. Whether you're going to class or to brunch, they will keep you looking fabulous!
Add your favorite coat or jacket over top and you have the perfect fall brunch look.
Poncho Chic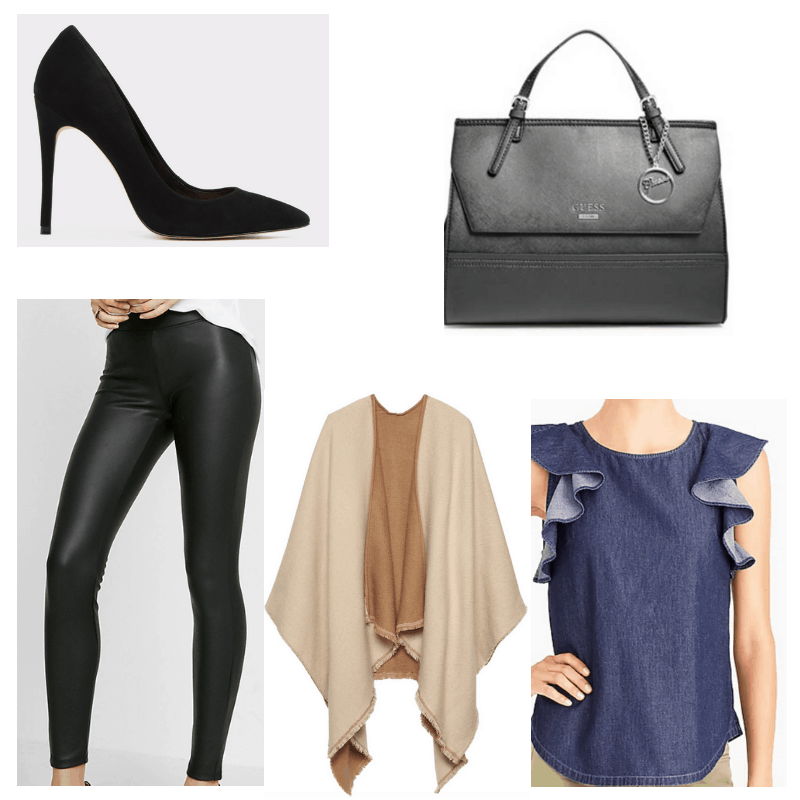 Products: Pants – Express, Handbag – Guess, Poncho – Banana Republic Factory, Heels – Aldo, Top – J.Crew Factory
This is the perfect chic outfit for dinner with friends. Leather pants are perfect for elevating any look and making it more dressy. These leggings from Express are faux leather, vegan, and also super inexpensive.
I'm a huge fan of the poncho. As we enter sweater whether, we are also entering poncho weather and I love this piece. You can wear it during the day to class but also at night to keep you warm when going out. It's stunning and comes in at such a great price!
What did you think about this week's Fabulous Find?
Do you like this scarf? Are you a fan of J.Crew factory? What are your favorite styles of tops? What have been your favorite fall trends so far? Start the convo below!