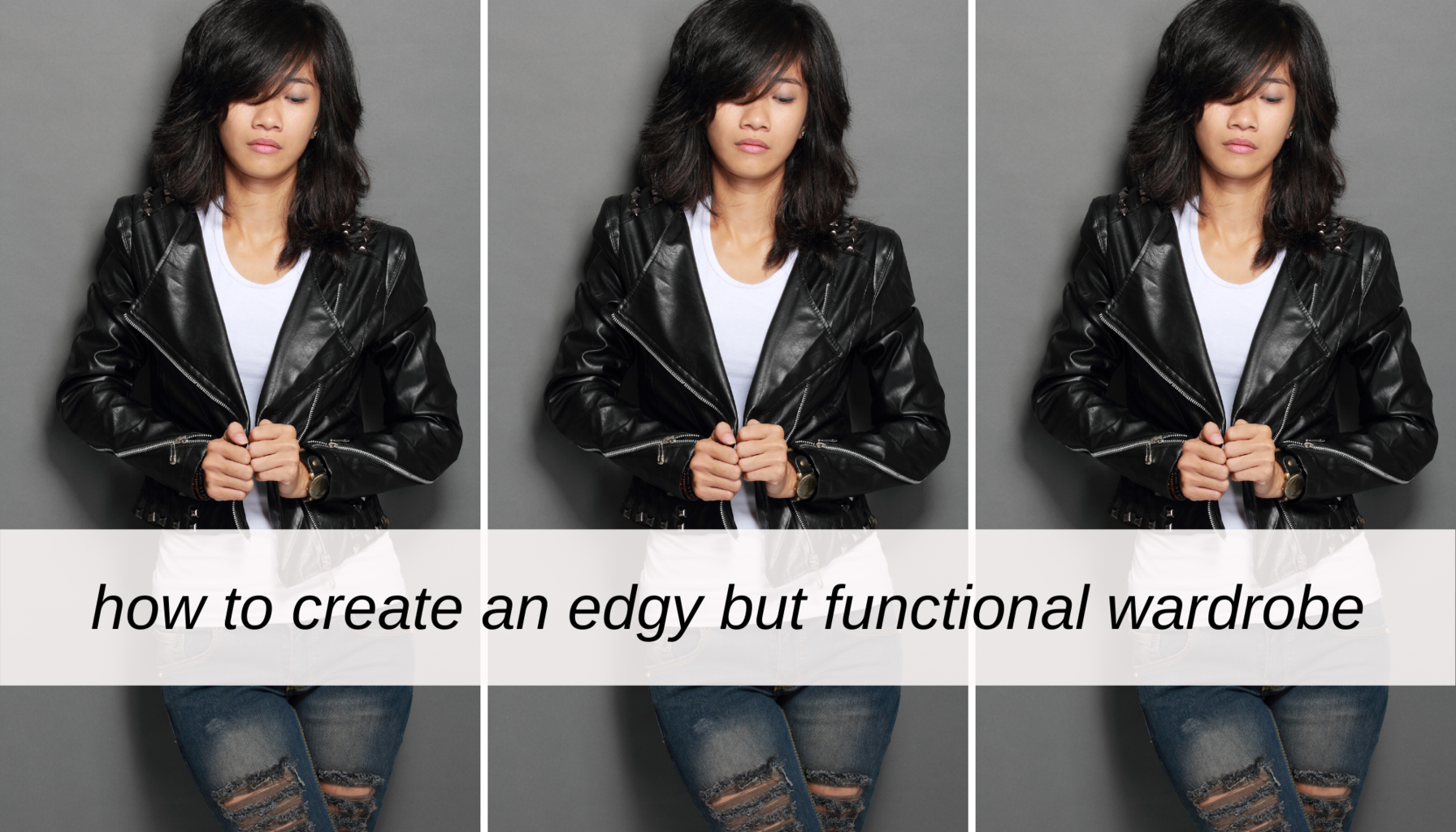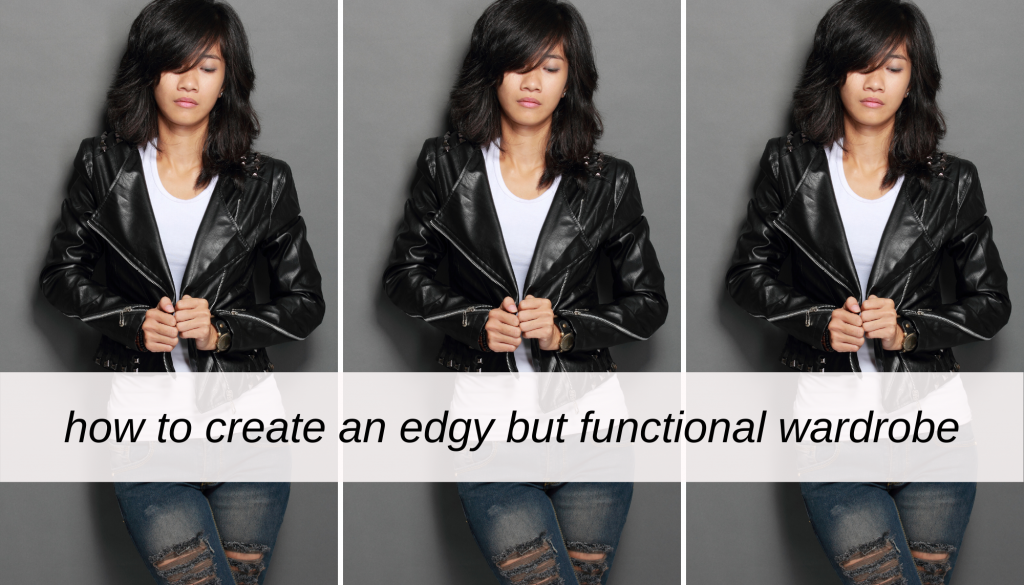 Welcome to the latest edition of Ask CF! Every two weeks, we select a reader fashion question and answer it here on the site. Do you have a specific fashion question for us? Scroll to the bottom of this post to learn how to send it our way!
Ask CF Question
Hi CF!
I am a student athlete and have been struggling carrying around everything I need for my day. This isn't a super common question to ask, but I would like to not only have back pain when I carry my books (STEM major here), but also show off my more edgy style! I want to use this as an opportunity to start building a wardrobe for myself and not stress about remembering to bring everything. Any ideas?
Thank you!
Our Response
Dear LW,
The practical vs fashionable debate has been going on since fashion became a thing. And, despite the plethora of stylish options out there, it seems as though most people in the fashion business haven't quite caught up with the idea that modern women don't want to have to sacrifice their sense of style for the sake of functionality.
Therefore, it's no wonder that many women — especially those just starting to find their fashion identity — are at a loss for how to combine practicality and style in their day-to-day lives.
Luckily, there are many ways to work around this problem; all that's required is a bit of planning ahead.
So, keep scrolling to see my advice–and outfit ideas–regarding how to start building a wardrobe that is practical, but that also suits your edgier sensibilities!
Outfit #1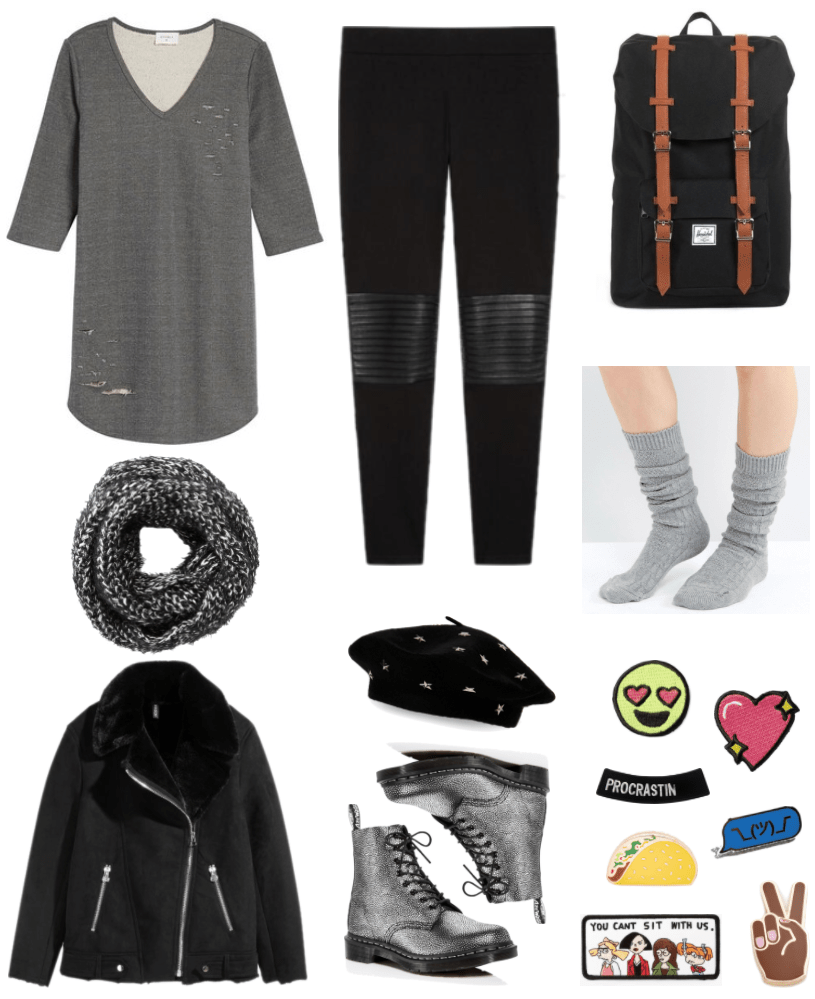 Products: Dress – Nordstrom, Combat Boots – Bloomingdale's, Jacket – H&M, Leggings – DKNY, Beret – Century 21, Scarf – Charlotte Russe, Backpack – Nordstrom, Socks – ASOS, Heart-Eyes Patch – Lord & Taylor, "Procrastinator" Patch – Amazon, Taco Pin – Shopbop, "You Can't Sit With Us" Patch – Azalea, Sparkle Heart Patch – Lord & Taylor, Shrug Emoji Pin – Urban Outfitters, Peace Hand Pin – Shopbop
This look might seem basic, but all of the pieces featured have special accents that make them stand out from the crowd: For example, I love the distressed details on this chic sweatshirt dress, which can be worn on its own, or over leggings — such as the trendy leather-patched ones shown here — on colder days. If you wear leggings to practice, you could even wear those with the dress instead. (Just note that, however you decide to wear the dress, you should probably wear a camisole or tank top underneath, due to the placement of the holes, to make it school-appropriate. A black workout tank would be fine for this.)
Dr. Martens are a must-have for every edgy fashionista, and I think that these silver and black pebbled ones are extra cool! To keep your feet warm during the winter months, add a pair of slouchy socks.
No rocker-chic look would be complete without a biker jacket, so throw on this super-sleek faux-suede one for extra style cred. Next, accessorize with a star-studded beret and a chunky-knit infinity scarf. (This one's currently on sale for only $5.00!)
Carry everything you need for the day in a sturdy and well-made Herschel Supply Co. backpack. I happen to own this exact model, and, save for when I've used it for traveling, I can't say that I have ever required any more storage space. A classic color such as black not only goes with everything, but won't show any dirt.
To make it your own, I really like the idea of adding some patches and/or pins, and have featured some fun options to get you started.
Outfit #2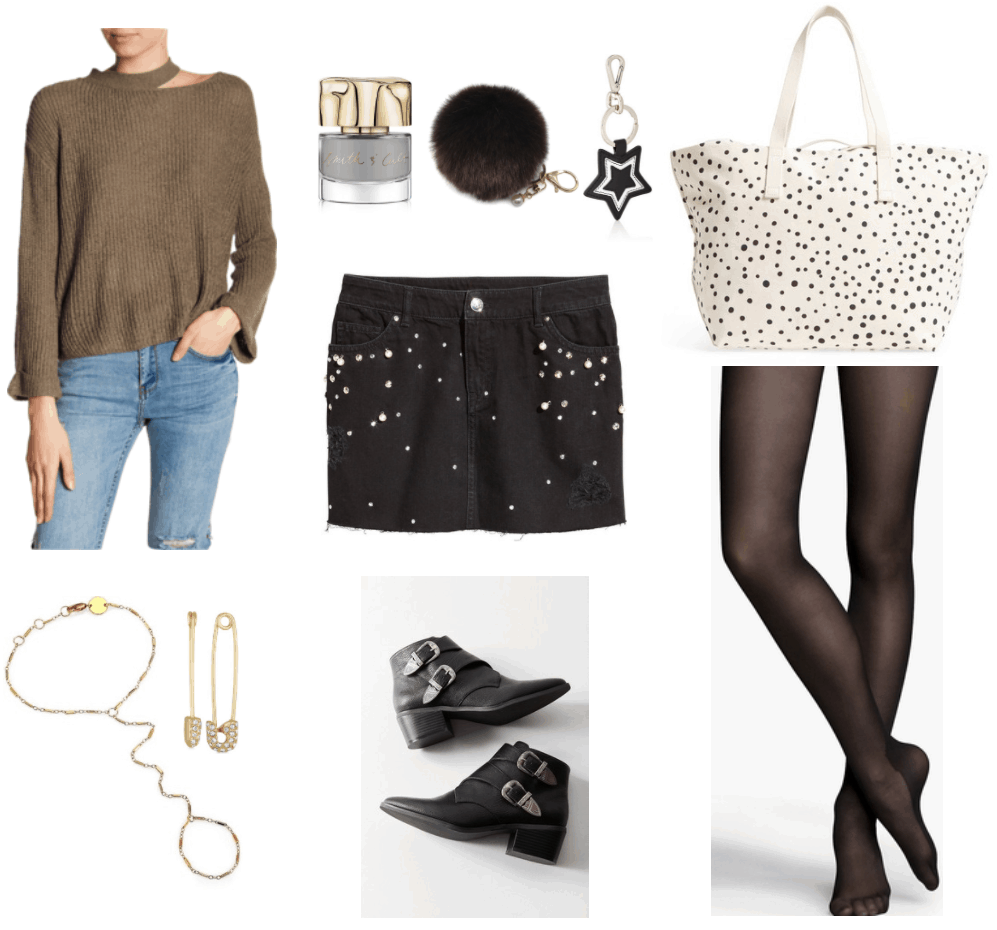 Products: Sweater – Nordstrom Rack, Hand-Chain Bracelet – Saks Fifth Avenue, Earrings – Macy's, Nail Polish – Dermstore, Faux-Fur Keychain – Amazon, Star Keychain – Barney's, Skirt – H&M, Ankle Boots – Urban Outfitters, Tote – Nordstrom, Tights – Express
A great way to add some grit to your everyday wardrobe is to look for basic pieces with chic details, such as the cutout on the sweater shown here. I've paired it with an embellished and distressed black denim mini, as well as some semi-sheer tights for style and warmth.
Buckles elevate a pair of black ankle boots from ordinary to cool, while a hand-chain bracelet and safety-pin earrings add a touch of retro glam.
Now load all of your stuff into a sturdy canvas tote bag, like this dot-printed one by Baggu. I chose this tote not just because of the durable-looking canvas fabric, but also because the handles look secure — they won't tear if you need to carry around heavy things.
Just as with the backpack in Outfit #1, you can totally make this tote your own by adding patches and pins, or by attaching trendy keychains, like the ones shown here (Bonus: The faux-fur one is under $2.00!), to the zipper or handles of the bag.
Outfit #3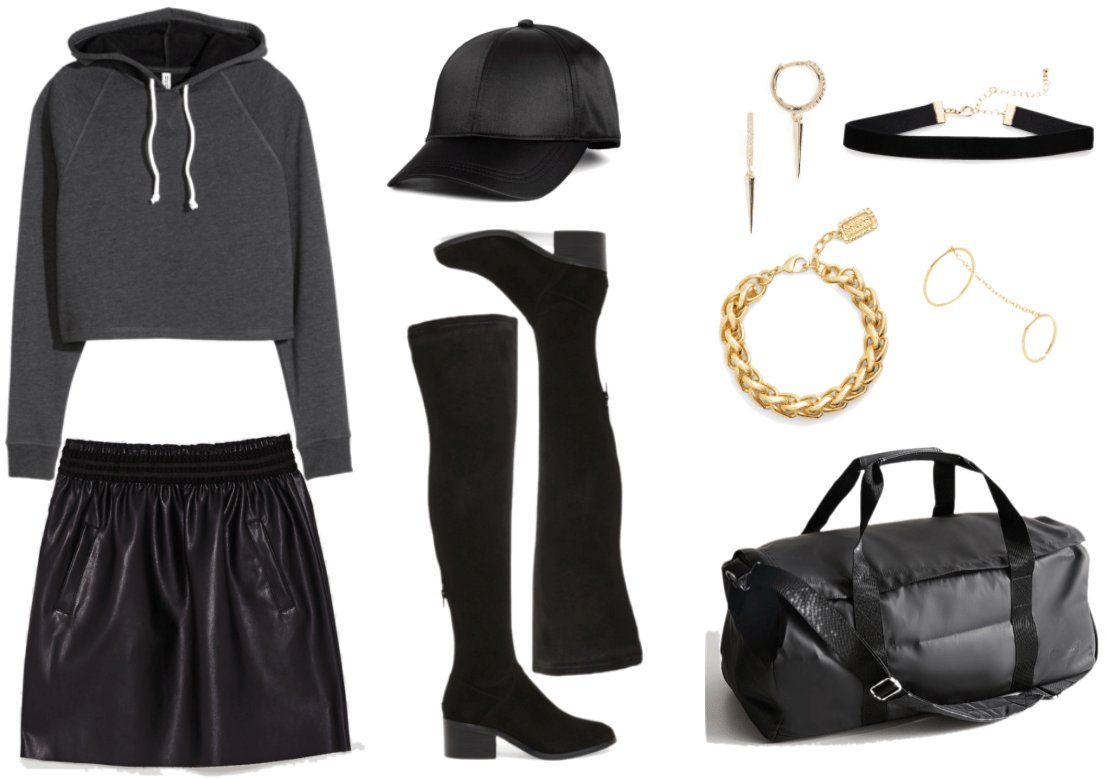 Products: Sweatshirt – H&M, Skirt – Zara, Baseball Cap – H&M, Over-the-Knee Boots – Nordstrom, Earrings – Shopbop, Bracelet – Nordstrom, Choker – Simons, Two-Finger Ring – Gilt, Duffle Bag – Urban Outfitters
Who says that sporty can't be edgy, too? This outfit is inspired by the street-style looks of various on-trend celebrities, and is surprisingly easy to put together.
Simply pair a cropped hoodie with an a-line faux-leather mini. Then, put on a pair of black faux-suede over-the-knee boots. (Add some basic black tights if it's too cold where you live to go bare-legged.)
Show off your sense of style with some tough and feminine jewelry, such as hoops with spikes, a velvet choker, a chunky bracelet, and a two-finger ring linked together with a dainty chain.
Store all of your daily essentials in a gym-inspired duffle bag, whose sturdy-looking material is water-resistant, making it perfect for treks to and from class and/or practice.
If you want to take this look one step further, I'd recommend putting your hair back in a sleek ponytail like this one (which is also a great way to keep your hair out of your face throughout your daily activities). To add extra shine, I'm a big fan of Biosilk Silk Therapy Lite (which I reviewed here).
Outfit #4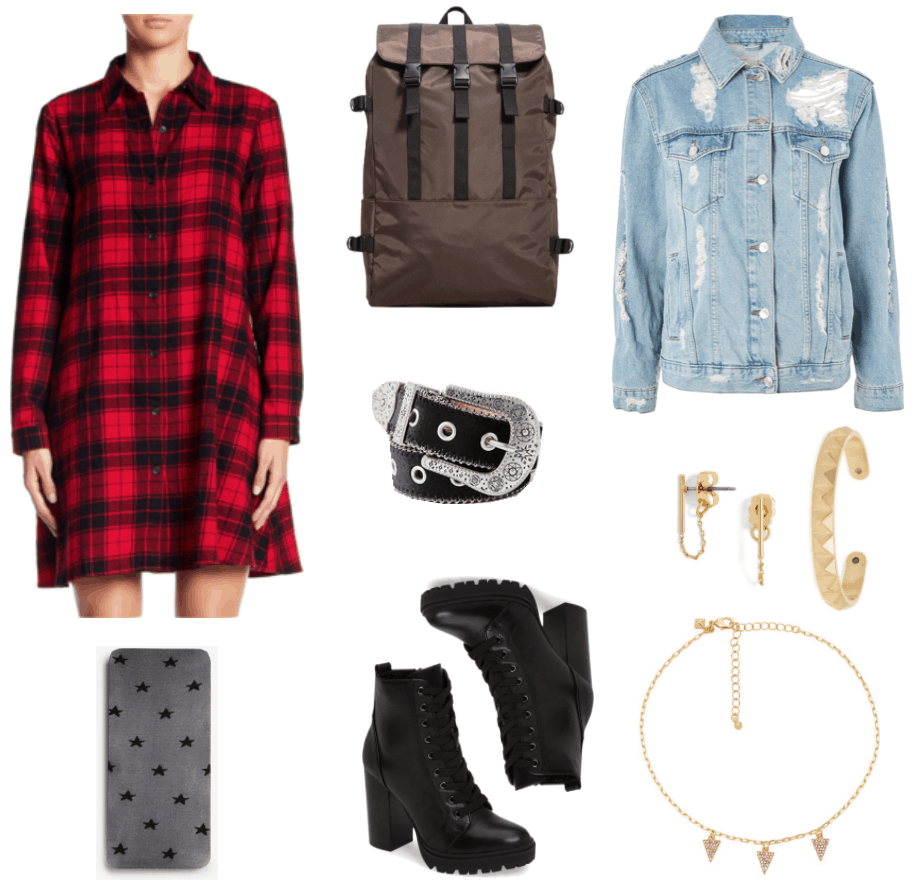 Products: Dress – Nordstrom Rack, Tights – Express, Backpack – Mango, Belt – Urban Outfitters, Ankle Boots – Nordstrom, Jacket – Topshop, Earrings – Nordstrom, Bracelet – Nordstrom, Necklace – Revolve
Plaid is a great way to up the edge factor of your wardrobe, so go ahead and pair a red and black plaid shirt-dress with platform heeled combat boots for a more feminine take on grungy classics.
Add some star-print sheer tights for a fun feel, then it's time to accessorize. Edgy looks can handle plenty of jewelry, so throw on some cool stud-embellished hoop earrings and a pyramid stud necklace. A statement belt provides another hint of metal.
Finish with a distressed denim jacket for added warmth, then toss all of your belongings into this ultra-functional utilitarian backpack. You're good to go!
How do you edge up your outfits?
Edgy girls, we want to hear your tips! Tell us in the comments: How do you dress edgy without losing function in your wardrobe? What are your edgy outfit staples?