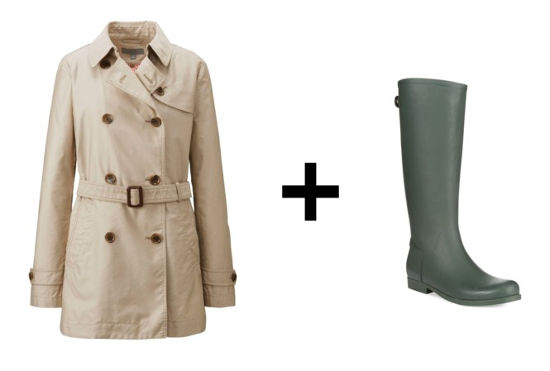 You know those days – the ones where you roll out of bed (after hitting the snooze button too many times), stumble into your closet, and have no idea what to wear? Our series Easy Outfit Formulas is here to help! Every other week, I'll feature two items (which you might own already) that can be paired into outfits for those days when you need some quick and easy inspiration.
Okay, so a trench coat and rain boots may not make a whole outfit, but they're the perfect pieces to wear with just about anything when April showers hit. Plus, a good trench and pair of rain boots will last you forever and never go out of style.
To see all the versatile ways to style these rainy day staples, check out the three looks below:
Classic and Timeless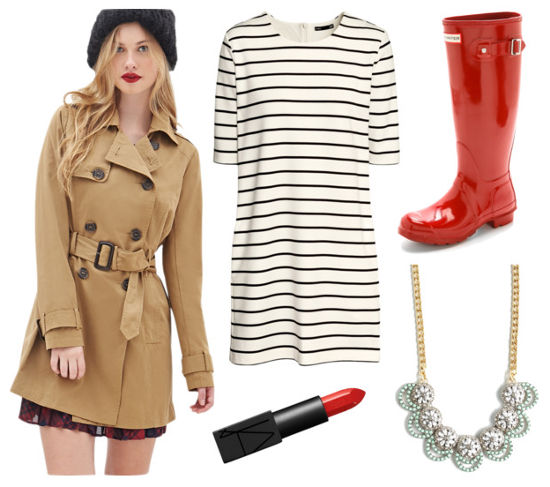 Products: Coat, Dress, Boots, Necklace, Lipstick
Who knew clunky rain boots could look classic and effortless? Prove that they can by pairing bright red boots with a comfy striped dress and tan trench coat. Accessorize with a flashy statement necklace and bold red lip.
Polished and Feminine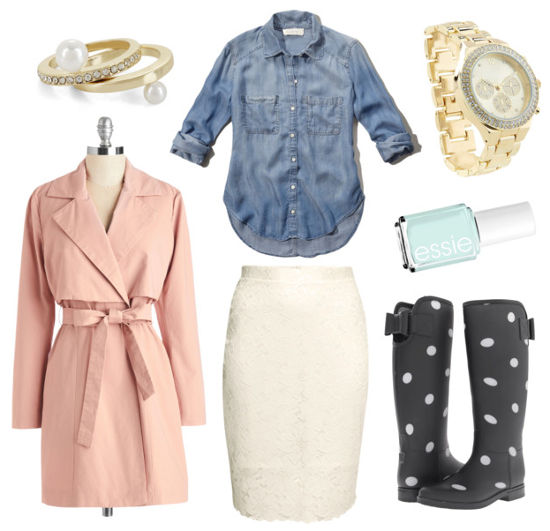 Products: Coat, Shirt, Skirt, Boots, Rings, Watch, Nail Polish
Try this outfit if you want to make rain boots more appropriate for a dressy occasion. Pair sleek polka dot boots with a chambray shirt and lace pencil skirt. Top it off with a pretty pink trench. Complete the look with classy gold jewelry and soft pastel blue nails.
Trendy and Minimalist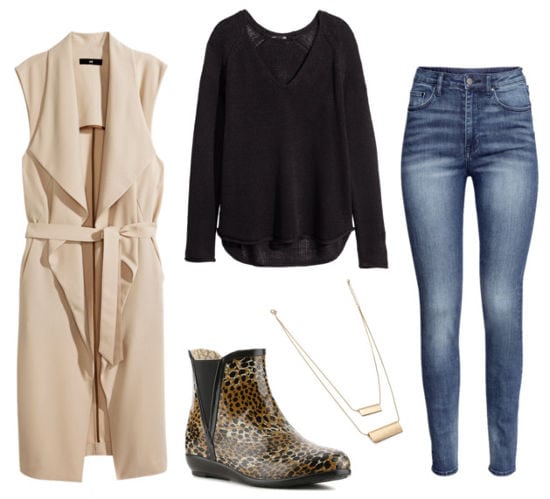 Products: Coat, Sweater, Jeans, Boots, Necklace
This look would be ideal for those drizzly days when it's just not quite cold or wet enough to wear a full-on coat and rain boots. Instead, pair a black sweater and comfy jeans with a trendy sleeveless trench. Keep the accessories simple with just a gold pendant necklace, but add a little pop of print with leopard rain booties.
Thoughts?
Do you have a trench coat and rain boots in your closet? How do you style them for rainy days? Which of these looks is your favorite? Let us know in the comments!