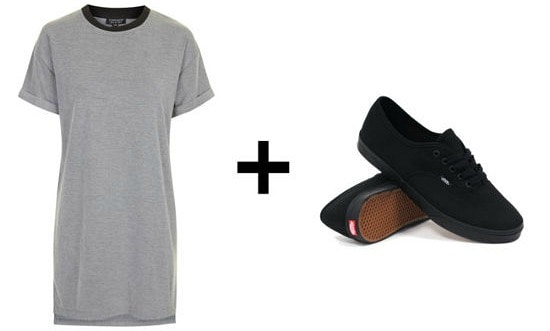 You know those days – the ones where you roll out of bed (after hitting the snooze button too many times), stumble into your closet, and have no idea what to wear? Our series Easy Outfit Formulas is here to help! Every other week, I'll feature two items (which you might own already) that can be paired into outfits for those days when you need some quick and easy inspiration.
I'm a big fan of making casual basics look stylish and put-together. I'm also a big fan of the recent trend toward fashion-forward pieces with an athletic or loungewear vibe.
Pairing a t-shirt dress with comfy sneakers is a chic and foolproof way to test drive the trend. It's also an endlessly versatile pairing that can be adapted to your personal style. Read on for three ways to wear this easy outfit formula:
Look #1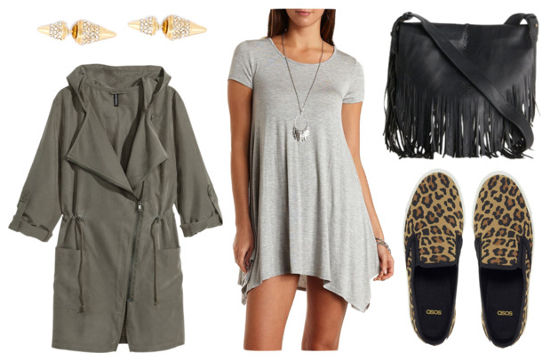 Products: Dress, Jacket, Sneakers, Bag, Earrings
This casual look starts with a gray, asymmetrical-hem t-shirt dress and fun leopard sneaks. Layer on a lightweight green jacket for unpredictable spring weather. Finish the ensemble with a few trendy accessories, like a black fringed bag and spiked, double-sided earrings.
Look #2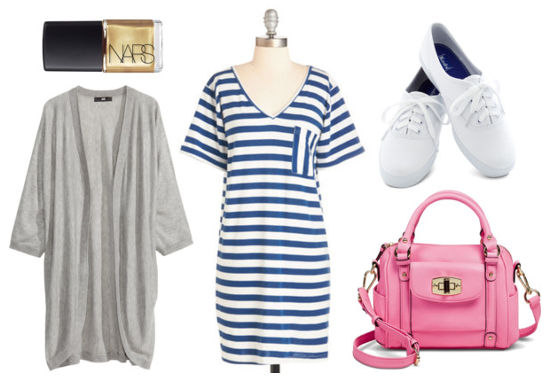 Products: Dress, Cardigan, Sneakers, Bag, Nail Polish
If you're a fan of color, print, and sparkle, try this look. Start with a striped t-shirt dress and crisp white sneakers, then add a long gray cardigan. Grab a bright pink purse for a pop of color and sparkly gold nail polish for a touch of glam.
Look #3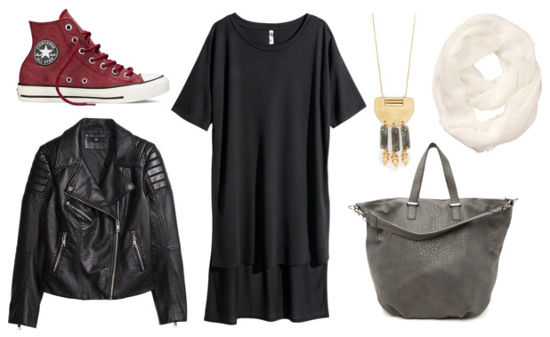 Products: Dress, Jacket, Sneakers, Necklace, Scarf, Bag
This edgy, artsy look could easily take you from class to a night out. Start with a trendy, hi-low black t-shirt dress and a tough moto jacket. Add washed burgundy high-tops for a fun and retro touch. Lastly, accessorize with a unique geometric necklace, a white infinity scarf, and a gray pebbled tote.
Thoughts?
Would you wear this casual combo? Which look is your favorite? Do you own a t-shirt dress? Are you a fan of trendy sneakers? Let us know in the comments!