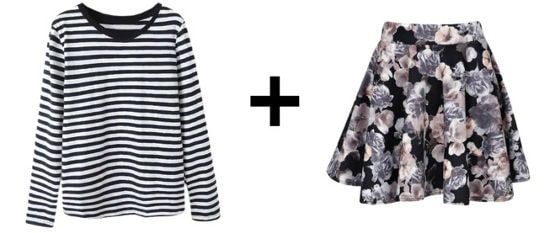 You know those days – the ones where you roll out of bed (after hitting the snooze button too many times), stumble into your closet, and have no idea what to wear? Our series Easy Outfit Formulas is here to help! Every other week, I'll feature two items (which you might own already) that can be paired into outfits for those days when you need some quick and easy inspiration.
A striped top and floral skirt are both versatile printed staples that are sure to get a lot of use in your college wardrobe. But have you ever thought of wearing them together? Pairing stripes and florals is a great introduction to mixing prints, and it's a combo that will definitely make your outfit more eye-catching and fashion-forward.
Here are three ways to give this formula a try:
Look #1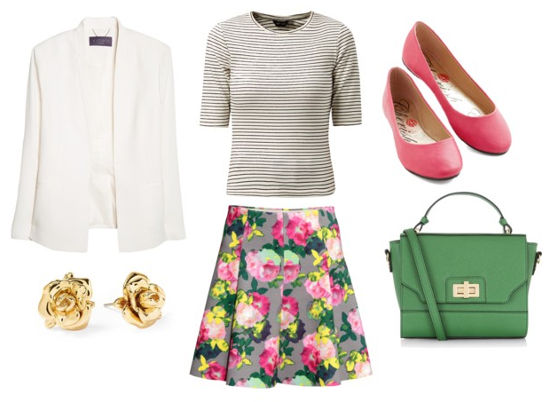 Products: Tee, Skirt, Blazer, Flats, Bag, Earrings
This polished and feminine springtime outfit would be ideal for something like a brunch date or dressy sorority event. It starts with a bright and colorful floral skirt and a subtly striped top layered underneath a crisp, white blazer. Pops of color from the skirt are repeated in the pink flats and green satchel, and there's another hint of floral in the gold, rose-shaped earrings.
Look #2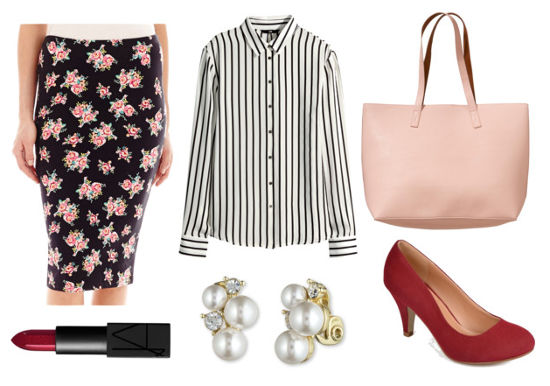 Products: Shirt, Skirt, Tote, Heels, Earrings, Lipstick
If you work in a more creative or fashion-forward environment, this eye-catching look is the perfect way to stand out while still looking polished and professional.
Don't be afraid to mix prints with a floral pencil skirt and a vertically striped shirt – just remember to keep the accessories more simple, like a pink tote, burgundy heels, and pearl earrings. For the finishing touch, try a rich red lipstick.
Look #3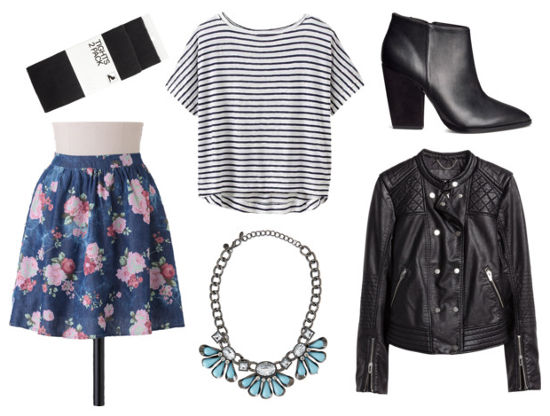 Products: Tee, Skirt, Jacket, Necklace, Boots, Tights
This the ideal winter-to-spring transitional outfit, and it can also take you easily from class to a night out. It starts with a few closet basics – a striped tee and floral skater skirt – but is edged up with a black faux leather jacket and black pointed-toe booties. Keep those legs warm with basic black tights, and don't forget a dose of sparkle with a jeweled statement necklace.
Thoughts?
Do you have these staples in your closet? Would you mix prints and wear them together? Which look is your favorite? Let us know in the comments!