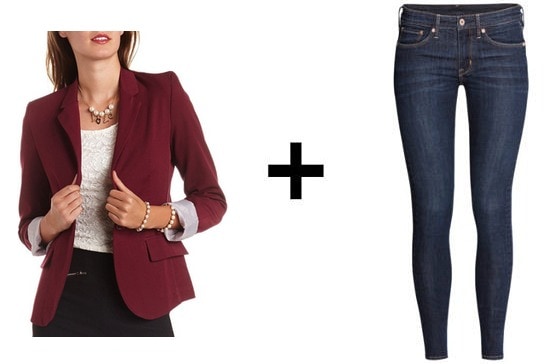 You know those days – the ones where you roll out of bed (after hitting the snooze button too many times), stumble into your closet, and have no idea what to wear? Our series Easy Outfit Formulas is here to help! Every other week, I'll feature two items (which you probably already own) that can be paired into outfits for those days when you need some quick and easy inspiration.
Every college girl should own a pair of skinny jeans and a blazer – they're super versatile and classic pieces, and can be worn for lots of different occasions (as I'll demonstrate below!).
Jeans are a casual and comfy staple, but they're instantly dressed up by a crisp fitted blazer. If you don't already believe in the power of a blazer and skinny jeans, prepare to be convinced:
For Class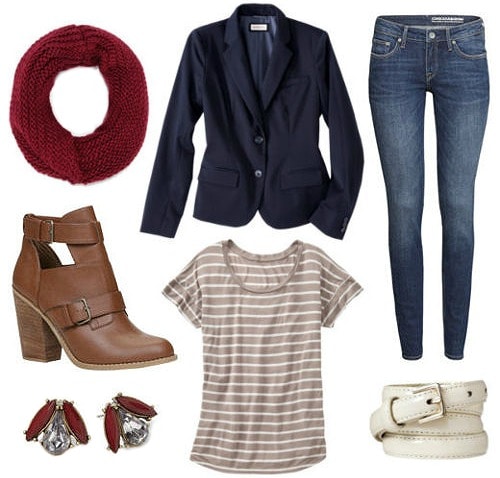 Products: Tee, Blazer, Jeans, Boots, Scarf, Earrings, Belt
Skinny jeans, a blazer, a t-shirt, and ankle boots make for the easiest, yet most polished and put-together outfit formula a college girl can have. Virtually any pair of skinny jeans will do – just throw on your favorite pair with a striped tee and a navy blazer, then add an infinity scarf for warmth and color.
Buckled ankle boots will give you some leg-elongating height, while a skinny white belt will help highlight your waist. Don't forget a pair of jeweled stud earrings for a touch of sparkle.
For Work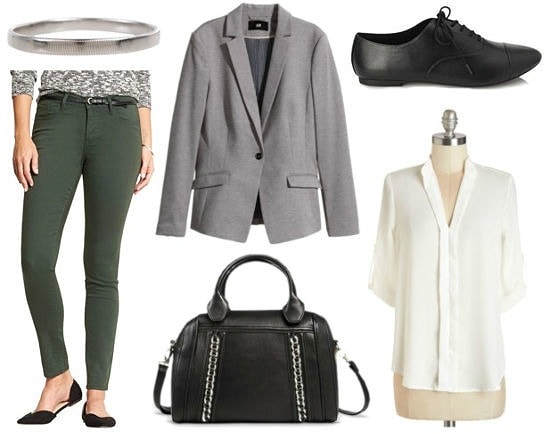 Products: Jeans, Blazer, Blouse, Shoes, Bag, Bracelet
This look would be perfectly appropriate for a casual workplace. A pair of hunter green skinny jeans are a nice change of pace from black pants or dark wash jeans, and they are easily dressed up with a white blouse and gray ponte blazer. Black oxfords are easier on the feet than a pair of heels, but still look professional. Lastly, add simple yet stylish accessories, like a chain-detailed black purse and a silver bracelet.
For Play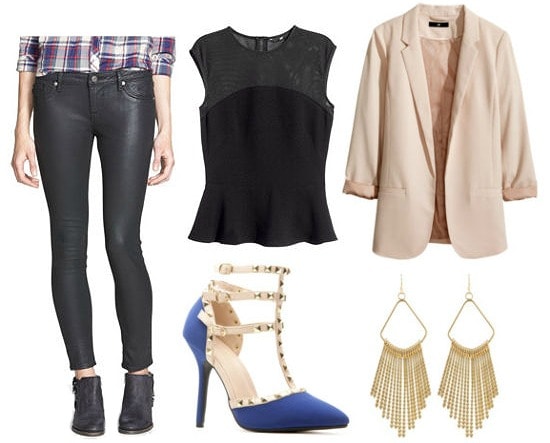 Products: Jeans, Top, Blazer, Heels, Earrings
This combo also makes for a chic and polished going out look. Just pair coated black skinny jeans with a sleek black peplum top, then add a beige blazer for contrast. Studded blue stilettos add drama and edge to the ensemble. For the final touch, try a pair of oversized dangly gold earrings.
Share your thoughts!
What's your favorite way to wear skinny jeans and a blazer? Are they staples in your closet? Which outfit is your favorite? Let us know in the comments!