You know those days – the ones where you roll out of bed (after hitting the snooze button too many times), stumble into your closet, and have no idea what to wear? Our series Easy Outfit Formulas is here to help! Every other week, I'll feature two items (which you might own already) that can be paired into outfits for those days when you need some quick and easy inspiration.
Was one of your New Year's resolutions to spend your money more wisely? If so, a good way to improve your shopping habits is to invest in more classic and timeless pieces that will never go out of style. A simple shirtdress and a pair of comfortable riding boots are a great place to start – they're versatile pieces that, when worn together, make a polished and put-together outfit for almost any occasion.
For a few ideas on how to style this combo, read on:
For Class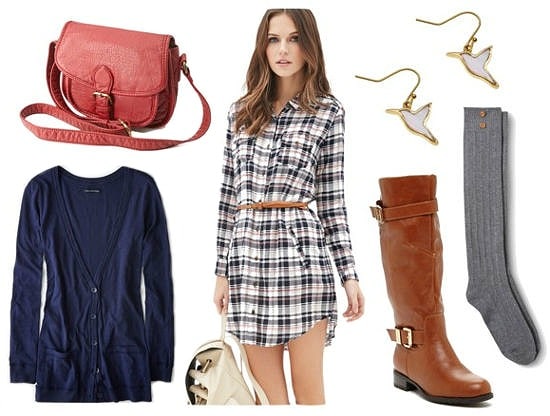 Products: Dress, Cardigan, Boots, Socks, Bag, Earrings
This classic look with a hint of prep is the perfect ensemble for a day of trekking around campus or running errands. Start with a plaid shirtdress and a navy boyfriend-style cardigan, then slip on a pair of gray knee-high socks under your cognac riding boots. Accessorize with a red crossbody bag and cute hummingbird earrings.
For Play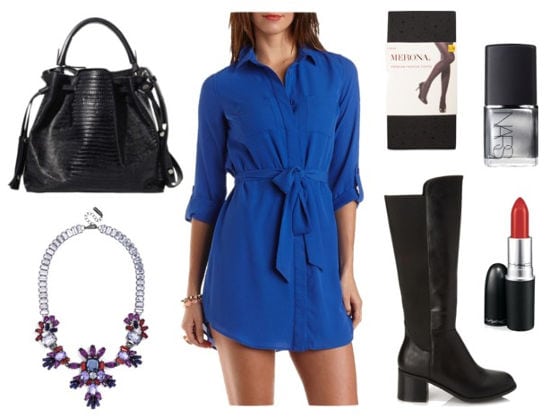 Products: Dress, Boots, Tights, Necklace, Bag, Nail Polish, Lipstick
This cobalt blue silky chiffon shirtdress is the perfect base for a dressier night out look. Pair it with sleek black riding boots, as well as polka dot tights for a little pop of print. A jeweled statement necklace, red lipstick, and silver nails add some glam, but don't forget a practical black bucket bag to carry your essentials.
For Work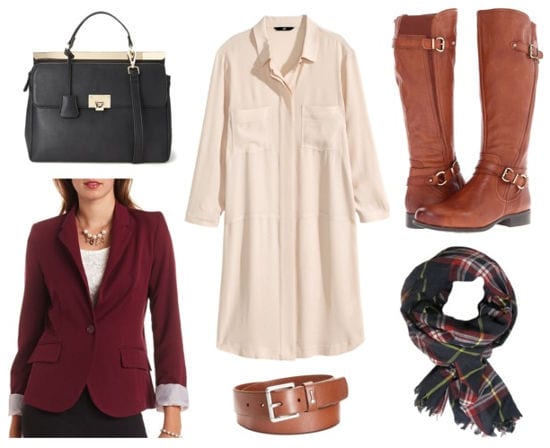 Products: Dress, Blazer, Boots, Belt, Scarf, Bag
Need a sophisticated yet comfortable business casual look for the office? Try a beige shirtdress and cognac riding boots. Add a belt to accentuate your waist and a burgundy blazer for professional polish. Accessorize with a classic black satchel and, if it's cold, a cozy plaid scarf.
Thoughts?
Will you add a classic shirtdress and riding boots to your closet this year? Which look would you wear? Let us know in the comments!