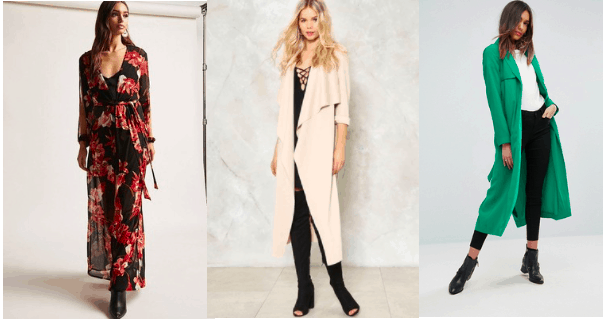 A duster coat is a foolproof way to add an additional chic layer to any fall outfit. It instantly takes your look from basic to sophisticated.
Duster coats are the perfect transitional piece, somewhere between the summer jean jacket and the winter pea coat. Duster coats are extremely versatile, and can be worn from day to night.
Below, I'll show you two go-to duster coat outfits, with tips on how to style one for your next class, and for your next Friday night:
How to Style a Duster Coat for Class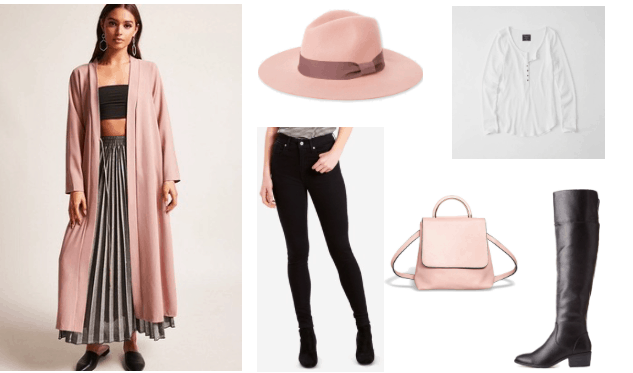 Products: Duster Coat – Forever 21, Jeans – Macy's, Hat – Uniqlo, T-shirt – Abercrombie, Boots – Charlotte Russe, Backpack – Avenue
Wearing a duster coat to class? We're all for it, and this look shows why.
Here, we're starting with a super basic outfit, then we're going to add the coat on top for some glam. Start with a basic pair of black jeans and a button-down henley. Then, when you add on the jacket it instantly elevates the look.
Just seconds ago this look was super dressed down, and now you're channeling your inner Chrissy Teigen, who is famous for rocking this trend. Throw on this wool hat from Uniqlo if you want some extra fashion girl points.
How to Style a Duster Coat for a Night Out
Products: Duster Coat – Forever 21, Crop Top – Nasty Gal, Skirt – Guess by Marciano, Crossbody – Kohl's, Earrings – Revolve, Heels – Lulus
The duster coat is our favorite jacket for a fall night out — it's so comfy and effortlessly glamorous. Pairing it with something that shows skin, like a crop top and skirt, makes one of the best duster coat outfits for night. Even a cute mini dress is a great option.
Duster coats are amazing for nighttime for so many reasons. For one thing, the duster allows you to show a bit more skin than usual without fear of freezing all night. It also complements the overall look so there's no fear of looking weird by being the only person wearing a jacket at the party. (Is that just my school? No one wears jackets at parties.) So enjoy your night out without fear of the campus fashion police.
Do you own a duster coat?
If so, how do you style it? Do you wear it to parties? Is my school the only place where jackets at parties is kind of unconventional? Tell me in the comments.