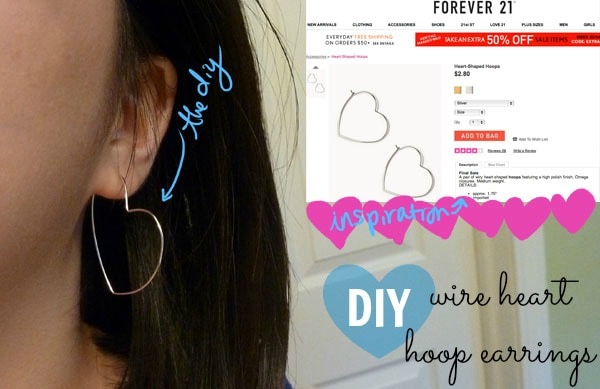 One of my favorite mediums to work with when I'm designing jewelry is wire, since there's just a beautiful, delicate, and subtle nature to it. Plus, most of my clothes are such loud statement pieces anyways, that wearing statement jewelry with them would probably, most definitely, be overkill.
Today's DIY will introduce the art of wire manipulation in jewelry craft, by providing a step-by-step process to making these cute little wire heart hoops, inspired by this pair from Forever 21.
Materials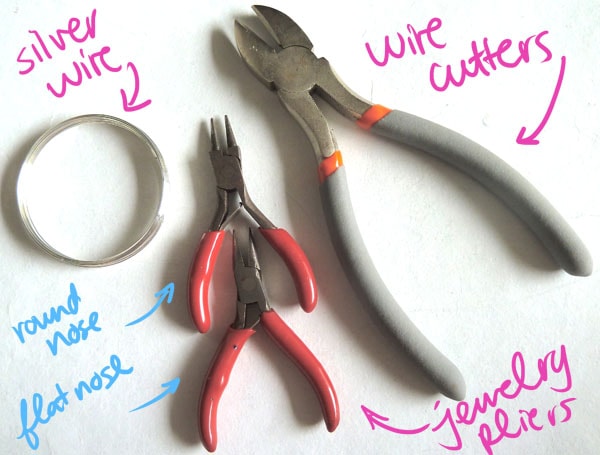 Extremely thin silver wire (available at craft stores)
Wire Cutters
Jewelry pliers – round nose and flat nose
Step One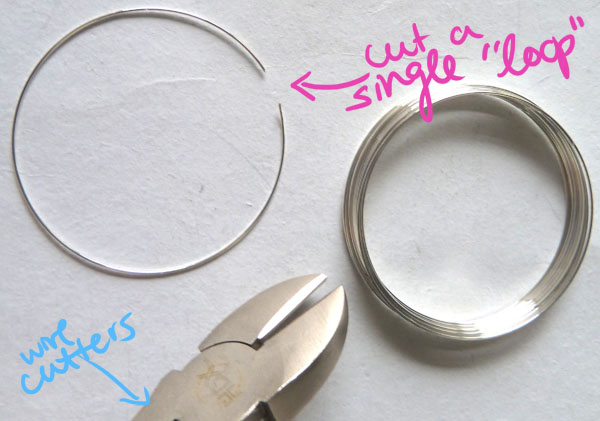 Cut a single circle loop from the main wire loops. I used giant wire cutters instead of the standard small jewelry ones, because silver wire is much sturdier and more difficult to cut than copper-based ones.
I used a silver wire because it's much safer for pierced ears (my ears are sensitive and react negatively to certain metals, but this varies from person to person). Make sure the wire you choose is thin enough to go through a pierced ear.
Step Two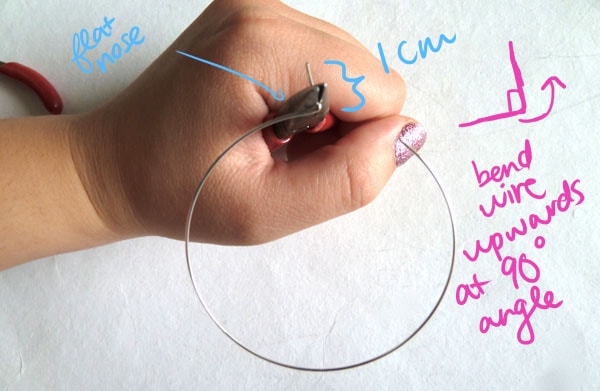 Grip one end of the wire loop with your flat-nose pliers (about a centimeter in; try to aim for the "width" of your earlobe), and make a sharp 90 degree angle by prying this portion upwards. This becomes the portion that goes through your ear.
Step Three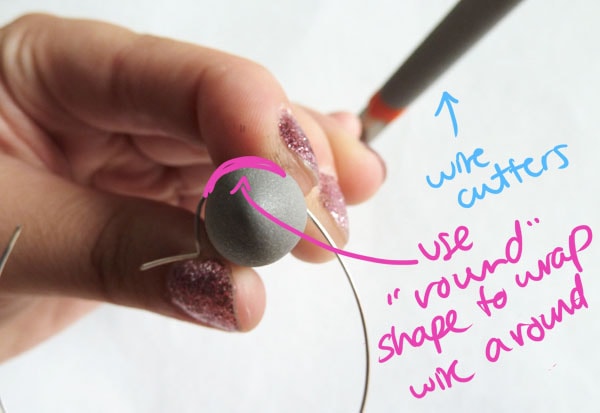 Use a cylindrical object (I used the handle of my wire cutters) and bend the wire around it like so to create a "hill."
Step Four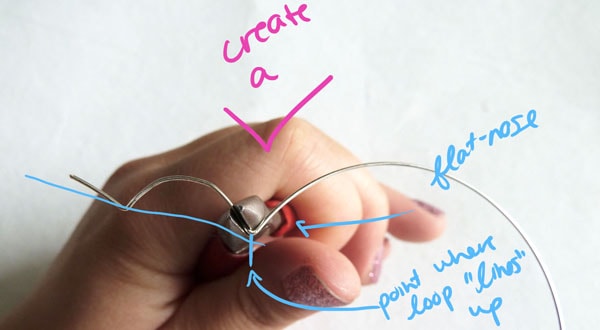 Using flat-nose pliers, grab where the loop lines up with the portion that goes through your ear and sharply bend the wire upwards so it forms a little "v", as shown in the above image.
Step Five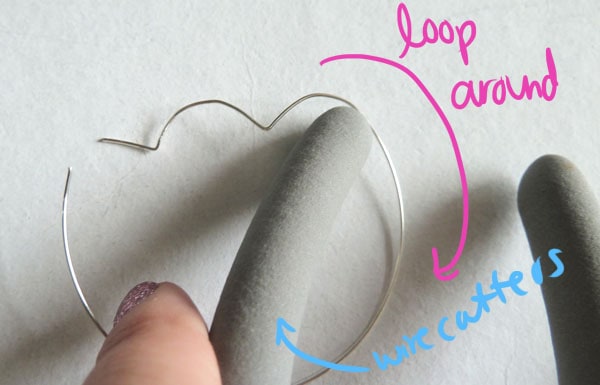 Next, form another "hill" by bending the wire around a cylindrical object. You should have what looks like a rounded "M" (a.k.a. the tops of the heart).
Step Six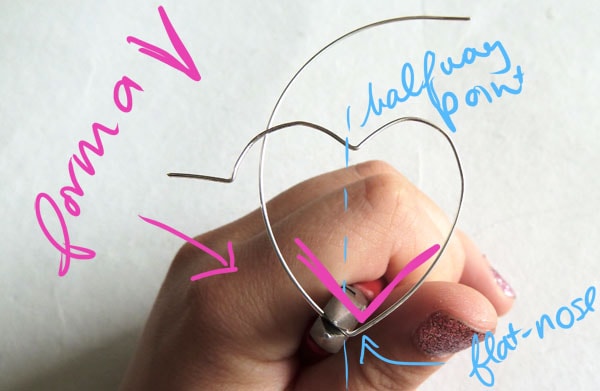 There will be a long wire portion at the end of the "M". Around the halfway point (seen above), bend the wire upwards so that it forms the "V" of the bottom portion of the heart.
Step Seven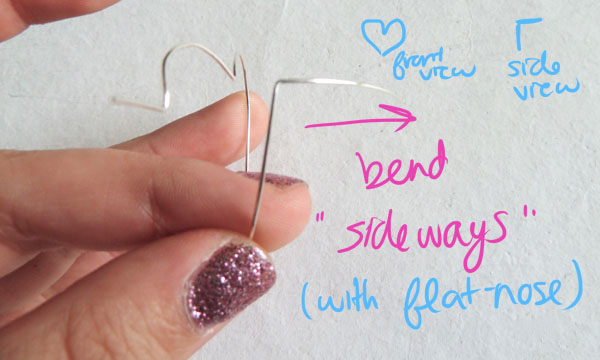 Where the wire "lines up" with the portion that goes through your ear, bend the wire at a 90 degree angle sideways. If you hold the heart straight down like this, <3 , the wire should be bent up in the air towards you.
Step Eight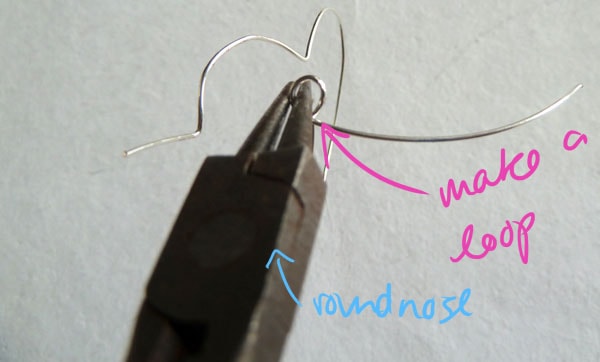 Make a small loop by wrapping the wire around your round-nose pliers.
Step Nine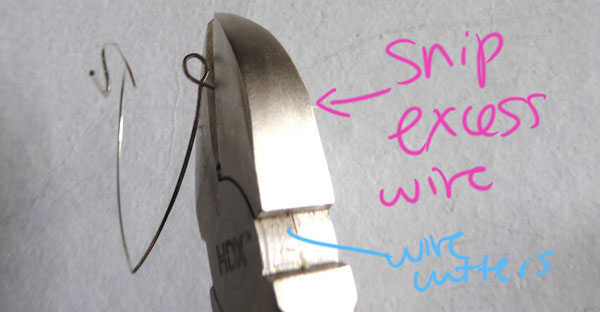 Cut off any excess wire with wire-cutters.
Step Ten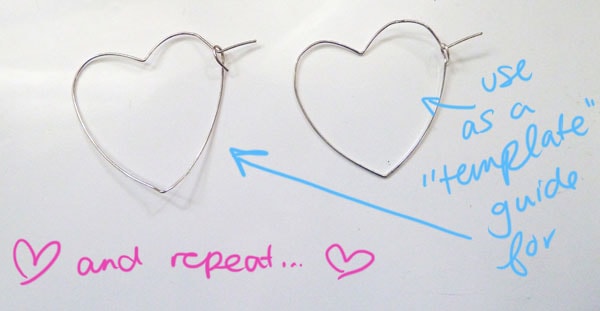 Repeat steps 1-9 to form the other earring, making sure to use finished earring as a "guide" for the other earring so they match up well.
And that's it! So simple, so elegant. To wear, simply slide the earring in, and secure it by placing the pointy bit into the small loop. Use the techniques shown here to branch into making other types of wire jewelry!
Feedback please:
What do you think about wire jewelry? Would you do this DIY? Are there any other DIYs you would like to see the tutorials for? Let me know in the comments!