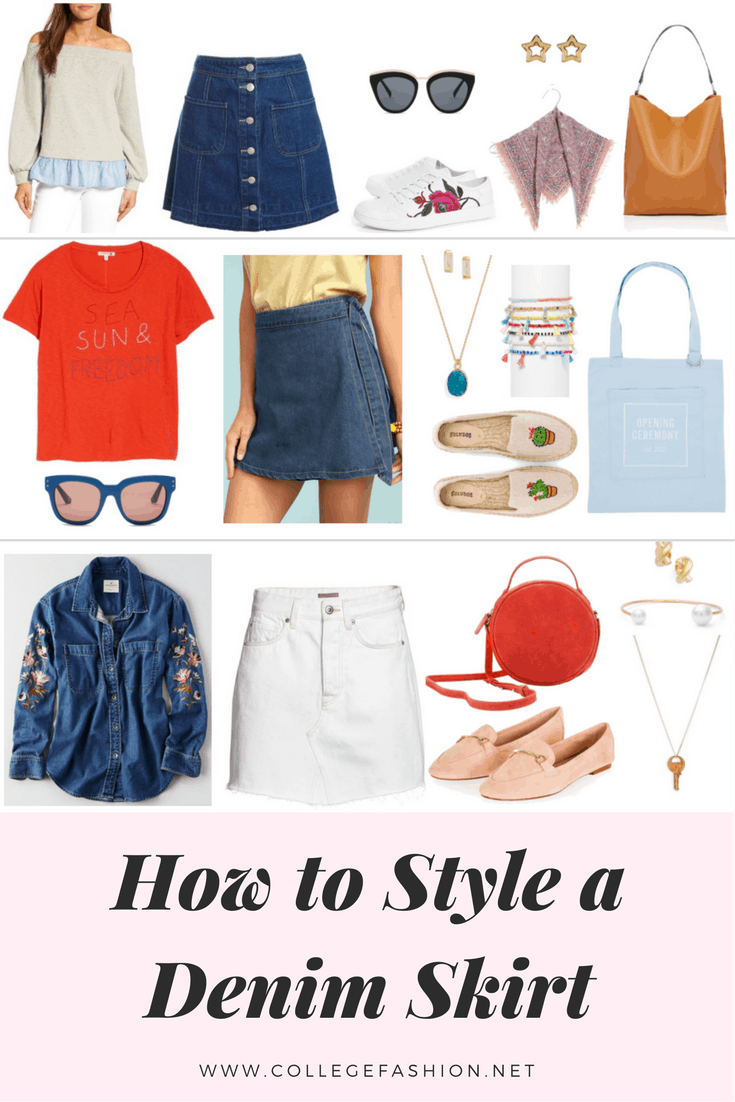 Back in the mid-2000s, denim skirts — especially those of the mini variety — were all the rage.
Back in those days, everyone, from celebrities to yours truly, was wearing them with leggings, plus some sick ballet flats (bonus points if your denim skirt featured a let-out hem or rhinestone-embellished back pockets!).
For a while after that, the denim skirt trend cooled down, but lately, retailers have been bringing them back in all sorts of lengths, colors, styles, and price points. And we're kind of happy about it.
If worn correctly, the denim skirt oozes It-girl coolness (see the example below); however, if worn incorrectly, it can look frumpy, or worse, like you're trying too hard.
So, with that in mind, here are a few tips for wearing a denim skirt in a modern way:
Think about the length: To avoid reliving your middle school days (and potentially having a wardrobe malfunction!), avoid micro-minis; instead, opt for a skirt that hits mid-thigh or lower.
Consider the silhouette: If you opt for a shorter skirt (i.e. one that hits from mid-thigh to a few inches above the knee), then it's okay to go for a looser/fuller silhouette. If your skirt hits at the knee or lower, opt for a straight or pencil silhouette, as anything looser can look dated and dowdy. Of course, there are exceptions (like this one or this one), but if you're not ready to take a fashion risk, stick with what's safe.
Ditch the leggings-and-flats look: As I mentioned before, the denim skirt + leggings + flats combo was all the rage ten years ago. While it's possible to pull off this look today, if you're looking for a more current feel, opt for bare legs.
Now that we've covered some general guidelines for wearing denim skirts, keep scrolling for four looks that show how to wear denim skirts today:
Denim Skirt Outfit Ideas: #1

Products: Shirt – American Eagle Outfitters, Skirt – H&M, Bag – Violeta by Mango, Loafers – Topshop, Earrings – Nordstrom, Cuff – Nordstrom, Necklace – Nordstrom
A white denim skirt is a welcome change from the blue washes we're used to seeing, and is also a great way to provide contrast when wearing other blue or colored denim pieces.
Embroidered denim is huge this year, so I decided to incorporate it in the form of an oversized denim shirt, which, when worn half-tucked into the skirt, gives your look an extra cool touch.
Add a red circular bag and pale pink loafers for some pops of color, and finish off the look with some feminine jewelry, like these preppy knot studs, fun pearl cuff, and sweet key necklace.
Denim Skirt Outfit Ideas: #2

Products: Sweatshirt – Nordstrom, Skirt – Sans Souci, Sunglasses – Selfridges, Sneakers – boohoo, Earrings – Nordstrom Rack, Bandana – Madewell, Bag – Barneys Warehouse
For a trendy look that's on-point for this season, pair a pretty off-the-shoulder peplum sweatshirt with a cute button-front denim mini with a frayed hem.
To make the look your own, accessorize with a pair of unique cat-eye sunglasses, a classic hobo bag, and a fashion-forward bandana. (Wear the bandana either tied around your neck or around the bag's strap.)
Dainty gold star earrings add subtle shine, while embroidered sneakers finish the ensemble in comfort and style.
Denim Skirt Outfit Ideas: #3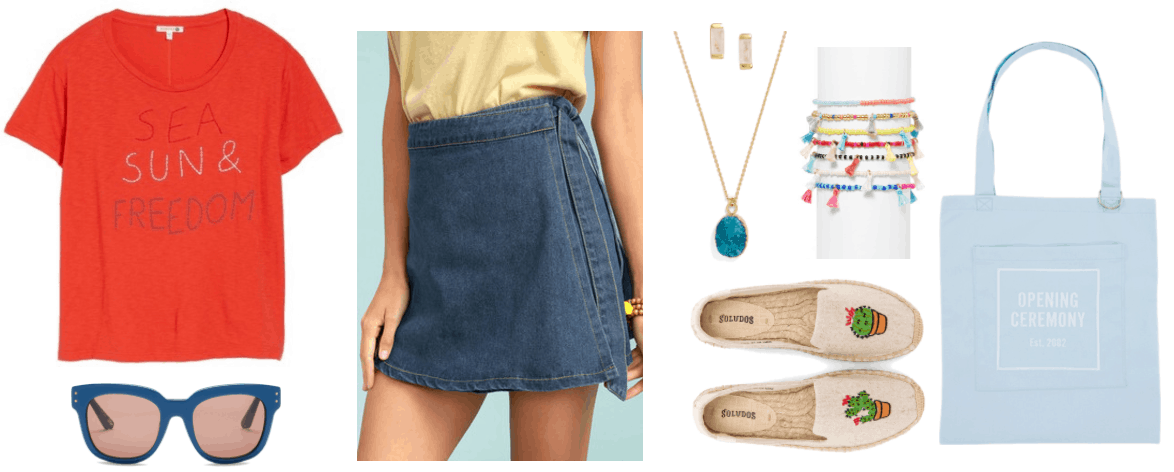 Products: T-Shirt – Nordstrom, Sunglasses – Nordstrom Rack, Skirt – Lulus, Earrings – Nordstrom, Necklace – BaubleBar, Bracelet Set – BaubleBar, Espadrilles – Revolve, Tote – Orchard Mile
For a laid-back and summery look, why not try a denim wrap skirt? The simplicity of this one makes it easy to pair with a variety of different tops, but I especially love it with this cute faded red t-shirt.
Peacock-blue sunglasses and mismatched platform espadrilles add some quirkiness to the look, while a turquoise druzy necklace and colorful set of beaded bracelets up the fun factor.
There are just a few more extras to add: Some moonstone stud earrings lend a feminine touch to the look, while this pale blue tote is the perfect way to add even more color to the outfit.
Denim Skirt Outfit Ideas: #4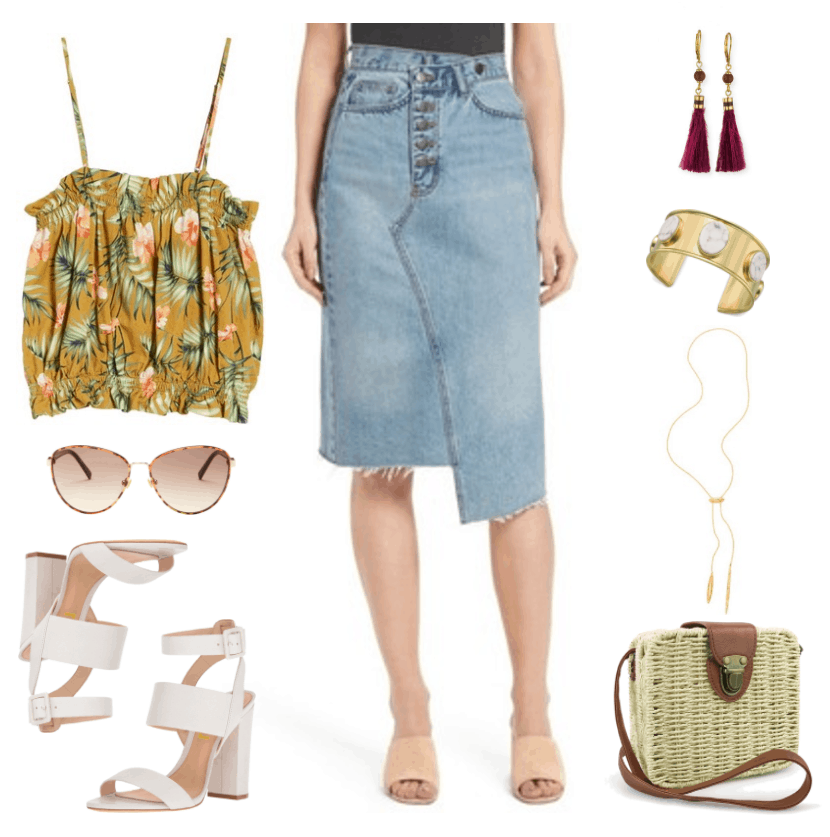 Products: Top – Nordstrom, Sunglasses – Nordstrom Rack, Heeled Sandals – Amazon, Skirt – Nordstrom, Earrings – Neiman Marcus, Cuff – Macy's, Necklace – Nordstrom, Bag – Amazon
I decided to try something a little different for this last look: I paired an asymmetrical-hem denim pencil skirt with a cropped tropical-print top for an outfit that is as fashion-forward as it is unique.
For a trendy yet retro vibe, I added white heeled sandals, a woven box bag, and some aviator-style sunglasses.
Lastly, I thought that quirky jewelry, like purple fringe earrings, a bolo necklace, and a bold cuff bracelet would be the perfect way to complete the look.
What do you think?
Are you a fan of denim skirts? Which style of denim skirt is your favorite? Do you have any tips on how to style denim skirts in a modern way?
Let me know in the comments!