Everyone knows that once the weather starts cooling down, it's cuffing season. Time to find someone to hold your hand while wobbling on skates, snuggling by the fire, frosting sugar cookies, and watching cheesy holiday movies, with the predictable and adorable endings.
And for all of these special winter moments, of course you'll need the perfect outfit.
Whether you're home for the holidays or staying around campus (or going on a winter day trip), we've got the ideal winter date outfit for you.
Mistletoe
Everyone knows that red is the go-to holiday color. Mani-Pedi? Bright red. Lipstick? Cherry. Sweater, shoes, accessories? Crimson, of course!
The elevated plaid trend took 2018 by storm, and this look is all about a glen plaid skirt, which features streaks of red throughout. Paired with a tight long sleeve red top, the outfit is unbeatable.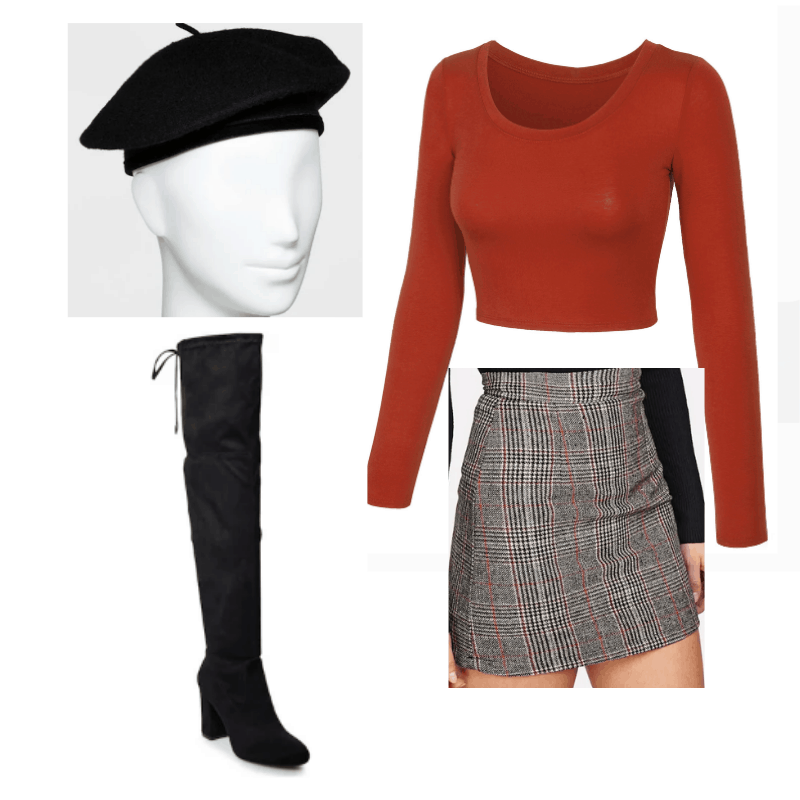 Products: Boots – Kohls, Skirt – Shein, Shirt – Walmart, Hat – Target
For accessories, the options are endless. Decide how dressy you want to go based on the date and your significant other. For this set, this is great for a day adventure to the bookstore, a coffee shop, or downtown shopping for the perfect Christmas gift. Knee high boots are this season's must-have, and paired with an untraditional but classic knit hat, you'll be needing to find some mistletoe ASAP.
Golden Gift
I absolutely love this outfit because a pop of gold will brighten anyone's day. This outfit will be perfect for that New Year's get together, holiday party, or going out for drinks with the girls. With a cozy sweater and ripped jeans, you'll be comfortable and chic. Not to mention that skinny jeans and heels is one of the best looks on nearly everyone!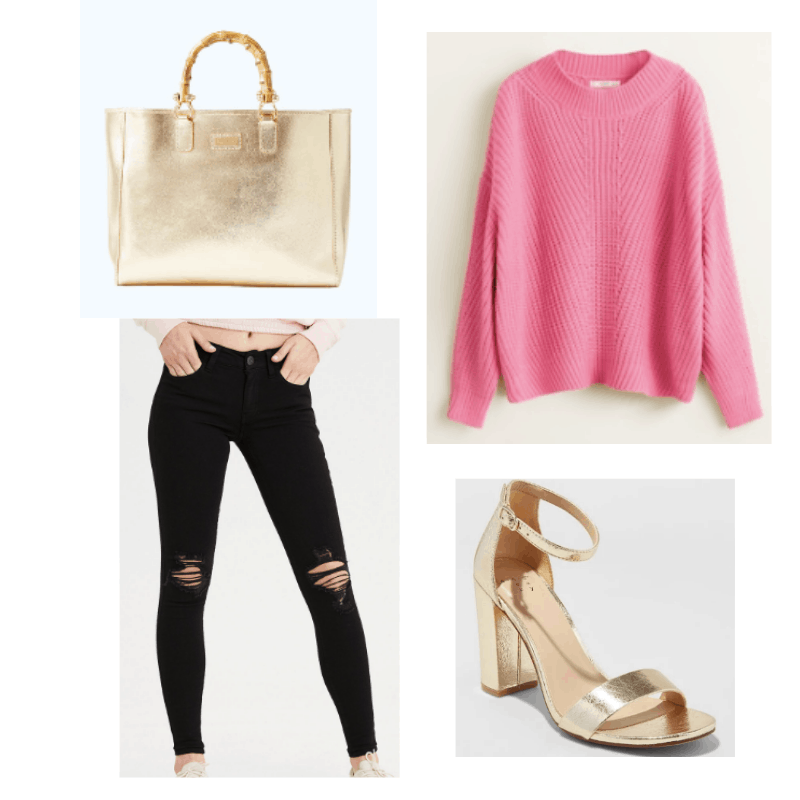 Products: Pants – American Eagle, Heels – Target, Sweater – Mango, Bag –  Lilly Pulitzer
The gold in this look brings out the class in an otherwise basic look, and the size of the bag is ideal for all of the holiday hoarding you need to do. Gum wrappers, miscellaneous candy canes, gift cards galore, this bag has got your back.
Rocking Reindeer
Everyone knows sweater dresses are the best way to survive winter in style, and this beige color goes with almost anything. Sweater dresses can be worn in numerous ways, but we've paired cropped booties with a fuzzy purse, because this look is all about comfort.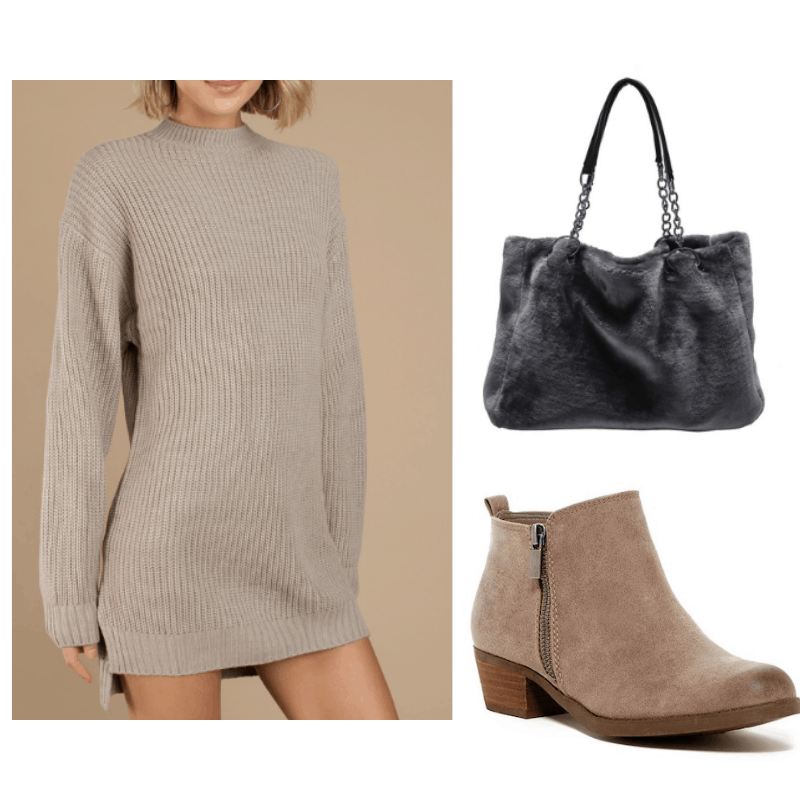 Products: Dress – Tobi, Shoes – Nordstrom Rack, Bag – Ssense
Since the outfit features matching beige colors, colored or neutral tights could easily be paired with this outfit for warmth or comfort. This look is on the casual side, and would be ideal for a shopping trip or baking cookies.
Tinsel and Gold
In this perfect party outfit, we've paired a traditional NYE sequined dress with the best and warmest jacket with a winter print. The shimmery dress paired with neutral high-tops will have you looking like a dancing queen. With a shimmery black clutch to match the jacket over your shoulders, you'll be brighter than the ball dropping at midnight.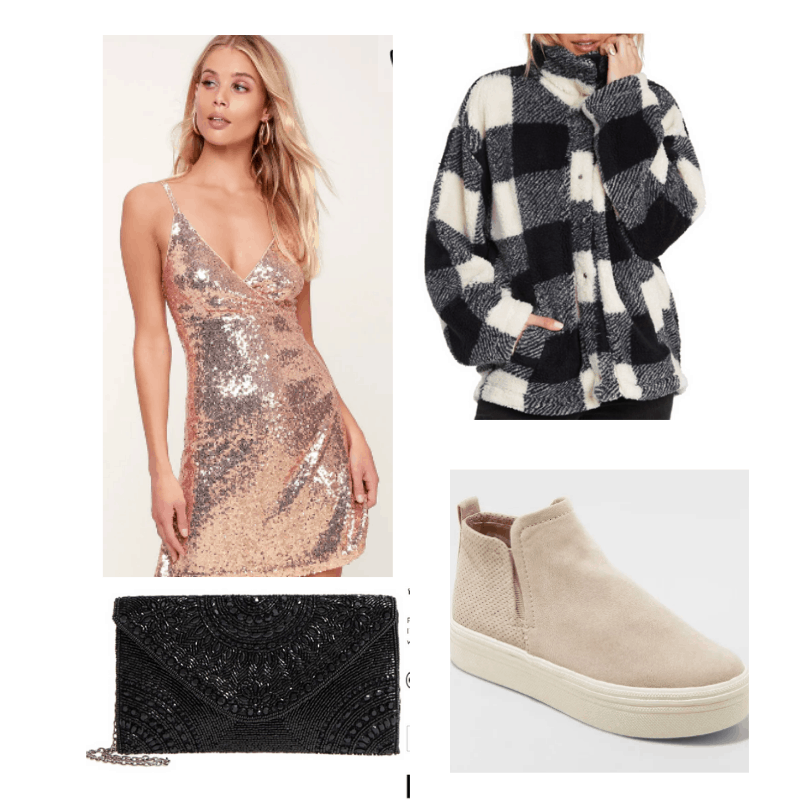 Products: Dress – Lulus, Purse – SSense, Shoes – Target, Jacket – Nordstrom
Let's talk a little more about this coat. With fuzzy material, button closure, and a turtleneck style, covering a shimmery dress isn't the only thing it can do. Paired with jeans or boots, this jacket will be your best friend the entire winter season.
Pine Tree Dream
With its long silhouette and warm fabric, this green and navy skirt is the ideal holiday choice. I paired this sweater with a chunky knit sweater, matched to a classic Coach bag embroidered with flowers. The pretty bag gives this look a more feminine vibe. The puff ball shoes will feel festive and fun all season long!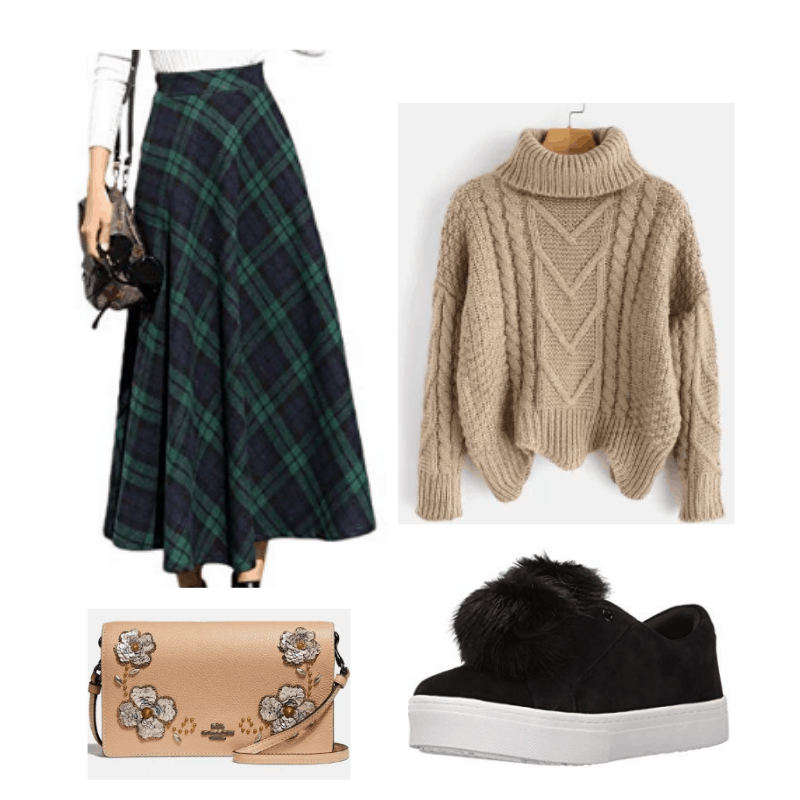 Products: Bag – Coach, Shoes – Amazon, Skirt – Amazon, Sweater – Zaful
This outfit is perfect for a day date or even a night date, thanks to the long and dark skirt! The sweater will keep you warm even on the coldest days, and the shoes will conquer any snow or ice with a thick platform sole.
What do you think?
Which set will you be wearing this winter? Comment your favorite tip to stay warm and fashionable below!