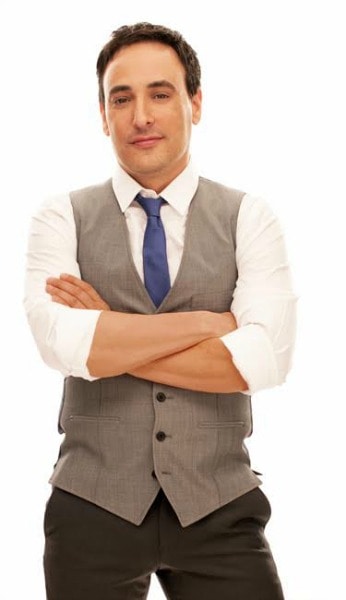 A few weeks back, I attended the Simply Stylist conference in Chicago, which was basically every fashionista's dream come true. I heard from, and networked with, everyone from stylists to bloggers to costume designers. One of the coolest people I met was Eric Himel, a celebrity stylist and fashion expert.
Himel, a Parsons grad, styles celebs and everyday people, and contributes his style savvy to various TV shows and publications like Us Weekly. One of the things he emphasized at the conference that stood out to me was his commitment to making people feel better about themselves, and having a tangible, positive influence on people's confidence and therefore their lives.
After the conference, I got a chance to get more scoop from Himel, just for College Fashion readers. Read on to hear his tips for an organized closet, pursuing a career in the fashion biz, and more!
CF: You've styled people of all ages. What in particular do you keep in mind when dressing young women, in their late teens or early 20s, especially girls in college?
EH: This is a very important time in their life. While you are always giving people 'clues' to who you are with what you wear, teens and young girls are developing their personalities and self confidence even more so at these ages. There are also so many outside influences from society, advertising, social media and peers that can influence a girl's style, not always in a good way. So it is important for me to really understand who my young clients are as individuals and help them express that on the outside in a way that makes them comfortable and confident women.
CF: You're known for your Closet Purge™,  your system for maintaining a great wardrobe.  Can you summarize that philosophy, and talk a bit about how it can be especially helpful for younger people with a limited budget and closet space?
EH: Everyone has had the experience of standing in front of your closet, trying to pick out an outfit for school, work, a date or just any social occasion and being perplexed. There are things that everyone can do to combat that!
1. Keep things folded and neat
2. Keep things off the floor
3. Organize your clothes by seasons (get an inexpensive storage bin for underneath your bed for storing off-season clothing)
4. Organize by color and item. (i.e.: short sleeve tops together, long sleeve tops together, fold sweaters so they don't get out of shape on hangers, etc.)
5. Go through your closet each season (2 x year) and make 3 piles: Keep, Donate (giving things to friends or donating items you don't wear feels so good!), and items you need tailored to fit you better. Tailoring is key!
REMEMBER: Be honest with yourself and do this without friends or your sister! Too many cooks in the kitchen gets you back to where you started off!
CF: What is the biggest difference you notice when styling a celeb vs. a "real person"? Or rather, do you notice a difference?
EH: Celebs are dressing for non-reality: red carpet, photo shoots, awards shows, TV appearances – places where they will be getting photographed and videotaped and scrutinized in ways that aren't steeped in reality. Styling 'real' people is for real life where [people] aren't getting scrutinized, but still being judged [by others] just the same, whether consciously or subconsciously. [Everyday people] are seen in person. People experience 'real' people in a more intimate way, while people experience celebrities in a way that is objectified. The one constant for both? Both 'real' people and celebs alike want and need to feel comfortable in their own skin as well as confident.
CF: Any tips for shopping on a budget (especially an extra-tight, college student budget)?
EH: Don't be a slave to trends, and don't try to keep up with your friends. Cultivate your own individual style that expresses who you really are and build your wardrobe so the items almost work like "Garanimals" so you can mix and match everything.
CF: What do you wish you had know when you were in your 20s, trying to break into the fashion business?
EH: That being gifted creatively isn't enough to make one successful – fashion is a business and knowing the business side is just as important.
CF: I'm sure a lot of our readers would be jealous to know that Tim Gunn was one of your professors at Parsons! What can you tell us about your time in his class?
It was a lesson in humility, really. He was so gracious and diplomatic during critiques that I learned more about how to treat people and be treated [by them] more than about fashion itself – something that has served me well.
CF: Any other tips you'd like to share, particularly for fashion-conscious younger women, that we haven't touched on yet?
EH: Self identity is both internal and external – there is no shame in spending time on your outside. Just make sure that it is balanced with cultivating what is on the inside as well – this is the yin and yang of the complete self.
CF: And finally, can you tell us what your favorite joke you've ever written for Us Weekly's Fashion Police is?
EH: I love writing jokes for Fashion Police! It isn't meant to be mean-spirited but rather all in good fun! Everyone has worn a bad outfit before – even me!
Want more from Eric? You can find Himel on social media with the handle @EricHimel.
What do you think?
Do you find Himel's tips helpful?  Do any of you out there, like me, aspire to be stylists, fashion editors, or have any sort of career in the fashion biz? What else would you want to ask a top stylist?  Let me know in the comments!