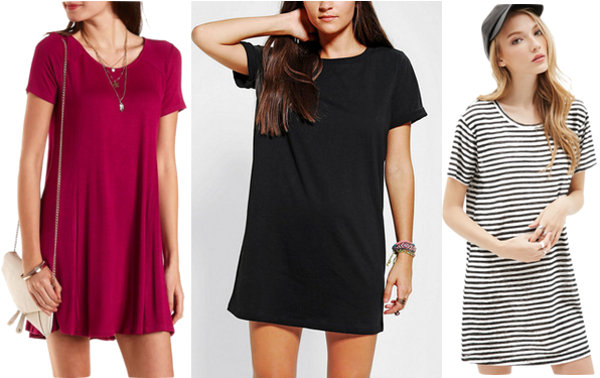 T-Shirt Dresses: 1. Charlotte Russe, 2. Urban Outfitters, 3. Forever 21
Once upon a time, I swore I would never wear a t-shirt dress. I thought this shapeless style could only be worn by girls blessed with modelesque proportions. When I finally caved and bought one, I couldn't believe what I had been missing! Despite being relatively unstructured, t-shirt dresses are universally flattering, serve as blank canvases for accessorizing, and feel as soft and cozy as your favorite, you guessed it, t-shirt.
Everyone knows that a t-shirt dress and sandals combo is the perfect lazy summer day outfit, but the right layers can make this dress perfect for winter, too! Below, I'll show you how to wear a t-shirt dress for a day of classes and a night out. If you're interested in this comfy trend, read on!
T-Shirt Dress: Class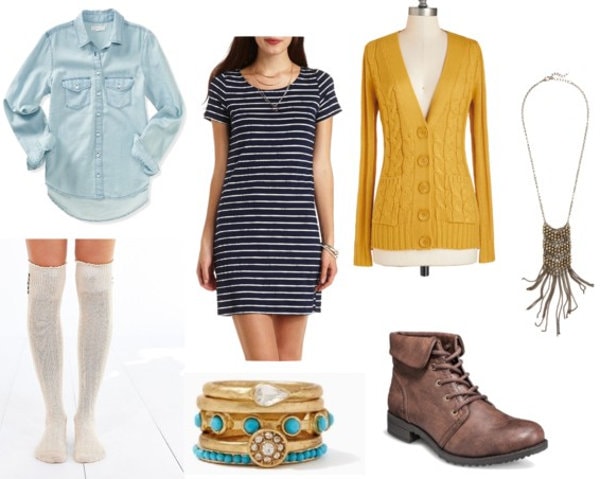 Product Info: T-Shirt Dress, Shirt, Cardigan, Socks, Boots, Necklace, Rings
The simple pattern and classic colors of this striped t-shirt dress make it a great backdrop for layers and jewelry. On top of the dress, pile on a light chambray shirt and a colorful cardigan for some warmth, but keep them both unbuttoned so you can still see the dress beneath.
Now, let's accessorize. I love the look of tall knee socks paired with sturdy brown boots. A funky necklace adds texture to this outfit, while these pretty gold and turquoise rings add an extra pop of color.
T-Shirt Dress: Night Out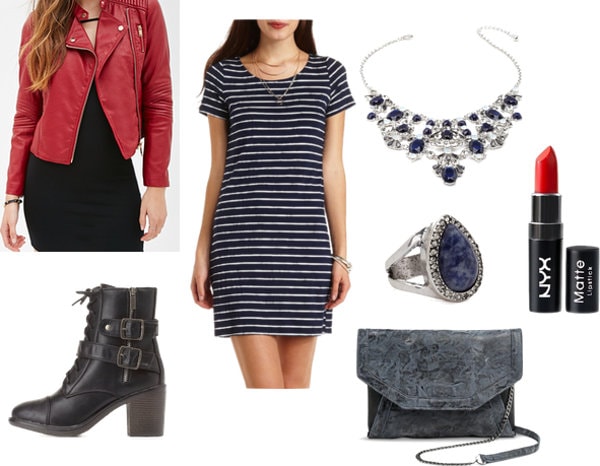 Product Info: Dress, Jacket, Ring, Necklace, Lipstick, Boots, Cross-body Bag
T-shirt dresses are perfect for a night out because, again, the simple silhouette allows you to go crazy with accessories. Start by swapping your flat boots for some heeled combat boots, and be sure to add a pair of tights (or two) if it's extra cold where you live! I love faux-leather jackets for winter nights out; they keep you warm while looking fierce. A jacket in an unexpected color like red really kicks this look up a notch.
For jewelry, a colorful statement necklace is a bold but pretty choice and can be matched up to an edgy cocktail ring. Finally, throw your belongings in a cool, textured cross-body bag so your hands will be free all night. Don't forget a swipe of bright red matte lipstick for the finishing touch!
Your Thoughts?
What are your thoughts on t-shirt dresses? Did you pick up this trend way before I did? How would you style these dresses through the winter? What are your thoughts on the outfits featured above? I'd love to hear from you!