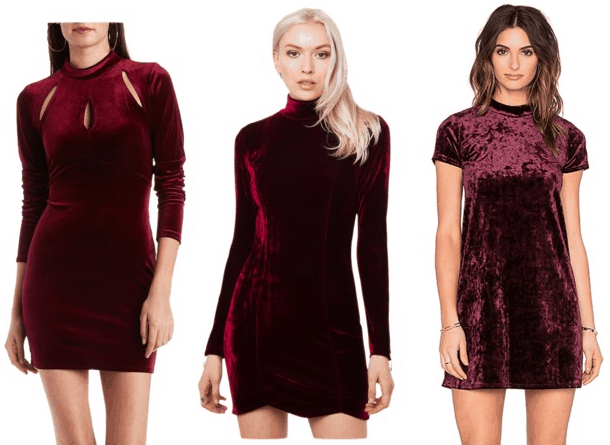 Do you struggle with transforming your outfits from day to night? Don't worry, CF is here to help turn that daily annoyance into a fun challenge. Class to Night Out focuses on one piece per week, and aims to help you take your look from study sessions in the library to dancing the night away.
When you hear "velvet", what comes to mind? Luxury? The '90s? Vampires? The Victorian Era? Delicious cake? Just a wonderful feeling fabric? It's amazing how in the fashion world one fabric can conjure up images of complete luxury for some and a vamped out rocker chick for others.
Try wearing a red velvet dress this winter if you're looking to try something new. Velvet is a perfect winter fabric since it is thick and warm, so if you've been thinking of trying the velvet trend, now is the time! Velvet looks best in dark colors, so a deep burgundy is perfect.
To see how I styled a red velvet dress for both class and a night out, keep reading!
Red Velvet Dress: Class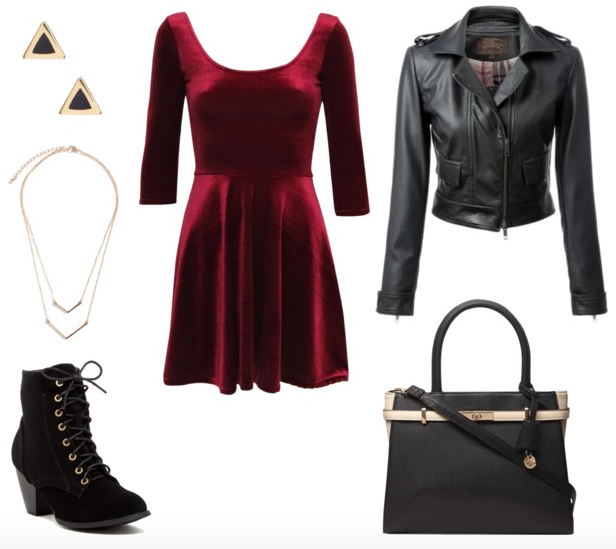 Products: Dress – Jacket – Tote – Shoes – Necklace – Earrings
Try to find a velvet skater dress or A-line dress instead of a bodycon dress since you will be wearing this to class. I like the rocker-chic look for class, so I paired it with some black lace-up ankle booties and added a faux leather motorcycle jacket.
Since the dress has a scoop neck, I added a double gold triangle necklace and some black-and-gold triangle earrings for jewelry. Finally, this structured black-and-gold tote completes the rocker chic feel while keeping things polished for class.
Red Velvet Dress: Night Out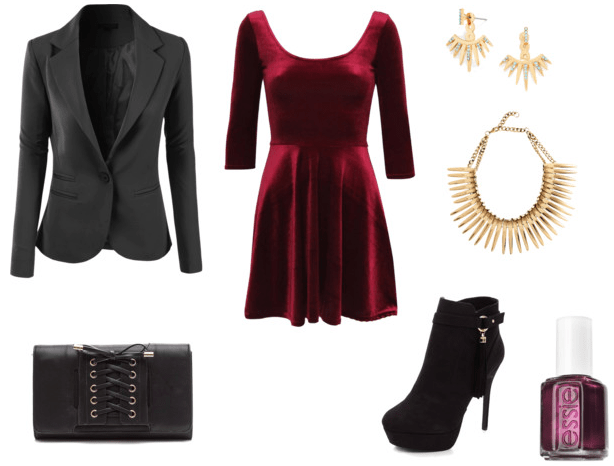 Products: Dress – Blazer – Shoes – Clutch – Earrings – Necklace – Nail Polish
Swap your motorcycle jacket for a polished black blazer and some black sky-high platform ankle boots at night. Going again for the rocker chic look, accessorize with a gold metal collar necklace and matching earrings. A black faux leather corset clutch is the perfect addition to your bad girl look! Finally, paint your nails a deep purple and you are ready to take on the town.
Your Thoughts?
What do you think? Are you going to rock a velvet dress? Or do you think velvet should be kept to accessories and extras? If you are going to pick up a velvet dress, how would you style one for class and a night out? Let me know in the comments, I love hearing feedback!