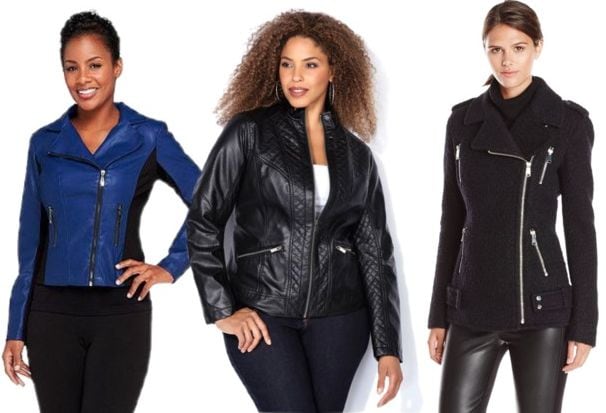 Do you struggle with transforming your outfits from day to night? Don't worry, CF is here to help turn that daily annoyance into a fun challenge. Class to Night Out focuses on one piece per week, and aims to help you take your look from study sessions in the library to dancing the night away.
Ready for fall yet? Specifically, are you ready for fall fashion? I've said it before and I'll say it again: they key is layers, layers, layers. You have all of your summer shirt options still available to you, just add a jacket/cardigan/sweater and shed that layer if you get too hot!
Fall is also a great time to break out the darker colors and edgier pieces in your wardrobe. Embrace your inner biker chick by choosing a motorcycle jacket that can easily be transitioned from day to night.
Keep reading if you want to see how I styled a motorcycle jacket for your warm-ish walks between classes and your chilly classrooms, as well as your cool nights out.
Motorcycle Jacket: Class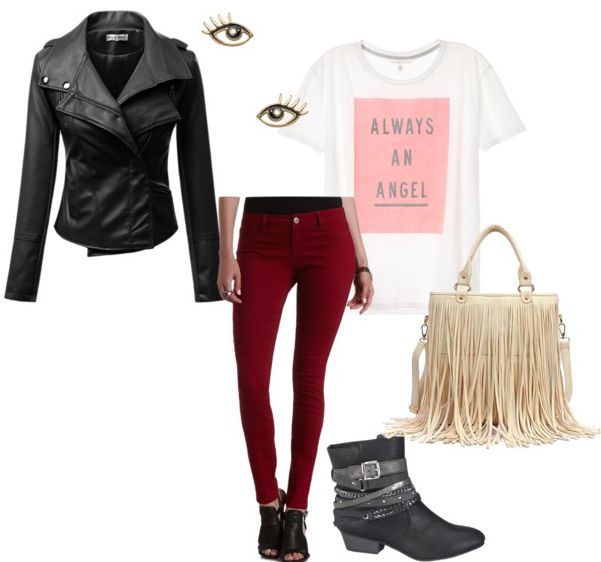 Products: Jacket – Shirt – Pants – Shoes – Bag – Earrings
Pick any sort of cute graphic t-shirt to wear under your jacket, so that you have something cute to show off when you remove said jacket. Pair this black motorcycle jacket with a some deep red skinny jeans and black strappy ankle booties to edge-up your outfit. I thought about accessorizing with a studded purse, but I think the fringe is a more unexpected take on edgy. A pair of cute stud earrings will finish the outfit.
Motorcycle Jacket: Night Out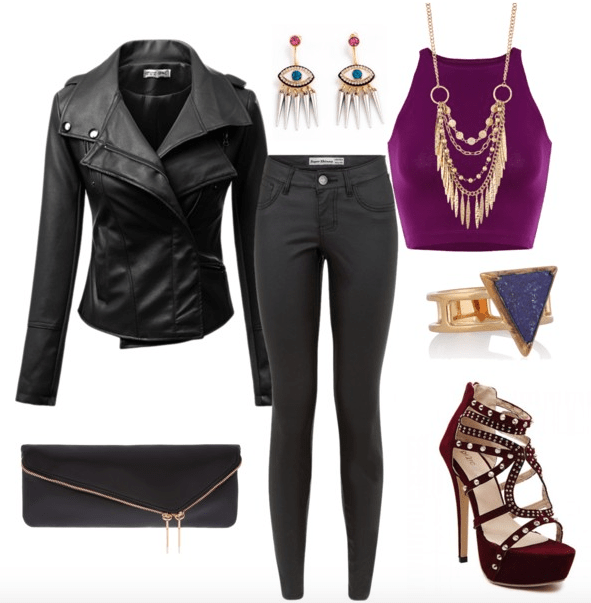 Products: Jacket – Pants – Shirt – Necklace – Earrings – Clutch – Ring – Shoes
For night time, wear your jacket over a plum-colored high-neck crop top and a pair of well fitted black skinny jeans. This black asymmetrical zipper clutch complements the asymmetry of the jacket – I love it! Find some killer deep red studded heels and have fun with your jewelry. For some reason I really like these pretty/strange eye earrings. A gold statement necklace and a gold-and-blue triangle ring contribute even more to the angles and shapes of this outfit.
Your thoughts?
What do you think? Are you loving motorcycle jackets this fall? How would you style one for class and a night out? Let me know in the comments, I love hearing feedback!