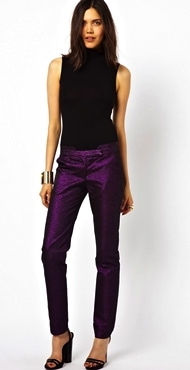 Metallic Pants from ASOS
Do you struggle with transforming your outfits from day to night? Don't worry, CF is here to help turn that daily annoyance into a fun challenge. Class to Night Out focuses on one piece per week, and aims to help you take your look from study sessions in the library to dancing the night away.
Metallic denim has been around for a few seasons now, but this winter, the trend has been livened up with new shapes and colors. In addition to the typical silver, gold, and copper, metallic overlays have been added to colors like cobalt, purple, and dark green. Retailers have also branched out from basic jeans, and are now carrying metallic trousers, harem pants, leggings, and joggers.
Styling metallic pants can seem a little daunting, but they can be totally wearable for both daytime and nighttime. In this post, I'll be showing you how to style a pair of metallic skinny trousers for a day of classes and a fun night out:
Class: Metallic Pants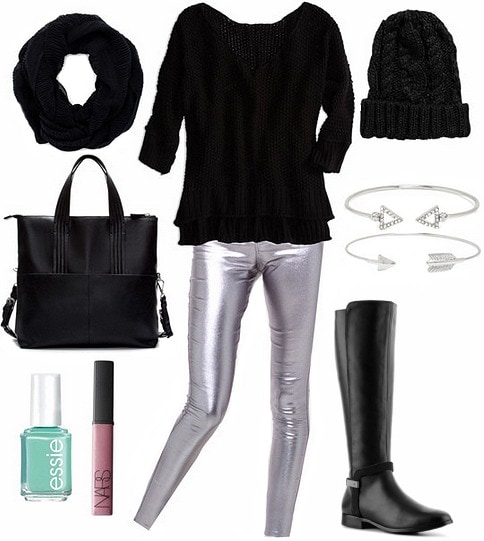 Product Information: Pants, Sweater, Boots, Scarf, Hat, Tote, Point Bracelet, Arrow Bracelet, Nail Polish, Lip Gloss
The key to styling metallic pants for class is to style them as you would any other neutral pair of pants or jeans. The pants are the focus of this outfit, and because they're so shiny, also act as the biggest accessory. Because of this, keep everything else very subdued, and pair them with a oversized black open knit sweater, as well as a matching scarf and riding boots.
A knitted beanie keeps things comfy and cool, while a tote holds everything you need for class. Keep the accessories simple and sleek with several dainty silver cuffs, then add some color to the look with turquoise nails and a mauve-colored lip. You'll be rocking the metallic pant trend appropriately for class, and not looking like you're about to go clubbing!
Night Out: Metallic Pants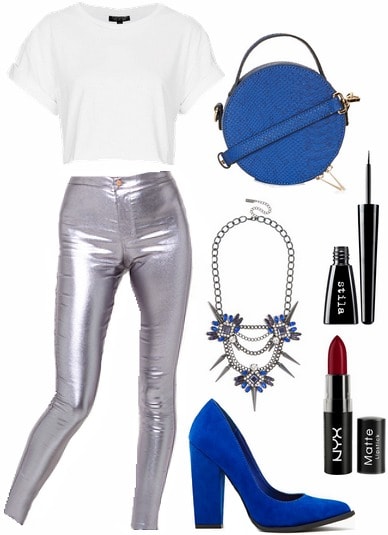 Product Information: Pants, Top, Heels, Necklace, Bag, Eye Liner, Lipstick
This pair of silver pants features a higher waist, so pair them with a boxy white crop top for a night out. The boxiness and raw edges of this casual crop top give a cool contrast to the luxe pair of pants. Bring in pops of cobalt blue to add some color to this outfit. These cobalt blue pumps look great with the ankle length of these pants.
I am just obsessed with the fabulous necklace in this outfit. The cobalt, black, and silver matches the look perfectly, while the spikes lend some glamour and edge. What a way to make a statement! Carry all of your nighttime essentials in this rockin' round snakeskin cross-body bag. Finish this ensemble off with a bold cat eye and a dark red matte lip.
Your thoughts?
Would you wear metallic pants? To class? On a night out with friends? How would you style these metallic pants? Let me know what you think of the outfits in the comments, and let me know what other pieces you'd like to see featured on Class to Night Out!