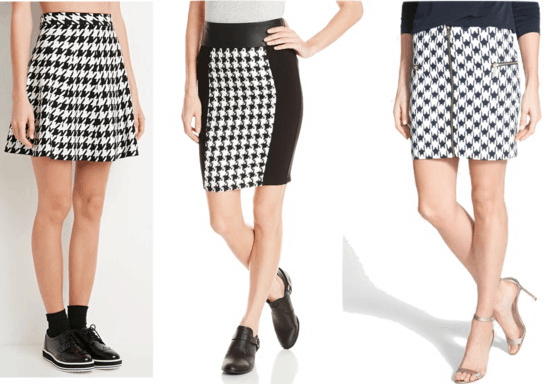 Do you struggle with transforming your outfits from day to night? Don't worry, CF is here to help turn that daily annoyance into a fun challenge. Class to Night Out focuses on one piece per week, and aims to help you take your look from study sessions in the library to dancing the night away.
Has anyone else really been into prints lately? Hearing the word "print" may cause some fashion anxiety for you minimalists, but a "print" doesn't necessarily mean full-on multi-colored paisley (though it definitely could!). There are so many prints to choose from.
Houndstooth has always been a popular fall/winter print. It's super chic but not too preppy. Investing in a houndstooth skirt this fall will amp up your wardrobe and add some print!
Keep reading to see how I styled a houndstooth skirt for class and a night out.
Houndstooth Skirt: Class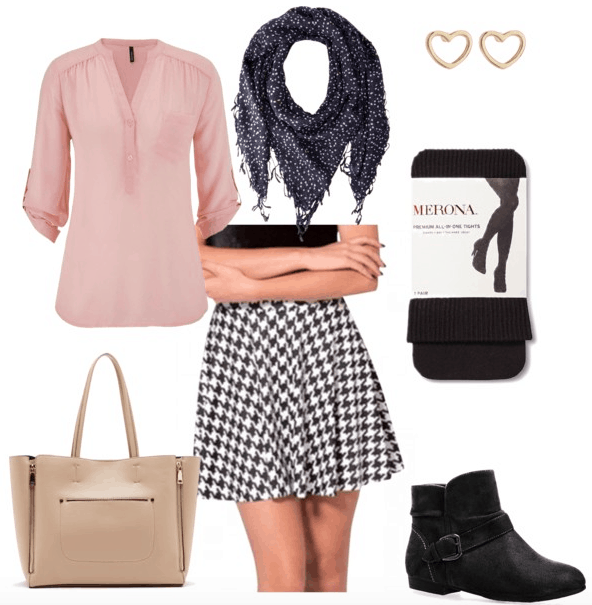 Products: Skirt – Shirt – Scarf – Tights – Tote – Earrings – Shoes
Just like some items may be hard to dress up, a houndstooth skirt can be hard to dress down. That said, who doesn't like a fashion challenge? You don't need to add much to this skirt: a dusty pink blouse and some flat ankle booties are easy pairings. Since the weather is cooling down, add some plain black tights.
And now to accessorize. Just wear whatever simple gold stud earrings you have – I chose these cute gold heart studs. And I apologize in advance, I'm going to try my hardest not to overload my outfits with scarves, but this one just worked so well with this outfit. And finally, put all of your class essentials in a plain beige tote.
Houndstooth Skirt: Night Out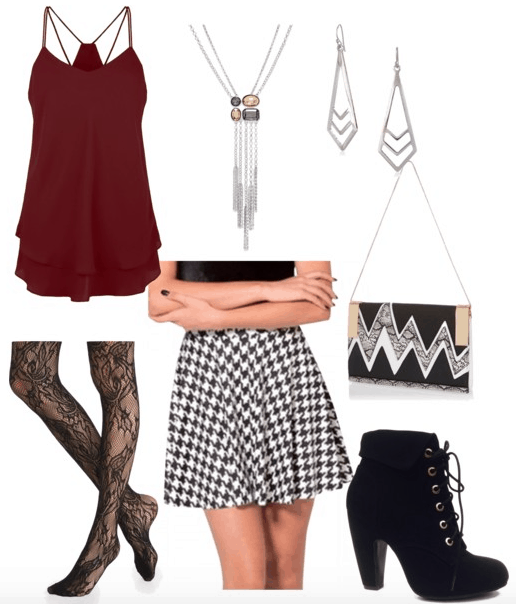 Products: Skirt – Shirt – Tights – Shoes – Clutch – Necklace – Earrings
For your night on the town, swap out your plain black tights for some black lace ones and add sky-high lace-up ankle booties. I've always liked black and white paired with darker colors, so choose a deep red tank for your top.
Time to accessorize again! Wear a silver tassel necklace and silver arrowhead earrings for your jewelry. I really like this clutch because it has a lot going on, but it's not overwhelming. It has the zig zags, black, white, faux snake skin, and gold accents. It's very versatile and for all of your night out outfits.
What do you think?
What are your thoughts? Are you in the print mood this fall? If so, what are your favorite prints? How would you style a houndstooth skirt for class and for a night out? Let me know in the comments, I love hearing feedback!