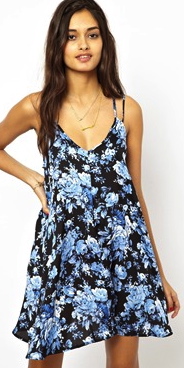 Floral Print Dress: Glamorous
Do you struggle with transforming your outfits from day to night? Don't worry, CF is here to help turn that daily annoyance into a fun challenge. Class to Night Out focuses on one piece per week, and aims to help you take your look from study sessions in the library to dancing the night away.
Floral prints don't have to be restricted just to spring and summertime wear! These days, floral prints come in so many different color combinations that it's easy to find a piece that can be styled in a winter-appropriate fashion.
A floral printed dress is the perfect way to brighten up your winter wardrobe. If you've been dreaming of warmer weather, read on too see how to style a floral printed dress for the colder winter months! (As a bonus, you could totally rock this dress into spring, too.)
Floral Printed Dress: Class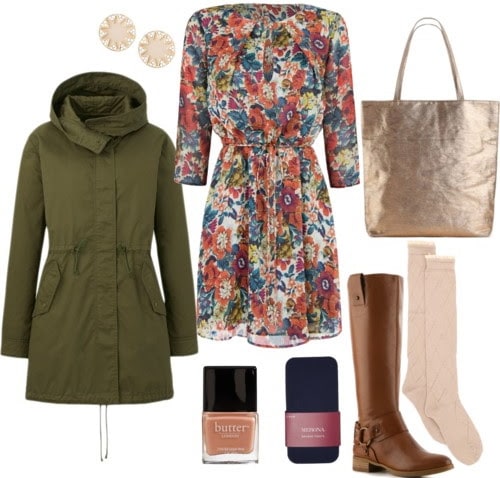 Product Information: Dress, Parka, Boots, Tote, Tights, Socks, Earrings, Nail Polish
Style this long-sleeved floral print dress for class by wearing it with navy blue tights and brown leather riding boots. Oatmeal-colored socks with ruffle detailing give this look an added touch of sweetness – let them peek out from the tops of these riding boots. Give the ensemble a more urban feel by adding an army green-hued parka, then lend some shine to the outfit by carrying a rose gold tote and wearing some shimmery, neutral stud earrings. Complement the ladylike feel of the floral dress by painting your fingernails in a pinky-taupe color.
Floral Print Dress: Night Out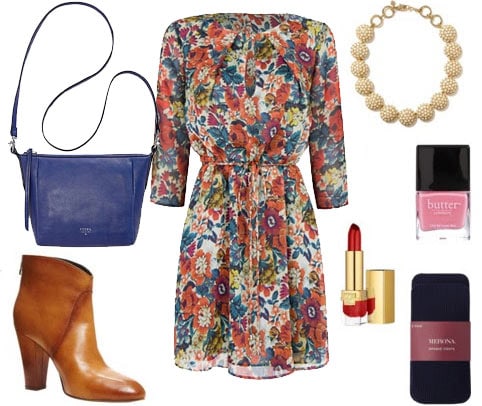 Product Information: Dress, Tights, Booties, Necklace, Bag, Lipstick, Nail Polish
For a night out, wear this cute dress with navy blue tights and cognac-colored high-heeled booties. Add an off-white, shiny statement necklace to lend some glamour to this look. Play off the blue in the dress's print by carrying a cobalt blue cross-body bag. Keep the ensemble pretty and polished with pink fingernails and a bright red lip.
Your thoughts?
Would you wear a floral print dress in the winter? How would you style this one? Let me know what you think of the outfits in the comments, and let me know what other pieces you'd like to see featured on Class to Night Out!