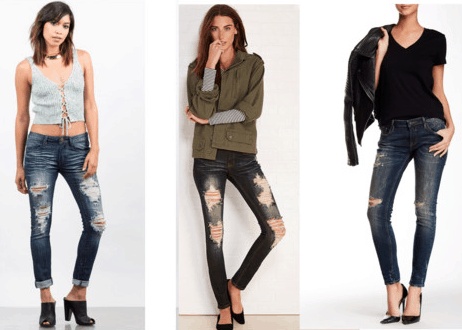 Do you struggle with transforming your outfits from day to night? Don't worry, CF is here to help turn that daily annoyance into a fun challenge. Class to Night Out focuses on one piece per week, and aims to help you take your look from study sessions in the library to dancing the night away.
I was looking through my wardrobe the other day trying to decide what to wear and realized how boring my collection of jeans has become. I play favorites with my black skinny jeans year round. I miss my denim variety!
That's why I've decided to switch things up and buy some destroyed skinny jeans. Super trendy this season, these '90s throwbacks are ultra cool thanks to their grunge vibe. Of course you can always DIY a pair you already own if you don't want to spend the money on new ones!
To see how to style destroyed skinny jeans, keep reading!
Destroyed Skinny Jeans: Class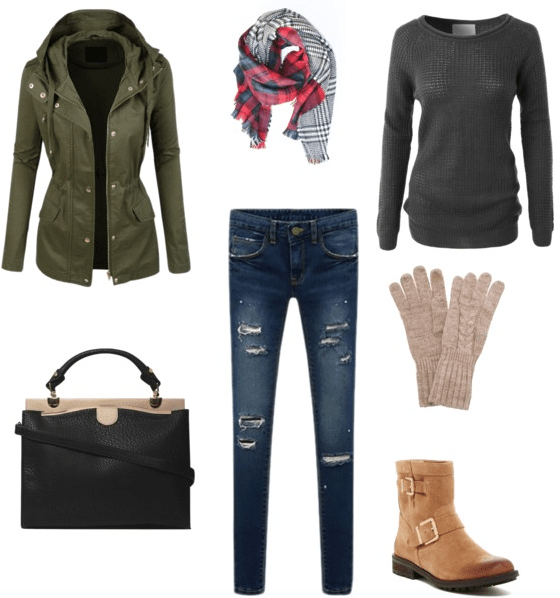 Products: Jeans – Jacket – Sweater – Tote – Scarf – Gloves – Shoes
Destroyed skinny jeans can range from a hole or two to almost completely ripped to shreds, so you can choose how far you want to go with this trend. Here, I'm styling a pair with small rips through the knee and thigh areas.
Wear a simple sweater in a neutral tone like cream or charcoal grey. Next, add an olive green military jacket and light brown buckle boots too give it that grunge feel.
Because it really is getting cold, wear a red plaid scarf and a cute pair of gloves. I have a feeling gloves are going to be like socks for me this winter: I'm never going to be able to find any matching ones in my house. Grab your trusty black tote before you leave the house and you're good to go!
Destroyed Skinny Jeans: Night Out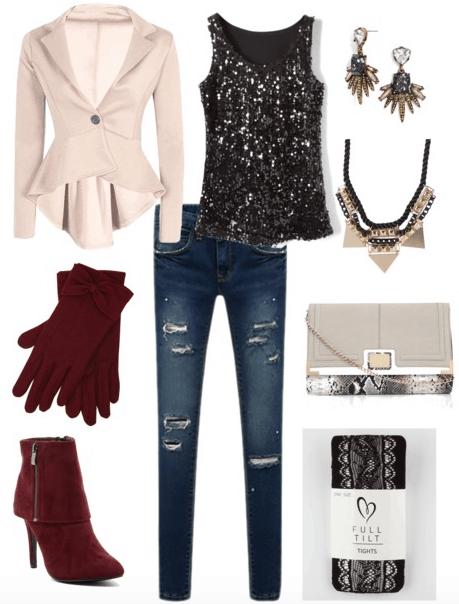 Products: Jeans – Shirt – Blazer – Shoes – Gloves – Clutch – Tights – Earrings – Necklace
You'd think these rough-looking jeans would be hard to style for a night out, but they're not! Pair them with a black sequin top and a cream blazer to take the grunginess down a notch. Oxblood stiletto booties look darling with these bow gloves in the same color. Jewelry is easy as well, just find a black and gold statement necklace and some earrings to match.
Here's a fun styling possibility: Try wearing a pair of lace tights under your destroyed jeans for your night out. A little bit of lace will be able to peek out depending on how big the holes in your jeans are. And finally, all you need is a nude-colored clutch – I really like this faux snakeskin trim one.
Your thoughts?
What do you think? Are you going to try the destroyed jeans trend? If so, are you going to buy a pair, DIY, or do you already own a pair? How would you style them for class and a night out? Let me know in the comments, I love hearing feedback!