The backless dress trend is super revealing, but not in the traditional sense. Backless dresses manage to be both effortlessly sultry and demure. Embrace your femininity in this breezy, beautiful summer style! Perfect for both day and night wear, this versatile piece is an absolute must-have.
Interested in learning how to wear a backless dress for day and a night out? Keep reading!
Backless Dress Outfit: Class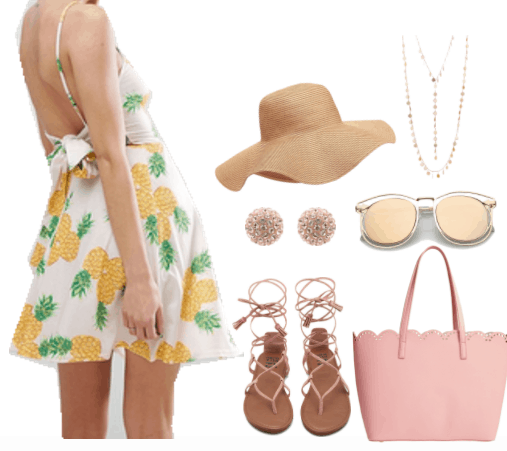 Products: Dress – Asos, Shoes – Simons, Hat – Old Navy, Sunglasses – Sunglasses.LA, Earrings – Very, Purse – Nordstrom, Necklace – Nordstrom Rack
Nothing says summer-ready more than a pineapple print sundress! A floppy sun hat adds elegance to your look while also working to shield your eyes from that blinding sun.
Strappy sandals are all the rage right now and this tasseled pair from Simons will have you strutting down the street with confidence this summer.
To complete this funky outfit set, pull out your favorite rose gold accessories. A chic pair of sunnies and an eye-catching necklace will surely do the trick.
Backless Dress Outfit: Night Out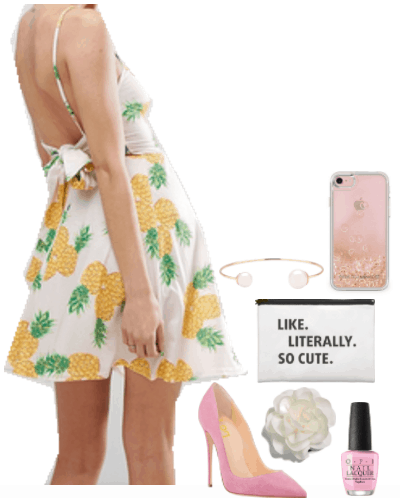 Products: Dress – Asos, Shoes – Amazon, Nail Polish – Very, Hair Accessory – Nordstrom, Bag – Snapmade, Bracelet – Amara, Phone Case – Saks
Don't reserve your backless sundress for daytime wear only! Wear a backless dress for a night out by swapping your sandals for some lavender pumps.
Stick with the tropical vibes that this dress gives off by adding a gorgeous flower accessory in your hair.
This graphic clutch from Snapmade really is like. literally. so cute. It's also, naturally, a handy place to stash makeup for those touch-ups you might need throughout the hot summer night!
What Do You Think?
Do you love the backless dress trend? How would you wear one? Did you like the above outfit sets? Let me know in the comments below!