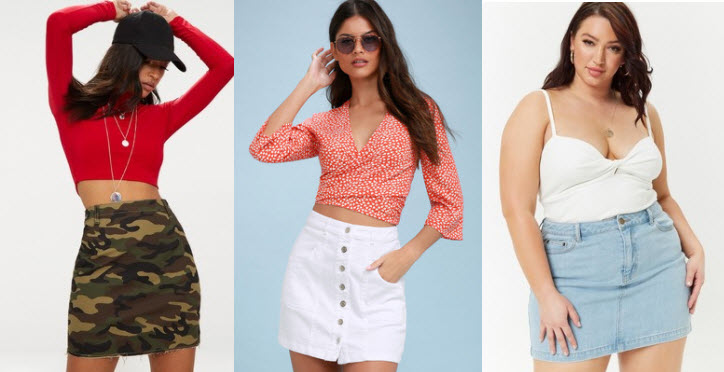 Products L-R: Pretty Little Thing, Lulus, & Forever 21.
Denim skirts have been trending off and on for years now. Can you believe our parents used to wear them? This season, denim skirts are making a full comeback and we are here for it!
What's so great about denim skirts is that there are so many styles out there. There are distressed denim skirts, camo denim skirts (which we're styling today), midi denim skirts, and so much more. Which means there's a ton of ways to style denim skirts this season.
Below are a few ways to wear a trendy camo denim skirt to class and a night out on the town.
How to Style a Camo Denim Skirt – Outfit for Class: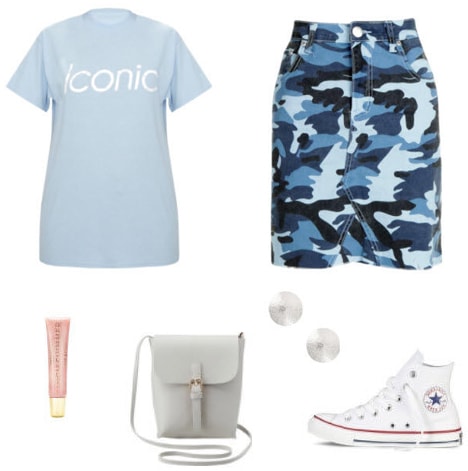 Products: Shirt – Pretty Little Thing, Skirt – Boohoo, Earrings – Forever 21, Lip gloss – Forever 21, Purse – Charlotte Russe, Sneakers – Converse.
I styled these outfits around Boohoo's blue camo denim skirt. Camouflage is a pattern that was in style years ago and has made a full comeback, and I love the blue colors of this skirt for springtime.
The baby blue Iconic t-shirt from Pretty Little Thing makes this outfit less dressy and more comfortable, ideal for class. Forever 21's silver round studs and Charlotte Russe's gray purse are the only accessories needed to make this outfit pop.
How to Style a Denim Skirt – Outfit for a Night Out: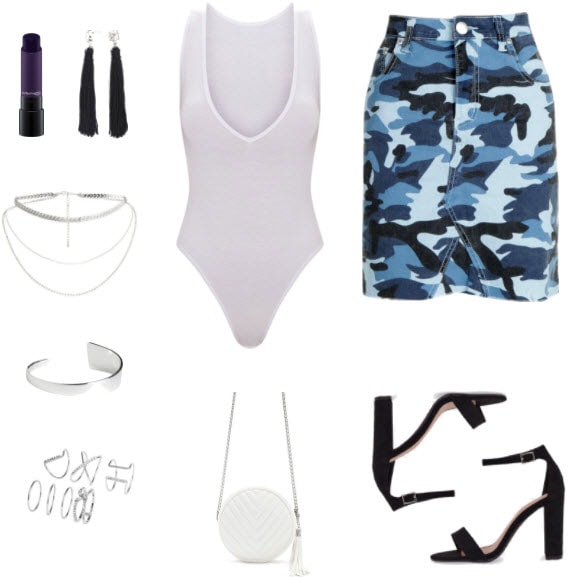 Products: Lipstick – MAC, Necklace – H&M, Bracelet – H&M, Ring set – H&M, Earrings – Forever 21, Bodysuit – Pretty Little Thing, Purse – Forever 21, Skirt – Boohoo, Heels – Pretty Little Thing.
This set has everything you need to sparkle for your night out on the town. The all white bodysuit from Pretty Little Thing and the camo denim skirt look flawless together. Although there are some dark blue sections of the skirt, pairing it with a light colored top makes it stand out more.
The white quilted purse from Forever 21 helps enhance the outfit, as do the silver necklace and the tassel earrings. Finish with a deep purple lipstick for extra pop.
Are denim skirts hot or not?
What's your take on denim skirts? Will you be rocking one this spring/summer? What about a camo denim skirt? We want to hear from our CF readers so comment or share and let us know!