If you have a boho chic sense of style, you may have trouble coming up with outfit ideas in the winter months. Winter fashion is usually more utilitarian, which doesn't easily mesh with the flowy, loose layers you love. We talked about winterizing the '70s trend last week, but boho chic can encompass more than just '70s vibes, so I thought it deserved its own post.
I love the boho look myself, so I've spent some time coming up with cute bohemian outfit ideas for cold weather. Here are three of my ideas:
Boho Chic Dress Look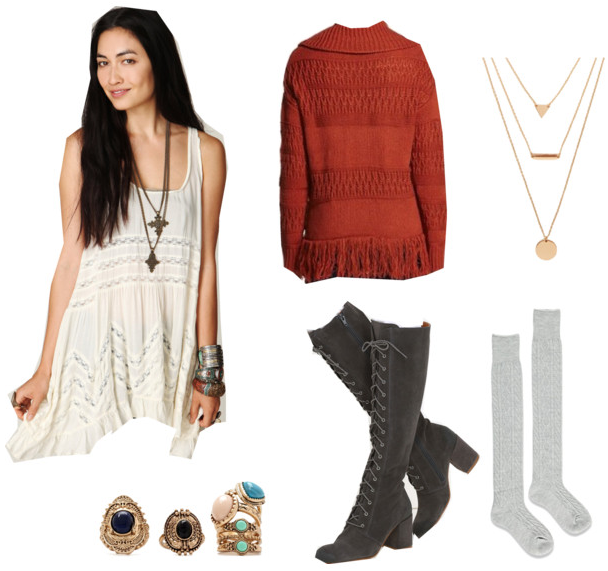 Products: Dress | Sweater | Necklaces | Rings | Boots | Socks
Styling your boho dresses for the wintertime is easy if you accessorize right. Just take your favorite frock and pair it with a comfy fringe sweater and some knee- or thigh-high lace-up boots. Get extra style points by adding knee-high socks that peek out over the tops of the boots. Finish it all off with some cute rings and layering necklaces.
Boho Chic Skirt Look.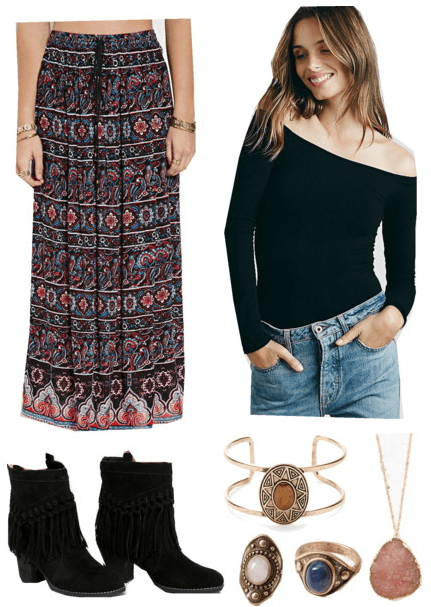 Products: Skirt | Shirt | Boots | Bracelet | Rings | Necklace
Maxi skirts are another boho fashion favorite, and they're so perfect for winter because they're nice and long to keep you warm. Pair one with a cute off-the-shoulder long sleeve shirt or even a cropped sweater. Add some fringe booties to keep your toes toasty. Top it off with a chunky bracelet and some vintage-looking rings.
Boho Chic Jeans Look.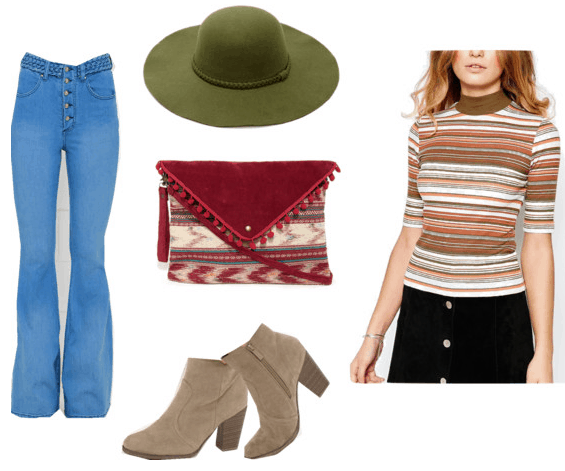 Products: Jeans | Hat | Purse | Shirt | Boots
Not really a dress or skirt kind of girl? That's totally okay! This last looks shows you how to take the classic jeans and a t-shirt look and make it boho chic. Rather than plain blue jeans, opt for trendy high-waisted flare jeans. Instead of a classic crewneck t-shirt, try one with a higher neckline and a fun pattern. The funky neckline gives it more of a unique look. Pair it with some heeled booties, a floppy hat and a fun cross-body bag for accessories.
Do you have a boho sense of style?
How do you adapt your boho wardrobe to the winter season? Let me know in the comments!