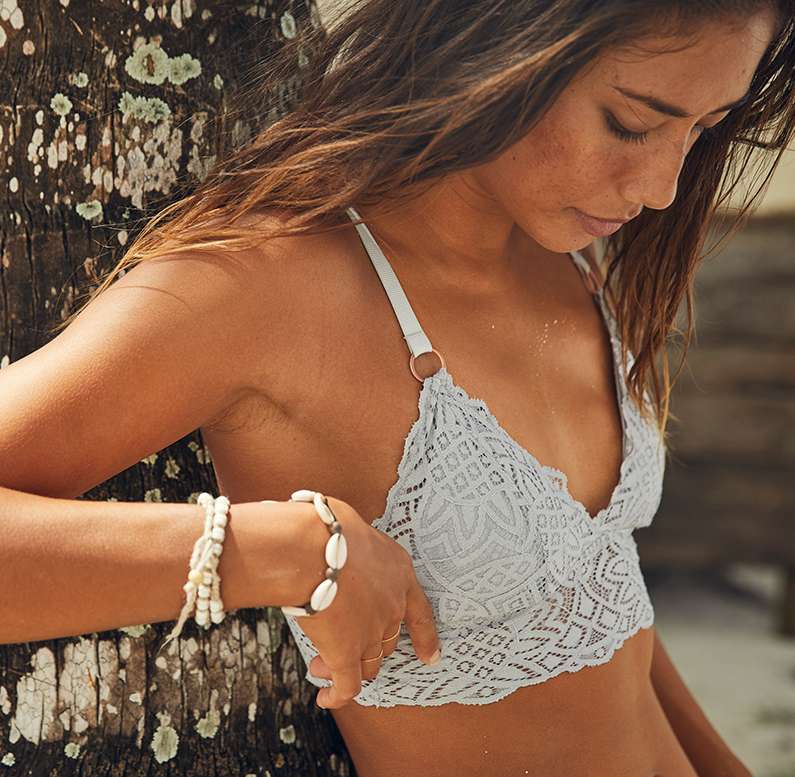 Comfy and cute should be every college girl's mantra. Between running to class, keeping up with your extracurriculars, studying, and somehow still making time for your friends, you don't have time to be uncomfortable!
As we mentioned in our guide to clothes for college, bralettes are staples in a college girl's wardrobe. After all, they are more comfy than their underwire cousins and incredibly stylish. Here's your complete guide to the best bralettes (plus cute bralette outfits!).
How to Choose Bralettes
As a college girl, you need to buy things that will be versatile and worn often for your everyday wardrobe. Here are some things to consider when buying bralettes!
Price: Typically, I don't buy bralettes for more than $20 unless I can also see myself being able to wear a certain bralette as a top. Keep an eye out for sales at your favorite stores to stay within your budget, and always ask about student discounts!
Padded vs. Not Padded: For tops that tend to be more sheer, some light, removable padding may be a good option for your bralette if you're not quite ready to free the nipple.
Style: Halter neck, racerback, high-neck, bandeau, the options are endless! Think about what style would fit the shape and neckline of the pieces you wear most in your closet.
Material: Lace is a popular option, but simple cotton bralettes can also be equally stylish or comfortable. Consider which options would suit more tops and dresses that already exist in your closet!
Color: If you want options that will go with everything, neutral colors are your best bet: think black, white, and navy blue. Colorful bralettes provide more of a statement. Keep in mind that lighter whites, pinks, and blues can be more sheer and offer less coverage!
Best Stores for Bralettes
Bralette Outfits
Cozy for Class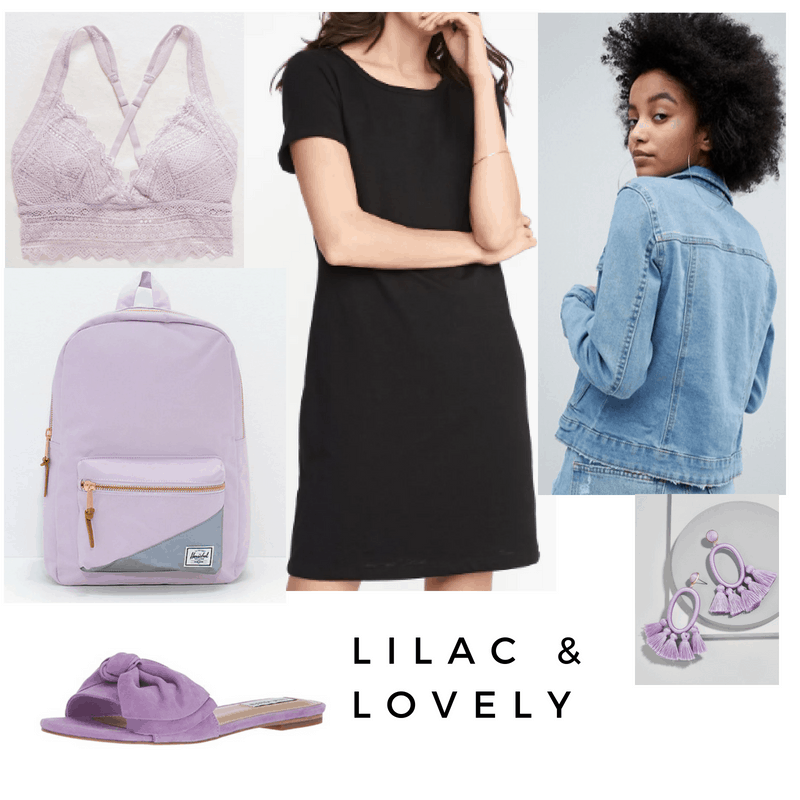 Products: Bralette – Aerie, T-shirt Dress – Old Navy, Jean Jacket – Asos, Backpack – Zumiez, Slides – Amazon, Earrings – Baublebar
On days when I've had zero sleep, the last thing I want to do is wear a real bra or look for a coordinating outfit. By wearing a bralette and t-shirt dress, you can feel like you're wearing a refined nightgown while still looking cute. Tie a jean jacket around your waist just in case your lecture hall is a little chilly. Your outfit will be so cute, everyone will be distracted and will think you got 8 hours of sleep!
Down to Earth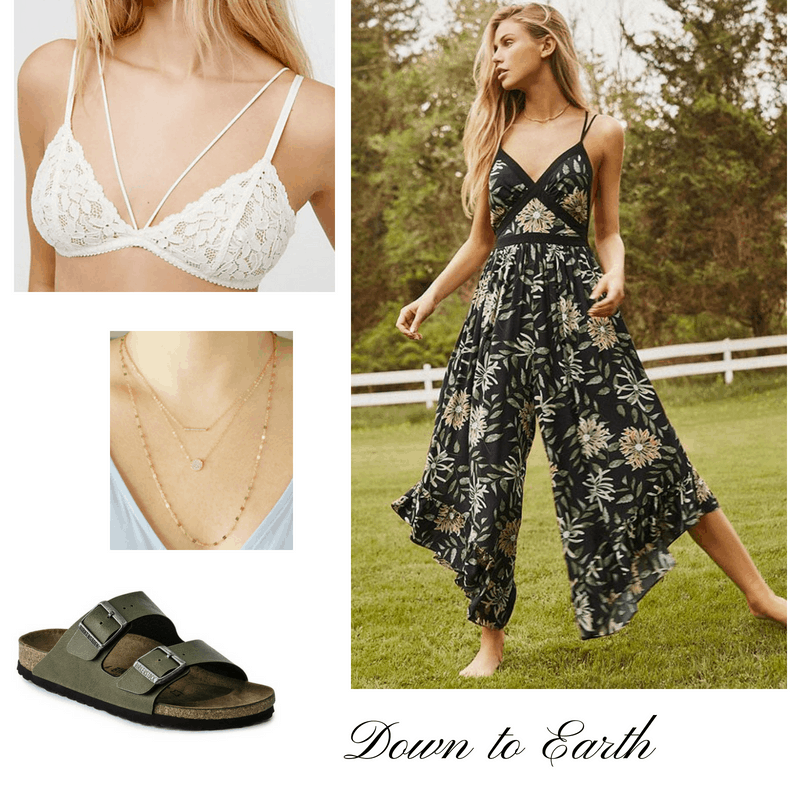 Products: Bralette – Free People, Jumpsuit – Urban Outfitters, Necklace – Etsy, Sandals – Birkenstocks
Bralettes have always been associated with boho style; this outfit mixes up the typical combination of a lace bralette with a loose sundress by incorporating this awesome jumpsuit. It's a unique piece that will also let you enjoy the summer breeze rather than worrying about a Marilyn Monroe moment. The strappy style of this bra matches the color scheme of the jumpsuit while staying true to the strappy v-neck style of the jumpsuit's bodice. Pair with simple gold layering jewelry and Birkenstocks to feel like a comfortable bohemian goddess.
Athleisure for the Win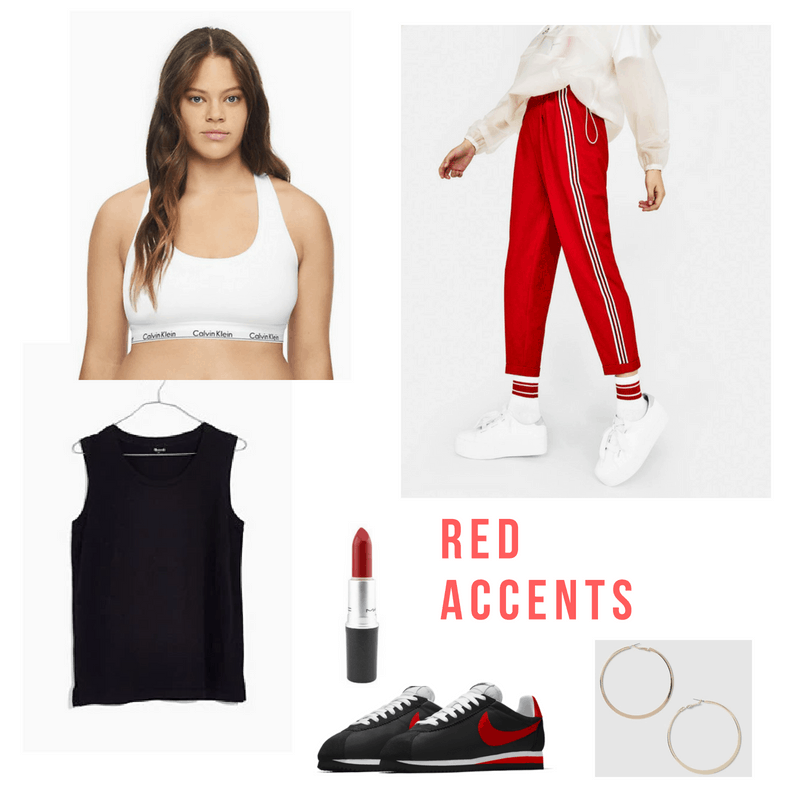 Products: Bralette – Calvin Klein, Joggers – Bershka, Muscle Tank – Madewell, Lipstick – Amazon, Sneakers – Nike, Hoops – Topshop
Calvin Klein bralettes are incredibly comfortable and they basically scream athleisure. Channel your inner model-off-duty by pairing a sporty bralette with a cropped muscle tank and joggers with a statement sporty stripe along the side. Hoop earrings and a red lip (my personal favorite red lipstick is MAC Russian Red) will round out your look. The red accents in this piece will also make you stand out and look coordinated. You would totally fit into a Missy Elliot music video from the 2000's in this outfit!
Summer Concert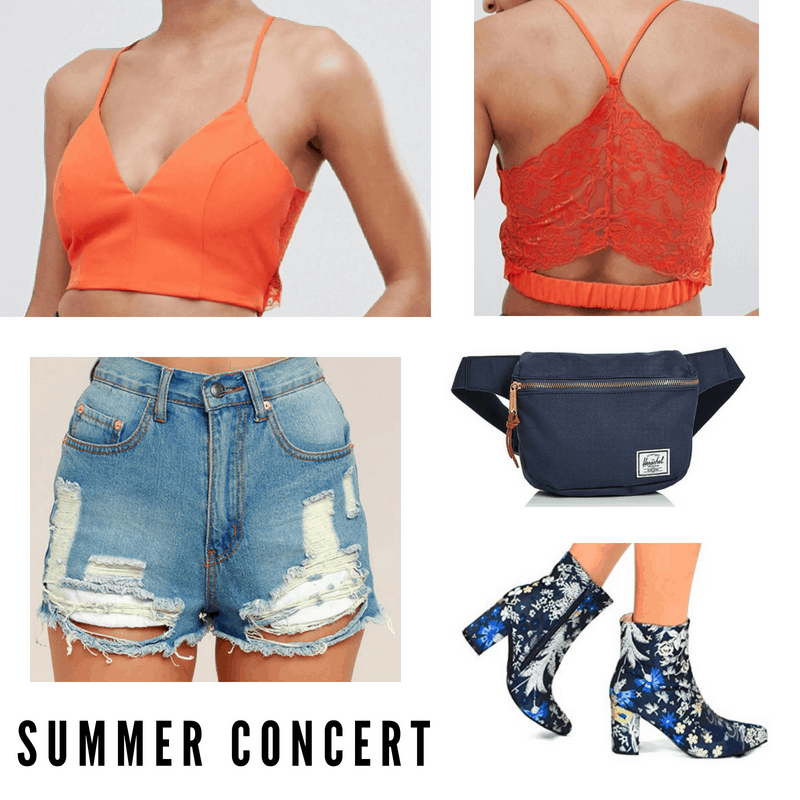 Products: Bralette (Pictured Front and Back) – Asos, Shorts – Lulus, Fanny Pack – Bloomingdale's, Booties – Amazon
Bralettes can also be worn as tops, and a summer concert is a great setting to experiment with this trend. This Asos bralette has such a unique color and shape that it's definitely worth the $35 investment. The navy blue fanny pack will let you dance hands-free, and the floral blue booties will help you look above the crowd, and avoid pain if people step on your toes. Bonus: blue and orange are complementary colors!
Where do you find the best bralettes?
Every girl can reach their potential, especially if they aren't being bothered by underwire. Bralettes are an essential part of every college girl's wardrobe! Have any other tips or favorite stores that I missed? Any personal style tips for wearing bralettes? Slide into my dm's or leave a comment below!