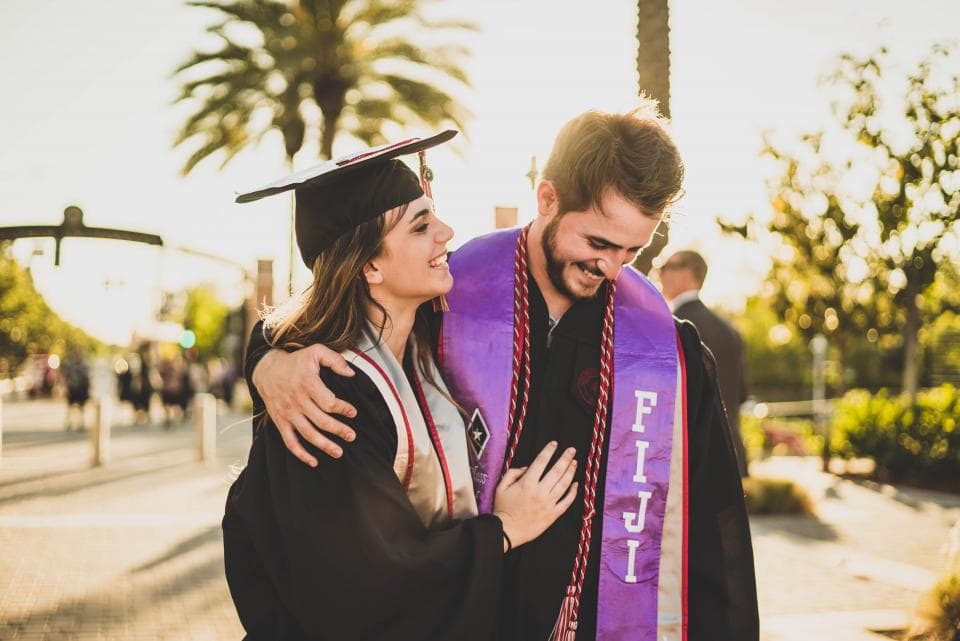 Welcome to the latest edition of Ask CF! Every two weeks, we select a reader fashion question and answer it here on the site. Do you have a specific fashion question for us? Scroll to the bottom of this post to learn how to send it our way–including a how to submit your most pressing fashion dilemmas via Instagram!
Ask CF Question
Hi there,
My boyfriend has finally graduated! Apart from me, his whole family will be there as well. Now, I will be meeting them for the first time. Please advise me on how to dress accordingly. I'm open to any of your suggestions. Thanks.
Lilith
Our Response
Dear Lilith,
Dressing for one milestone event in a relationship can be tricky, but when you have two at once — in your case, your boyfriend's convocation and meeting his family — it can feel like an even bigger challenge to figure out what to wear.
Luckily, dressing for a convocation and dressing for meeting your boyfriend's family aren't too dissimilar; they actually have a lot in common. For example, for both events, you generally want to make sure that you wear something a little nicer (but nothing too formal; think business casual-ish), and also that your outfit is "family-friendly"; that is, something that's on the covered-up side (which in this case means no super-short skirts, skin-tight dresses, cleavage, exposed undergarments, etc.).
So, although it may not seem like it at first, you're actually left with a lot of outfit options! Here, I've put together four looks to inspire you; what's more, they are all made up of pieces that are pretty easy to find (in fact, you may already own similar things already).
Ready to see them? Just keep scrolling!
Outfit #1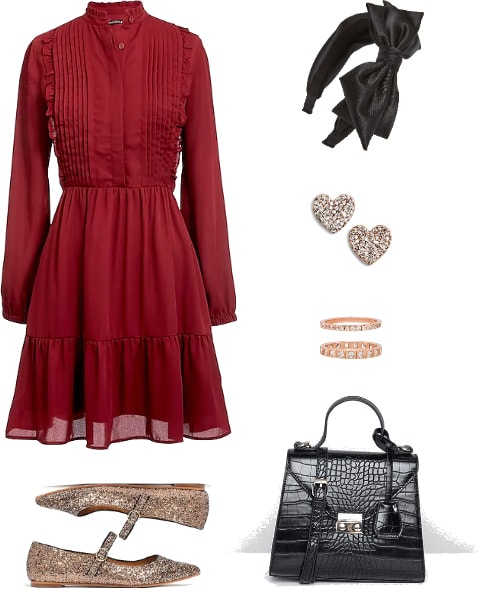 Products: Shirt Dress – J.Crew Factory, Flats – J.Crew Factory, Hairband – Nordstrom, Earrings – Nordstrom, Ring Set – Revolve, Bag – ASOS
For the first look, I decided to put together something that's on the preppy side, but that also incorporates several fun and feminine elements which prevent it from looking stuffy or plain.
To get the look, put on a pretty ruffled burgundy shirt dress made from a flowy fabric, and pair it with a bow hairband for a classy, elegant vibe.
Next, add rose gold pavé heart earrings and rings, which I chose because they go well with the bronze-y color of these adorable glittery pointed-toe Mary Jane flats, and also because they pop against the color of the dress.
Grab a vintage-esque mock-croc satchel, and you're all dressed to impress!
Outfit #2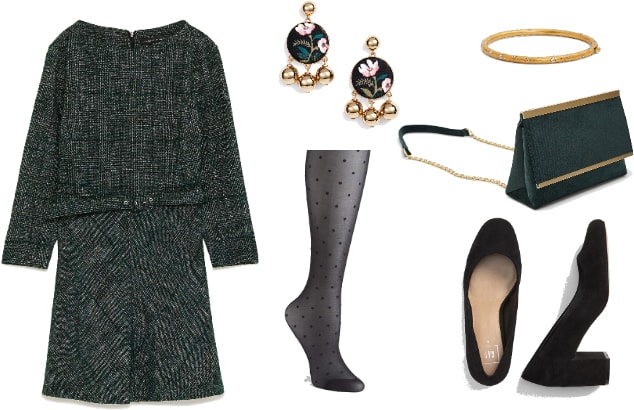 Products: Dress – Zara, Earrings – Nordstrom, Tights – Gap, Bracelet – Nordstrom, Bag – Zara, Heels – Gap
This look is more subdued than the first, and is a good option if you suspect that your boyfriend's family is more on the conservative side, fashion-wise.
Begin by putting on a classic belted tweed dress with a flattering, waist-accenting belt; then, put on a pair of black polka dot tights for a subtly sophisticated way to mix prints.
Mid-height block-heel pumps are a good way to (both literally and figuratively) elevate your ensemble without going over-the-top, while a forest green chain-strap bag is the perfect way to add a touch of color to the outfit.
Since this look is already quite subtle, I decided to go bold with this pair of granny-chic drop earrings, whose color scheme fits in perfectly with the rest of the look.
Lastly, since even subdued outfits deserve a little sparkle, add a bangle with small crystal accents, and you're good to go!
Outfit #3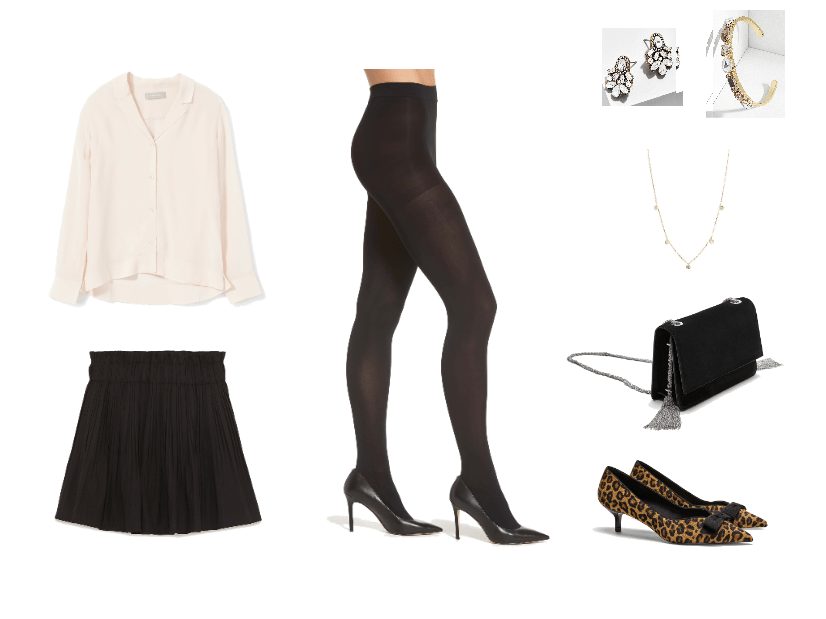 Products: Blouse – Everlane, Skirt – Zara, Tights – Nordstrom, Earrings – BaubleBar, Bracelet – BaubleBar, Necklace – Bloomingdale's, Bag – Zara, Heels – Zara
If you'd prefer to wear separates to your boyfriend's convocation instead of a dress, then you'll want to wear something similar to this classic and easy-to-wear skirt ensemble.
To start, tuck a pretty silky blouse in the softest shade of pink into a timeless black pleated skirt.
You can't go wrong with opaque black tights, so put on a pair to add a streamlined touch to the look.
I decided to have a bit of fun with accessories to liven things up a little: Metal tassels put a modern twist on a classic bag shape, while dangling crystals take a dainty gold necklace to the next level. Similarly, sparkly stud earrings and a cute cuff bracelet with stones in shades of pale pink and white put a youthful spin on things.
Finally, a pair of kitten heels in a trendy leopard pattern is the ideal way to show off your fashion know-how while still keeping things appropriate for the occasion.
Outfit #4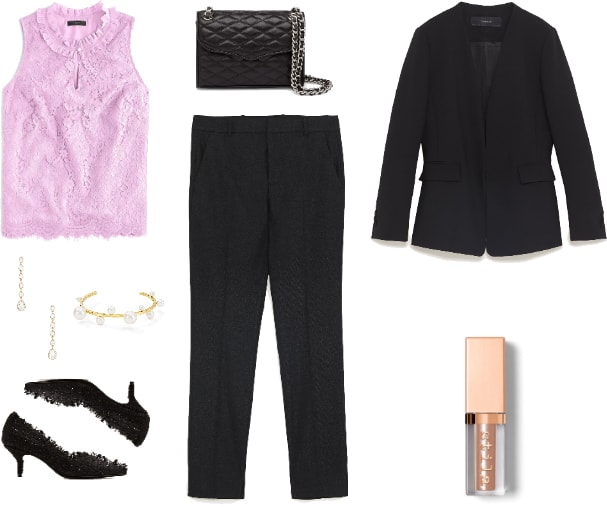 Products: Top – J.Crew, Earrings – Revolve, Bracelet – Bloomingdale's, Heels – Mango, Bag – Nordstrom Rack, Pants – Zara, Blazer – Zara, Eyeshadow – Stila
Because not every girl is a dress/skirt person, I chose to include an outfit based around pants that still looks every bit as elegant as the previous three ensembles.
For this look, I decided to play around with textures by styling a timeless pair of herringbone trousers with a more delicate-looking lace top.
Tweed kitten heels and a gorgeous quilted designer bag (currently retailing for under $100 at Nordstrom Rack!) lend very sophisticated touches to your look, while continuing with the texture-mixing that you have going on with the pants and top.
A chic collarless blazer keeps things modern, while pretty drop earrings and a quirky faux-pearl cuff bracelet add further visual interest to the outfit without being distracting.
A softly shimmery eyeshadow (that's super-easy to apply!) completes this chic look.
I hope you have fun at your boyfriend's convocation, and good luck with meeting his family; I'm sure you'll do great and look amazing, too! Thanks for your question!
Do you have a fashion question? Send it to us!
Is there something in your closet that you want to wear but have no idea how to style? Do you need advice on what to wear to an upcoming event? Do you have a specific fashion conundrum? If you have a fashion-related question that you would like to see answered in this column, simply email it to askcf @ collegefashion.net, and one day you might see your question answered right here on the site!
Also, you can now message us your questions on College Fashion's Instagram account, @collegefashion!
What do you think?
What would you wear to go to your significant other's convocation and meet their family in the same day? Do you have any more advice for subtly spicing up more conservative looks? Do you prefer to wear dresses, skirts, or pants when you have to dress up?
Let me know in the comments!