Welcome to the latest edition of Ask CF! Every two weeks, we select a reader fashion question and answer it here on the site. Do you have a specific fashion question for us? Scroll to the bottom of this post to learn how to send it our way–including a how to submit your most pressing fashion dilemmas via Instagram!
Ask CF Question
Hello there CF!
I have met my boyfriend's parents before. But now I'm going to meet his parents with one of his sisters for the first time.
Can you please give me some outfit ideas on what to wear to meet my boyfriend's family, but especially his sister?
Thanks!
Our Response
The good news is that, since you've already met your boyfriend's parents, the hard part is over; furthermore, I'm sure you already made a great impression as they're meeting you again!
Of course, you still need to keep up that positive impression – -not to mention that there's now a whole new person to impress, i.e. your boyfriend's sister. Luckily, because your bf's sister is most likely around your age, she'll probably be easier to impress than his parents, since you will most likely be able to relate to each other better, including on a fashion level.
This means that you can afford to dress a little less formally than you would if you were meeting your boyfriend's parents for the first time — which also means that you have a bit more room to play with different styles to let your fashion personality shine!
Having said that, I've put together three chic looks that are sure to impress both your boyfriend's parents and his sister; just keep scrolling to see them!
Outfit #1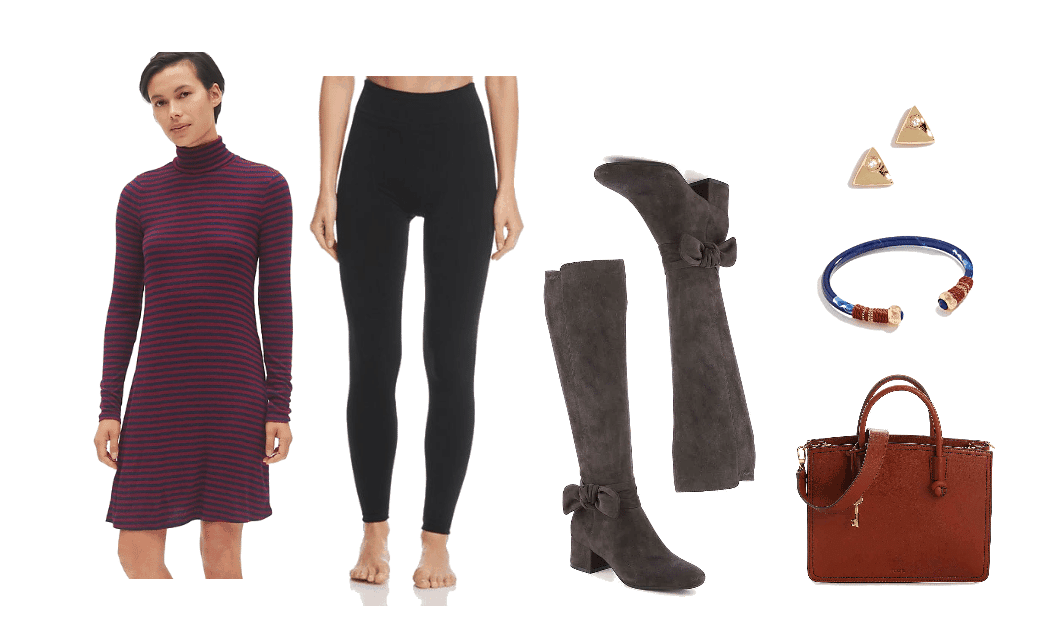 Products: Dress – Gap, Leggings – Bloomingdale's, Knee-High Boots – DSW, Earrings – Shopbop, Bracelet – Shopbop, Bag – DSW
For the first look, I chose to create a look that was laid-back, but still plenty stylish!
To get it, begin by throwing a cute striped turtleneck t-shirt dress over a pair of black leggings.
Next, put on some cute and feminine knee-high boots; I love the gray color and bow details on these ones!
For jewelry, all you need is a dainty pair of triangle-shaped studs, as well as a cool cuff bracelet.
Finally, grab a cognac brown satchel to complete the ensemble.
Outfit #2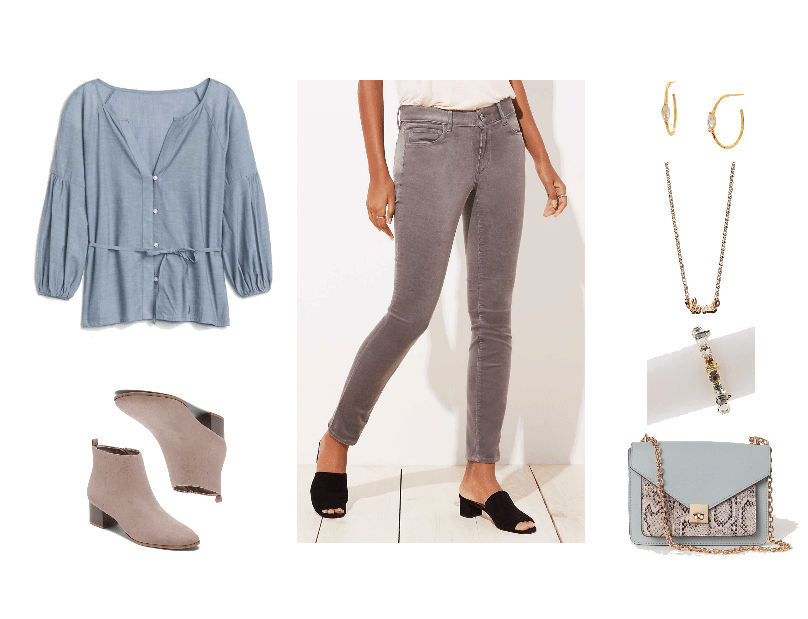 Products: Blouse – Gap, Ankle Boots – Old Navy, Pants – LOFT, Earrings – Bloomingdale's, Necklace – Bloomingdale's, Bracelet – Saks Off 5th, Bag – H&M
If you're a jeans-and-t-shirt girl, then you're sure to love this upgraded version of the tried-and-true fashion combo that's just as easy to throw on and go, but looks significantly more dressed-up.
To start, put on a chambray blouse with a flattering-on-everyone, waist-cinching belt; then, add a pair of sophisticated skinny gray corduroy pants.
Taupe ankle boots complement the color scheme perfectly, as does this pretty pale blue chain-strap bag which also features a front pocket made from super-trendy faux-snakeskin.
Finish the look by adding some sparkle in the form of these dainty hoops with rhinestones, a delicate "love" necklace, and a gorgeous bracelet with multi-colored stones.
Outfit #3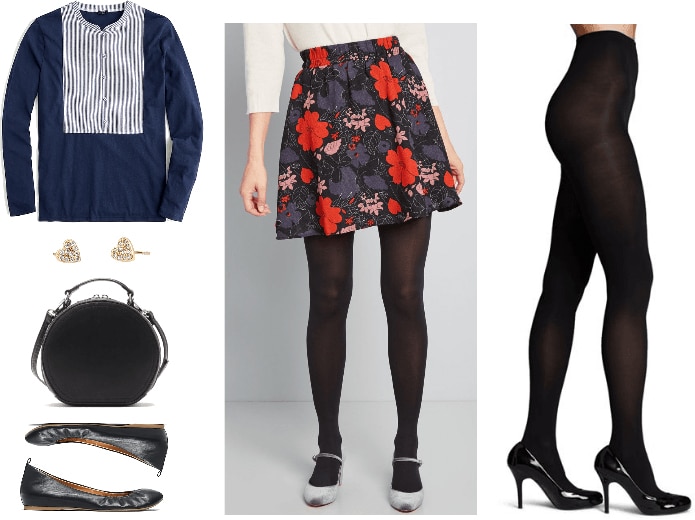 Products: T-Shirt – J.Crew, Earrings – Nordstrom, Bag – Sole Society, Flats – J.Crew Factory, Skirt – ModCloth, Tights – Bloomingdale's
For the final look, I decided to put together something a bit fancier than the previous two looks, but with plenty of quirkiness to spare!
First, tuck a cute t-shirt with a bib detail into a fun floral-printed skirt.
Then, add opaque black tights and black flats, both of which are more subdued, to balance all that's going on with the rest of the look.
Since this outfit is a little busy and you don't want to cross the line between quirky and over-the-top, a round cross-body bag and small pavé heart stud earrings are the only accessories you need to complete it in style.
I hope these looks have helped to give you some ideas about what to wear to meet your boyfriend's sister (and parents); good luck, and thanks for your question!
Do you have a fashion question? Send it to us!
Is there something in your closet that you want to wear but have no idea how to style? Do you need advice on what to wear to an upcoming event? Do you have a specific fashion conundrum? If you have a fashion-related question that you would like to see answered in this column, simply email it to askcf @ collegefashion.net, and one day you might see your question answered right here on the site!
Also, you can now message us your questions on College Fashion's Instagram account, @collegefashion!
What do you think?
Which of these looks do you think is best for meeting an S.O.'s family? How would you dress for this scenario? Do you have any other ideas about what to wear for it?
Let me know in the comments!