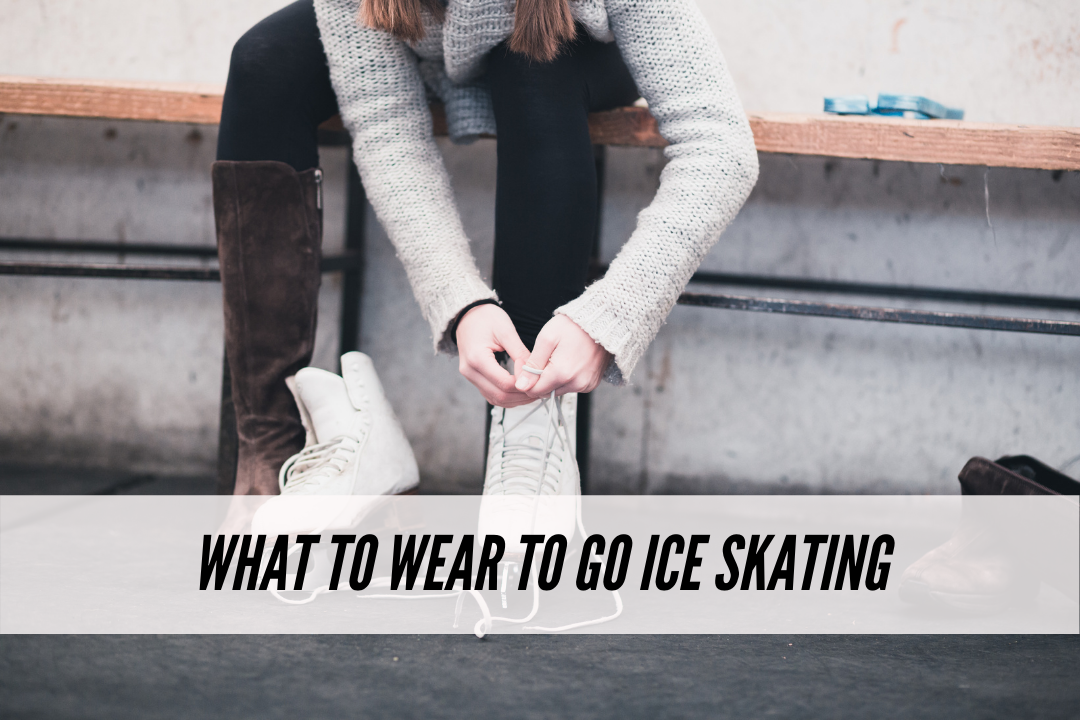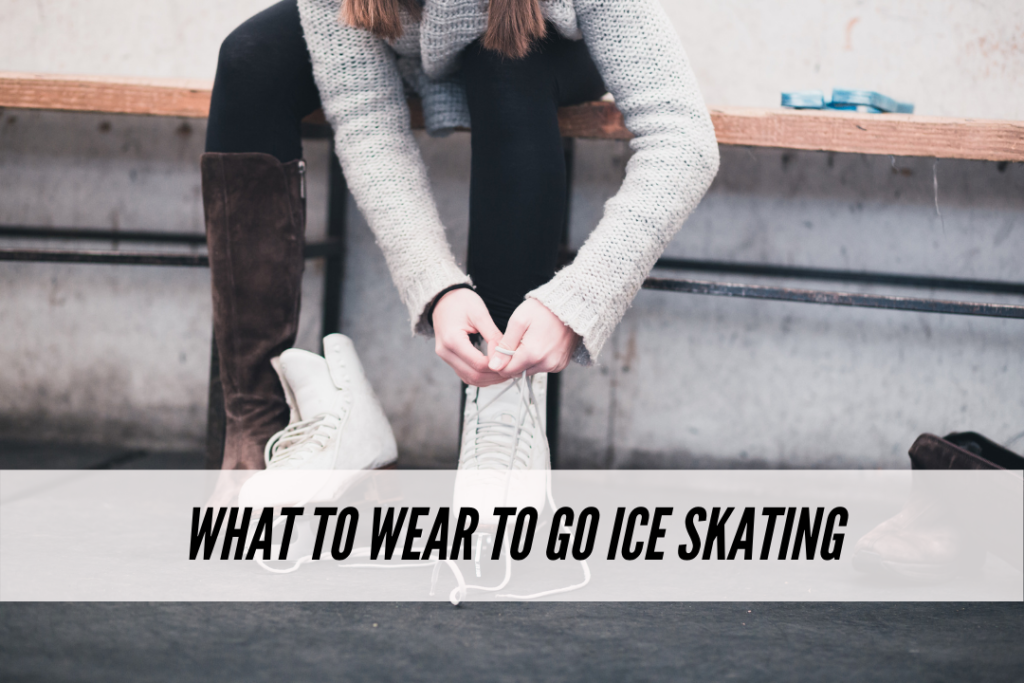 Welcome to the latest edition of Ask CF! Every few weeks, we select a reader fashion question and answer it here on the site. Do you have a specific fashion question for us? Scroll to the bottom of this post to learn how to send it our way!
Ask CF Question
Dear CF,

The snow has already started falling where I live so everyone is getting on with winter-y activities early, and I'm planning on going ice skating with my boyfriend. What's a good way to dress cute while staying warm outside for a few hours — AND still be comfortable enough to skate around freely?

Sincerely,

Stiff and Shivering in Skates
Our Response
Dear Stiff and Shivering,
While it may not feel like winter yet here in Los Angeles, across most of the rest of the country, it's a very different story. Winter is here, and finding ways to navigate the cold and stay fashionable can be challenging. When you throw in an outdoor activity like ice skating, sledding, or building a snowman (or let's be honest, walking to and from your car), there's an extra fashion conundrum to consider.
If I've learned anything from following my favorite Scandinavian fashion bloggers, it's that fashion in the winter is all about investing in good undergarments. Thick thermals and fleece-lined leggings are essential to keep warm. Then, just pile on your favorite items, as well as some winter accessories, like hats, scarves, and mittens, and you'll look great and feel toasty!
I've put together three different looks to wear while going ice skating, but they could work equally well for other winter activities. The shoes I chose are for traveling to and from the rink accordingly (or once you get to your destination if you'll be inside) but when it comes down to it, your best all-purpose winter boot will get the job done. I hope you find these looks inspiring and helpful this winter!
Keep warm,
Jessica
Outfit 1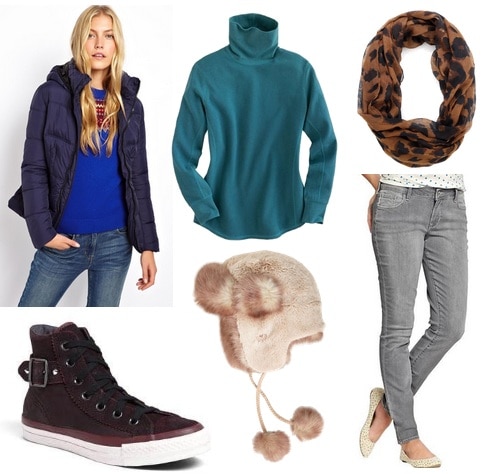 Product Information: Jacket, Sweater, Scarf, Pants, Hat, Shoes
A turtleneck, puffer jacket, and fur trapper hat are the quintessential winter items, so throwing them together in one look just made sense. Add on a leopard print scarf, gray denim and some high top sneakers. Don't forget to wear your layers underneath, too!
Outfit 2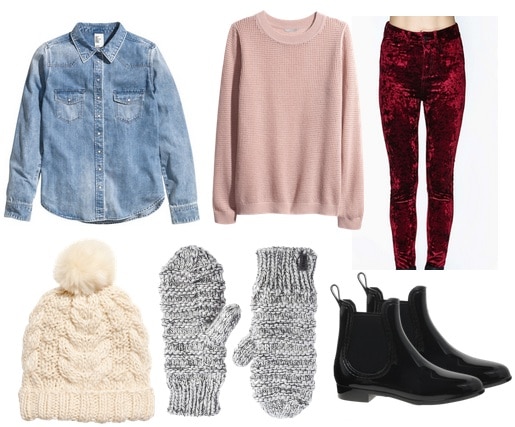 Product Information: Shirt, Sweater, Leggings, Boots, Mittens, Hat
For this outfit, layer a chambray button-up under a rose-pink oversized knit. Then add on some red crushed velvet leggings. These are a comfy pant choice that will give you the flexibility you need for all the turns, spins, and arabesques you'll be showing off on the rink (ha! I wish!). Add on your mittens and pom-pom beanie. This getup may be better suited for an indoor rink where the elements are controlled, but adding on a coat can easily transition the look to the outdoors.
Outfit 3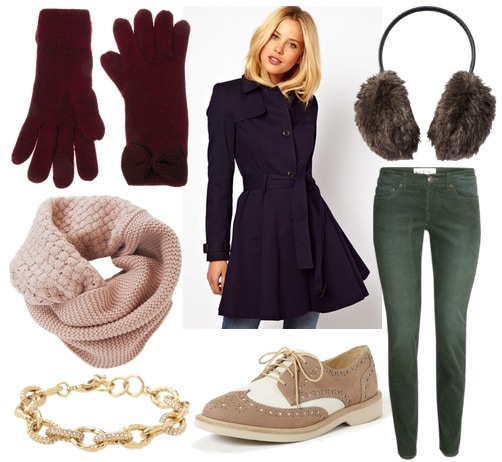 Product Information: Gloves, Jacket, Ear Muffs, Pants, Shoes, Bracelet, Scarf
This final ensemble is the ultimate in femininity on the rink. Layer on your warmest thermals and sweaters, then top them off with a statement-making belted coat. The A-line silhouette is great because it won't hinder skating. Next add on green corduroy pants. Finish the look with winter-ready accessories to brave the chill – faux fur ear muffs, a thick knit infinity scarf, and gloves are perfect!
Do you have a fashion question? Send it our way!
Is there something in your closet that you can't seem to figure out how to wear? Do you have an event coming up and need an outfit idea? Do you have a specific fashion conundrum you need help with?
If you have a question you want to see answered in this column, just send it on over via email to askcf @ collegefashion.net and one day you might see your question answered right here on the site!
Please note: We get A LOT of email and unfortunately we will not be able to respond to every single question. However, we will read through each question and then decide which ones will be most helpful to the most readers. Thank you for your understanding.
What do you think?
Will you be going ice skating this season? What will you wear there? What other winter activities will you be doing this year? What do you plan to wear? Do you like these outfits? Which one is your favorite? What advice do you have for keeping warm and fashionable in the winter? Please let us know what you think by leaving a comment below!