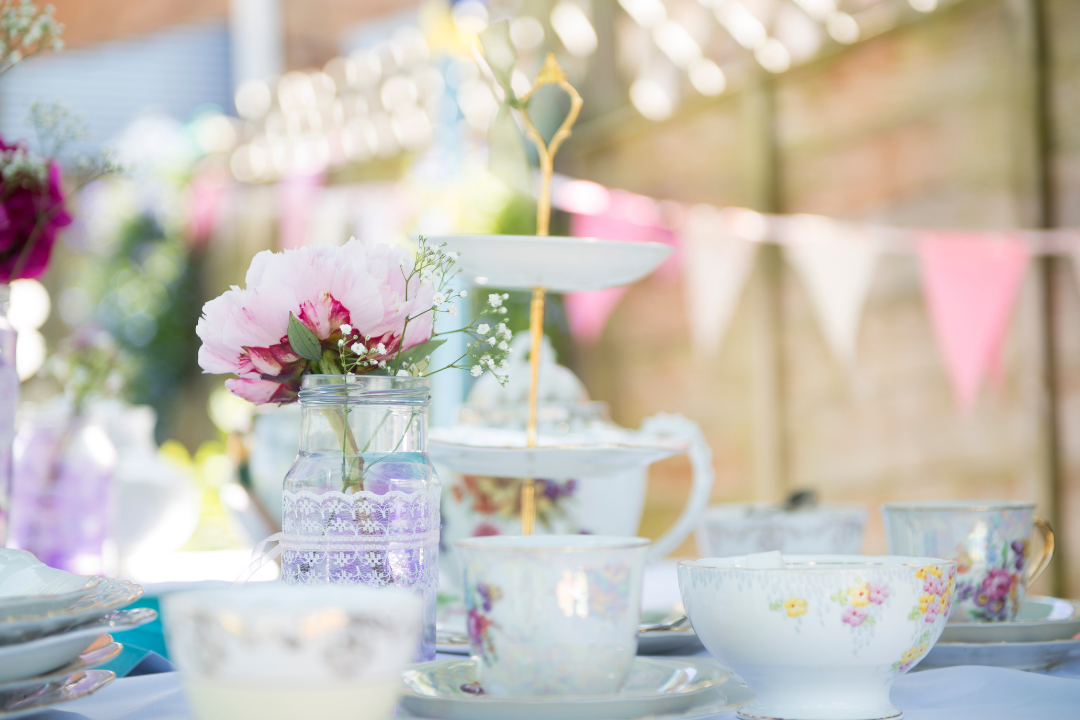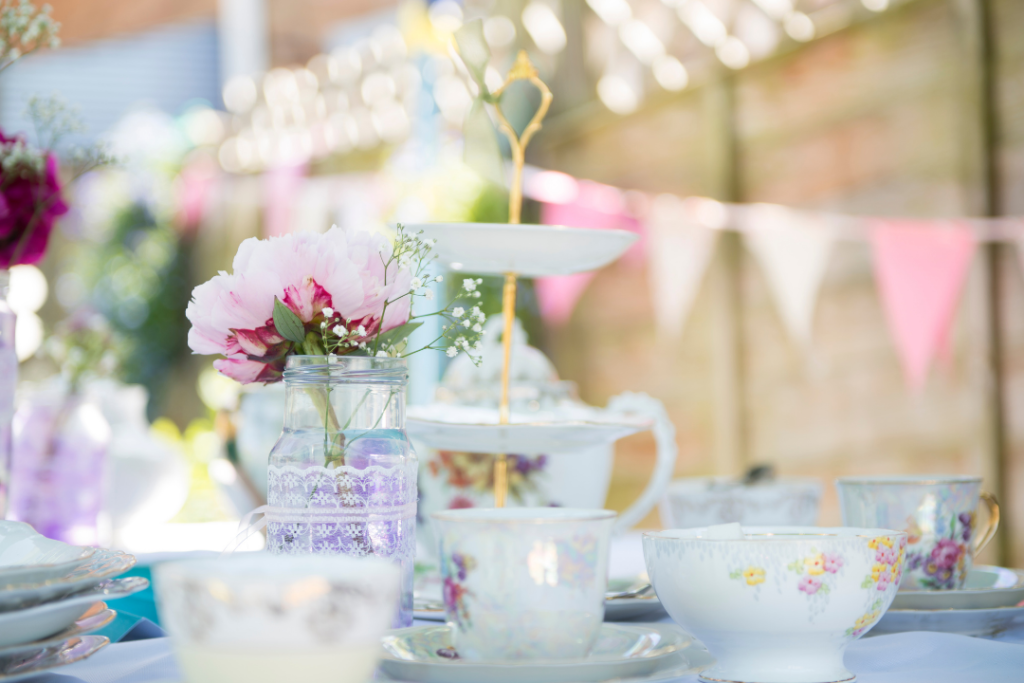 Welcome to the latest edition of Ask CF! Every two weeks, we select a reader fashion question and answer it here on the site. Do you have a specific fashion question for us? Scroll to the bottom of this post to learn how to send it our way!
Ask CF Question
Hi!

I'm an avid reader of the website and have been for a few years now, so now I'm faced with a fashion question and I thought I'd turn to you.

I'm attending a bridal shower at a posh afternoon tea room in April, and am stuck with what to wear! I want to be well-dressed but stay warm at the same time (the weather in London is notoriously unpredictable – it could be raining/windy/fairly warm all at the same time) and I'd like to wear nice shoes (preferably heels) that I can manage to walk across town and up and down Tube escalators in.

Thanks for your advice!
Our Response
Dear High Tea Hottie,
First of all, can I just say how fun this bridal shower sounds?! That seems like a blast! I know not everyone is lucky enough to have this sort of event coming up, but the chic and sophisticated style of high tea also works for other occasions that hit a little closer to home for the typical college fashionista, such as graduation parties or even a formal brunch.
The first style suggestion I have is to dress with extreme class, so I would gravitate toward modest hems and necklines in classic cuts. Secondly, it's spring! Spring colors are beautiful, and pastels are very on-trend for the season, so when picking out your outfit think bright colors instead of somber ones.
Lastly, the idea of a tea party brings back childhood memories of playing dress-up, and this bridal shower is just a more mature version. The whole concept feels inherently feminine to me, so flaunt girly styles and embrace some fabulous heels that make you feel chic and confident.
Below, I've created three outfit suggestions fit for tea with the Queen herself. Hopefully these sets will provide you with plenty of inspiration for what to wear. Enjoy!
Sincerely,
AnnaMarie
Outfit #1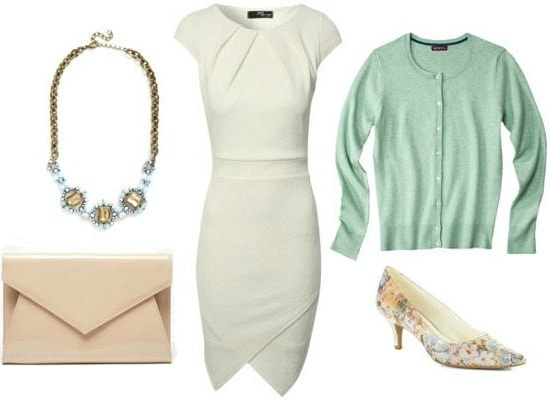 Product Information: Dress, Necklace, Clutch, Shoes, Sweater
This first outfit is centered around a cream-colored midi-length dress that has an unexpected yet chic asymmetrical hemline. The necklace has an antique vibe that feels elegant and classic, while the printed shoes really pop against the solid colors found throughout the rest of the outfit.
Of course, in a place like London with unpredictable weather, a sweater is a necessity. This spring green cardigan not only brightens the look, but will also keep you warm.
Outfit #2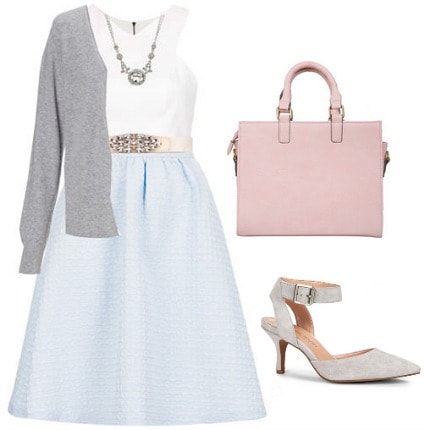 Product Information: Skirt, Top, Belt, Necklace, Sweater, Shoes, Purse
This second outfit has a '50s-inspired flair, thanks to the cinched waistline and A-line midi-skirt. The embellished belt pulls the focus in to the smallest part of your waist, creating an hourglass silhouette. The pastel tote is a playful color addition that's also the ideal size for sneaking home a few crumpets.
As with the first ensemble, this outfit can also be warmed up a bit by adding some sheer pantyhose and layering on a cardigan. Don't forget to accessorize with a fancy statement necklace!
Outfit #3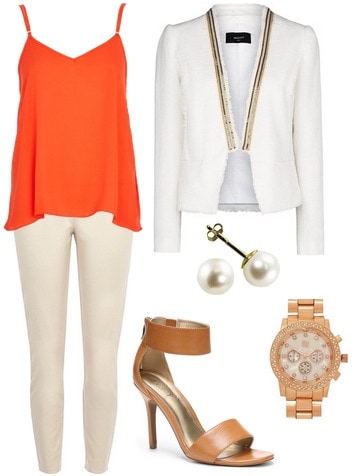 Product Information: Studs, Watch, Tank, Ankle Pants, Shoes, Blazer
In this outfit, I kept with a very neutral theme – other than the attention-stealing color of the blouse, of course! The light tan pants and brown shoes create an earthy yet glamorously sophisticated ensemble, while the orange top keeps things fresh and fun. The texture of the white blazer adds interest, while pearl studs and a rose gold wristwatch are classically chic accessories.
Do you have a pressing fashion question? Ask away!
Is there a piece in your closet that you never know how to style? Do you have an important event coming up? Is there a certain trend that is completely lost on you?
If you have a question you want to see answered in this column, just send it on over via email to askcf @ collegefashion.net and one day you might see your question answered right here on the site!
Please note: We get A LOT of email and unfortunately we will not be able to respond to every single question. However, we will read through each question and then decide which ones will be most helpful to the most readers. Thank you for your understanding.
What do you think?
Do you think these outfits could withstand random weather fluctuations? Which of these outfits would you wear? Which outfit is your favorite? Let us know in the comments below!