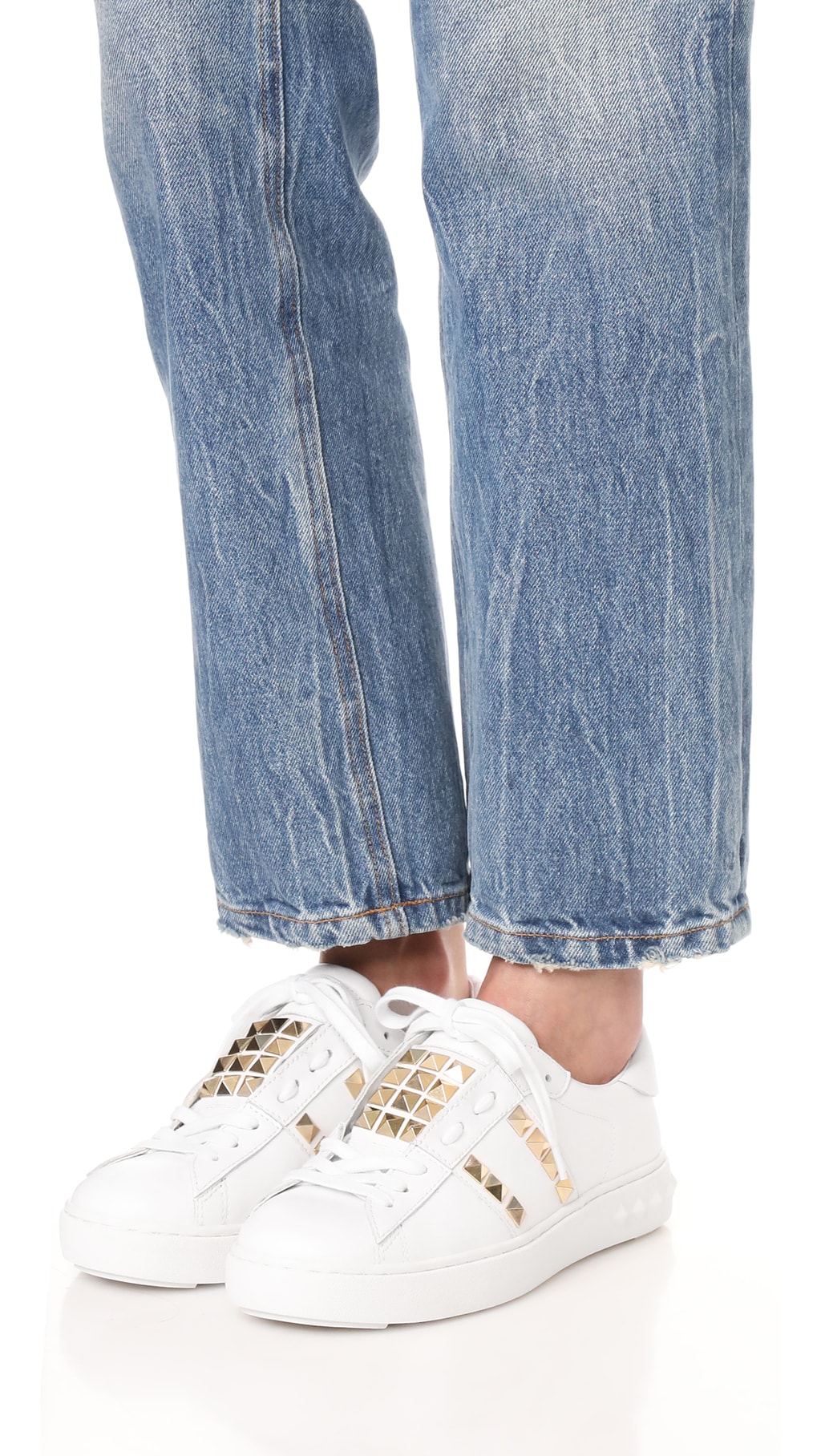 Welcome to the latest edition of Ask CF! Every two weeks, we select a reader fashion question and answer it here on the site. Do you have a specific fashion question for us? Scroll to the bottom of this post to learn how to send it our way–including a brand new way to submit your most pressing fashion dilemmas!
This week's question comes via CF's Instagram:
Ask CF Question
I want to get white tennis/lifestyle shoes with some edge to them. Recommendations?
Our Response
When you think of white sneakers, you probably think of comfort, athleisure, and laid-back looks. However, it is very much possible to wear white sneakers in an edgy, boundary-pushing way, and there are quite a few edgier white sneaker options available out there if you're willing to look for them!
I have scoured the web for the coolest budget-friendly white sneakers with some edge, and have created an outfit for each of my top three picks below to provide you with some inspiration.
Ready to see them? Just keep scrolling!
Related reading: The Ultimate Guide on How to Clean Your White Shoes
Outfit #1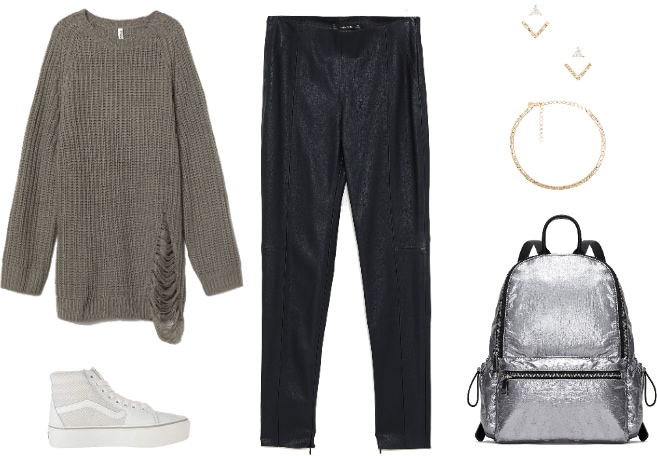 Products: Sweater – H&M, Sneakers – Zappos, Leggings – Zara, Earrings – Revolve, Necklace – Revolve, Backpack – Zara
For Outfit #1, I decided to style a look around these awesome faux-snakeskin high-top platform sneakers by Vans, a brand that is very much known for their edgier aesthetic.
I chose to pair the sneakers with an oversized (very) distressed sweater that's sure to keep you cozy in the colder months while still looking super-cool, as well as a pair of black faux-leather leggings with ankle zippers — a modern and fashion-forward alternative to basic cotton pairs.
Because I wanted to play with even more finishes, I decided to add a futuristic metallic silver backpack.
Lastly, I decided to add some more shine courtesy of some minimal-yet-edgy front-to-back earrings, as well as a gold chain choker necklace.
Outfit #2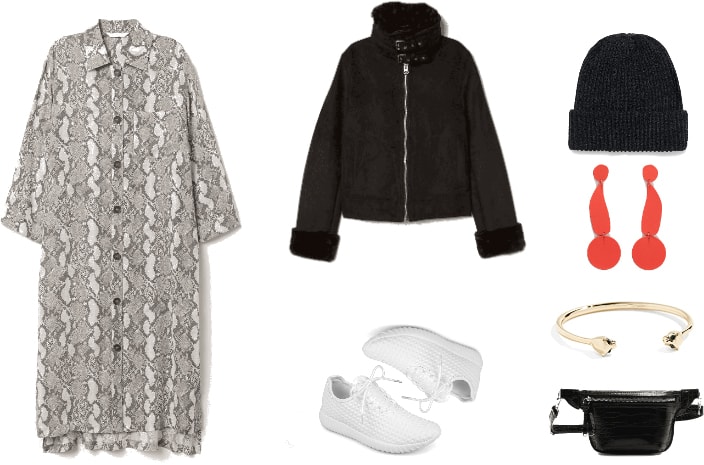 Products: Dress – H&M, Jacket – H&M, Sneakers – DSW, Beanie – Zara, Earrings – Mango, Bracelet – Shopbop, Fanny Pack – Mango
This look is a little more eclectic than the first, but it is still edgy and unique, thanks to the many cool details present in the outfit.
As soon as I saw these amazing studded sneakers, I knew that I had to feature them; here, I've styled them with an of-the-moment snake-print midi dress.
For extra warmth, I added a faux-shearling jacket, as well as a simple black beanie.
Finally, I couldn't resist these artsy red geometric statement earrings and fierce panther cuff bracelet; nor could I pass up this fashionable and functional faux-croc fanny pack to complete the look.
Outfit #3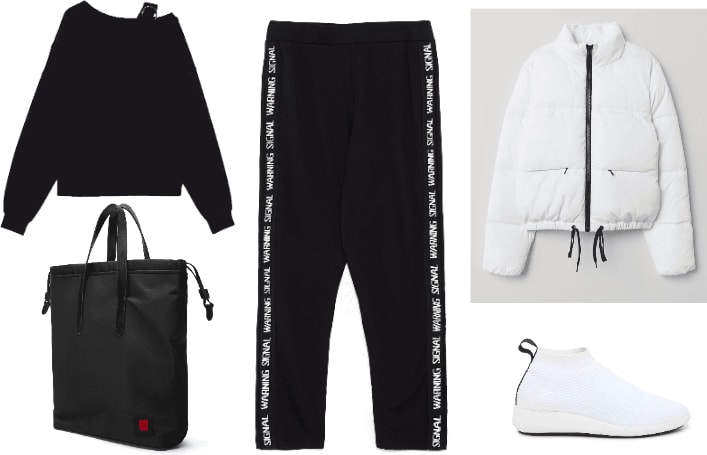 Products: Top – H&M, Tote – Zara, Pants – Zara, Jacket – H&M, Sneakers – DSW
For the third and final look, I wanted to go with something more sporty and athleisure-inspired, but nonetheless still edgy.
To start, I paired a unique one-shoulder top with some black graphic joggers; then, I added a trendy white puffer jacket (because white in the winter is a definite fashion "do"!), as well as some minimal sneaker-boots.
A nylon tote is the perfect way to finish off this ensemble; also, note that I chose to forgo jewelry for this look to keep with the minimal aesthetic that this outfit has going for it, but one or two subtle pieces certainly wouldn't look out of line.
I hope that these outfits have provided you with some ideas as to how to style white sneakers in an edgy way. Thanks for your question!
Do you have a fashion question? Send it to us!
Is there something in your closet that you want to wear but have no idea how to style? Do you need advice on what to wear to an upcoming event? Do you have a specific fashion conundrum? If you have a fashion-related question that you would like to see answered in this column, simply email it to askcf @ collegefashion.net, and one day you might see your question answered right here on the site!
Also, you can now message us your questions on College Fashion's Instagram account, @collegefashion!
What do you think?
Do you have any recommendations regarding edgy white sneakers and/or how to wear them? How would you style the sneakers shown here? Which of these looks is your favorite?
Let me know in the comments!