Welcome to the latest edition of Ask CF! Every two weeks, we select a reader fashion question and answer it here on the site. Do you have a specific fashion question for us? Scroll to the bottom of this post to learn how to send it our way!
Ask CF Question
College fashion,
I'm a recent college grad (woohoo!) and I got a job as manager at a local grocery store. The job requires business casual wear BUT also requires comfortable sneakers because I'll be on my feet for 9 hours a day. How do I mix athletic shoes and business casual clothes?
-Comfy sneakers
Our Response
Dear Comfy Sneakers,
First off, congrats on the new job! While sneakers do sometimes get a bad rap for looking sloppy or too casual, it is possible to integrate them into a business casual look.
The main thing you want to do in this case is to avoid wearing sneakers that you would wear to work out, and instead choose ones that are designed for streetwear (as opposed to gym-wear).
Also, just like other shoe styles, there are many types of sneakers, so it's important that you choose a style of sneakers that speaks to your personal aesthetic.
Now, keep scrolling to see the outfits that I have put together for you.
Outfit #1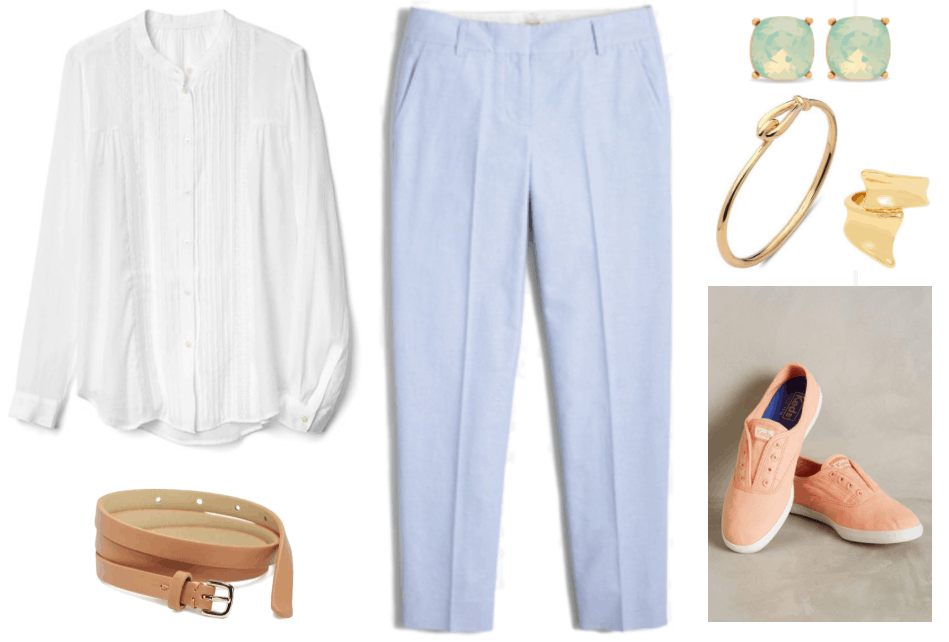 Products: Blouse – Gap, Belt – Old Navy, Pants – J.Crew Factory, Earrings – Belk, Bangle – Lord & Taylor, Ring – Lord & Taylor, Sneakers – Anthropologie
Pretty, preppy, and put-together, this look is a way to wear sneakers in a business-casual context while still looking fashionable and youthful.
Begin with a white blouse with beautiful lace detailing, and tuck it into a pair of pale blue pants. (Note: Wear the blouse over a camisole, as the lace may show some skin in a way that isn't work-appropriate.) Add a soft neutral-colored belt to pull the outfit together.
Next, add some sparkle with a cute pair of mint-green studs, a bangle with a cool closure detail, and an interesting wrap-around ring.
Now for the finishing touch: the sneakers! Here, I paired the pastel-blue pants with the sneakers' bolder coral hue. I love the way that the sneakers already stand out on their own, but are even more attention-grabbing when paired with a more low-key color palette.
Furthermore, when working with simpler silhouettes, like the classic blouse and trousers shown here, mixing softer colors with brighter ones is a great way to let your personal style stand out without having to put in a whole lot of effort.
Outfit #2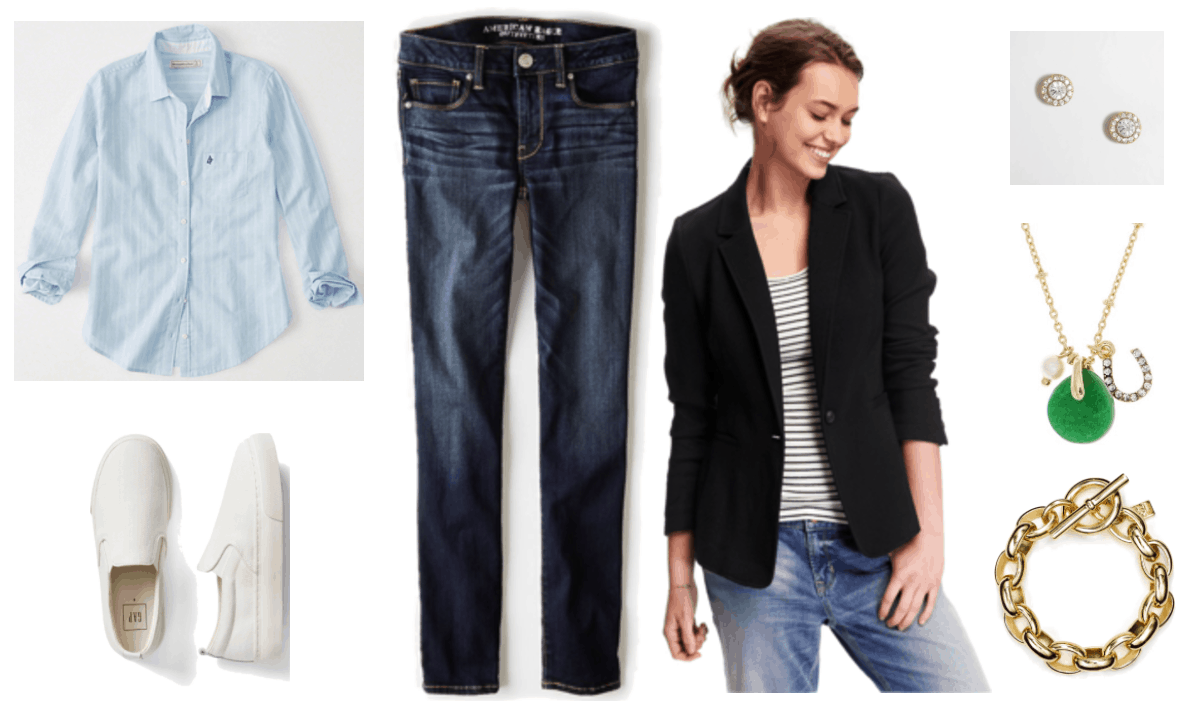 Products: Shirt – Abercrombie & Fitch, Sneakers – Gap, Jeans – American Eagle Outfitters, Blazer – Old Navy, Earrings – J.Crew Factory, Necklace – Lord & Taylor, Bracelet – Bloomingdale's
If your workplace allows jeans, the perfect way to wear them is by pairing them with a professional-looking oxford shirt and a classic black blazer.
To further dress up your look, add some preppy jewelry, such as these sparkly crystal stud earrings, cute charm necklace, and timeless chain-link bracelet.
Since you've already dressed up the jeans sufficiently, you can afford to go a bit more casual with your choice of sneakers. I'm partial to these slip-on denim sneakers, but, due to the more conservative nature of the outfit, you could also choose a fancier pair–it's up to you!
Outfit #3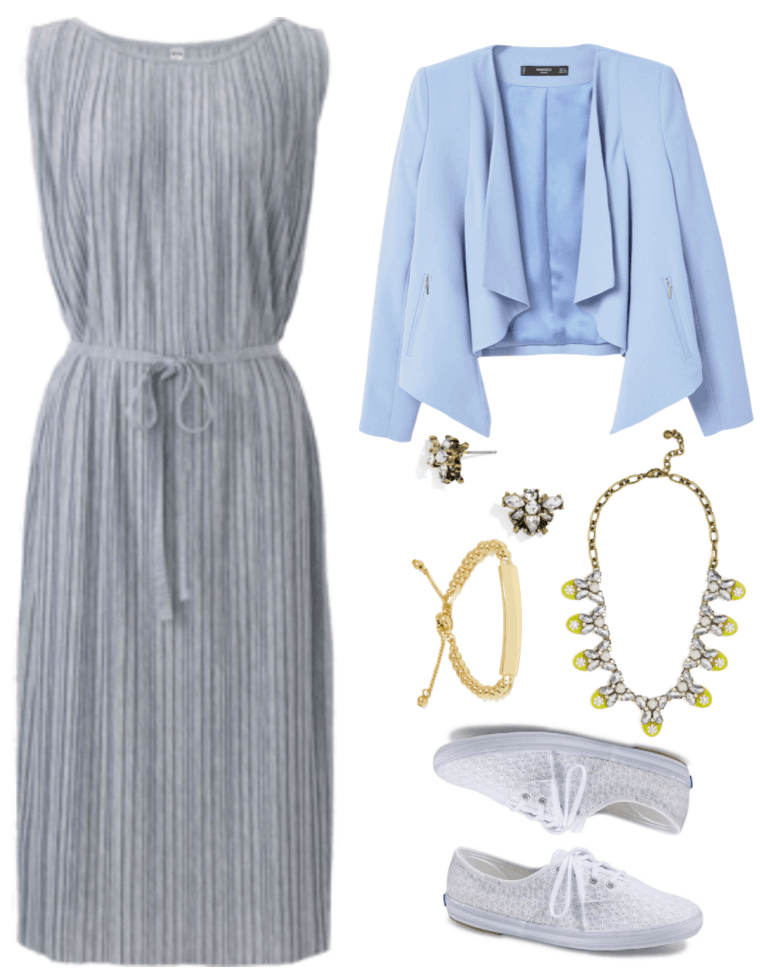 Products: Dress – Uniqlo, Blazer – Mango, Earrings – BaubleBar, Bracelet – BaubleBar, Necklace – BaubleBar, Sneakers – Kohl's
Perhaps your style is more ladylike, and you are looking for a way to pair sneakers with your favorite dresses.
While pulling off the dress-and-sneakers look is harder than wearing sneakers with pants, it is possible to do so in a way that looks stylish rather than frumpy. The key is finding a pair of sneakers that has a streamlined silhouette, to better match the dress.
I've chosen this lovely gray dress for its simple lines and versatile color, while the blazer's cascading neckline provides some feminine contrast.
Add some adorable bee-shaped earrings, a statement-making necklace with neon details, and a chic bracelet.
For the sneakers, I've chosen these girly daisy eyelet Keds, in keeping with the classy and fresh nature of the outfit. As well, their eyelet fabric is a subtle yet fun way to add more texture to the ensemble.
Outfit #4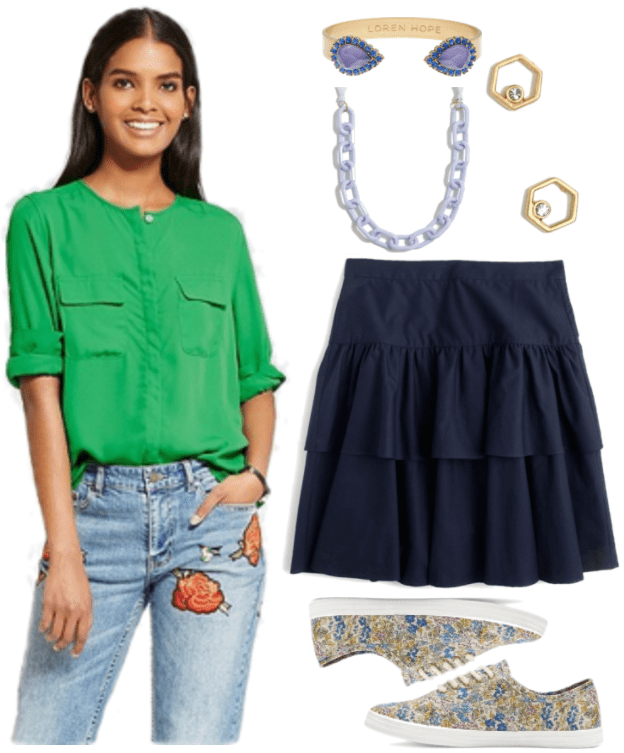 Products: Blouse – Target, Cuff – Nordstrom Rack, Necklace – J.Crew Factory, Earrings – J.Crew Factory, Skirt – J.Crew, Sneakers – Target
This final look is a perfect example of how to combine classic and ultra-girly pieces for a cute and trendy look that still fits within the business-casual parameters.
Start off by tucking a bright green collarless blouse into a tiered skirt, whose deep navy color tones down its flouncy style to make it wearable for work.
Next, accessorize with some unique jewelry, including this chain-link-and-ribbon necklace in a pretty blue-gray hue, these quirky hexagon stud earrings, and this beautiful cuff bracelet.
To complete the look, add a pair of sneakers with a gorgeous floral print — they're sure to be the highlight of your outfit. Bonus: these shoes are under $20, making them a great fashion find. (Seriously, though, I'm tempted to snap up a pair myself!)
Lastly, note that the reason you can get away with wearing these casual sneakers to work is that the rest of the look is more sophisticated; it'll be harder to get away with wearing them with something more casual, such as jeans or shorts (if your workplace allows them), for example.
I hope that these looks have inspired you to have fun integrating sneakers into your work wardrobe!  Thank you for your question!
Do you have a fashion question? Send it to us!
Is there something in your closet that you want to wear but have no idea how to style? Do you need advice on what to wear to an upcoming event? Do you have a specific fashion conundrum? If you have a fashion-related question that you would like to see answered in this column, simply email it to askcf @ collegefashion.net, and one day you might see your question answered right here on the site!
What do you think?
Have you ever worn sneakers in a business-casual setting?  How did you style them?  Do you have any other tips on how to make sneakers workplace-appropriate?  Let me know in the comments!