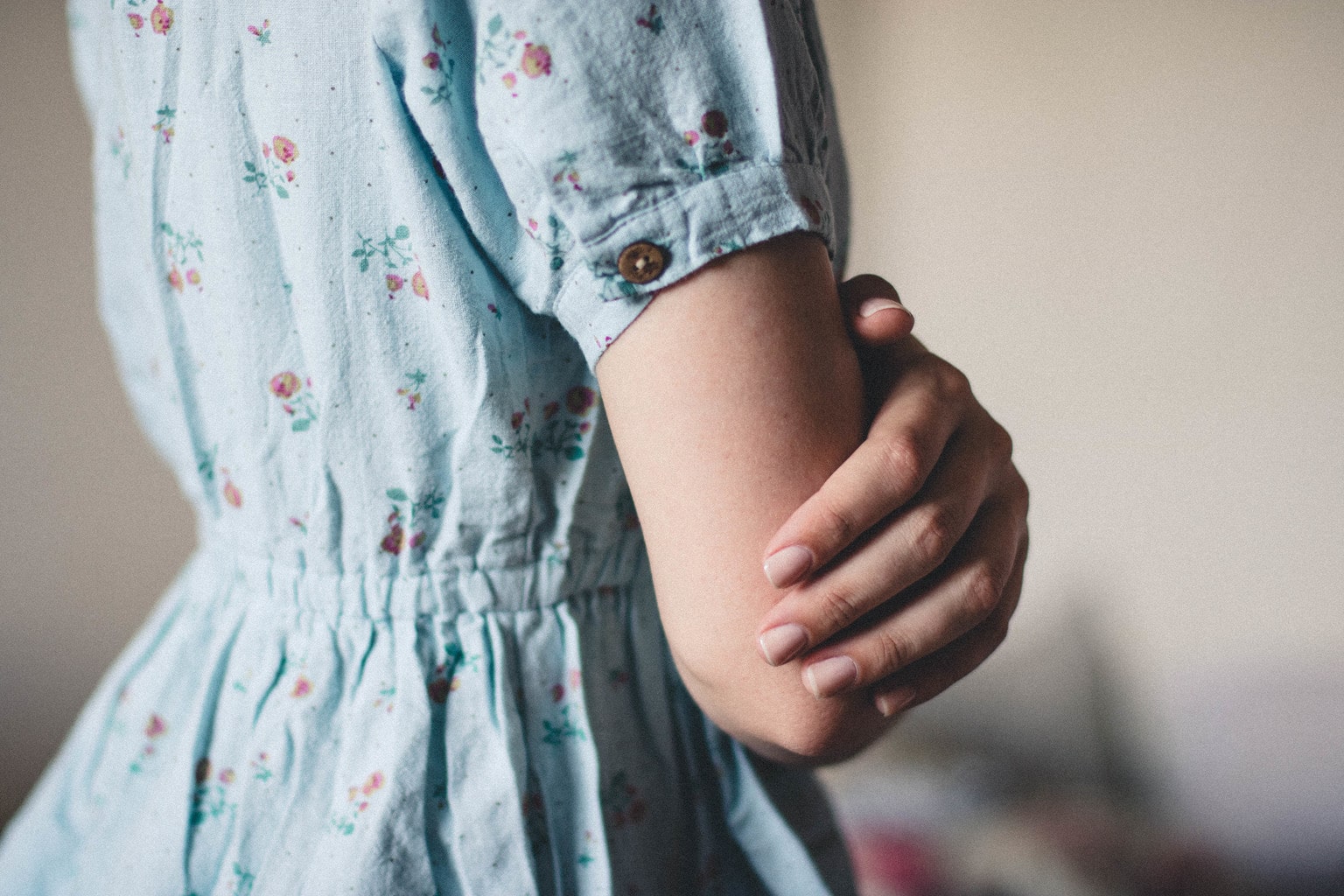 Welcome to the latest edition of Ask CF! Every two weeks, we select a reader fashion question and answer it here on the site. Do you have a specific fashion question for us? Scroll to the bottom of this post to learn how to send it our way!
Ask CF Question
Hi CF!
You are my go to for fashion advice so first off, thanks for being such a great resource for us!
I've got dresses in my closet that I LOVE but are just a bit too short for comfort. Is there any way I can make these dresses wearable or are they doomed to hang in my closet or be given away?
I've also got these amazing dresses which are a bit too fancy for my usual events. Is there any way to casual them up a bit so I could wear them to class? Some of them are lacy, some of them are silky, and they just look a bit too dressed up for class but I'd like to try and put them to use if I can.
Thanks!
Anonymous Fan
Our Response
Dear Anonymous Fan,
As someone who could wear dresses all day, every day (especially the fancy ones!), I'm really excited that you sent in these great questions. It's also always nice to hear when someone wants to make the most of the wardrobe they already have, as opposed to buying a whole new set of clothes (not that there's anything wrong with treating yourself, though!).
Below, I have put together two outfits that demonstrate how to style too-short dresses, and two that show how to dress down fancier dresses.
Outfit #1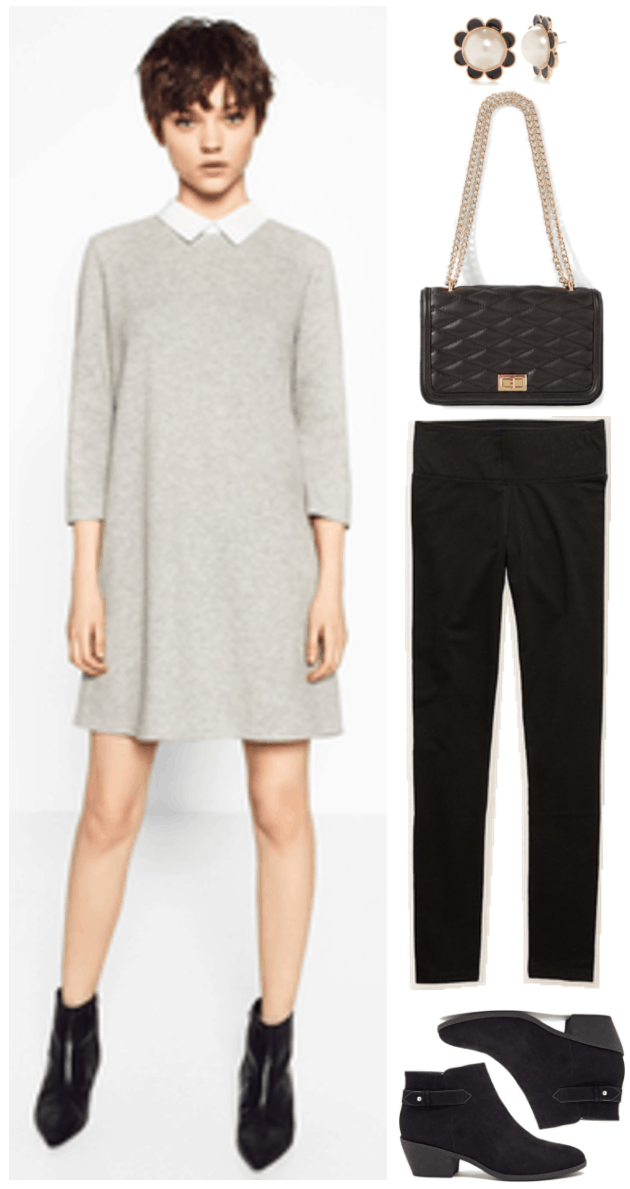 Products: Dress – Zara, Earrings – Belk, Bag – Express, Leggings – American Eagle, Ankle Boots – Forever 21
In general, I would suggest pairing too-short dresses with opaque black tights or leggings; however, I tend to prefer the latter over the former in this situation, simply because they provide more coverage (especially in the case of dresses that could be mistaken for tunics or long tops–I assume that you're not going for the pants-less look!).
For this outfit, I paired a cute mod-inspired dress with some black leggings. These floral earrings take the mod theme one step further without looking too costume-y, while black ankle boots and a quilted chain-strap bag add an extra touch of class and keep things looking modern.
Note: If you're still not quite used to the idea of wearing very short dresses, one way to ease yourself into it is by letting the dress' short length be the focal point of the outfit. One way to do this is by keeping accessories to a minimum. You can also try sticking with a more neutral color palette, and letting small details–for example, a contrasting collar, like the one on this dress–do the talking.
If, however, you're ready to turn things up a notch, you can always try this look with a dress in a brighter color, or perhaps you can add another piece of jewelry or two; it's up to you!
Outfit #2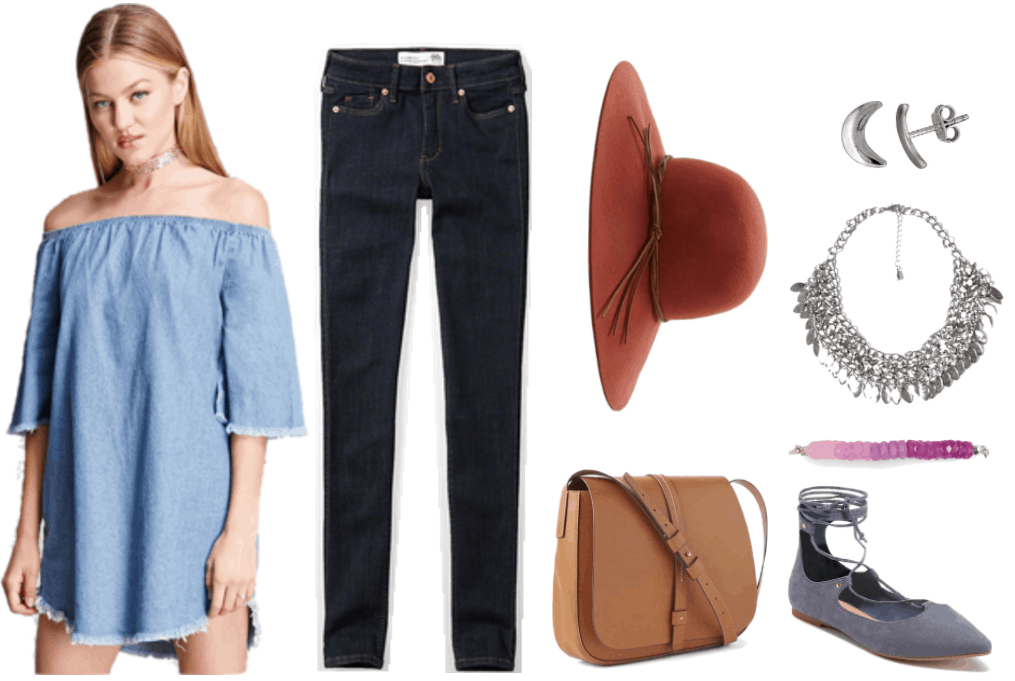 Products: Dress – Forever 21, Skinny Jeans – Abercrombie & Fitch, Wide-Brim Hat – Forever 21, Saddle Bag – Gap, Earrings – Bluefly, Statement Necklace – Abercrombie & Fitch, Bracelet – Aéropostale, Lace-Up Flats – Old Navy
If you're feeling even more adventurous, why not try layering your too-short dresses over jeans? Yes, this look was popular in the early 2000s, but lately I've noticed it making a comeback!
This time around, try pairing a looser, tunic-style dress over a pair of skinny jeans; not only is it a flattering combination that works on every body type, but the dress' trendy off-the-shoulder cut and the uniform dark wash of the jeans keep the outfit looking modern and sleek rather than dated and disheveled.
I've decided to put a boho spin on the look by accessorizing with a cute wide-brim hat and a vintage-inspired saddle bag. In keeping with the free-spirited vibe, I have also chosen to accessorize with a pretty pair of crescent moon studs, a leaf statement necklace, and an ombré beaded bracelet (which also has the bonus of adding a small pop of color to the look!). Lastly, tie the look together with a pair of lace-up flats–pun totally intended!
Outfit #3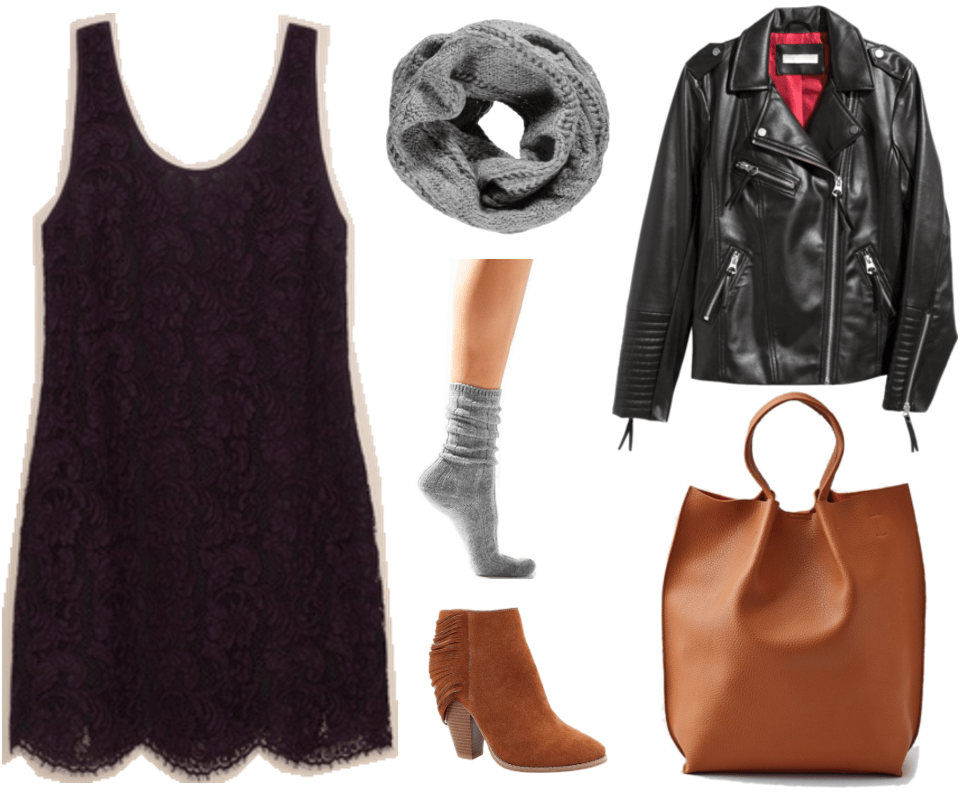 Products: Dress – Aritzia, Infinity Scarf – Boohoo, Socks – Urban Outfitters, Ankle Boots – Target, Motorcycle Jacket – H&M, Tote – American Eagle
When it comes to making fancy dresses more casual, one of the best things to do is to add some more rugged textures into the mix (e.g. fringe, faux leather, and cable knit), so as to create some contrast, and to detract a little bit of attention away from the fact that you're essentially showing up to class in a cocktail dress (and living my fashion dreams!). This not only adds a great deal of visual interest; it also creates a more relaxed vibe that is still sophisticated and classy, rather than over-the-top.
Also, just as I did with Outfit #1, I decided to keep a more neutral color palette here, which allows the dress' beautiful dark purple hue and lacy floral pattern to take center stage in a way that isn't over-the-top. Since it's still winter, I chose to pair the dress with cozy accessories such as an infinity scarf, slouchy socks, and ankle boots.
I topped it all off with a cool motorcycle jacket (which can easily be worn with a warm sweater or cardigan underneath if it's too cold to wear on its own; if that's still not warm enough, you can even layer it under a warmer jacket, which you can take off once you get inside! Also, feel free to add leggings or tights for even more warmth.). Finally, grab a tote that's big enough to hold all of your school essentials, and you're good to go!
Outfit #4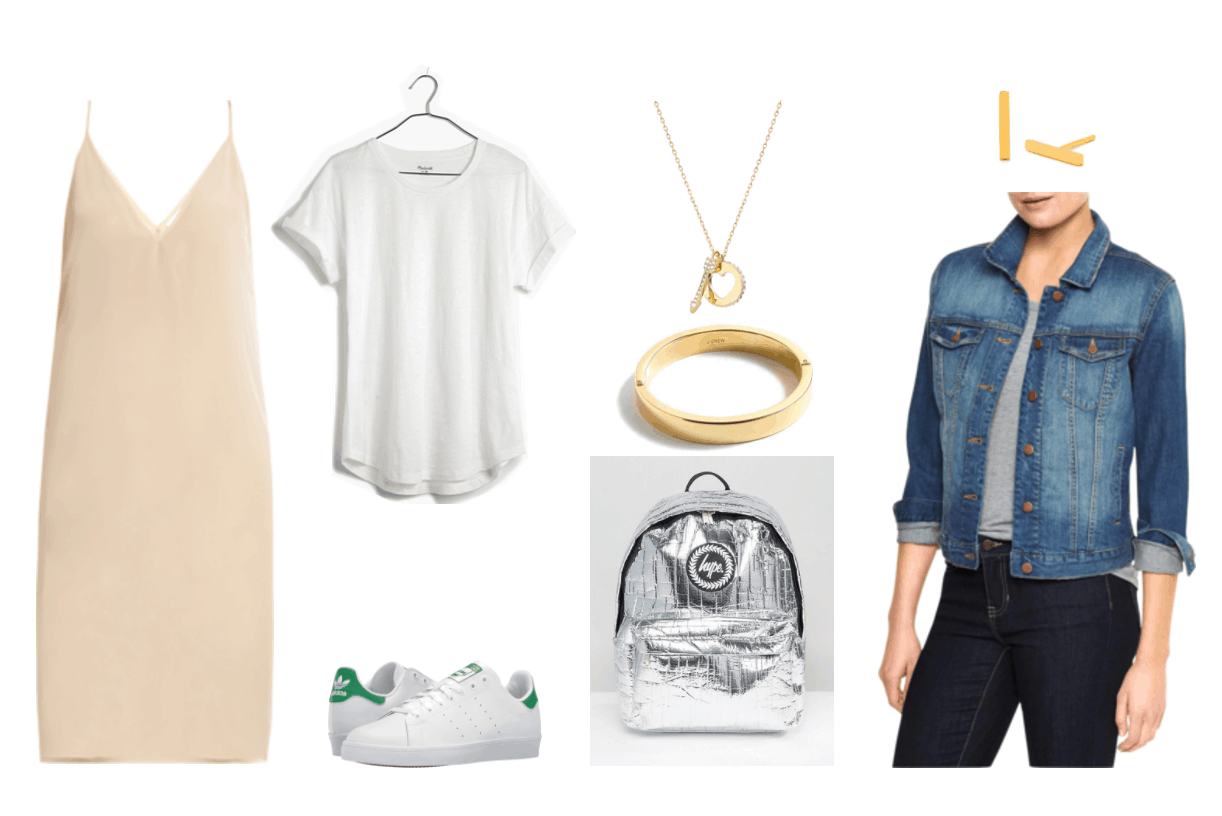 Products: Slip Dress – MatchesFashion.com, T-shirt – Madewell, Sneakers – Zappos, Necklace – Zappos Luxury, Bangle – J.Crew, Backpack – ASOS, Earrings – Domino, Denim Jacket – Gap Factory
In your letter, you mention that you own some silky dresses; therefore, for the final outfit, I have decided to include a slip dress–one of the year's most popular trends so far.
This splurge-worthy blush pink dress is perfect because it can be worn in so many different ways. However, my personal favorite way to style slip dresses, especially for more casual days, is with a white crewneck t-shirt layered underneath, along with a pair of classic Stan Smith sneakers. The sneakers add a sporty element to the outfit, while the t-shirt provides some upper-body coverage, taking the dress from evening to daytime.
A metallic silver tone lends a cool twist to a classic backpack, while giving a nod to '90s style. Throw on a denim jacket to up the fun, casual vibe you have going on here; finally, put on some pretty gold jewelry to add a hint of subtle sophistication to the look.
Of course, this look might not be appropriate for right now if you're living in a cold climate, as I made it with Spring in mind; however, I hope that it provides you with some inspiration for the upcoming warmer months.
Final Tips for Hard-to-Style Dresses
Overall, if there's one thing that you should take away from the advice that I've given here, it's that layering is key both for making more revealing dresses more covered-up, and for making fancy dresses more casual.
Have fun experimenting with different layering options, and you're sure to find some combinations that strike just the right balance! Thanks for your question!
Do you have a fashion question? Send it to us!
Is there something in your closet that you want to wear but have no idea how to style? Do you need advice on what to wear to an upcoming event? Do you have a specific fashion conundrum? If you have a fashion-related question that you would like to see answered in this column, simply email it to askcf @ collegefashion.net, and one day you might see your question answered right here on the site!
What do you think?
What are your favorite ways to make short dresses wearable for everyday? Would you ever wear a fancy dress to class? If so, how would you style it? Let me know in the comments!