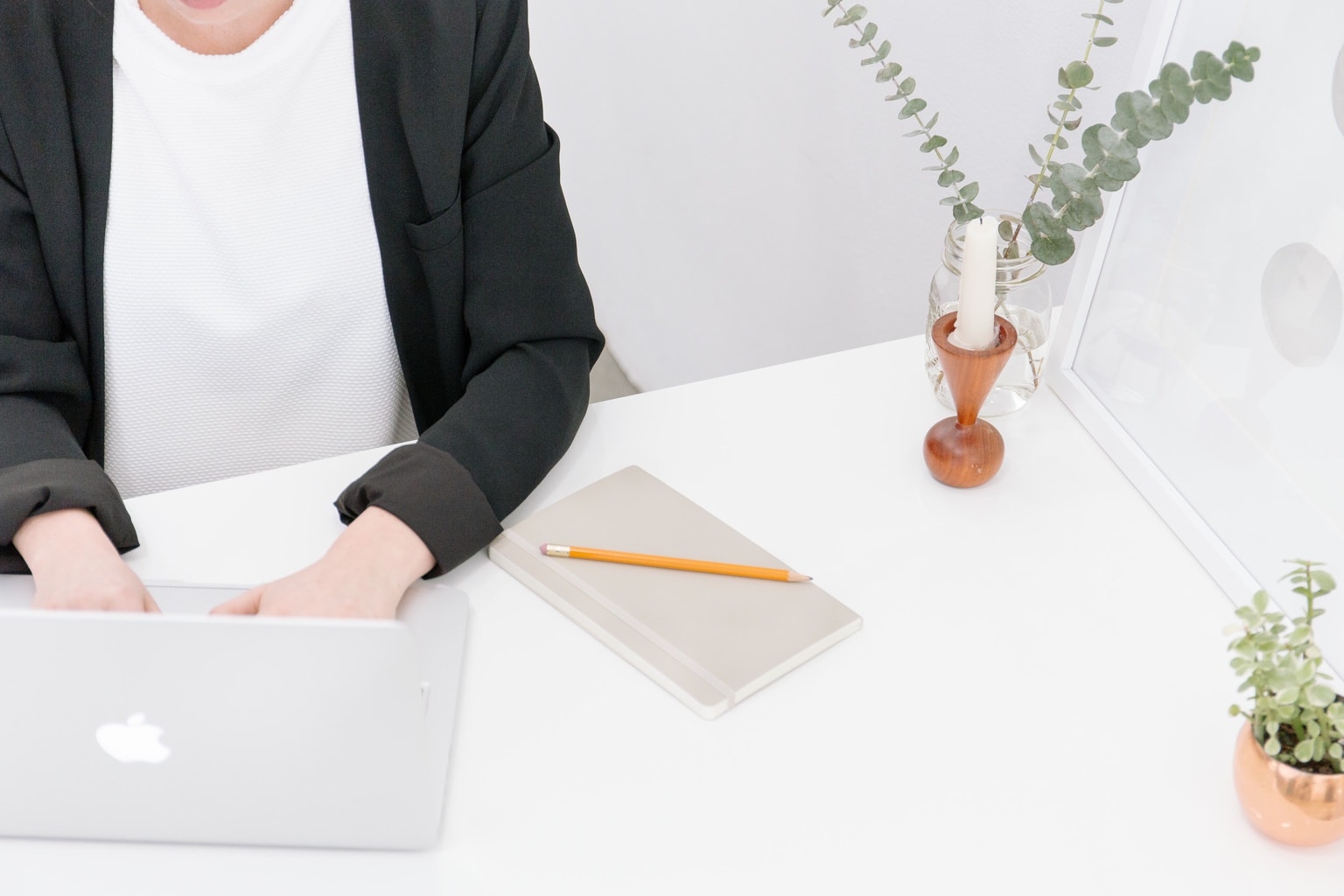 Ask CF
Hey CF!
I work a job where I can't wear dresses, skirts, or leggings. I find myself getting into a fashion rut and wearing the same few outfits every week which consist of skinny jeans, t-shirts, and sweaters. How can I mix it up and get out of my rut of old clothes?
XOXO,
Working Girl
Our Response
Dear Working Girl,
It sounds like you're working with some tight restrictions, so it's understandable that you're in a rut right now. But don't worry! There are still plenty of options for you that will look fashion-forward and professional, while still following your workplace's dress code. Below, I have put together some outfits to provide you with some inspiration going forward!
Outfit #1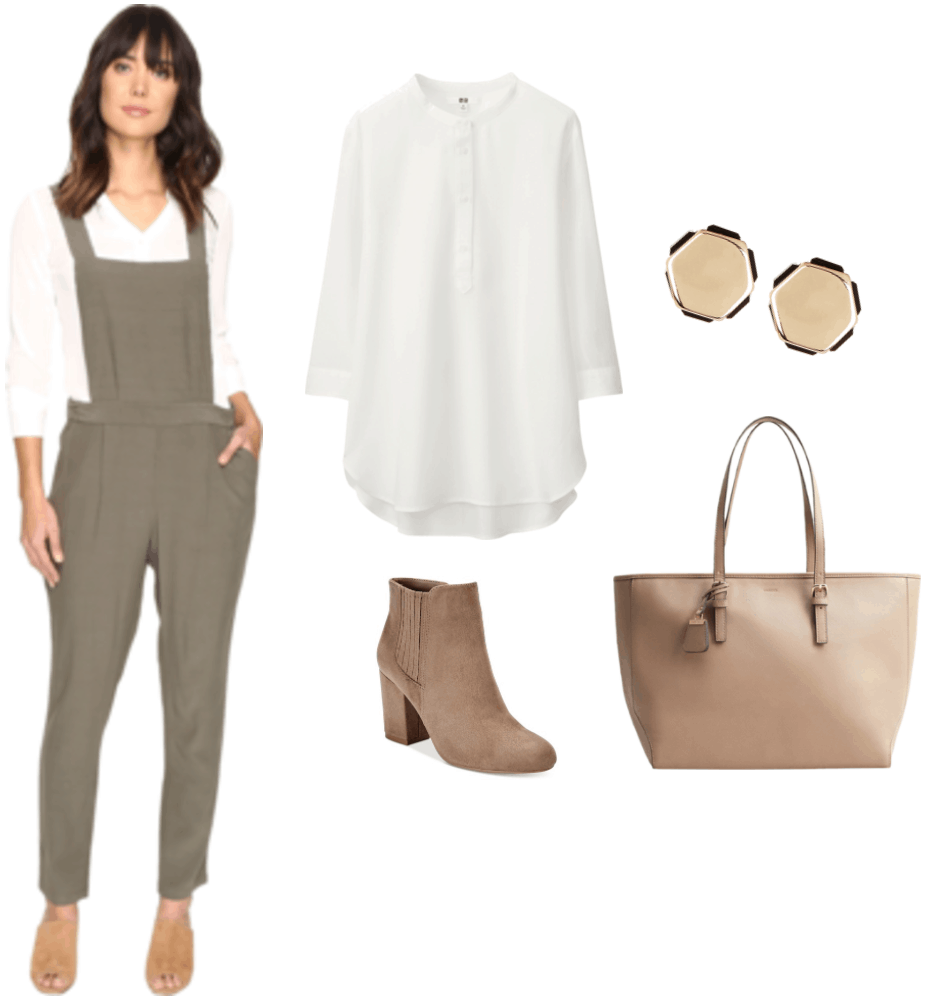 Products: Jumpsuit – Zappos, Blouse – Uniqlo, Tote – Mango, Ankle Boots – Macy's, Earrings – Nordstrom Rack
The first thing that came to mind when I finished reading your letter was a jumpsuit, and I think that this sage green one fits the bill! While it is on the expensive side, coming in at a little more than $90, I think that it is a worthy investment, as it can be paired with so many different things to create a variety of different looks. Moreover, the neutral color, coupled with the slightly looser silhouette, makes it professional looking, but not at all stuffy.
Here, I've chosen to pair the jumpsuit with a simple white stand collar blouse, a beige tote, and ankle boots for a more relaxed, simple look. Finish off the look with a pair of slightly unusual stud earrings, and you have an outfit that is as trendy as it is practical!
Outfit #2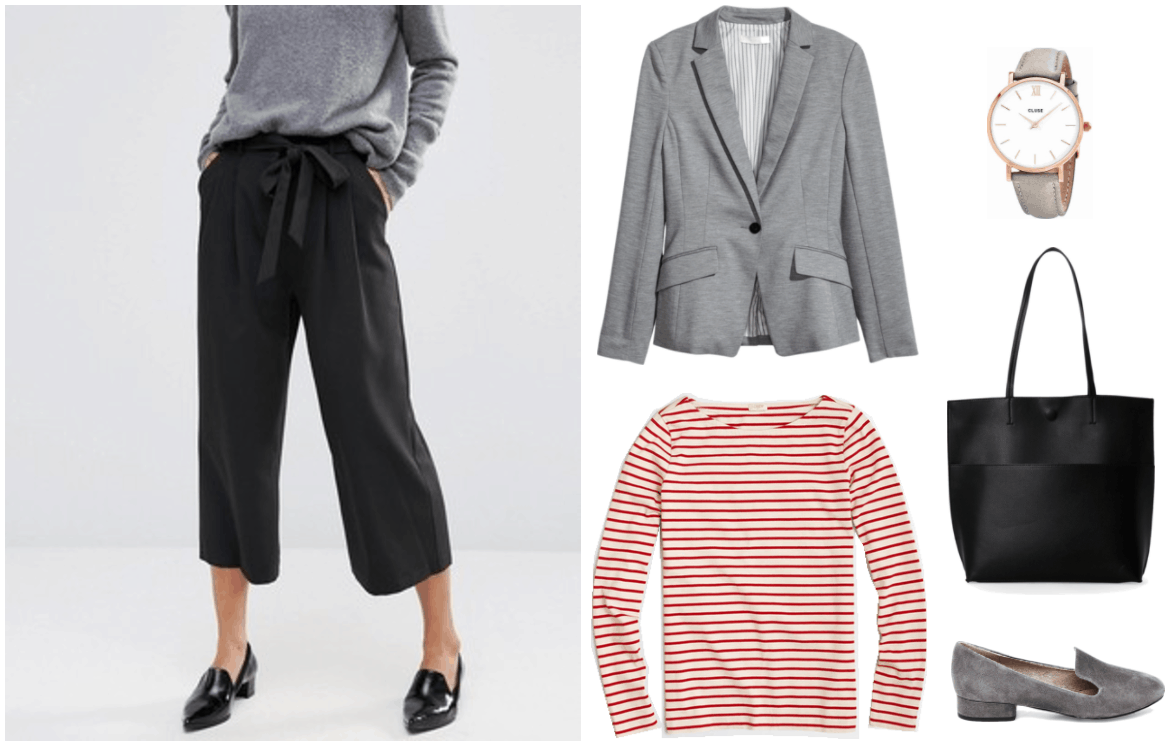 Products: Culottes – ASOS, Blazer – H&M, Watch – Jomashop, Tote – Century21, Loafers – Steve Madden
While it might not seem like it at first, this outfit is actually not too far off from what you're wearing now: I simply substituted skinny jeans for a trendy pair of culottes, and the cardigan for blazer. The jersey fabric of this one gives the outfit a slightly more casual vibe than a regular blazer (although if you're feeling a little fancier one day, a regular blazer would look just as good!). The gray loafers and watchband echo the gray in the blazer while adding a few menswear-inspired touches to the outfit, while the black tote pulls the look together.
Personally, I love the idea of a brightly-colored striped top paired with more subdued neutrals, as I think that it adds a nice "pop" to what would otherwise be considered "typical" workwear colors.
Outfit #3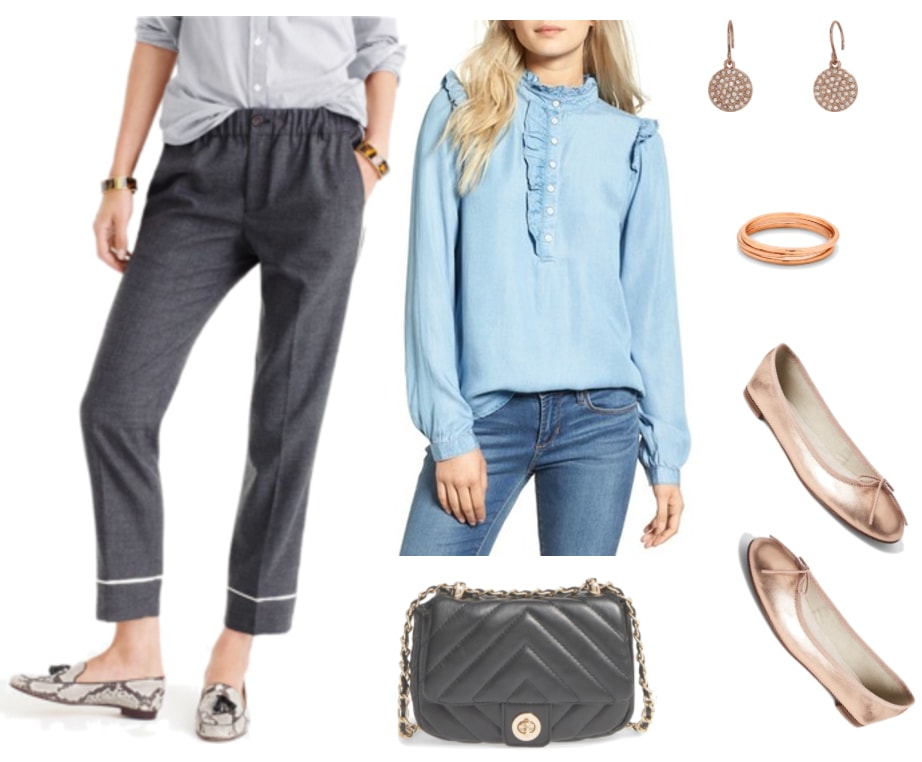 Products: Cropped pants – J.Crew, Blouse- Nordstrom, Crossbody bag – Nordstrom, Earrings – Vera Bradley, Rings – Nordstrom, Flats – Gap
I love the idea of this outfit, as it combines both masculine and feminine elements to create a really exciting dynamic, while the mix of textures (chambray, wool, metal, and real and faux leather) adds another element of interest to an already-cool look. You'll notice that the pants are pajama inspired, which is why I kept the silhouette relatively simple; the ruffles on the blouse add just enough fun to the outfit without going over-the-top.
Now it's time to accessorize. To add yet another fun twist, try matching the rose gold color of the flats with rose-gold jewelry as well! Complete the look by adding a chic quilted chain-strap bag. (Unfortunately, I couldn't find a quilted black bag with rose gold hardware, but mixing metals is fine, too.)
Outfit #4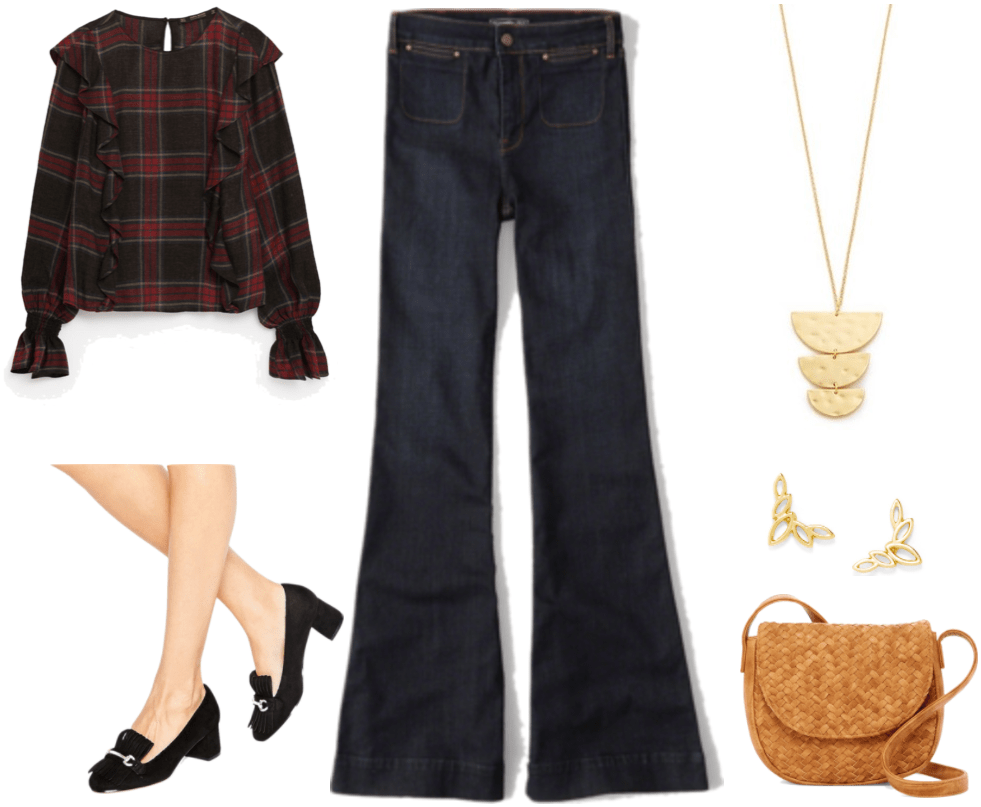 Products: Blouse – Zara, Heeled Loafers – ASOS, Flared Jeans – Abercrombie & Fitch, Pendant – Shopbop, Ear Crawlers – BaubleBar, Saddle Bag – Nordstrom Rack
For the final look, I've decided to go back to basics, by switching up your usual skinny jeans for a boho flared pair. I've paired the jeans with a plaid, frilly blouse in a subdued color palette, which adds to the boho vibe of the outfit without looking costume-y.
The simple gold jewelry contributes to the free-spiritedness of the look, but is elegant enough that it doesn't detract from the rest of the outfit. I finished the outfit with these amazing ASOS loafers (which look a lot like these Gucci ones that have come into fashion lately, but cost a fraction of the price!), while a woven cognac-brown saddle bag adds some cool texture to complete the look.
I hope that these looks have helped you out of your fashion rut. Thanks for your question!
Do you have a fashion question? Send it to us!
Is there something in your closet that you want to wear but have no idea how to style? Do you need advice on what to wear to an upcoming event? Do you have a specific fashion conundrum? If you have a fashion-related question that you would like to see answered in this column, simply email it to askcf @ collegefashion.net, and one day you might see your question answered right here on the site!
What do you think?
Have you ever fallen into a workplace fashion rut? How did you get out of it? What are some of your favorite looks to wear to work that are both trendy and workplace-appropriate? Let me know in the comments!