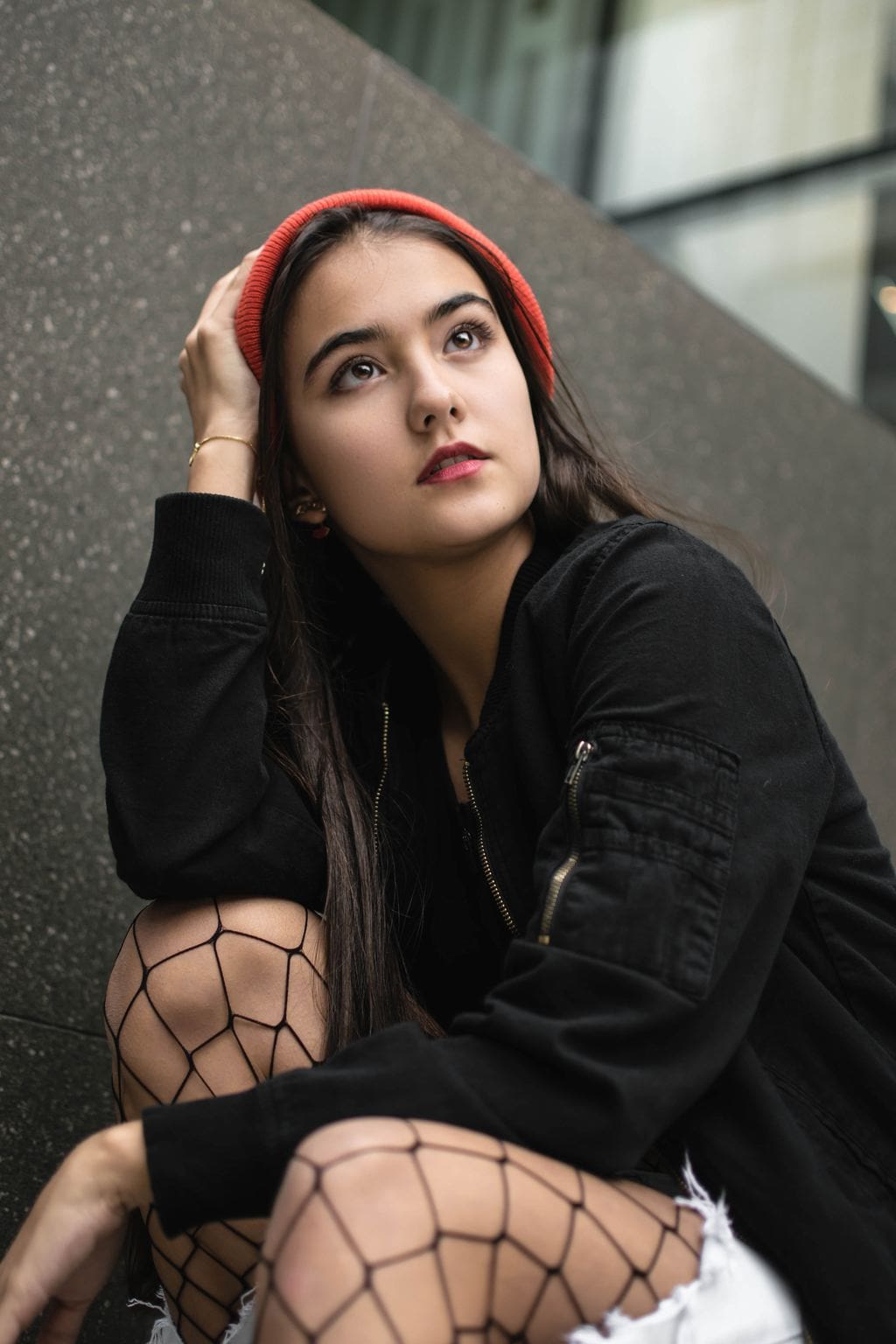 Welcome to the latest edition of Ask CF! Every two weeks, we select a reader fashion question and answer it here on the site. Do you have a specific fashion question for us? Scroll to the bottom of this post to learn how to send it our way–including a how to submit your most pressing fashion dilemmas via Instagram!
Ask CF Question
Dear College Fashion Authors,
I have a fashion conundrum, that I need some help with. I'm 24 and a student at university.
Growing up, I've always been very skinny naturally. This has changed in the last few years and I've gained quite some weight, which, with the exception of my little tummy, I'm actually quite happy about. I have quite a big bust, but also a nice booty. This is also because I started working out a lot around two years ago for various health-related reasons. So I actually have quite a lot of muscle under the fat. A wide back and shoulders and big quads are also to be dressed.
I'm telling you all this so you have an idea of what my body looks like, because I feel my personal style just doesn't flatter it anymore. Wherever I search for advice, it's all '50s style dresses, and that looks great on me, but I also feel like I'm playing dress up. I'm not the girly type at all; more of an alternative girl, in fact. A normal outfit for me includes black jeans or leggings, black sneakers or Doc Martens, a black leather jacket and either a band shirt or a black top with a black-and-white flannel thrown on top.
So as you can see, I like to be comfortable and able to move. I usually wear all black and I like to look like I could kick your ass. Yet my current style often makes me look boxy and a lot larger than I really am – not in a flattering way, though.
Do you have any ideas for how I can dress in a way that actually flatters my body, but also lets me show my personality?
Thanks a lot and best wishes,
Aileen
Our Response
Dear Aileen,
As far as fashion is concerned, dressing after your body changes can be one of the hardest things to do, as you have to readjust, and, in a way, relearn, what looks good on you and makes you feel your best.
But, this process is made easier when you already have ideas in mind regarding what you want your own personal style to be–something that is likely to stay the same, regardless of how your body looks–which it definitely seems like you do!
What you should focus on now is the shape of your clothes, as well as how to make things look more balanced on your "new" body–something that I will talk about further with each of the outfits I have put together for you. (For more on this, see our list of fashion tips for big busts as well!)
So, if you're ready to find out how to dress to flatter your figure without losing your edge, just keep reading!
Outfit #1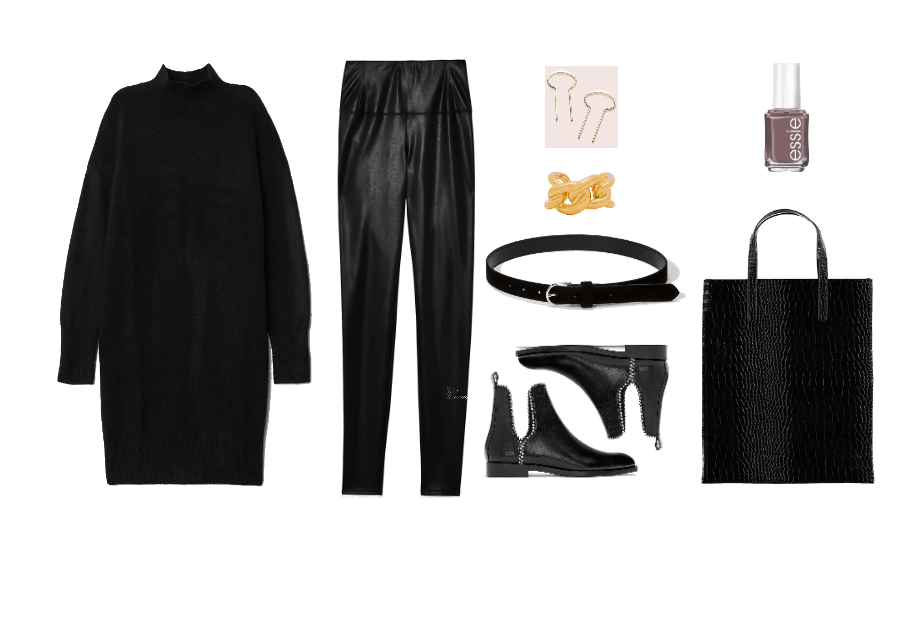 Products: Sweater Dress – H&M, Leggings – Aritzia (Cropped version here), Earrings – Erica Weiner, Ring – Revolve, Belt – Target, Ankle Boots – Zara, Nail Polish – Target, Tote – Forever 21
I decided to put together this all-black look for you because I really like how it is fashion-forward and edgy, but also easy to throw on and go.
Begin by putting on a cozy sweater dress over a pair of leggings. Here, I chose some made of faux leather for an extra-cool touch, but any solid black pair would also work.
Next, add some chic ankle boots with ball-chain detailing that makes them truly stand out from the crowd, and are an equally-edgy alternative to Doc Martens (although those would also look just fine with this ensemble as well).
A velvet belt is a great accessory to have on hand, because not only can you wear it to spice up a pair of jeans or pants, but you can also wear it over looser-fitting garments (like the sweater dress shown here) to highlight your natural waist and create balance between your upper and lower body, giving you a more cinched, '50s-esque shape without you having to wear those '50s-style dresses that you don't feel comfortable in.
As I have mentioned in a previous article, a general rule to keep in mind when choosing a waist-cinching belt is to pick one that is in proportion to the size of your body. So, those with small frames should choose a skinnier belt, while those with a medium-sized frame should choose a medium-width style; those with a large frame should choose a medium-to-wide width style. Following this advice will ensure that the belt looks like it is following the natural shape of your body, rather than fighting it.
(Also, another belt-related tip: If you have a belt that fits around your hips but is too big for your waist, simply take it to a shoemaker to have a few extra holes punched in for a low-cost way to get more use out of it.)   
Add some tough-looking jewelry, like these unique earrings and chunky chain ring, for a bit of no-frills glam.
Finally, pick up a croc-embossed tote and paint your nails a taupe-y mauve color to complete the look.
Outfit #2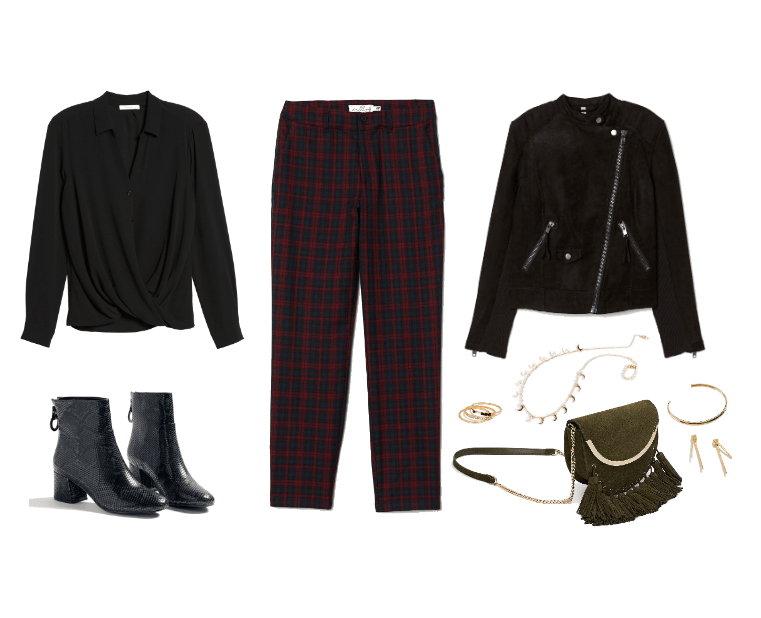 Products: Blouse – Nordstrom, Ankle Boots – Urban Outfitters, Pants – H&M, Jacket – H&M, Ring Set – Madewell, Necklace – Urban Outfitters, Bracelet – Urban Outfitters, Earrings – Madewell, Bag – Zara
For Look #2, I decided to create something a little more casual that would be perfect for wearing when you want a break from skinny jeans and leggings, but also want to be comfortable.
I really like this ultra-versatile black blouse: Not only is the open v-neckline flattering on all body types, as it brings attention up towards your face; the draping in the front is also amazing for balancing out your stomach area–a body part which you mention not being such a big fan of.
Straight-leg pants (and jeans!) are another great way to bring balance to your body, as their slightly wider leg-opening prevents your upper and mid-body areas from looking unflatteringly boxy compared with your lower half. These plaid ones have a punky vibe to them, but are subdued enough to work with a lot of different looks.
A motorcycle jacket with a diagonal zipper should be a wardrobe staple for all edgy girls, and this one's faux-suede construction is a nice break from the usual (faux) leather iterations.
These super-trendy faux-snakeskin ankle boots and fringed cross-body bag both manage to toe the line between daring and low-key, due to their muted color palettes and classic shapes, which is why I feel that they both complement the rest of the outfit well.
Finish off the outfit with elegant-but-edgy gold jewelry, such this stacking ring set, crescent moon necklace, cuff bracelet, and interesting front-to-back earrings.
Outfit #3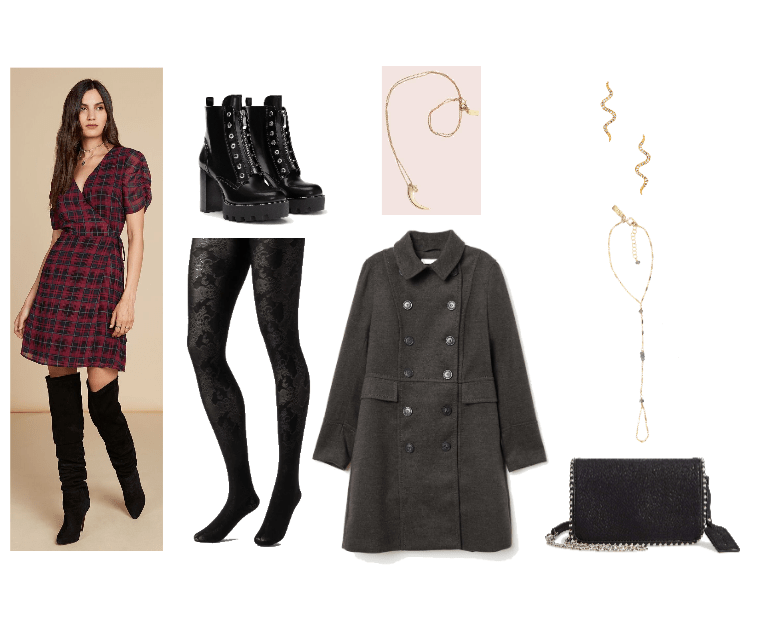 Products: Dress – Willow & Clay, Ankle Boots – Zara, Tights – Target, Necklace – Erica Weiner, Coat – H&M, Hand-Chain – Natalie B, Earrings – Revolve, Bag – Nordstrom
For the final look, I chose to go with something a little more dressy that could be worn either during the day or at night, depending on your mood. Moreover, despite its fancier aesthetic, it's both comfortable and super-easy to wear.
First, put on a cool plaid belted wrap dress; this one in particular reminds me of what would happen if you were to cross the flannel shirts you like with the waist-cinching dress styles that look good on you.
After that, put on a pair of black tights in an unexpected jacquard pattern, as well as a versatile double-breasted coat in a universally flattering A-line silhouette.
Since I wanted to make this outfit more glam, I chose to add chunky heeled combat boots; but, if you'd prefer a dressed-down look, feel free to replace them with a flatter pair.
This studded bag is sure to go with a variety of outfits, but I like it best as a more sturdy alternative to a clutch or evening bag.
Lastly, if you want to make even more of a statement, be sure to add some awesome jewelry; a brass "talon" necklace, snake ear crawler earrings, and a hand-chain all do the trick just fine.
I hope that these outfits have inspired you to dress your "new" figure in a way that is flattering and true to your personal style! Thanks for your question!
Do you have a fashion question? Send it to us!
Is there something in your closet that you want to wear but have no idea how to style? Do you need advice on what to wear to an upcoming event? Do you have a specific fashion conundrum? If you have a fashion-related question that you would like to see answered in this column, simply email it to askcf @ collegefashion.net, and one day you might see your question answered right here on the site!
Also, you can now message us your questions on College Fashion's Instagram account, @collegefashion!
What do you think?
Have you ever had to reconsider the way you dressed because of a change in your body type? How did it work out? How have you managed to stay true to your personal style in the face of changes to your body (or something else)?
Let me know in the comments!