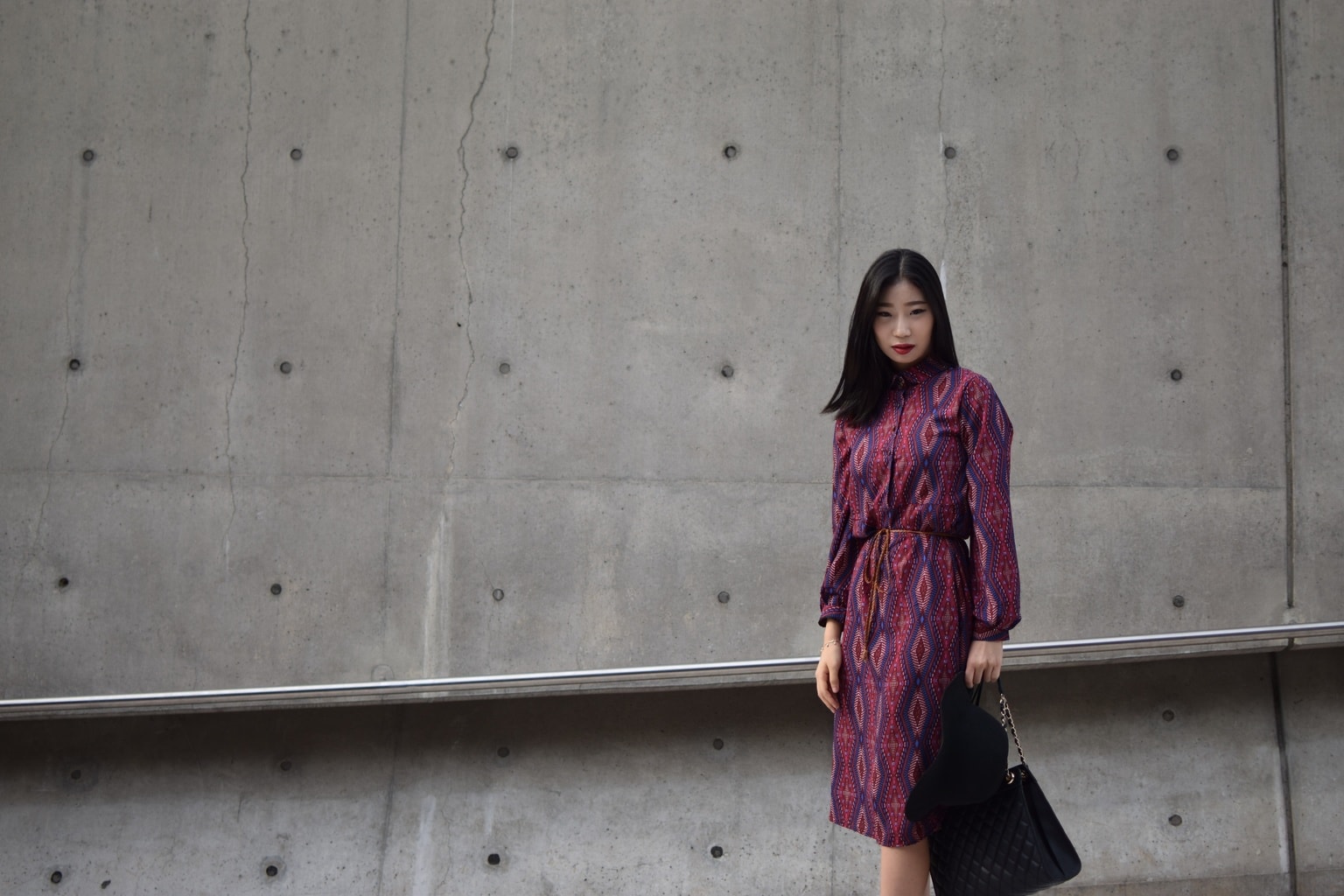 Ask CF
Dear CF !
I am living in London and I struggle to find outfits that match my Jewish origins: I am supposed to wear skirts under the knee, long sleeves and high collar necklines. I wear flat shoes and I also cover my hair with beanies.
And I really struggle to not look like I'm a grandmother wearing what my religious beliefs ask my heart to wear. I really do love this way of dressing, but as I grow up, I find it very hard to find things that match without shopping at 60+ shops.
Thank you in advance for your help,
Confident Believer
Our Response
Dear Confident Believer,
Dressing modestly and stylishly can be really tough, particularly when it can seem like everyone—from fashion magazines to the people we interact with in our daily lives—is sending us the message that dressing fashionably means wearing outfits that are skimpy and/or over-the-top, while dressing modestly means wearing things that only a frumpy old lady would wear.
It's almost as if some people have forgotten that fashion and modestly are not mutually exclusive. Luckily, there are plenty of ways to express your style that don't involve sacrificing your personal beliefs. Keep scrolling for my take on fashion-forward modest dressing.
Outfit #1
Blouse – Uniqlo, Midi Skirt – Lands' End, Tights – Zappos, Wide-Brim Hat – Forever 21, Knee-High Boots – Amazon, Beanie – Windsor, Bucket Bag – Old Navy
This sleek all-black outfit has just the right amount of movement to keep it from looking drab, while details like pleats, buckles, and fringe add visual interest.
I love the idea of wearing a midi skirt, like the one shown here, with a pair of knee-high boots; something about it is just very elegant and classy. The simple blouse adds to the polished feel. I added opaque tights to keep you warm in the winter months, while the bucket bag—a trend that has been going strong for many seasons now—adds the perfect amount of style.
You didn't mention in your letter whether you're allowed to wear hats other than beanies, so for this outfit (and all of the others), I have included both a beanie and another hat option, in case you feel like switching things up. I thought a wide-brim hat would pair well with the subtle boho vibes this outfit has going for it; alternately, if you feel like lightening up the look a little, the beanie's faux fur pom-pom adds a fun touch.
Outfit #2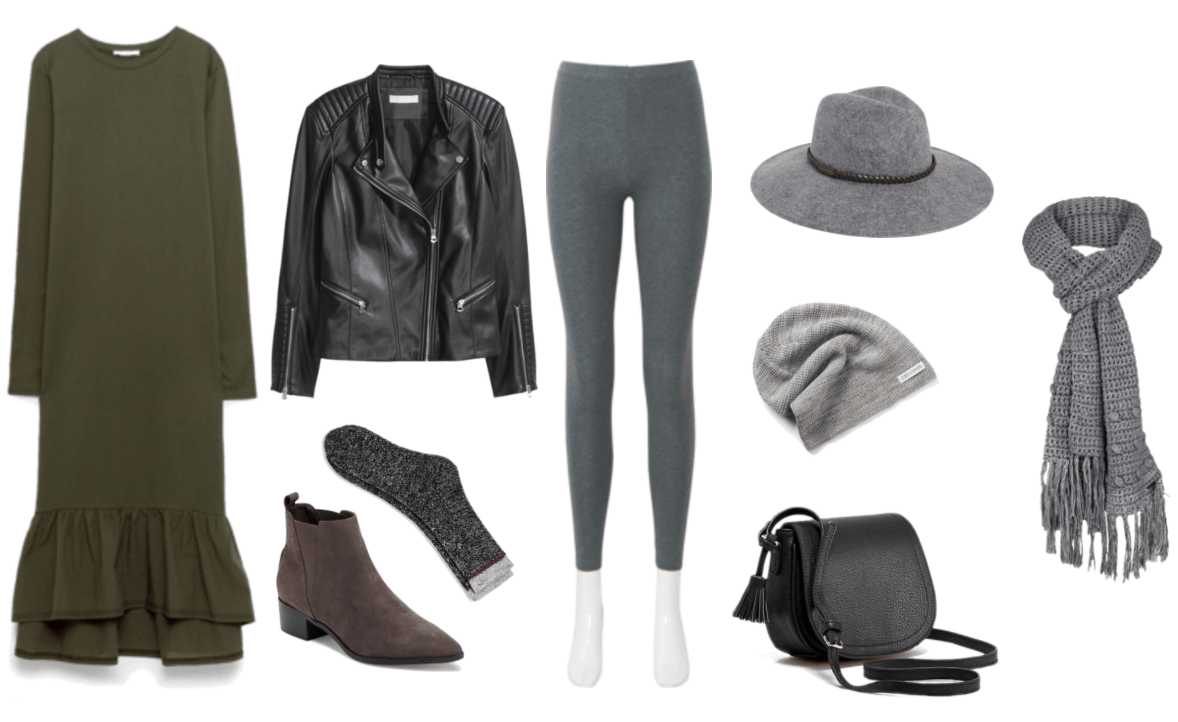 Dress – Zara, Faux Leather Jacket – H&M, Socks – Target, Ankle Boots – Old Navy, Leggings – Uniqlo, Wide-Brim Hat – Billabong, Beanie – Kohl's, Mini Saddle Bag – Old Navy, Scarf – Backcountry
I love this outfit's subtle color palette, as it proves that neutral and low-key doesn't have to mean dull. For this specific look, I've chosen shades of olive green, gray, and black for a casual but chic outfit that can be worn either to class or on the weekend.
In your letter, you only mention wearing skirts; are you allowed to wear dresses as well? If so, this loose-fitting frilled one is a great way to switch things up, and, when paired with a faux leather jacket, gives off an instant air of coolness and sophistication.
The pointed-toe ankle boots are a nice, subtle change from the plain black ones many of us are used to wearing in the colder months, while leggings, marled socks, and a knitted scarf add warmth and an extra dose of style. Finish off the look with a mini black saddle bag and a cool gray beanie or wide-brim hat.
Outfit #3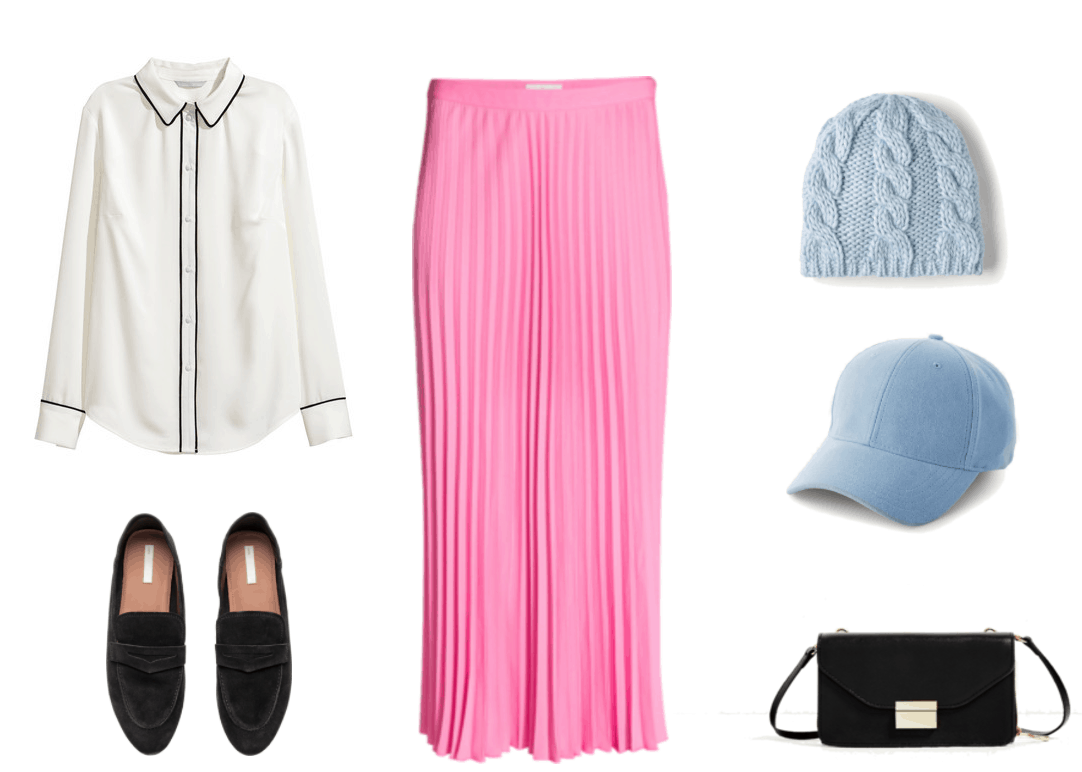 Blouse – H&M, Loafers – H&M, Skirt – H&M, Beanie – Lands' End, Baseball Cap – Express, Crossbody Bag – Zara
For this look, I decided to trade in the all-neutral color palette of the previous two outfits for a lighter, brighter one. While I put together this outfit primarily with warmer weather in mind, it could easily be worn in colder weather if you swap out the loafers for boots (like either of the pairs featured in the first two looks), and, if needed, gray tights (black would be a bit too harsh here) or gray leggings and socks (like the ones featured in the second look).
I am obsessed with piped clothing, so when I saw this blouse, I had to include it! I also love the way the skirt's pink color stands out in a way that is fun but not over-the-top (although it is also available in olive and black if you feel that bright colors don't fit in with your personal dress code).
I've always been partial to accessories that stand out in subtle ways, and this crossbody bag from Zara fits the bill perfectly, as it comes with an attached wallet that can be snapped off. Lastly, I've chosen a pale blue chunky-knit beanie and faux-suede baseball cap for a cool dose of texture that completes the look.
Outfit #4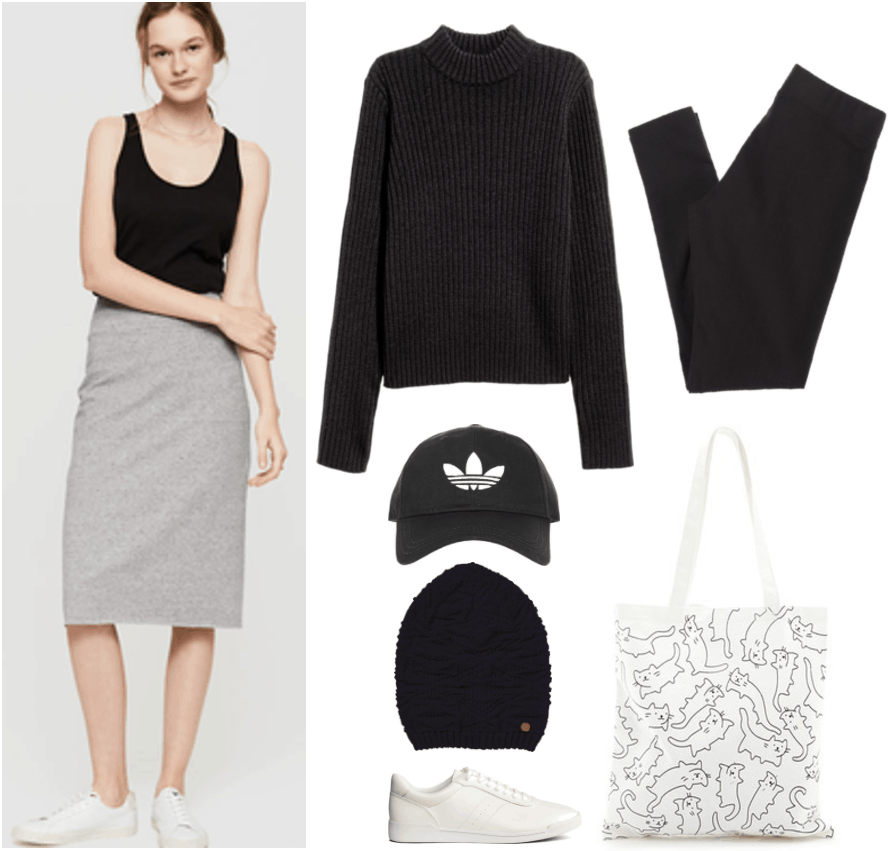 Skirt – Loft, Turtleneck Sweater – H&M, Baseball Cap – TopShop, Beanie – Billabong, Sneakers – H&M, Leggings – American Eagle, Canvas Tote – Forever 21
This final getup is a polished yet youthful take on the athleisure trend, with the ribbed sweater adding a sophisticated touch to the sporty skirt (Although the skirt could also be paired with a sleek sweatshirt for a more laid-back vibe.).
Plain white sneakers are a comfortable and simple, yet trendy, footwear option, while the Adidas baseball cap and geometric knitted beanie add a chic street-style vibe to the outfit without being too edgy. Furthermore, this adorable cat-printed canvas tote is perfect for carrying school and break-time essentials alike, taking this look from class to the weekend in a snap!
Black leggings pull everything together without detracting from the rest of the look. Some people might be worried about a skirt of this length looking drab, but as long as you keep the outfit in proportion by not wearing a top that is too long, you're sure to look sleek, as opposed to frumpy.
Layering Extras

Long-Sleeved T-Shirt – Uniqlo, Turtleneck – J.Crew, Tank Top – Uniqlo, Long-Sleeved High-Neck Bodysuit – Boohoo
As a bonus, I have decided to include some layering pieces that you can include in your outfits to make them fit your modesty standards.
First up, we have a Uniqlo t-shirt which, in addition to adding some extra coverage for your upper body, will also keep you super-warm due to the brand's Extra Heattech technology. Next, we have a gray J.Crew turtleneck that is light enough to be worn under a variety of different items, but is also nice enough to be worn on its own.
The white tank top, also from Uniqlo, features the brand's Airism technology to keep you cool under heavy layers and on hot days; this tank top can also be worn under lower-cut or cropped tops to prevent you from showing too much skin, thereby expanding the range of tops and dresses you can wear.
Finally, I chose to include this Boohoo bodysuit because, when worn under another top, it solves the problem of unintentionally flashing your back and stomach while moving around during everyday activities.
Hopefully these looks have provided you with inspiration and have proven that modesty doesn't have to mean old-looking or unfashionable. Thanks for your question!
Do you have a fashion question? Send it to us!
Is there something in your closet that you want to wear but have no idea how to style? Do you need advice on what to wear to an upcoming event? Do you have a specific fashion conundrum? If you have a fashion-related question that you would like to see answered in this column, simply email it to askcf @ collegefashion.net, and one day you might see your question answered right here on the site!
What do you think?
Do you prefer to dress modestly? How do you do so without sacrificing style? What are some of your favorite places to shop for fashionable modest clothing? Let me know in the comments!